An eraser can do more than just deleting errors on pages. Yes, you have read that right! We can explore its use as a drawing tool to create beautiful artwork. To start practicing this subtractive technique, we must find the ideal rubber to create clean and neat lines.
It depends on your art materials, usually graphite, charcoal, chalk, pastels, and colored pencils, that you choose the best erasers for drawing on such surfaces. If the variety of products confuses you, start with our reviewed list of widely-loved pieces by artists and students. Dig in and pick your companion on this journey!
Best Eraser for Drawing Reviews
1. Pentel Hi-Polymer Block Eraser
A well-made rubber for drawings must ensure clean and no-scratch performance. If you seek such a piece, the Pentel Hi-Polymer Block Eraser is an ideal choice.
It struck me how this low-profile piece gets a nearly perfect five-star on some e-commerce websites. I came to test the rubber after reading many rave reviews from customers about its decent quality. Among those compliments, I agreed with one's claiming that the eraser only required gentle pressing to draw well.
You can use this latex-free rubber to remove lines of graphite lead and colored pencils to create beautiful marks on your paper. Notably, it does not damage the paper texture while deleting those lines, ensuring a smooth surface for more drawing and coloring if needed.
Since the piece comes in a block shape, it is easier to use the edge to clear small corners. Plus, the eraser is soft enough for you to move your hand comfortably while drawing large images.
What also amazes me is how this rubber remains one piece after a long while of usage. You will not find such a fine combination of softness and durability in a cheap product with low quality.
Also, I would not take the wrap off its body since the rubber can become dirty as it is exposed to dust. If you want a nicer-looking piece, you can add a handmade tape cover to decorate and protect it.
Pros
Rave reviews from users about its gentle drawing
Latex-free rubber removes lines of graphite lead and color pencils
Leaves no ugly traces and no texture damages
Comes in a block shape for tight corner and large area drawing
Remains one piece without breaking or hardening
Cons
Can get dirty without the wrap
Overall, discovering and using this draw eraser is such a pleasant experience for me. I would recommend it for anyone who draws with an eraser as it is convenient and long-lasting.
2. Tombow Mono Zero Eraser
The next entry that caught my attention at first glance is the Tombow Mono Zero Eraser and Refill set. At a surprisingly affordable price, you can have in hand a stylish and precise tool for drawing.
I have always wanted a pen-style eraser that blends well with my collection of pencils and colored pens. Luckily, this one comes with a slim and lightweight body that allows easy holding. Plus, its black-and-gray shade boasts a modern and sleek look that is ideal for all ages.
In terms of designs, the brand offers models with different tips. I have the round one and its new version that measures 2.3 mm, as I enjoy using them to create thin lines. Other than that, you can opt for a rectangular piece that has a diameter of 2.5 mm.
Tombow called their eraser and included refills a value pack, which I couldn't agree more. Since the piece is refillable, you can continuously utilize it for blend and burnishing pencil marks with available rubber for a long while.
More importantly, using this precision-tip eraser on paper will not ruin its surface. So, you should not worry about its reliable performance on expensive drawing paper.
Just a heads up, if you prefer an eraser with a soft tip, this one might not be your perfect choice as it is on the hard side. Yet, for me, such firmness is ideal for my drawing.
Pros
An affordable and modern-looking eraser
Features a slim and lightweight body for easy holding
Available in round (2.3 mm) and rectangular tips (2.5 mm)
Valuable pack of a pen-style eraser and refills, and refillable for long-term usage
Performs well without ruining the paper surface
Hands down the best drawing eraser for artists from Tombow I have ever used! If you love to use firm and hard rubber, there's no reason to skip this excellent product.
3. STAEDTLER Plastic Vinyl Eraser
For many artists, if they had to choose the one and the only eraser to use, the STAEDTLER Mars Plastic Vinyl piece would be their firm pick. Once discovering the piece's flexibility and effectiveness, you might never feel the need to adventure out for replacements.
From my experience, this product is of superior quality that is in the league of its own. Made of premium mars plastic vinyl, the piece works wonders on different paper types without ruining their textures. Hence, artists can use watercolor afterward without worrying about bleeding and smudging.
Notably, this product features sharp edges that are ideal for removing intricate lines in tight corners. So, you can rely on the piece to perform subtractive drawing techniques with details. It also leaves very few crumbs even if you erase a large area of pencil marks. Thus, cleaning is not an issue with this neat rubber.
As a user-friendly product, this piece comes with a cellophane tape that wraps around its body. The wrapper has a sliding sleeve that allows easy pulling out when the eraser wears out. Plus, it keeps the unused parts clean even if we pack them inside a case full of pencils without caps.
One last thing to know about this incredible piece is its safe formula free of phthalate and latex. I am glad to know that the Germany-made product poses no health risk for us even through years of use.
Still, it excels at removing graphite and charcoal but not colored pencils. Its performances on the last one are not that impressive.
Pros
Quality mars plastic vinyl rubber that perverse the paper texture
Sharps edges for creating intricate lines in tight corners
Leaves very few crumbs, thus spare much cleaning
A cellophane tape with a sliding sleeve
Safe formula without phthalate and latex
Cons
Does not perform excellently on charcoal and color pencils marks
I stand with the claim that this STAEDTLER accessory is the best drawing eraser for graphite lead marks. If you want to settle for one rubber, opt for this.
4. Prismacolor 1774265 Eraser
We cannot leave out Prismacolor when reviewing accessories for school and art supplies. And the piece that makes it to our highly-recommended list is their 1774265 Scholar Latex-Free Eraser.
Besides rectangular-shape models, the triangular rubber is among drawers and students' favorite pick. Such a piece can fit your hold nicely, as it measures 3 x 2 inches. I deem the rubber helpful for various purposes, either for creating tiny details or large images, due to its pointing and flat parts.
What amazes me is how this eraser draws and cleans neatly without leaving residues. All you need to do is gently move the piece across the marks and see the subtractive lines appear on your paper's pencil-mark background.
The reason behind its non-smearing and smudging performance, as I found out later, is its PVC and latex-free formula. Once again, we are ensured of a clean surface for more drawing and coloring.
Also, if you are often annoyed with scattering dust after every drawing session, this eraser can solve that issue. It is such a delight to see how little dust it leaves behind after much drawing.
For colored pencil marks, the piece can erase light shades with ease. Yet, according to some users, it is tricker to remove the darker colors.
Pros
Comes in a triangular shape for a comfortable hold
Helpful in cleaning tiny details and large images
Leaves no residues when cleaning
Offers non-smearing & smudging cleaning with its PVC and latex-free formula
Leaves little scattering dust while erasing
Cons
Might be a bit hard to remove dark colored pencil marks
Overall, I have no complaint when using this Prismacolor scholar latex-free eraser as it works well on different surfaces and pencil mark types without issues.
5. Derwent Battery Operated Eraser
For drawing purposes, electric erasers are high in demand for multiple amazing features such as precision tips and convenient design. Among numerous models available, a currently sought-after one is the Derwent Battery Operated Eraser.
Notably, this one is not a short trend that ends along with the hype of the new eraser type, as it still stays in many artists' bags for years. While utilizing the piece, you only need to replace its AAA batteries and refill the eraser tip; then, you carry on creating with much joy.
The brand indeed put much effort into crafting this eraser pen with a convenient design. In detail, it comes with a top control button that allows easy operating for both left and right-handed users. Besides, its sizing is perfect for holding for long hours without causing hand fatigue.
To produce intricate subtractive drawings, we need a precision eraser tip that makes thin lines with ease. Fortunately, this Derwent electric rubber is designed to cater to such requirements. You can rely on its small tip to remove tiny details when working on charcoal or graphite background.
Before use, you should check out the instruction video first to know the steps to operate this device smoothly. Plus, do not forget to purchase 2 AAA batteries to install and use the eraser right away, as the package does not come with those.
Pros
Sought-after electric eraser running on AAA batteries
Features a convenient top control button, ideal for both left and right-hand use
Great size to hold for long hours
Creates intricate subtractive drawing with precision tip
Ideal for charcoal and graphite background
Cons
Requires watching the instruction video first
AAA batteries are not included in the package
If you aspire to improve your eraser drawing technique as a beginner, this electric piece is your must-have tool. Plus, with all the detailed instructions offered, it is a breeze to operate the pen.
6. Faber-Castell Kneaded Eraser
Moldable and malleable are the best attributes of a kneaded eraser; thus artists often use it to produce highlights on charcoal and pencil works. To experience the best piece of this type, you should check out the Faber-Castell Kneaded Eraser.
More and more people are into drawing of eraser artwork and want to explore the technique. If that's the case for you, starting from this rubber is the right thing. In truth, it is a quality eraser that allows kneading to a specific ergonomic shape. Hence, you can either draw small and thin lines or erase large areas with the utmost ease.
Notably, this eraser's versatility also shows its clean removal of graphite, colored pencil, and charcoal. That means you can use the piece for multiple art media, opening a wide array of possible tasks you can practice.
All those great applications, along with its smudge-free feature, make this kneaded eraser a must-have item in every artist's tool kit. As it is soft and PVC-free, you can throw away your worry about damages on your drawing sheets after cleaning.
If you are familiar with this type of eraser, you might already know that it is subjected to dirt, as the piece is absorbent. To spare us such troubles, the brand packs this rubber in a plastic case for clean storage and easy carrying.
Some users notice how it smells and sticks a little at first. I do not see the scent lingers long or poses any discomfort. Yet, this is a warning, just in case you are sensitive to a rubber smell.
Pros
Moldable to a certain ergonomic shape
Ideal for creating thin lines and erasing large areas
Versatile use on colored, graphite pencil, and charcoal
Soft and PVC-free eraser, ensuring smudge-free drawing
Comes with a plastic case for clean storage and easy carrying
Cons
Might smell and stick a little at first
This kneaded rubber is ideal for various drawing and cleaning purposes. It is indeed a worthwhile investment that brings me a great companion for my daily work.
7. Mr. Pen Eraser Set
If you find it impossible to pick among different types of erasers, why not enjoy all their great features in one value set from Mr. Pen. In hand, we will have nine erasers for clean removal and drawing technique practice on the purchase of this affordable package.
In detail, three pieces of artist gum erasers are perfect for graphite works. As they are soft and coarse, they quickly absorb dirt and clear the pencil surfaces. Hence, you can rely on these gums to achieve a highlighting effect without much pressure.
Next, the plastic erasers made of quality vinyl can eliminate dark pencil drawings without damaging the sheet textures. Such safe use is an incredible feature that is tricky to find in a tough vinyl rubber. Normally, without gentle and proper handling, the eraser often abrades the paper after several uses.
Finally, there are three kneaded erasers, which offer moldability for versatile drawing. I often shape the piece into pointed edges to clear slim and intricate lines. Plus, this rubber works well on surfaces of charcoal, pastel, and pencil marks.
While the first two types are incredible, in my opinion, the kneaded rubber does not meet my expectation of a malleable piece that is easy to use.
Pros
Comes in a pack of 9 at an affordable price
Three artist gum erasers are soft and coarse to absorb graphite marks
Three quality vinyl erasers function excellently without damaging sheets
Three kneaded erasers are doable for making slim lines
Works on charcoal, pastel, graphite, and pencil marks
Cons
The kneaded rubber is not so malleable
Overall, this reasonably-priced set packs convenient and versatile art erasers for drawing. Every artist and student can make excellent use of this 9-piece pack for a long time.
8. Prismacolor Kneaded Rubber Eraser
Another entry that deserves your consideration is the Prismacolor Premier Kneaded Rubber Eraser. The piece does a decent job of removing errors and creating highlights for your artwork style.
As expected, this quality product excels at drawing on pastel, charcoal, and colored pencil surfaces with sharp and clear lines. Such compatibility is standard among kneaded rubber, and this one also cleans chalk of different colors nicely.
Moving to its dimensions, the piece is designed to fit in your hands for comfortable use. You can hold the rubber to work for hours on end without feeling much hand fatigue. For your information, it is 1.6 inches long, 1.2 inches wide, and 0.3 inches high.
Of course, this kneaded eraser's size is not fixed, as it is moldable into a specific shape. It depends on what patterns you want to illustrate that the rubber will be scripted to deliver its cleaning and highlighting purpose.
If you are curious about how it feels like holding a kneaded rubber like this in your hands, the answer is slightly tacky and soft. Yet, worry not as it does not stick to your skin or paper surface.
The only gripe that buyers have with this Prismacolor product must be its price tag. In other words, it costs more than many competing rubbers of the same kind out there.
Pros
Draws well on pastel, charcoal, chalk, and colored pencil surfaces
Comfortable hold for a long-hour drawing session
Moldable piece to create different shades and lines
Tacky and soft piece yet not too sticky
Cons
Costs a little more than many kneaded erasers
This rubber's excellent functions do not come as a surprise to me as Prismacolor is a big name that offers quality art supply. If you give it a chance, this rubber drawing piece will not disappoint.
9. June Gold Kneaded Rubber Erasers
The June Gold Kneaded Rubber Erasers are more than meet the eyes. You will be amazed by these low-profile yet malleable and versatile art tools.
This set of moldable rubbers are the best for group or class uses. In one purchase, you can share six pieces with other students who learn blending and highlighting with erasers. Plus, the collection is sold at a reasonable price, proving to be a worthwhile investment for art practice.
It is such a delight to find out how this small gray accessory can do so much for our work. For instance, we can blend pastel colors to create fading effects. With the help of the piece, highlighting, shading, smoothing, or brightening your work brings more fun and ease.
Its absorption of materials can be of great help when the buyer wants to try different dry art media. With soft rubbing, you are free to create drawings on chalk, charcoal, graphite, and pastels.
This rubber's original shape is rectangular, measuring 1.57 inches long and 1.18 inches wide. If you prefer a smaller tip and edge, just mold the piece to create your desired marks and lines.
When this gum eraser gets dirty, which normally happens, you can use your fingers to rub the stains off gently. Fret not, as this is a frequent occurrence with kneaded erasers due to their absorbent function.
Pros
A package of 6 rubbers at a reasonable price
Blends colors, highlights, shades, smoothens, and brightens artwork
Ideal for drawing on chalk, charcoal, graphite, and pastels
Comes in a rectangular shape measuring 1.57 x 1.18 inches
Moldable to create small tips and edges
Cons
Can absorb dirt (Helpful tip: gently rub the stain off
Performance-wise, this set works as expected, allowing beginners to practice shading, blending, and various techniques. I recommend you purchase these pieces to share with your friends.
10. Tombow 57321 MONO Eraser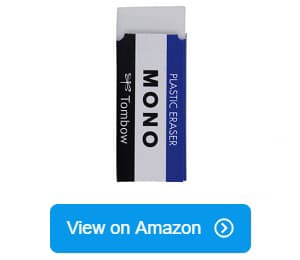 Many buyers vouched for the Tombow 57321 MONO Eraser's surprisingly great work on drawing and blending. So, if you are on a shopping spree for a budget-friendly set that serves such purposes, look no further than this one.
To highlight on graphite surfaces, we need a more powerful piece than our old pink eraser. The new one must be able to clean and create neat lines without smudges. In such cases, this Tombow product is the one, as it allows quick and precise removal of graphite marks.
When drawing with the eraser, we must control our hand not to tear the paper in the process. Luckily, we do not need to be in constant worry about the problem when utilizing a soft white rubber like this one. It is constructed of soft plastic that does its trick with little pressure.
A nice touch from the brand is the paper sleeve wrapped around each eraser in the set. It protects the piece from getting dirty or any damage when used frequently. You can slide the eraser up a little when it wears down to continue cleaning without hassle.
I might even say the price for this multi-package product is shocking, knowing that it is from a reputable brand for art accessories like Tombow. Compared to other competing brands, this collection is affordable without quality compromise.
However, this eraser's size is quite small, which might not fit perfectly for people with large hands.
Pros
Ideal for drawing and blending on graphite surfaces
Draws neat lines without smudges
Made of soft plastic to ensure no paper texture damage
Comes with a convenient sleeve to protect the eraser
Budget-friendly sets of high quality
Cons
Small in size, might not ideal for people with large hands
Overall, I doubt people have second thoughts when repurchasing this product for more use in drawing and removing graphite. For your art practice, you should give it a go.
11. Acurit Vanish Artist Eraser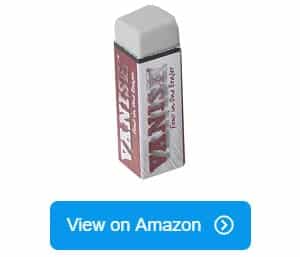 The Acurit Vanish 4-in-1 Artist Eraser offers us the best of multiple rubbers for artists. It will save you much trouble pondering over which one to buy for drawing.
To be honest, I did not know there's a piece that combines amazing features of different eraser types. Thus, I was wary when testing this product for the first time, yet ended up convinced. In this one tool, we can find the toughness of vinyl, the softness of gum and rubber, and the flexibility of kneaded erasers.
As expected, it can handle art materials such as graphite, charcoal, and pastels. Those are commonly used when it comes to rubber drawing. After creating a surface covered with such materials, you can comfortably create highlights, intricate lines, or blending marks with the tool.
As a drawing tool, this rubber performs well on expensive sheets. To my surprise (and much relief), it does not damage the paper texture or smear the art materials. Notably, it can delete marks under ink without smudging the ink parts. What else can we ask for from a functional eraser?
While ensuring a no-mess performance, this product also brings a comfortable experience for long-hour drawing. Its body length, which measures 2.5 inches, can easily fit our hand to support swift and smooth moves.
However, you should not expect excellent work on colored pencils, as they can brighten instead of deleting all the marks.
Pros
Combines great feature of vinyl, gum, rubber, and kneaded eraser
Handle art materials including graphite, charcoal, and pastels
Creates highlights, small lines, and blending marks
Does not damage the expensive paper texture
Promotes no smear and smudges
Comfortable hold with its 2.5-inch body
Cons
Not excellent for colored pencil work
This product indeed packs much value for artists and students alike. It would be an ideal companion for people who work with graphite, charcoal, and pastel materials.
12. Prismacolor Magic Rub Eraser
Another product from Prismacolor that proves its reputation in manufacturing quality art tools is the Magic Rub Eraser No 1954. I would not go as far as saying it is a magical touch to my artwork, but the piece definitely makes a difference.
Price-wise, this eraser costs you more than white rubbers out there. The main reason is the premium construction of quality vinyl without latex, which makes it softer than standard rubbers. As a result, it absorbs graphite more effectively for smooth drawing.
Furthermore, if you are working with Indian ink, which is among the oldest and toughest pigments, this product can also handle that. It is so powerful that removing stubborn marks is a breeze.
Prismacolor goes with a slim design for this rubber, making it ideal for drawing. To start with, its body is comfortable to hold, ensuring minimal hand fatigue for extended working sessions. Next, its edges can get to tight corners and make subtle retouches on our art.
Every rubber drawing artist would love to have full control of their tool, and this piece can cater to that need.
Just a side note, this Prismacolor eraser is not formulated to perform well on colored pencils. I suggest you opt for other products in this list to have a satisfying experience with the art material.
Pros
Premium build of quality vinyl without latex
Soft rubber that absorbs graphite well
Removes tough and stubborn Indian pink with ease
Features a slim design for a comfortable hold and minimal fatigue
Edges can get to tight corners and make thin lines
Cons
More expensive than standard white erasers
Not the perfect pick for colored pencils
Many artists have incredible practice time with this drawing tool from Prismacolor. Of course, it is an eraser that delivers its promise so that you can have fun with your work.
What to Look for When Buying Erasers for Drawing
In the search for the best erasers for drawing, we need to focus on two main points: the material of your artwork and the rubber types. For instance, if you intend to create colored pencil work with blending and highlighting effects, you will need a well-made eraser for colored pencils.
Rubber eraser – This piece appears in almost every student's pencil case for daily use. It is often called a pink eraser that corrects graphite lines. Although not popular among artists as a drawing tool, you can utilize it, but with little pressure to avoid tearing your paper texture.
Art gum eraser – A stronger yet softer piece than pink rubber is the art gum eraser. You can often see artists using this tool to remove smudges and pencil marks on surfaces. It is excellent at absorbing graphite. Please note that it might leave more crumbs and last not as long as most erasers. This piece is often in light brown.
Vinyl eraser – If you seek a tough tool that deletes even the hardest parts written with pressure, a vinyl piece is your ideal pick. Due to its incredible power, you should be careful not to use too much pressure, thus avoiding tearing your art sheets. Plus, if you want effortless performance without smudging, make sure to choose a latex and PVC-free one.
Kneaded eraser – Excellent malleability and moldability are what you can expect in a kneaded eraser. It will offer versatile use by allowing you to shape it in various dimensions with edges and points. Hence, this type is the artists' favorite option when it comes to drawing with erasers. For your information, it often comes in a gray shade.
Another model that wins the trust of various buyers is electric rubber. Such a piece is made in pen style to allow easy holding and storage. You can refill its core and replace the batteries for long-term usage.
More importantly, these products feature a precision tip that creates intricate lines in tight corners. You should consider working with this drawing pen to see if it meets your requirements.
When gathering a shortlist of favorite picks, make sure you check reviews of every model on different sites. Those can be Reddit, AMAZON customer reviews, and multiple E-commerce websites. After seeing the good and the bad that people say about the same piece, you will have a better look into what you need for your rubber drawing.
How Do You Use Erasers for Drawing
You can prepare an artwork sheet, a pencil or charcoal or any materials that you work with, a piece of paper tissue, and an eraser. If it's a gum or plastic eraser, you can use it right away or tailor its dimensions to your liking. Meanwhile, a kneadable rubber allows easy molding to a specific shape with points and edges.
Next, you can color a wide area on the paper using your materials. If it's a pencil, make sure you hold it a bit flat for a solid and nice graphite background. Afterward, it is time to gently rub the piece of tissue onto the colored surface, ensuring the graphite is even.
Finally, use your eraser and draw with its edges. Think of rubber drawing like highlighting, then you can remove the color from the parts that are supposed to be lighter. In the process, do not forget to blend, fade and smoothen the background for more depth.
Those are just essential guides for you to start drawing without creating a mess. Just let your imagination take your hands and practice with much joy.
Are White Erasers Better than Pink
In my opinion, yes. The old-school ink rubber is too firm that it might damage the paper texture when we use it with a little more force. But the white eraser is soft enough for gentle and clean removal, leaving our art sheet intact. Plus, it does not harden overtime, ensuing easy and comfortable use for a long while.
Conclusion
Drawing in the negative with a rubber is a fun art form that can be taken as a hobby. All you need are paper, a pencil, and one of the best erasers for drawing, and you are good to start. As our review and guide give you some suggestions on the selection process, the choice is yours. Start it today!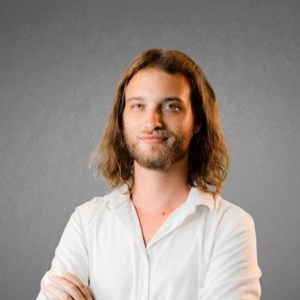 I am a former art teacher, so it is evident to me the importance of art in educating the new generation. We also want to help parents who plan to teach their children and desire the best tools and tips for them.