It's frustrating to buy a can of gold spray paint only to find that the color is not the same as the one on the swatches, packaging, or cap. Maybe the paint lacks the shimmer or it looks more yellow than gold. Either way, you won't know until you buy the product and test it.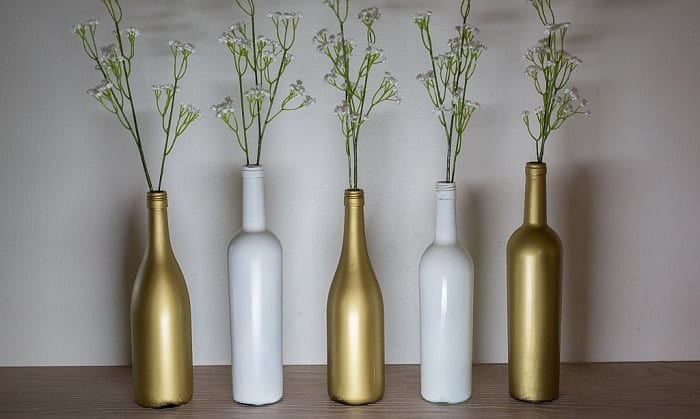 The reality is that we don't have all the money and resources to test out each brand. Don't let this problem get in the way of your creative projects. Here's a list of products that I consider the best gold spray paint for surfaces in no particular order.
Best Gold Spray Paint Reviews
1. Krylon K01050000 Premium Metallic Gold Foil Spray Paint
At number one, this Krylon metallic gold aerosol paint mimics an actual plating. Artists and DIYers enjoy using this paint as it works on any paintable surfaces such as wood, glass, plaster ceramic, paper mache, and metal. You name it!
What I like the most about this product is the color. Its metallic gold aerosol paint has a reflective finish that allows me to add charming accents to any room or themed parties and events. At the same time, it does not fade or lose its sheen.
Regardless of the material or the shape of the object, I like that the paint adheres to the surface without dripping or snagging. It settles uniformly on the nooks and crannies, as well as the curves of any objects.
Based on experience, the paint is dry to touch within 10 minutes and dry enough to handle after about 2 hours. Nonetheless, you should note that the drying time differs from one material to another. For best results, I usually apply up to 2 coats of paint.
Another reason why I love working with this product is that the nozzle is so easy to press. I can hold it down with a finger as I move the spray paint can continuously to cover a surface without feeling any soreness.
Since one unit of this product covers a surface area of up to 12 square feet, I can paint quite a lot of small items. For bigger pieces like furniture, I had to purchase at least 2 or 3 cans, which can be expensive.
Pros
Offers metallic gold with a reflective finish
Works on any paintable surfaces
Suitable for small crafts and furniture
Prevents the paint from dripping and snagging
Equipped with an easy-to-press nozzle
Cons
Can be expensive to use for bigger items
Setting aside my biases, I would say that this product is the best gold chrome spray paint. Whether you're upcycling old items or revamping your flea market finds, you can transform them into elegant centerpieces with this spray paint.
2. Rust-Oleum 245221 Universal All Surface Pure Gold Spray Paint
One of the reasons why I love this Rust-oleum gold spray paint is that it is mixed with a primer. Whether it's raining, shining, or snowing, this will ensure that your outdoor structures are protected against the elements.
With excellent color quality, this gold aerosol paint is my top choice for gold with a classy matte finish. Perfect for a wide range of materials, it transforms my cheap decors into opulent artistic pieces. Made for crafts and home improvement projects, I can use it to repaint furniture or bathroom faucets.
Also, the nozzle lets me spray at any angle, which helps me get to all the corners of any objects evenly. I bet even those with arthritic hands will find this product easy to work. The trigger is wider and placed at an area where my finger can rest and press comfortably.
Thanks to the clog-free nozzle, I can disperse the paint on items through and through. As such, I can render uniform coatings. Moreover, when it comes to applications, the manufacturer provides easy-to-follow instructions that beginners can understand. As long as you follow the instructions carefully, you will surely get excellent results.
Just a heads up, this spray paint seems to require more coatings for it to show up nicely. While this can be resolved by adding more layers, I would need to buy more cans to cover more surfaces. If you're working with small pieces, perhaps one spray can be enough.
Pros
Has metallic gold with a matte finish
Great for indoor and outdoor pieces
Offers protection against the elements
Disperses paint evenly at any angle
User-friendly for beginners
Cons
May need multiple coatings for good coverage
If this is your first time working on a DIY project, you have nothing to worry about with this spray paint. Besides its exquisite color, you can give your indoor and outdoor objects the protection it needs for long-lasting vibrance.
3. Krylon K01706 Metallic Gold Spray Paint
Not all DIYers are into gold spray paints with a reflective finish, so I'm including this Krylon gold spray paint, which is unlike the previous products featured in this review. This aerosol spray has a non-reflective finish but its polished sheen is just as brilliant!
Regardless of whether you're a beginner or a professional crafter, you will appreciate that the spray paint is simple to use. Its clog-free nozzle keeps the paint from splattering, which allows you to work on DIY projects neatly. Besides that, the paint adheres to any paintable surfaces uniformly no matter the shape and texture of an object.
Among the highlights of this product is the ability to dry fast. In my experience, it takes about 15 minutes for the paint to be dry enough to touch. For indoor items, the paint retains its color quality for years even if I dust or wipe the surface with a damp cloth.
With its gorgeous metallic finish, the gold spray paint can make any small ornaments stand out. Meanwhile, bigger pieces like furniture make the room look vibrant. I can come up with many project ideas using this gold spray paint because it works on most surfaces.
However, keep in mind that you may need more than one unit of this spray paint to complete your paint job, especially when painting furniture. Another thing to note is that the trigger is a little hard to press.
Pros
User-friendly for beginners
Ensures neat and uniform application
Can dry within 15 minutes
Has a brilliant gold metallic color
Adheres to any type of surface
Cons
The trigger is hard to press
Needs more than one spray paint for bigger projects
Shiny home decors can be crafted in an instant with this gold spray paint! Thanks to its clog-free nozzle, you can apply this metallic gold paint on any surface neatly and evenly.
4. Rust-Oleum 286524-2PK Stops Rust Warm Gold Metallic Spray Paint
Some gold paint products make objects look tacky. If I want to transform cheap finds at the dollar store into luxuriant pieces, I count on Rust-Oleum gold spray paint to do the job.
For me, this is the best gold spray paint for metal as it effectively prevents rust. Moreover, I can use this on other surfaces, such as concrete, masonry, plastic, and wood. Because it is formulated to withstand different weather conditions, the paint is fade-proof and corrosion-resistant.
Apart from the protective function, the paint's warm gold can turn dull objects into eye-catching pieces. On top of that, it contains metal flakes to enhance the metallic sheen. Within 3 coats, I managed to conceal the surface smoothly.
Not a lot of manufacturers get this right so let me commend this brand for showing the exact color of the paint on the cap. Although I still test the paint before applying it to the surface, I get a clearer idea of what the color looks like thanks to the caps.
The application is effortless due to the spray paint's comfort tip. While pressing the trigger, I can move my arm to cover a big surface without feeling any pain. Plus, the aerosol paint works at any angle. I can go over any curves without moving the actual object.
I guess the only drawback is that it leaves some glitter in my hands. It's not a big deal since I can easily wash them off. That said, I have only applied this paint to the objects that are meant for display.
Pros
Can withstand weather conditions
Suitable for a broad range of materials
Has a well-designed trigger
Provides elegant warm metallic gold
Allows you to work at any angle
Besides adding a sparkling gold color to different surfaces, this spray paint is considered the gold standard in terms of durability. No matter how long the painted object is exposed to different weather conditions, the warm gold color will never fade or rust.
5. Design Master 230 Metallic 14KT Gold Spray Paint
Brilliant in every way, Design Master offers a shade of gold that looks like the real thing. Apart from a bright plating-like finish, this spray paint works well on jewelry, ceramic, metal, wicker, chipboard, dried flowers, wood, terracotta, fabrics, and many more.
Given the long list of applications, I find this aerosol paint extremely advantageous. I know many DIYers have repainted their tarnished fancy jewelry with this product. Similarly, I can perk up the design of my house by adding gleaming accent pieces in different rooms.
What makes this product stand out is that it provides the quickest coverage. One or two coatings are enough to effectively hide away the surface's original color and blemishes. So far, I have not encountered any issues with the nozzle. I managed to paint without stopping due to splatters or clogging.
Note that some surfaces like plastic and glass may need primer, sealer, or clear finish gloss as base coats before application. Still, I think the spray paint applies smoothly on the surface and the adhesion is impressive. Months have passed and the paint has held up nicely.
To be honest, I can't think of any downside to this product other than the fact that it is not waterproof. However, I don't think this is a real issue if you intend to paint on surfaces that are meant for indoor items.
Pros
Offers true gold color with a metallic sheen
Has excellent coverage and adhesion
Ideal for arts, crafts, and home improvement
Guarantees easy application
Works on many types of surfaces
Cons
The paint is not waterproof
Although this is not explicitly advertised as a gold spray paint for jewelry, you can use this for retouching your tarnished fashion accessories. In addition, its versatility makes it suitable for arts and crafts, as well as home improvement projects.
6. Krylon K02770007 Fusion All-In-One Metallic Gold Spray Paint
Sanding and priming take up a lot of time but if you want to skip this step, you can do so with this spray paint! If you're doubting its quality, let me show you how this product can work to your advantage.
Providing long-lasting protection against rust, this product is an excellent gold spray paint for metal furniture. Not to mention, it adheres well on other surfaces like wood, plastic, and tile. Because of its stellar quality, it has become one of my favorite paints for outdoor and indoor surfaces.
I'm drawn to this spray paint's posh muted gold that shimmers when the light touches it. As it is closer to a neutral tone, the color blends in with any design of interior or exterior spaces. Instead of the flashy and vibrant gold, this paint looks rather subtle. Rest assured, its durability guarantees fade-proof color.
Beyond that, I appreciate that the manufacturer has taken the extra steps to ensure that consumers enjoy using this spray paint. Designed with comfort in mind, I can hold the spray can at any angle and it would still be able to disperse the paint evenly. The nozzle is also very easy to press.
Except for the tight cap that is a little hard to remove, I have no complaints about this spray paint. I highly recommend this to anyone who is looking for the best gold spray paint for wood or metal items that are intended for the outdoors.
Pros
Crafted for indoor and outdoor items
Prevents rusting and fading
Offers muted gold with a beautiful sheen
Bonds to a wide variety of surfaces
Does not require sanding or priming
Cons
The cap can be a little hard to remove
Skipping the tedious process of priming and sanding is possible with this all-in-one spray paint. Not only that it gives your decors and furniture a beautiful muted gold color. The color quality staves off rust and fading as well.
7. Design Master 746 Colortool Antique Gold Spray Paint
Authentic vintage pieces can be really expensive but you can achieve the same look with this antique gold spray paint. Besides bringing an old-world charm to your interiors, this product is suitable for big and small projects.
For artists and crafters, this spray paint is pretty exciting to use as it is compatible with paper mache, ribbons, fabric, styrofoam, and flowers, be it fresh, dried, or silk. Meanwhile. carpenters and builders will be pleased to know that it also works on concrete, wood, metal, and many other materials!
However, I personally think this is a superb gold spray paint for light fixtures. Compared to other products, its color has a darker tone that reminds me of antique brass. To top it off, its metallic finish makes the object appear polished, which matches both quaint and modern interiors.
As for the paint's quality, I only need to apply two coatings to cover the surface. While most spray paints take about 10 minutes, this product is dry to touch in 5 minutes. Honestly, I'm not usually in a rush when I'm painting but it lets me finish the work faster so I can do other things.
In terms of application, this aerosol paint has specific instructions for each type of material. As long as you follow the instructions carefully, you will never run into any trouble. Just be sure to work in a well-ventilated area as it emits a strong chemical odor.
Pros
Provides beautiful antique gold paint
Can dry within 5 minutes
Achieves solid coverage in 2 coatings
Compatible with most surfaces
Suits vintage and modern themes
Cons
Has a strong chemical smell
Vintage or contemporary, this aerosol paint will give any surface a lovely dark, muted gold with a magnificent sheen. It is also fast-drying, so you can get the DIY project done quicker than you think!
8. Rust-Oleum 286477 Gold Mirror Specialty Spray Paint
Before we move on to a couple more metallic spray paints, let me introduce you to this unique gold mirror aerosol paint. Believe it or not, this product can turn any glass surface into a faux mirror!
As expected, this type of aerosol spray would likely pose some learning curve in terms of application. That's why I'm giving the manufacturer extra points for the clear instructions. Admittedly, I was nervous about making mistakes but I managed to create a mirror-like finish on some glass ornaments and acrylic glass objects.
Mistakes are inevitable but this spray paint is forgiving. If I mess up with my first coating, I can easily remove the paint and start over. For optimal application, the manufacturer recommends 5 coatings about 1 minute apart.
Surprisingly, the mirror effect looks so clear that I can see myself on the glass surface. Besides spraying on the entire object, I can also use stencils to make patterns. My favorite, however, is making a mercury glass out of jars, vases, or cabinet doors.
Thankfully, the nozzle does not clog or splatter the paint. Otherwise, I would have not been able to produce a uniform layer of paint. Plus, the spray can is slender. Holding it while I moved my arm back and forth did not feel tiring.
For a small can of spray paint, I just find it a little pricey since I need 5 coatings to see my reflection. Working with bigger items like glass cabinet doors or dozens of ornaments will mean buying more than 1 can.
Pros
Produces faux mirror on glass surfaces
Crafted for glass and acrylic glass surfaces
Very easy to clean up and correct
Comes with an instruction on the label
Useful for a variety of painting techniques
Cons
Pricey for projects that require more than 1 can
Although its price tag is a little expensive, you can have full creative control of DIY-ing your jars and vases with this gold spray paint for glass. You don't have to fret about mistakes as this product comes with easy-to-follow instructions!
9. Design Master 831 Glitter Gold Spray
Beyond painting, you can take your crafts to the next level by sprinkling on glitter. For that, let me introduce you to this spray can of gold glitter finish! As with any aerosol spray, you just need to press the nozzle to coat the surface.
Creative folks will be excited to know that this glitter spray applies to most surfaces, including fabric, fresh flowers, ceramics, plastics, glass, and so on. The micro-glitter looks like pixie dust on an object. Meanwhile, the clear coating ensures that the surface's color comes through.
I would spray this on a surface in a back and forth motion to cover an object uniformly and leave a glitter finish. If I want to make an object glint more, this product lets me apply more coating. Best of all, it can be recoated at any time.
In addition to home decors, I use this glitter spray for costumes as it does not smell at all when I wear them. Furthermore, its formula gives me the option to apply this permanently or temporarily on an object. All I have to do is wash the gold glitter off the surface with soapy water.
Where longevity is concerned, this glitter finish is acid-free and archival safe, which means it will never lose its sparkle. Despite having micro-glitters in it, I'm amazed that the nozzle never gets jammed by it. My only gripe is that darker objects require more coating to see the full effect.
Pros
Adds a sparkly layer of glitters
Applicable to several types of surfaces
Allows you to apply multiple coating
Easily washes off with soapy water
Has acid-free formula for a long-lasting glint
Cons
More coating needed to see the full effect
If you hate sticky glitter on your hand, you can use this easy-to-clean gold glitter spray on your decors and costumes. A dash of gold glitters will make the surface look more interesting.
10. Chase 998 24 KT Gold Brilliant Finish Metallic Enamel Spray
Home improvement takes some effort but this gold furniture spray paint has got you covered! Trusted by many DIYers, its vibrant gold color has a beautiful metallic touch that brightens up any room.
Similar to a gold leaf, the paint adheres to many types of paintable materials. In particular, I love using this gold spray paint for lamps, picture frames, and trinkets that I bought from flea markets. Its clog-free nozzle helps me go over the corners, curves, and recesses of the objects uniformly.
Moreover, even novice crafters will not find this gold enamel spray paint intimidating to use. With superb coverage, I only need to apply a couple of coatings to conceal the surface. That said, I don't have to wait too long for my freshly painted items to dry.
Boasting excellent durability, the paint does not chip or fade over time. The gold color remains vivid even if I wipe the objects to clean. Thus, this is ideal for indoor items. Even more impressive, its sheen appears beautifully in photographs, making it a great choice for crafting props.
By any measure, the quality of this aerosol paint rivals the top brands but I wish it was a little cheaper. To paint surfaces like furniture, I would need more cans. Naturally, that would increase the total cost of the project.
Pros
Has color and finish similar to gold leaf
Perfect for indoor furniture and accessories
Spreads paint evenly on the surface
Has fast-drying formula
Promises easy application
Cons
Pricey compared to similar brands
Bearing in mind this spray paint bright gold color, you can transform your dull spaces into picture-perfect interiors! Owing to its durability, you don't need to reapply the coating just to keep it shining.
11. ColorTone #AN3892 Bright Gold Metallic Aerosol Guitar Lacquer
Are you a musician, DIYer, or both? You bought a guitar to play songs and express yourself. As your music instrument ages, it may need some touch-ups. Well, this bright gold metallic aerosol lacquer can keep your guitar in mint condition!
Gone are the days when painting your favorite guitar involves buying stains, pigments, and lacquers and mixing them. Believe me, it's tedious! That's why I like using this product as it speeds up the process. It's convenient for touch-up works and small-scale painting jobs.
Unlike the typical spray paints, the color of this metallic aerosol goes well with most guitar finishes. While the brilliant gold has a sparkle, I guarantee you that there are no metal flakes and glitter in it. If you need to repaint your classic GoldTop guitar, then the color of this aerosol lacquer fits the bill!
It is best to heat the spray can by dipping it in hot water until the can is warm. This step is essential in ensuring that you can lay the lacquer in an even coat.
In my experience, the nozzle never gets clogged. So, I am able to control the amount of paint I release and work continuously. However, I like that I can turn the nozzle upward for a vertical spray and sideways for a horizontal paint application.
Before working, I would wear a mask because of the lacquer's strong odor. Despite this minor con, this product is perfect for everyone who wants to maintain their guitar's golden color.
Pros
Great for touch-ups and small-scale painting
Removes tedious process of preparing the lacquer
Allows you to adjust the nozzle
The paint mimics the GoldTop guitar color
Lays down evenly on the surface
At some point, your guitar's coating will need retouching but you can keep it in excellent shape with this brilliant gold aerosol lacquer. No matter how old your guitar is, it will always look new!
12. Martha Stewart 42929 Paint & Primer Metallic Gold Spray Paint
Featuring another paint-and-primer spray, this product offers stunning metallic gold that will make your home decors pop! Compatible with any craft materials, it lets you bring all those DIY and home improvement ideas to life.
For starters, this shiny gold spray paint caught my attention with its reflective finish. I can use it to cover the whole surface of plastic jars, metal containers, or wooden objects. Furthermore, using stencils, I can add gold patterns to my planter boxes and make them more appealing.
Applying the paint on flat and non-flat surfaces is painless as the nozzle hardly gets clogged and rarely splatters. As such, it's easier for me to coat the surface evenly. Typically, the paint dries up in 10 minutes with a curing time of 24 hours.
Aside from that, the paint gives a permanent color to any object. Formulated for indoor and outdoor objects, the metallic gold acrylic-based paint does not easily wear away when exposed to the elements. Without spending tons of money, I managed to make my home accessories look as if they are made of gold.
For a paint-and-primer spray, it seems like
this product needs a primer
as it takes several coatings before I could cover a surface. To achieve a bright chrome-like finish, I highly recommend priming even though the instruction tells you to skip this. Otherwise, the paint would look slightly darker on dark-colored surfaces unless that's what you're going for.
Pros
Formulated for outdoor and indoor pieces
Works on plastic, metal, and wooden surfaces
Has a shiny chrome-like finish
Provides durable and permanent color
Applies uniformly on any surface
Cons
Needs primer to achieve a bright metallic finish
While this product needs priming before application, I would still argue that it's the best metallic gold spray paint. Besides its compatibility with different materials, the paint features a bright gold with a gorgeous reflective finish.
What to Look for When Buying Gold Spray Paints
I can't blame you if you're now hyped up and eager to start your DIY project. After all, making something with your own hands can be really fulfilling. Turning something into gold can feel quite like a miracle!
If you get it wrong, however, it can be frustrating. By choosing the right gold spray paint for your project, you can prevent those mishaps. Be sure to consider the following factors before buying a can of gold spray paint.
Shade
An untrained eye probably won't notice the distinction between a Valspar gold spray paint and a Rust-Oleum at first glance. Likewise, a light gold spray paint tends to look similar to silver-gold spray paint. When you start arranging the painted pieces in a room, they can make a world of difference. Even though the label simply indicates "gold metallic" some may look more rustic while others have brighter tones.
Finish
As you can see, I've featured several different finishes to match the motif of your interiors, outdoor spaces, or themed parties. The metallic finish comes in different versions and shades. However, you can also find reflective, satin, glossy, and matte gold spray paint. Some manufacturers even offer brushed gold spray paint variants. If you prefer to pepper some glitter on a surface, try using a glitter gold spray!
Surfaces
In general, gold aerosol paints work on multiple surfaces. Yet, you will notice that the paint you bought applies better to one specific material than the other. What is considered the best gold spray paint for plastic may not be great for wood as these two materials have different properties.
Where the object will be placed needs to be factored in as well. Exposing your ornaments or furniture to the elements may cause the paint to chip or fade. Check the label and the packaging to see if the paint is suitable for indoors, outdoors, or both.
Drying time
Since aerosol paints are formulated for different applications, "slow" does not always mean defective. Granted, there are fast-drying spray paints available but I do recommend planning. Don't sneak a DIY project in between two time-sensitive tasks like cooking. Also, you need to factor in the weather and temperature at your location.
For instance, drying time will be different if you're in the UK or Canada as opposed to those in tropical countries even if you are using the same Valspar metallic gold spray paint.
What Can I Spray Paint Gold
It depends on the variant of spray paint you bought. Fortunately, you can find all-purpose gold spray paints that work on glass, wood, paper mache, ceramic, metal, concrete, fresh flower, and so on. Meanwhile, some products are made for specific surfaces. For example, you can only produce a mirror finish by applying gold reflective spray paint on a glass surface.
How Do You Paint Something Shiny Gold
The first step is to determine the kind of shiny finish you want and the material you intend to paint on. Remember, some products have a reflective finish while others are simply glossy or glittery.
Most, if not all aerosol paints include instructions in the packaging or label. Some even provide detailed directions for specific materials, where priming and top coating may be needed.
Can You Spray Paint Gold Over Black
As long as the gold spray paint you bought is opaque rather than semi-transparent, then the answer is yes. I've featured some products in this review that have excellent coverage.
Conclusion
Instead of buying expensive decors and furniture, creative DIYers always find ways to upgrade their homes and repurpose old items. Brands have come up with the best gold spray paints for pretty much every surface there is.
I know the process of cleaning, painting, and curing the surface can be time-consuming. Many artists have shared their does not always guarantee optimal results if you do not take the time to read the instructions.
But trust me, spray paints can make paint jobs a lot easier and faster. So don't put off that DIY project anymore, and give your space a fresh new look! There is no excuse for us to procrastinate over that home improvement project that we've been planning since last year.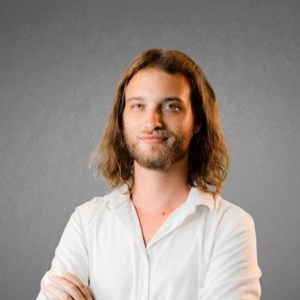 I am a former art teacher, so it is evident to me the importance of art in educating the new generation. We also want to help parents who plan to teach their children and desire the best tools and tips for them.