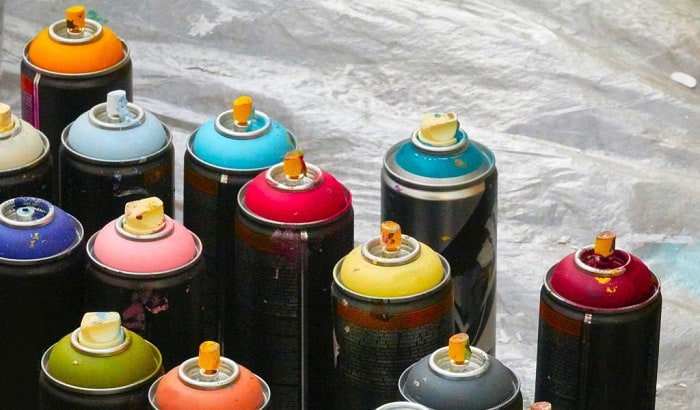 Brushed nickel paint gives off an elegant color and finish similar to stainless steel. You can imagine a soft metal finish that is neither too shiny nor matte that can lend an understated yet beautiful appearance. No wonder more and more people use this color to refurbish furniture and other home pieces.
Fortunately, the best brushed nickel spray paint products have become widely available. You can present this stunning color and finish to your projects to match the interiors and ornamental accents in your home. Just make sure to keep these three primary factors in mind when finding the ideal spray paint:
Besides the subtle stainless steel color and semi-satin finish, prioritize the formulation with protective properties like resistance to rust or non-yellowing substances. Most spray paints are oil-based for quick drying time and durability. Other brands highlight a paint and primer in one for faster and more efficient application. With all that in mind, you can showcase long-lasting and durable brushed nickel paint on your projects.
Next, consider the drying time. Some spray paints dry in 30 minutes or as quick as 10 minutes! The faster the paint dries, the lower the chances of dripping and uneven distribution. Aside from that, it lets you reapply the coat to build the desired color and finish.
Lastly, surface compatibility is a significant factor, especially if you are working on various surface types. You can easily determine this on the label of the spray paint, regardless of whether it is for wood, metal, plastic, masonry, ceramic, etc.
In this article, you will find top-rated brushed nickel spray paint for metal, plastic, wood, and other surfaces that will give your projects a beautiful revamp! Check out the reviews and discover your ultimate pick!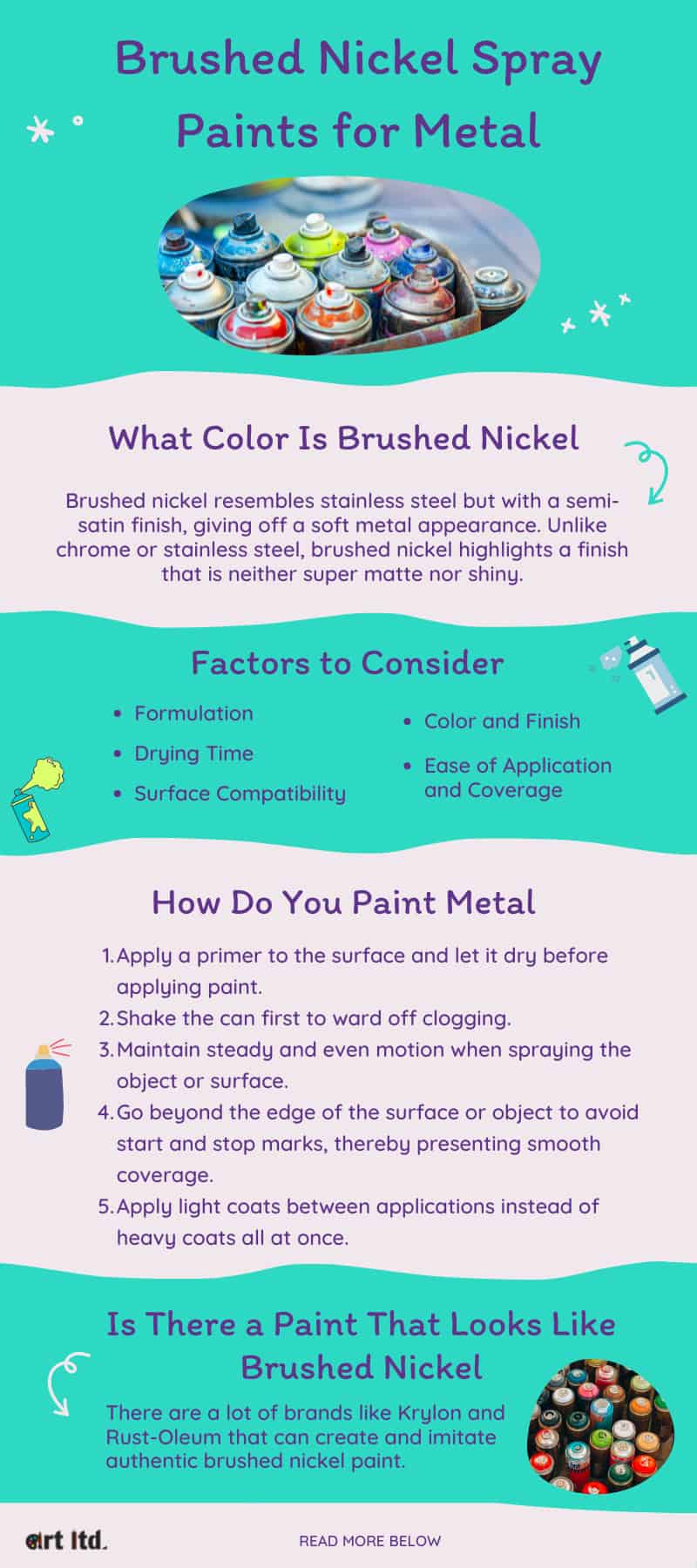 Top 5 Brushed Nickel Spray Paint Reviews
1. Krylon 51510 ColorMaster Paint and Primer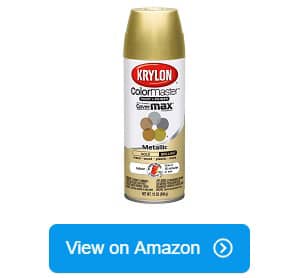 Painting surfaces and objects are much more convenient when you have a paint and primer in one. This is one of the reasons why I go for this Krylon ColorMaster paint, especially when revamping projects with brushed nickel finishes.
If you sift through its appearance, this spray paint has just the right amount of gloss and a subtle matte finish, revealing a minimalist and elegant touch. Aside from that, there is no need to reapply too many coats with this one.
Surprisingly, it brings out the color with just the initial application. Therefore, several light coats can already give you the beautiful brushed nickel you want.
Whether you need a brushed nickel spray paint on brass that seems too shiny for your taste or a metal surface that needs refurbishing, this spray paint does a great job. The finish and quality actually remind me of the Valspar brushed nickel spray paint, which conceals and straightforwardly revamps surfaces.
Moreover, it can provide the desired outcome in terms of paint quality and the appearance of brushed nickel. Plus, it is dry to touch in ten minutes or less, preventing dripping and irregular textures.
Since it is also compatible with wood, plastic, and many other surfaces, it paves the way for creative designing and detailing on various redecorating projects. In fact, I used it to add color to my headboard bed, and I am pleased with the results.
One of the best features of this spray paint is the EZ Touch dial spray tip. Such nozzle design lends a 360-degree coverage for smooth, wide, and even applications, making it reliable for large-scale projects. Besides that, it can be used as long-term protection on painted and bare surfaces to prevent damage.
Unfortunately, as much as I want to love the innovative spray nozzle, it still has some setbacks that could be improved. It sometimes leaks and gets clogged right after use.
Pros
Provides a semi-satin finish similar to brushed nickel
Can present beautiful brushed nickel color on initial application
Innovative EZ spray tip for smooth and full coverage
Quick drying time
Compatible with various surfaces
Cons
The spray dial tip may leak and get clogged at times
Despite some nozzle issues, this Krylon paint is one of the best picks out there to achieve seamless brushed nickel paint and texture. The excellent balance between matte and shiny appearance lends a foggier metal look that can match authentic brushed nickel.
2. Rust-Oleum 249130 Universal All Surface Spray Paint
I have always loved repurposing old items and repainting them with either full colors or touch ups. With that said, brushed nickel is among the best shades for a sophisticated and minimalist look. Thankfully, applying this color to various surfaces has been possible with Rust-Oleum Universal spray paint.
First, it is suitable for any type of surface, including wood, metal, glass, plastic, concrete, vinyl, and many other surfaces or materials. The surface compatibility highlights the paint's versatility, allowing you to create brushed nickel textures and finishes on a vast array of painting projects.
In terms of color, the Satin Nickel shade mimics brushed nickel finishes incredibly well. Thus, it is one of the ideal options if you want to match your brushed nickel interiors or hardware. Moreover, the high-quality paint gives off an expensive look, rendering a stylish and elegant appearance at the same time.
One more thing, this paint has an oil-based formula. Therefore, it can provide a long-lasting and durable finish that can prevent fading and chipping. Thus, I find this a reliable brushed nickel paint for metal and other non-porous surfaces that do not usually absorb paint easily.
Aside from that, the advanced formula offers promising protective properties against UV and other outdoor elements. This works like a charm on furniture outdoors or surfaces that are usually exposed to sunlight.
I am a bit skeptical about the drying time. However, I did not expect that it would dry to the touch in 30 minutes. It may seem relatively longer than Krylon, but the drying time is still much faster than other oil-based spray paints.
The pistol-like spray nozzle surprisingly covers wide surfaces without little to no clogging. However, I am not really a fan ofthe grip, as it sometimes feels uncomfortable.
Pros
An oil-based formula for outstanding durability and longevity
Offers maximum protection that prevents fading and chipping
Compatible with various surfaces
Gives off an elegant and expensive brushed nickel appearance
Ideal for outdoor furniture or surfaces
Cons
Lends an uncomfortable grip sometimes
Nonetheless, this is a considerable option for a brushed nickel touch-up paint or full coverage on various surfaces. It stands out with its advanced oil-based formula that excels in durability, maximum protection, and longevity.
3. Krylon 5587 COLORmaxx Spray Paint and Primer
Whether you enjoy crafting or restoring furniture or other items, this spray paint adds a stunning brushed nickel color. I must say that upcycling paint projects are quite challenging. But the fact that this product is a paint and primer in one makes the job much easier to accomplish.
I have used Krylon spray paint products for quite a while, and I am glad this metallic shade did not fail to impress. First of all, it is not super glossy as you would typically expect from a metallic silver color.
Since brushed nickel does not need to be too shiny, this variant is one of the closest you can get for a brushed nickel finish. However, you can still see that it glimmers from time to time. Therefore, it is safe to say that this color can provide a very subtle gloss nickel spray paint on your furniture and other refurbishing projects.
Aside from that, the texture of the spray paint adds an elegant finishing touch, giving off a high-quality appearance. Its formula also offers rust protection for your indoor or outdoor projects and furniture.
Furthermore, this spray paint features a large easy-to-use button spray nozzle that can be used in any direction. Plus, it is dry to the touch in 20 minutes or less. A 12-ounce can of spray paint can cover up to 25 square feet, depending on the size of your project.
One slight drawback is that the spray nozzle gets clogged sometimes. However, this is a common problem with spray paints, which is why vigorous shaking is a must before using them.
Pros
Lends a smooth brushed nickel shade with a subtle glimmer
Offers rust protection to preserve the project's quality
Suitable on different surface types
Dry to the touch in 20 minutes
Great to use for indoor and outdoor furniture or surfaces
Cons
The spray nozzle gets clogged sometimes
With proper application and preparation, this metallic spray paint would be a reliable option to match brushed nickel color on your projects. Aside from its versatile primer and paint formula, it can expand your project's longevity with its optimum rust protection.
4. Rust-Oleum 7274830 Stops Rust Metallic Spray Paint
Exploring the options for brushed nickel paint will take you to this Rust-Oleum Metallic spray paint for wood, metal, and many other types of indoor and outdoor surfaces. Amazingly, this line has a vast array of beautiful shades to choose from but you can find your best bet on the Matte Nickel shade.
As you can tell from its shade, it appears to be more matte than the genuine brushed nickel color. However, it still gives off a stunning metallic coat and understated shine, leaving a smooth and sophisticated finish.
This spray paint boasts protective properties that can resist rust. Thus, every coat is a layer of protection for your furniture or hardware to ensure exceptional durability.
Furthermore, this nickel paint does not quickly fade over time. You can expect long-lasting surface quality and appearance since it can ward off abrasion and chipping.
However, take note that you can achieve these remarkable results with correct intervals for reapplications. Thankfully, it is dry to the touch in 20 minutes or less. In this way, you can cover all the areas and render evenly distributed paint in no time.
One more thing, this formula contains actual metallic flakes. This bolsters the quality and appearance of the paint to deliver a metallic finish for a beautiful brushed nickel coat.
Just a heads-up, this paint does not work as a primer unlike the ones previously mentioned on this list. Thus, it is better to prime the surface first before spraying. But as long as the surface is clean and smooth, you can use this right away.
Pros
An oil-based formula that contains protective properties against rust
Can resist abrasion, chipping, and fading for a smooth and long-lasting finish
Gives off a matte nickel color that can resemble brushed nickel
Contains actual metallic flakes to boost a metallic finish
Suitable for all indoor and outdoor surface types
Cons
Does not work as a primer; may require surface priming before application
Thanks to its excellent protective properties, this spray paint delivers an elegant coat that resists rust and does not chip, crack, or peel quickly. Although it is more matte than the usual brushed nickel color, it resembles its finish beautifully.
5. Seymour 16-054 Stainless Steel Rust Protective Spray Paint
Since brushed nickel looks a lot like stainless steel, it is reasonable to browse the options for stainless steel spray paints. With that said, this Seymour stainless steel finish protective spray is one of the best ones out there.
Rather than the usual shiny finish of stainless steel, this spray paint has a soft matte steel finish similar to brushed nickel. This product works great for touch-up paints or refurbishing hardware to match brushed nickel hardware and furniture.
I must say that this spray paint has a darker or brownish undertone for stainless steel color. However, that seems to be a good thing since brushed nickel does not have a faint blue undertone as stainless steel should.
Moreover, the drying time does not take longer than usual. I am not sure about the exact minutes but I can say that it dries to the touch in 10 to 20 minutes. I find this an advantage for reapplications while preventing wrinkling and uneven layers.
Besides the resemblance in color, I can say that this product is more than just spray paint. Thanks to its protective properties, it repaints surfaces and protects them from corrosion, abrasion, chemicals, salt, UV light, and other harsh elements.
In addition to that, I like how it lends a smooth and even paint that can prevent chipping or flaking. Therefore, it can preserve the surface or furniture's quality for the longest time possible.
Perhaps, the only issue with this spray paint is the faulty nozzle, which gets clogged sometimes.
Pros
Exhibits a soft matte finish that looks like brushed nickel
A quick-drying formula for fast and efficient applications
Contains protective properties against corrosion, abrasion, and various chemicals
Offers maximum protection against sunlight, weather, and water
Great for touch-up paints
Cons
The nozzle is faulty sometimes
Overall, this spray paint is among the closest shades to brushed nickel color. Besides its soft matte finish, it uses a formula that can provide ample protection against various elements, ensuring longevity and durability.
What to Look for When Buying the Brushed Nickel Spray Paint
Formulation
This is a pivotal factor that can make or break the overall quality of the spray paint whatever the color is. But for a brushed nickel paint color, you can present stunning color precision, finish, and appearance if you settle for an innovative and reliable formulation.
This includes a vast range of protective properties that may vary from one brand to another. Many brands offer formulations that can provide resistance and protection against corrosion, rust, fading, and chipping. This elevates the spray paint's durability and longevity, allowing you to mimic an authentic brushed nickel hue with a lasting and clean finish.
Moreover, some brushed nickel spray paints in a can work as a primer for fast and efficient coverage. You may also consider oil-based formulas for durability and optimum drying time.
Drying Time
With regard to the drying time, it is good to know that many brushed nickel spray paints are dry to the touch in 10 minutes or less. Other brands can take around 30 minutes or so. Quick drying time prevents dripping and uneven applications.
Apart from that, the swift drying process allows smooth and effortless reapplications for a better finish, color, and overall appearance. However, humidity and temperatures may affect the drying time. That is why it is imperative to check further instructions for the optimum drying time, particularly for initial coating and final coating.
Surface Compatibility
When working on large refurbishing projects, chances are you have to deal with various surface types. Therefore, it is crucial to check whether the spray paint is compatible with different surfaces, including the one you are working on.
Luckily, a lot of brushed nickel spray paint brands provide versatile and innovative formulations that can work on various surfaces. This includes metal, wood, plastic, masonry, ceramic, vinyl, fiberglass, and many more.
Color and Finish
The goal is to build a brushed or polished nickel spray paint that can match your home interior and projects or create elegant hues on your household items. This can be a bit challenging since some spray paints do not specifically come with "brushed nickel" colors on their labels.
Thankfully, there are available shades that can match brushed nickel colors and finishes, including metallic, satin nickel, or metallic satin nickel. Sometimes, a matte silver finish also works.
Moreover, you can rely on customer reviews to compare the results of the paint on various surface types. However, the condition (whether it is bare or painted) and type of surfaces may affect the outcome, resulting in varying appearances in color or finish. If you ever choose a particular shade to recreate brushed nickel, you can try it first in an inconspicuous area of your project.
Ease of Application and Coverage
Many brushed nickel spray paint brands come with innovative spray nozzles for hassle-free and even paint distribution. Although ordinary spray nozzles can still deliver optimum paint on surfaces, some popular brands like Krylon feature EZ Touch dial spray tips for smooth and effortless coverage.
What Color Is Brushed Nickel
Brushed nickel resembles stainless steel but with a semi-satin finish, giving off a soft metal appearance. Unlike chrome or stainless steel, brushed nickel highlights a finish that is neither super matte nor shiny.
Is There a Paint That Looks Like Brushed Nickel
Yes, there is. Fortunately, there are a lot of brands like Krylon and Rust-Oleum that can create and imitate authentic brushed nickel paint. These brands usually have an array of hues that can match brushed nickel or at least close to it. Typically, they fall under metallic, metallic silver, or satin nickel shades.
How Do You Paint Metal to Look Like Brushed Nickel
Once you have the perfect brushed nickel shade (skip the super glossy or matte shades), the next step is to paint the metal surface with the correct distance and motion. You may consider the following tips:
Look for a well-ventilated space or set up an area outdoors to avoid inhalation of toxic fumes.
Apply a primer to the surface and let it dry before applying paint. If the brushed nickel spray paint is also a primer, you can use it right away.
Shake the can first to ward off clogging. Then, make sure to keep it 10 to 12 inches away from the metal object or surface to prevent dripping and uneven appearance.
Maintain steady and even motion when spraying the object or surface. Decide whether to spray vertically or horizontally. Once you choose a direction, go back and forth as you spray.
Much better if you go beyond the edge of the surface or object to avoid start and stop marks, thereby presenting smooth coverage.
Apply light coats between applications instead of heavy coats all at once. If you need to reapply coats, do not do it too soon. You should let the paint dry first to avoid wrinkling and uneven coverage. With that said, it is imperative to check the spray paint's label for the recommended drying time.
Conclusion
Upcycling old items and refurbishing surfaces with a whole new paint are challenging tasks to accomplish. Much more so when you need to match interiors, hardware, or furniture with a similar shade like brushed nickel.
Finding the best brushed nickel spray paint might be a bit difficult but this in-depth review and list suggest otherwise. These spray paint products exhibit shades that are strikingly similar to brushed nickel, if not, close to its finish and color. Just make sure to read the labels and follow proper application to achieve the best quality and brushed nickel color for your projects.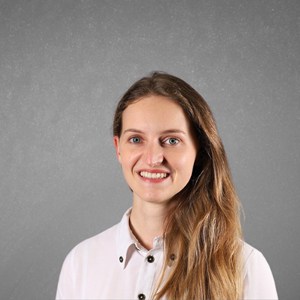 Art has always been a part of my life; it influences my upbringing and later my career choice. For me, it is always a part of my parenting technique. So for whichever purpose that you come to art, you can start here with us.