Behind every line and stroke of artwork are an artist's skill, technique, and a high-quality and pigmented set of pencils. For softer hues and brilliant shades, pastel pencils have been among the favorite tools to carry out the task. Crafted as pencils, you can get that familiar feel in your hand every time you use it for coloring, sketching, or rendering detailed lines.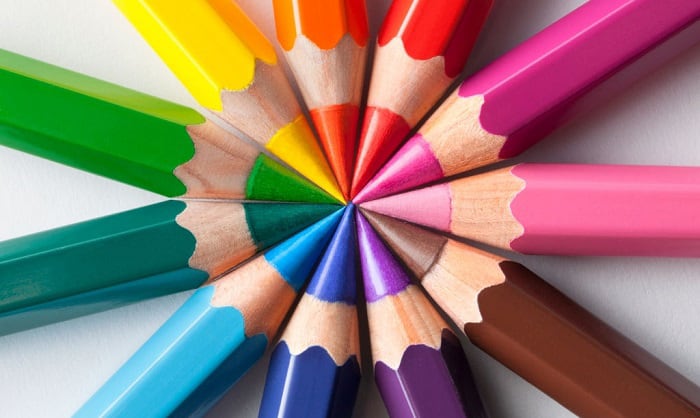 But what are the pastel pencils you should try? How can you choose the best pastel pencils for your art projects? That's probably why you're here.
I have delved into the significant properties of pastel pencils to give you an overview of their types, highlighted features, and different uses. To assist you further with the pastel pencils you should choose, you'll also find a comprehensive roundup and reviews in this article.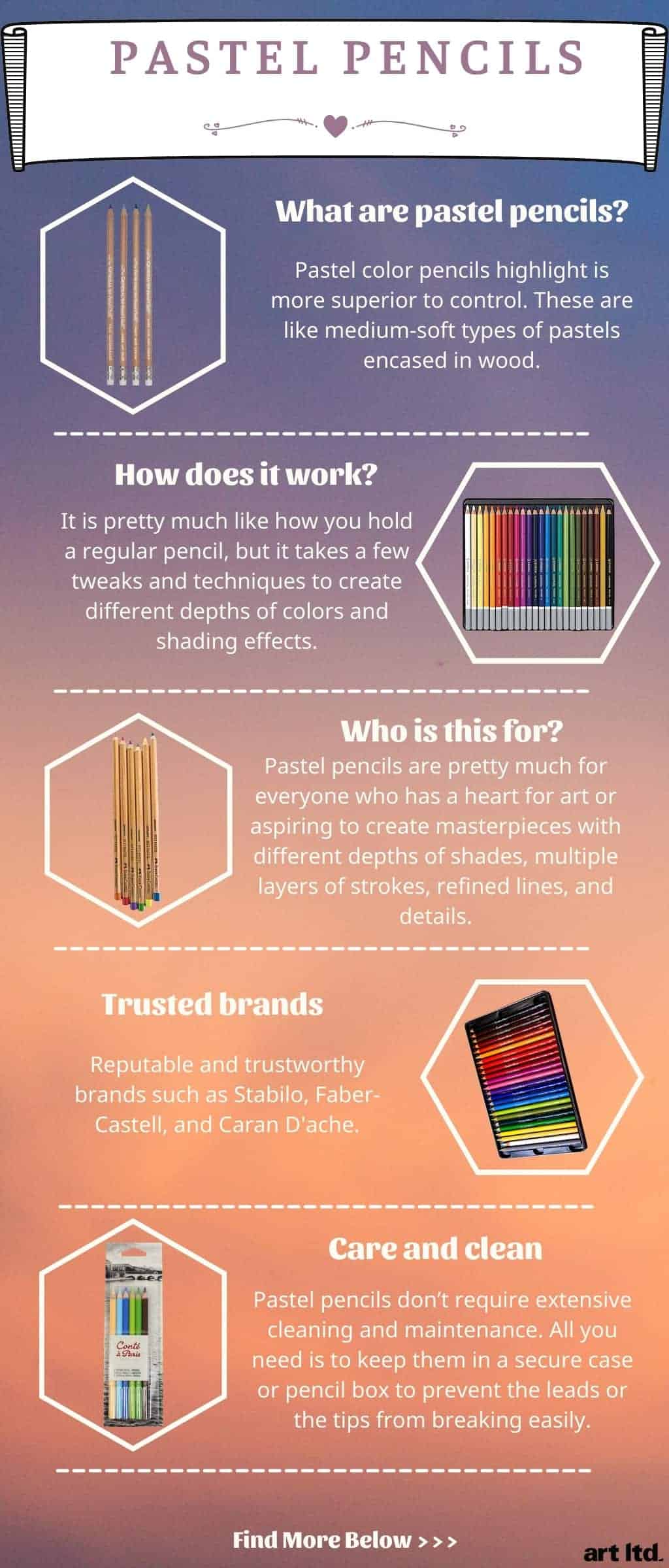 Top 10 Pastel Pencil Reviews
1. Stabilo Carb-O Pncl 24-Color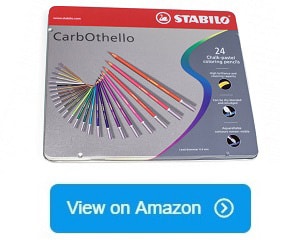 The vast range of colors combined in this 24-piece set, making it a favorite pick among the wide selection of Stabilo pastel pencils. This CarbOthello pastel pencils review shares its versatile formula and texture that many artists can take advantage of. I like how you can use them as dry-blended or smudged, thereby allowing you to elevate your art with dramatic textures and artistic effects.
You can use your fingertips or a blending stump to enhance the lines and strokes for a picturesque artwork. With the lightness and subtlety of the pastel colors, you can create softer hues and define the lines for more detailed work. Crafted as chalk-pastel pencils, they glide more seamlessly as you work on it.
I find these pastel colors blendable and highly workable. It also goes very well, even with your finger or a cotton swab. As they smudge or smear so well, you can mix and play with the colors and get your take on your craft, whether it is for coloring books or sketching and drawing. If you often use gray or tan papers, these colors will look great, too.
To rectify some lines and strokes, you can easily erase it with a chalk eraser. The pastel colors are subtle and not too vibrant but still beautiful. And if you want to use it with water, it does work well and you'd be surprised to see how the colors become more vibrant.
As these are soft chalk pencils, they may be ground to pieces and dust before you know it. This is probably the only downside I found. Therefore, you should be careful when you are using a pencil sharpener.
Pros
Lends soft and subtle hues for dramatic and artistic effects
Blendable and workable pastel colors
Easily erases with a chalk eraser
Offers a wide selection of pastel colors
Allows you to create soft hues and defined lines
Cons
Can be ground to dust when not carefully sharpened
Nonetheless, the charcoal-feel and soft texture of these pastel colors are sublime and workable. When you're up for dramatic effects or a quick sketch, these pencils will do the job.
2. General Pencil Pastel Chalk Pencils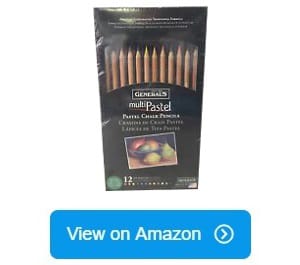 Whether you're acrylic painting or just trying to work on a masterpiece, you can give these General Pencil 12-piece pastel colors a shot. It boasts its smooth texture and rich pigmentation that can adapt to a variety of textures and techniques.
I find it quite impressive with its versatility, especially if you often switch between different materials and artistic projects. If you want to create outlines, define shading and aging effects, or go for lettering and chalking, these chalk pastel pencils will do the job. You can also try it out on a rough drawing, quilting, or if you want to incorporate it with watercolor paintings.
The soft hues look beautiful, which is great for shading and blending colors. The pencils are blendable, making it ideal for layering and building shades and depth. What's also great about these pencils is how you can easily wipe them clean with a damp cloth when you're working with an acrylic painting. You can keep your artwork neat without any messy marks.
These pastel pencils showcase a classic design and hence, are easy to hold and use. Each pencil also has an eraser, which is not like other types of pastel pencils. But if you would sharpen them, you should do it carefully and slowly. The pencils fit in a standard sharpener, though. Also, this set comes with a sharpener should you ever need one!
Probably the slight pitfall I find is the intensity of colors. Compared to other pastel pencils, these ones are not very vibrant and somehow a bit muted. If you're also after very soft chalk textures, you might skip this set for now.
Pros
Highly pigmented colors and smooth texture
Can be incorporated with watercolor and acrylic paintings
Can easily be erased to eliminate any messy marks
Versatile pencils suitable for different textures and techniques
Easy to hold and use
Cons
The colors are not very vibrant compared to other pastel pencils
May not be an ideal option for soft chalk pencil
Despite that, these pastel pencils are versatile and blendable, making them viable for different textures and techniques. You can ramp up your artwork and produce fine lines, softer shades, or defined outlines!
3. Derwent Pastel Pencils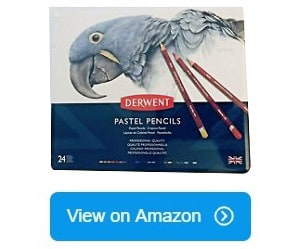 These Derwent pastel color pencils are all about detailed artwork. This 24-piece set offers a wide range of colors that you can use to create broad strokes and crisp details. Either you use these pencils to produce intricate lines to define the outlines on your work or create dramatic effects and softer edges, they'll do the trick.
I like how the colors are easy to smudge or smear for softer, tints, and more artistic effects. Blending the colors is no trouble, which is great for layering and building the shades. You can even use tissue with it to blend the colors and come up with softer hues. I also find them smooth and easy to use when defining lines or even when filling in spaces and images in coloring books and sketches.
The texture of these pencils is soft, which is somehow like a blend between oil pastel and colored pencil. But what I like most about them is they are blendable, while giving no smear unlike majority oil pastels do. They may be chalk pencils but they are not very dusty. Although subtle and light, the colors are pigmented and render great coverage.
They are easy to use. And if you're looking for the top-rated pastel pencils for beginners, you'd be in luck with these pastel pencils! The pencils lend a smooth drive as you use it. And when it comes to its design, I personally like how the names of the color are printed on each pencil, making it a lot easier to find and organize the pencils.
However, the downside of these pencils is they tend to break and crumble pretty easily when you sharpen them. It's safe to say they are not intended for a standard sharpener. That's why it is recommended to use sandpaper or other very sharp utensils to sharpen it.
Pros
Can be used to create broad strokes and detailed outlines
The colors are easy to blend or smudge for softer hues
Subtle but pigmented colors for great coverage
Not very dusty
Glides effortlessly and smoothly as you use it
Cons
May get broken if sharpened with a standard sharpener
Nevertheless, this is a beautiful 24-piece pastel pencil set you can add to your stash of art materials. If you're worried about trying out pastel pencils for the first time, you can start with this set. The pastel pencils are easy to use, blendable, and give off soft but pigmented colors.
4. Dainayw Skin Tone Pastel Pencils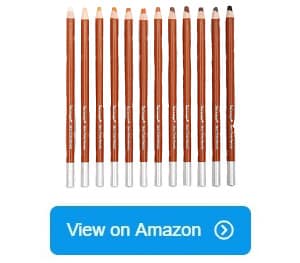 For enhancing the effects and different hues of the skin tones in your portrait, these Dainayw Skin Tone pastel pencils might just be the one you need in your arsenal. It is easy to control and the soft 5mm core glides smoothly on your artwork.
This set offers a range of 12 pastel colors that you can use to produce natural skin tones and intensify the neutrals in your portrait. These premium chalk pastels are ideal for both beginners and professional artists or painters who often work on portraits. With its soft texture, you can let your hand work on sketches, rough drawings, and portraits seamlessly.
What I like about this set are the complementary shades that you can easily combine or layer to create realistic shades or tones. If you want to define the dog furs or the facial contours of a person, these pastel pencils can take on that effortlessly. The colors are blendable, allowing to smudge the tone out easier artistic effects and realistic definitions.
I find the colors pretty impressive because of their quality pigmentation, thereby allowing you to build the shades and enhance the depth in your portrait with ease. The textures also go well with one another. It showcases a beautiful merge of the brightness of the pastels and the convenience of pencils.
Unfortunately, I do not feel great while doing the sharpening method with these pencils. You can't sharpen these pastel pencils with a standard sharpener. Otherwise, they'll crumble and disintegrate easily. You can use sandpaper to sharpen them but you have to do it very carefully.
Pros
Offers 12 pastel colors to create different shades of skin tones for portraits
Easy to layer or combine for more realistic shades
Blendable and easy to smudge for artistic effects
High-quality pigmentation and textures
Easy to use and glides smoothly on the material
Cons
Can't be sharpened using standard sharpeners
Despite that, this pastel pencil collection is an excellent treat for portrait artists and those who want to work on different skin tones and neutral shades. They are easy to use, lend soft and smooth texture, and produce quality and pigmented shades.
5. Koh-I-Noor Gioconda Soft Pastel Pencil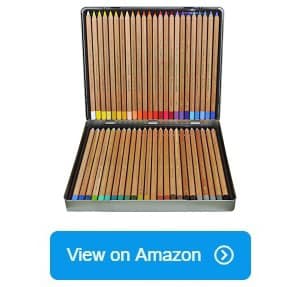 If you're looking for a vast selection of colors for your next art project, considering this 48-piece set from Koh-I-Noor Gioconda is a good idea. You get to switch between these pastel colors to produce detailed work and accentuate intricate lines and strokes. These chalk pastel pencils are soft and glide on smoothly, whether you are shading or drawing.
Apart from the availability of many colors, I like the versatility of these pencils. While you can use them to create fine lines, tone out colors, or enhance the depth of shades, you can mix these pastels with watercolor and its vibrant colors won't tone down.
It is easy to apply. If you want to elevate your work with dramatic effects, you can use your finger to smudge the pastels. You will get great coverage while putting softer hues on your work.
Another impressive point I find with these pastels is its neat application. As crafted from pure and micro-pulverized pastel pigments, these pastels don't produce a lot of chalk dust like other chalk pencils. Hence, keeping your artwork messy-free. The colors are vibrant and great to be used alone or together with different mediums.
When it comes to sharpening, there is no trouble with keeping the pencils on point. You can use a standard sharpener and it won't break easily. But if you want to use a knife or cutter to sharpen them, it'll be fine.
However, I found the white color in the set doesn't seem to keep up with the quality and vibrancy of others.
Pros
Offers an extensive selection of 48 pastel colors
Great to use for intricate details, shading, and producing dramatic effects
Renders soft texture and glides on smoothly
Can be used together with watercolor
Offers neat application with its less chalk dust
Can be sharpened easily with a standard sharpener
Cons
The quality of the white color doesn't seem to be up to par
Nonetheless, I find this extensive collection a feast in the eyes without breaking your bank. These pastels are soft, versatile, easy to use, vibrant, and able to combine with other forms of art materials.
6. Faber-Castell FC112112 Pitt Pastel Pencils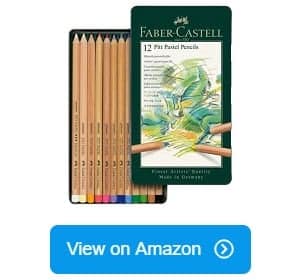 For a well-known brand that's been deemed exceptional on quality art materials, these Faber-Castell pastel pencils might be the set of pastel colors you need. Encased in a metal tin, this colorful selection of pastel pencils work beyond the sturdy and portable packaging.
The 12 pastel pencils are wax-free and oil-free but do not fail to impress with their high-quality pigmentation. Each pencil renders a lovely pop of color on your artwork, allowing you to define the details with beautiful pastels. Whether you aim for softer hues or want to give your subject a touch of dramatic effect, you can play with textures and easily smudge the color.
It feels nice in my hand. Since the pastel is hard, you won't have to work heavily on building the color up. Hence, it stays longer. Also, it is coated with the brand's patented Waterbased Eco Varnish for healthy and safe use.
Another focal feature I like about these pastels is the quality of the pencils that are somehow similar to oil pastel pencils. Therefore, these pencils can deliver superb quality that can elevate the details and different shades on your subject. You won't also have to worry about ugly marks, especially when you work on a painted canvas. It erases easily.
The versatility of these pastel pencils is what makes it a great value for money. I see that it has impressive performance on the mix and match colors. Depending on the depth or shade you want, even when you use different mediums, the result still stays incredible.
On the other hand, you have to be very careful when sharpening it. Although it can work on a regular sharpener, you may have to skip using an electric sharpener as it can crumble and break easily.
Pros
Wax and oil-free pastel pencils
Offers a high level of pigmentation for superb quality and vibrant colors
Feels good in the hand and easy to use
Features Waterbased Eco Varnish for safe and healthy use
Can be erased easily
Versatile; can be used with different art mediums
Cons
Tends to crumble and easily break when sharpened with an electric sharpener
Overall, these pastel pencils are a great value for money. With its topnotch quality that somehow resembles oil pastels, you can refine your work and add a few tweaks to the details.
7. Caran D'ache Set of 84 Pastel Pencils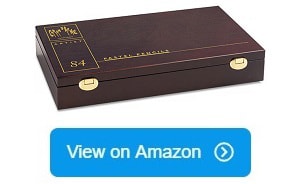 This set of Caran D'ache pastel pencils is probably every artist's dream. Whether you're trying to add a vast array of shades or just want to complete your pastel pencils collection, this 84-piece set might be the one. Besides the elegant and sturdy wooden storage box, you'll have a wide range of color feast soft pastel pencils that are great for landscapes and portraits.
I'm fascinated by how the colors are blendable and easy to layer. Even when you build the color up in multiple layers, the pastels stay vibrant. It is a stash of lightfast pigments, thereby preserving the richness of color.
While these are pastel pencils that you can use on a painting canvas or a paper for drawing, they also do wonders on pastel mat and velour. Especially the white pastel pencils, they work great on a black velour surface.
Professional artists can take advantage of this extensive collection to produce detailed strokes and different shades and depths. As you create more artistic effects, you can enhance your techniques and skills, particularly in blending and layering colors.
While some may find the range of colors too overwhelming, I thought they are easy to use. Each pencil lends a soft and creamy texture for superb and rich quality.
Many artists would probably find the 84-piece set an exquisite delight. However, beginners might find this collection too much to work on. Therefore, if you're just starting with arts and pastels, you might skip this for now and start with a smaller range of colors.
Pros
Offers an extensive collection of colors
Allows you to produce different depths, shades, and detailed strokes
Lends a soft and creamy texture
Easy to blend and layer
Delivers vibrant colors and lightfast quality
Encased in an elegant and sturdy wooden box
Cons
The range of colors might be overwhelming for beginners
On a different note, this could be your ultimate splurge on pastel pencils. The abundance of the vibrant pencils truly is promising and each color does not fall short in quality and lightfastness. It is versatile, easy to use, very blendable, and can work on different art mediums.
8. Conté à Paris Pastel Pencils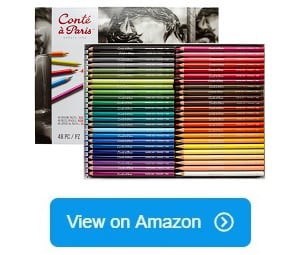 For a complementary set to your soft pastels, Conté à Paris pastel pencils could be your best bet.
Crafted with slightly hard lead, it can deliver smooth texture and sturdy drive. Plus, the lead is sized 5mm and relatively thicker than usual. It also stays longer and does not need frequent sharpening.
The colors look great and give off vivid tones, allowing you to create depths and different ranges of shades. Whether you're coloring, sketching, shading, or drawing, these pencils can take on the job.
I thought these were a great range of pastel pencils with 48 assorted colors, especially if you're working on small or large scale artworks. You can build the colors up but the manufacturer does not recommend using it in successive layers of colors. However, the tones are already bright and pigmented. You can take delight in the vibrant tones and spruce up your artwork with more details and depths of colors.
What I also like about these pencils is the convenience in use. The pencils feel good in the hand and effortless to hold, making it ideal for beginners. The colors are also blendable, allowing you to get the colors you want on point.
Moreover, the colors don't easily fade and hence, preserves its opacity. If you want to work on the softer edges, you can use your fingers and smudge the colors and they do smear very well.
Despite the delight in blending abilities and vibrant colors from these pencils, they still have their share of downsides. The first issue is the sharpening. With its thick lead, you can't sharpen it easily with a regular sharpener. You may need to use a knife or sandpaper to do it. The next is about its lead thickness that occurs a bit difficult to use on more intricate details or super fine lines.
Pros
Lends smooth texture for hassle-free use
Offers vibrant colors that are easy to blend and build
Crafted with 5mm lead for sturdy quality and better feel
Can be smudged for softer edges
Ideal for beginners
Cons
The lead is thicker than usual and a bit hard to sharpen with a regular sharpener
May not be good to use to create fine and intricate details
Anyhow, this 48-piece set is still a good deal. You get to indulge in a wide selection of vibrant colors and benefit from its properties. Each pencil is easy to use, feels soft, and delivers quality shades that do not fade out.
9. Conté à Paris 2 Count Pastel Pencils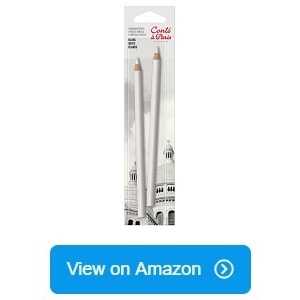 When one white pastel pencil doesn't seem enough to fill in the details in your artwork, you're in for a treat with these Conté à Paris pastel pencils in a set of two! The noticeable feature with this pastel pencil is the 5mm lead that renders a soft texture that glides on smoothly.
Thicker, slightly harder, and relatively heavier than typical pastel pencils, this white pastel lasts longer. You won't have to sharpen them very frequently and use it all up. Plus, it isn't too dusty so you can keep your artwork neat and messy-free.
What I also like about this pencil is how you can easily erase it. When you need to rectify any edges, lines, or other details on your drawing, you can do so without any trouble. Besides its quality and texture, I like how it is versatile to use with different types of art mediums.
You can use these chalk-based pastels to work with oil and acrylic paintings. You can also use it to define highlights, especially if you need to fill in the dark parts of your sketch or drawing. It also performs pretty well on a graphite paper.
It is easy to use, feels nice in hand, and does the trick to draw outlines and add fine details. But while the thickness has its advantages, it also shares a slight pitfall. I noticed that you can't use it with a standard pencil sharpener unless you have that one that can accommodate larger pencils. You may use a sharp knife to sharpen it, though.
Pros
Crafted with 5mm lead for long-lasting quality and great texture
Versatile and can work on different types of art mediums
Easy to use and feels good in the hand
Works very well with a graphite paper
Can easily be erased and not very dusty
Cons
The lead is relatively thicker than usual and can't be sharpened with a regular sharpener
Despite that, these white pastel pencils can wrap up a job without leaving a lot of messy dust, particularly in refining details for small and medium-sized formats. Although the lead is slightly harder, it feels soft and glides on pretty well.
10. Pitt Artist Pastel Pencil 101 White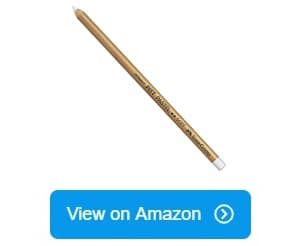 When all you need is a pigmented color to amplify your artwork's fine details, a white Pitt Artist Pastel Pencil might be the perfect item. Besides its high level of pigmentation, this pastel pencil is also free from wax and oil, making it suitable for defining lines and details in your artwork.
What I also like about this product is its light resistance and opacity. It has a great texture that does not feel too hard nor too soft, getting it perfect for intricate details, particularly when you accentuate highlights.
You can easily smudge the color to produce different depths and color transitions. The smudges create softer hues to make your subject realistic and beautifully embellished with artistic effects.
If you often work with dark materials, you can use this pastel pencil to give your artwork a beautiful contrast. I also find its lightfastness impressive as it does not easily fade or wear out. Working with fixatives won't also be a hassle with this white pastel pencil. Therefore, you can preserve your artwork and keep it from smudging.
This Faber-Castell also boasts its Waterbased Eco Varnish coating which I find remarkable for this piece of art tool. This makes the coating environmentally-friendly with no organic solvents used, making it safe and healthy to use. This coating offers the pencil hygienic and aesthetically crafted, also protects the wood quality from bacterial growth caused by external impacts, such as sweat or chewing.
Truly, this pastel pencil is quite impressive in color brilliance except for the purchasing option. It does not come in a set. If you want to buy this in all the available colors, you need to purchase them by piece.
Pros
Renders defined lines and intricate details in your subject
Easy to use and lightfast
Creates contrast and highlights
Great to use with fixatives
Features eco-friendly Water Based Eco Varnish
Can easily be smudged for softer hues and color transitions
Cons
Does not come in a set; you need to purchase the other colors individually
Nonetheless, this white pastel pencil is all about highlights and defined lines. You can use this pastel pencil to enhance your artwork with detailed lines and strokes; therefore, make your subject look more realistic.
What to Look for When Buying Pastel Pencils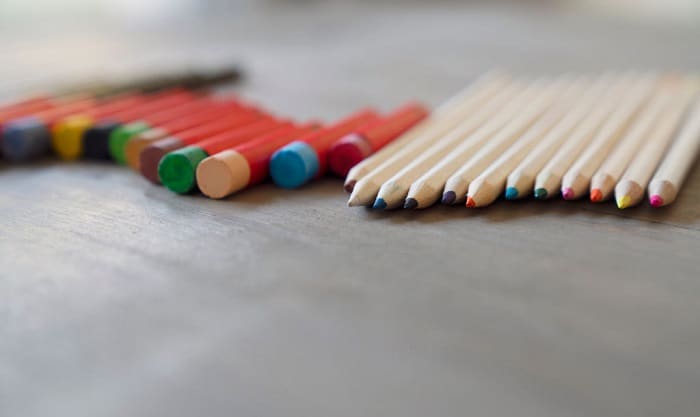 Range of Colors
One of the primary factors of choosing pastel pencils is the range of available colors. You can purchase them per piece. But for an artist or an aspiring one who works on different shades, lines, and strokes, it'll be a treat to find pastel pencil sets that can offer a vast selection of colors. Luckily, a lot of brands make this possible and you can find them in a set of 12, 24, 36, 48, 72, and some brands can offer more.
You should also take note of your preferences when it comes to the shades you want. There are pastel pencil sets that focus on neutral colors like warm tones and browns which are ideal for portraits and producing natural skin tone colors. Some sets that offer a minimal range of colors usually include primary paste colors while larger sets can provide various shades.
It's all up to your choices. Just make sure you are putting your money on a set with the colors that you'll use most of the time. And consider the scale of your projects or your skills and techniques in layering and building the colors. In this way, you will be able to determine whether you need to go for a complete set of pastel pencils or just the basic range of colors.
If you're a beginner, an extensive selection might be overwhelming. Therefore, you may start with the primary shades and transition to a larger range of shades as you practice your skills and techniques.
Textures and Variants
Although these pencils may resemble one another, these pastel pencils vary according to their textures and properties. You may find pencils that have creamy and soft texture while other brands might be slightly harder. Each has its respective advantages and disadvantages, though.
If you prefer creamy and soft textures, they also tend to feel smooth and easy as you work on it. It glides on the material seamlessly and hence, allows you to build colors or modify depths with ease. I think they are much easier to blend and smudge. However, there's a slight pitfall when it comes to sharpening. Some soft pastel pencils tend to break or crumble easily when being sharpened and some are not intended for regular sharpeners.
On the other hand, the pencils that are slightly hard can render a sturdy drive on the surface and also glide on smoothly. I often notice this with pencils that are crafted with relatively thicker lead. Therefore, this type of pencil tends to last longer and won't easily crumble or break when you sharpen it. However, I find that some brands with such a texture aren't very easy to smudge to create softer edges.
Anyhow, this may not always be the case. The texture and quality of the pastel pencils may still vary from brand to brand. You may also consider the lightfastness rating which determines the resistance of the color to fading.
Versatility
If you're working on different materials or using different types of art mediums, you should consider the versatility of the pastel pencils you're buying. Depending on the formula and texture, there are pencils that can be mixed with other art mediums.
Some pastel pencils are great for creating outlines and refined lines with watercolor, acrylic painting, or oil pastel. Such versatility can elevate your artwork with accentuated details and highlights.
The Diameter of the Lead
Another significant factor to take note of is the diameter of the lead. Manufacturers always provide this detail. You should be very keen to check this as it can make a lot of difference in your artwork.
The thickness or diameter of the lead also defines control and ease of use. When you work on a project or artwork that requires intricate details and refined lines, I recommend you opt for pastel pencils with narrow lead diameters.
Narrow diameters offer preeminent points in terms of better control which is quite a contrast to pastel pencils with thicker or larger leads. However, a pastel pencil with a bigger diameter has a great advantage when it comes to optimal time and effort. You'll be able to color and cover larger areas and wrap up your work much faster than the narrow ones.
When it comes to sharpening, bigger diameters sometimes have a disadvantage. It may come a bit difficult at times as thicker leads won't fit in a regular sharpener. Either you buy a special kind of sharpener or use a knife to sharpen it.
Quality and Brand Reputation
As the market offers a vast array of pastel pencils, it can be quite difficult to find the ultimate collection. Especially if you're an aspiring artist or just someone who needs a set of pastel pencils for coloring, deciding on the options could be a dilemma.
In this case, you can start with well-known and reputable brands such as Stabilo, Faber-Castell, Caran d'Ache, and many more. These brands have been considered pioneers in the industry of art materials including pastel pencils. With their reputation in the field, you can find a wide selection of art mediums with many variants.
Your Preferences and Needs
Your ultimate of pastel pencils all comes down to your needs and preferences. The range of colors, textures, quality, versatility, and variants, and it depends on your skills or experience, techniques, and demands of your artwork. Are you working on a subject or artwork that needs a lot of detailing and depths of colors? If so, you may consider a large set of pastel pencils with a vast selection of colors. Pencils with narrow diameters would also do the trick on those intricate details.
Are you a beginner and looking for your first set of pastel pencils or a professional artist that needs an additional range of colors in your arsenal? Do you plan to use these pencils for coloring or drawing? Do you need larger pencils to cover larger areas? Are you planning to use it with other types of art mediums?
These are just some of the questions you can ponder over when choosing pastel pencils. It is imperative to determine what you really need and want. These pastel pencils may all look like typical color pencils but they have differences in properties that can break or make your artwork.
Budget
Your budget is a vital factor to consider when buying pastel pencils. These pencils come in a vast range of prices which may depend on the availability of colors, sets or brands. You can find affordable options while some brands and sets of pencils can be a bit costly due to the range of colors available.
If you're on a tight budget, you can consider purchasing sets of pastel pencils that have fewer color options or go for student-grade pastel pencils. The price tags may still vary from brand to brand, though. Whether it is cheap or expensive, make sure you're not investing in a flimsy quality.
Other Important Factors to Consider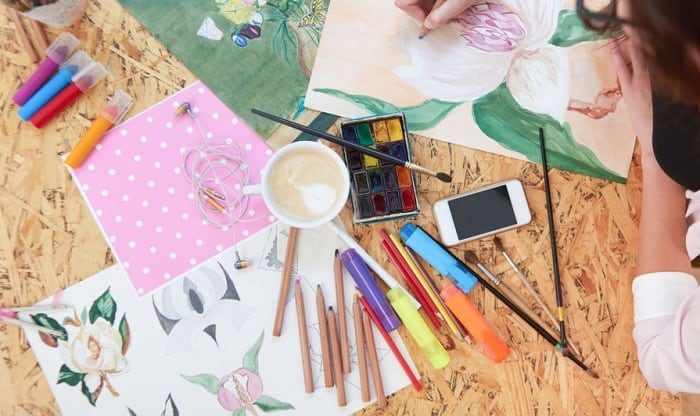 What are pastel pencils?
Pastel color pencils highlight is more superior to control. Contrary to soft pastels and oil pastels, pastel pencils are much easier to hold and use, just like the feel of using a regular pencil. These are like medium-soft types of pastels encased in wood, whereas such a build makes it much easier for the artist to hold and work with.
These pastel pencils deliver an aesthetic color palette that ranges from soft and subtle to bright and vivid tones. The concentration level of pigment may not be parallel to oil pastels or soft pastels but these pastel pencils produce rich colors that can also be layered and blended.
How do they work?
It is pretty much like how you hold a regular pencil but it takes a few tweaks and techniques to create different depths of colors and shading effects. The pressure you put on it also differs. Crafted with a pastel stick or lead, these pastel pencils typically render smooth textures despite the lead diameters. Although the formula or pigmentation may vary from one pencil to another or brand to brand, what makes them unique is their versatility.
It's safe to say that pastel pencils are easy to work with. No wonder they've captured a huge wedge of markets for both beginners and professional artists. You can produce vibrant colors with different depths and artistic effects as they are workable when you layer and blend them.
They are also ideal for rendering detailed outlines, highlights, and strokes to accentuate the features of your subject, making it more realistic and defined.
Who are these for?
Pastel pencils are pretty much for everyone who has a heart for art or aspiring to create masterpieces with different depths of shades, multiple layers of strokes, refined lines and details. Besides art lovers and enthusiasts, these pencils are designed for professionals, artists, colorists, beginners, students, children, and anyone who takes delight in building colors and playing techniques using different types of art mediums.
What are the different types of pastel pencils?
Pastel pencils are a variant of pastels. They offer better control which makes them stand out among other art mediums. There's little to no mess when you use it. However, you may differentiate them according to their textures. Some are soft pastel pencils that feel smooth and easy in the hand.
They are much easier to smudge and blend as well, especially if you're working on different depths of shades. You just have to be careful when you sharpen them to prevent them from breaking.
On the other hand, there are pastel pencils that are slightly harder in texture. Although it may seem a disadvantage, these pencils stand out with their sturdy feel and longevity. You also won't have to sharpen them very frequently. The only slight pitfall is the blending and smudging ability.
These are some of the common differences but the properties and textures may still vary from brand to brand. Some soft pastel pencils may be a bit chalky but some aren't. The same thing goes with hard pastel pencils. That's why it is important to choose a trustworthy brand that can offer high-quality performance.
Why do you need pastel pencils?
If you're all about control, sturdy build, and intricate details, pastel pencils are probably what you need. While they are designed to provide vibrant colors, you can use them to optimize the colors according to your preferred textures, depths, and shades.
Whether you are working on a portrait, large scale artwork, sketchings, and highlighting and outlining other forms of artworks, pastel pencils can do the job. Since many find pastel pencils easy to use, you may also consider using them to elevate your skills and techniques. Especially when building colors, defining lines, layering and blending colors.
Frequently Asked Questions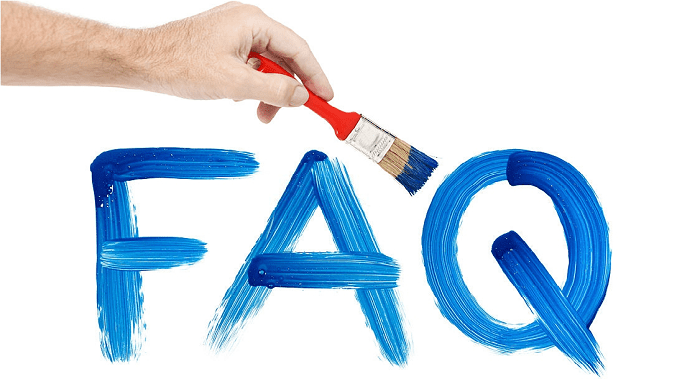 What are the best pastel pencil brands?
With the plethora of brands of art materials, what is the best brand of pastels? It's probably the brand that first flickers in your head when you talk about art materials; reputable and trustworthy brands such as Stabilo, Faber-Castell, and Caran D'ache. You may also check out the good brands for pastel pencils on our list such as Pitt Pastel, Conté à Paris, Koh-I-Noor Giocond, Dainayw, Derwent, and General Pencil.
Each brand has its respective properties, textures, and range of colors that you may find suitable for your creative needs and artistic skills. While the aforementioned may be some of the popular and topnotch pastel pencil brands you can find, the best one will always be the one that fits your needs no matter what the brand is.
What are the softest pastel pencils?
It can be hard to tell unless you try them out. You may check the customer reviews or the details of the brand you're planning to purchase. In this way, you can determine whether they are soft pastel pencils or not. But on our list, we've jotted down some of the soft pastel pencils you can check out: Stabilo CarbOthello pencils, General Pencil pastel chalk pencils, and the ones from Derwent, Dainayw, Koh-I-Noor Gioconda, and Caran D'ache.
How do you use pastel pencils?
If you're wondering how to use pastel pencils, you may think of using a regular pencil or a soft pastel. Do know that the way you hold it can render a different effect on your artwork. Therefore, you should determine first what you want to do with it or how you would like to apply the effects and shades. You can take note of these steps on you can use your pastel pencils:
The way you hold it and how much pressure you put on it differs from one technique to another. There's a difference when you create outlines or you want to fill in the spaces on your subject to build colors and layer them.
Make sure you sharpen your pencils before using it.
You can sometimes use it like how you use a drawing pencil, especially if you're working on sketches or drafts for your painting or pencil artwork. You can hold it the way you hold a regular pencil.
If you're working on intricate lines and little details on your work, a cat or a dog's fur for example, you can hold it like when you're about to pick it up. In this angle, you can use the side of the pencil for strokes and lines.
When it comes to shading, you can use the same position, but you can get your fingers closer to the lead for better control and layering.
Consider pastel pencils with narrower diameters when you're working on fine details and lines on your subject. You can also consider this for outlining.
You can use pastel pencils with large diameters or thicker leads if you want to cover larger areas on your artwork. This may not be ideal for detailing and other intricate lines. But it'll do the job, especially if you want to speed up shading or coloring.
At the end of the day, it all depends on what position you're comfortable with when holding your pencil. Don't be frustrated when you can't get it right the first time. It takes a lot of practice and patience.
How should you sharpen pastel pencils?
It depends on the quality of the pencil. There are pastel pencils that can fit in a regular sharpener and won't easily crumble or break. There are brands, however, that are not intended for standard sharpeners. It is either you purchase a special type of sharpener for its size or use another sharpening tool such as sandpaper or a knife.
These pastel pencils can be pretty delicate. You have to be careful and gentle when sharpening them to prevent them from breaking. Always make sure to check the durability and quality of your pastel pencils.
Where to buy?
The good news about pastel pencils is that they are very accessible. They are often available in almost every bookstore or art store that you can find. If you happen to check them at a physical store, you'll get to see the colors more closely so you can compare the opacity and vividness of the colors.
Most of the manufacturers always use other ways to make purchasing a lot easier such as online stores. Popular e-commerce websites such as Amazon and eBay are some of the places you can try. You can browse a vast selection of pastel pencils without any hassle and you can check them out with just a click.
What's also great about these platforms is the seasonal deals where you can get marked down prices and other discounts.
How to care and clean pastel pencils?
Pastel pencils don't require extensive cleaning and maintenance. All you need is to keep them in a secure case or pencil box to prevent the leads or the tips from breaking easily. It'll also be better to sharpen them now and then or when it is necessary. Just make sure to use the correct type of sharpener to keep the pencils from breaking to bits.
Conclusion
In a nutshell, choosing the best pastel pencils isn't just all about the colors you like. They have many variants that may differ in textures, qualities, lead diameters or sizes, and versatility. Although it can be a tad bit struggle to find your ultimate sets of pencils, I think this review has uncovered all you need to know before settling for a purchase.
Whether you're a beginner or a professional artist, what matters most is your preferences and how you want to use your pastel pencils. With this in mind, you'll be able to figure out your options and which set of pastel pencils best suits your ability and style.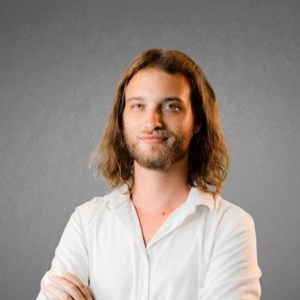 I am a former art teacher, so it is evident to me the importance of art in educating the new generation. We also want to help parents who plan to teach their children and desire the best tools and tips for them.