Have you tried buying the best art markers out there? Overwhelming, isn't it? There are just a plethora of options. You can't try them all, so how would you know that you're buying the best one?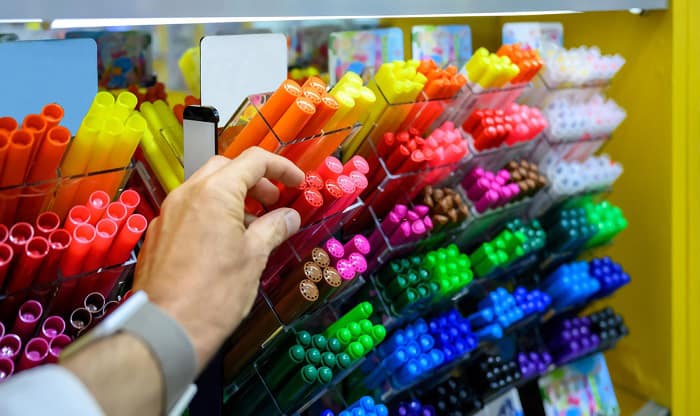 I get it. I understand the need to buy the right markers for artists. They are essential tools for artistic expression. But I can help you cut to the chase and avoid buying thousands of color markers for artists and help you narrow down your choice to only the best ones. Keep on reading to know which one you should spend your money on.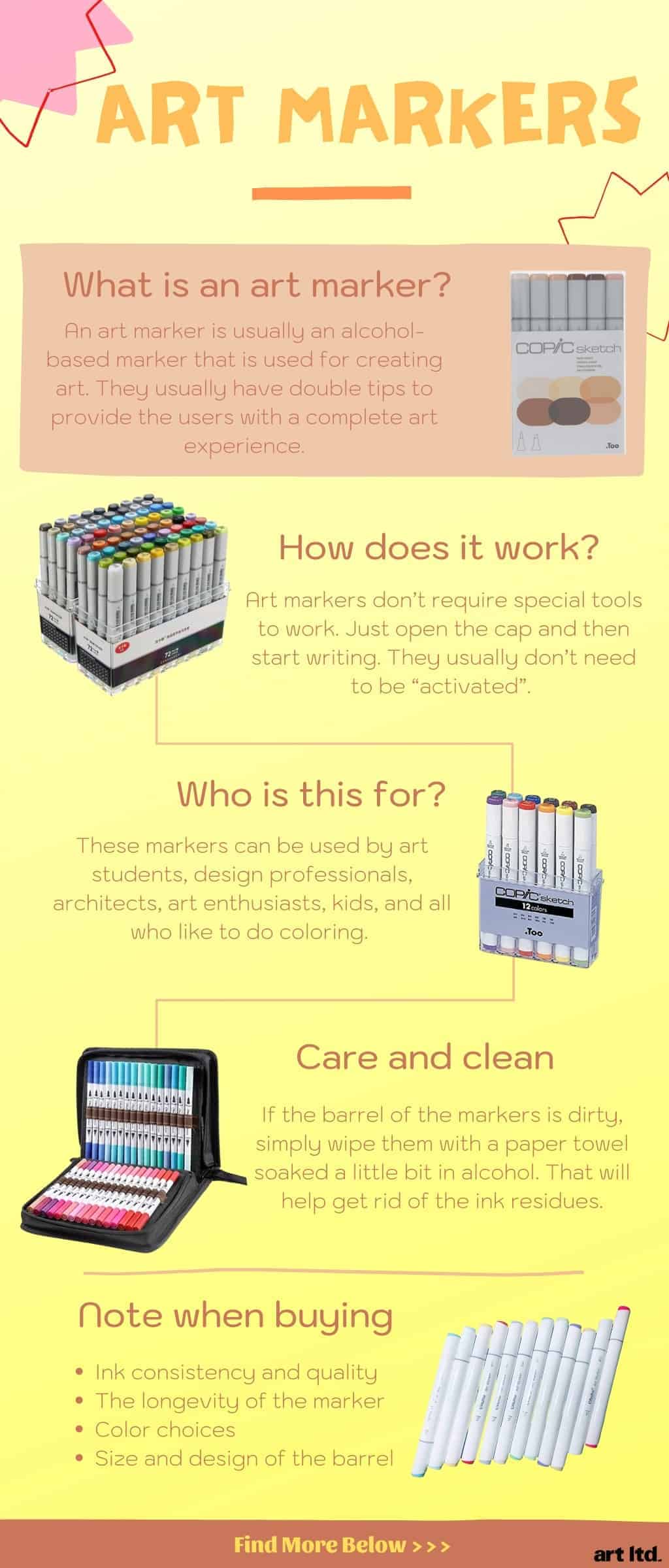 Top 12 Art Marker Reviews
1. Copic Marker SB12 Sketch Basic Set
I would normally not suggest something as expensive as this brand for beginners but if you are serious about your craft, you definitely should consider getting these. They are not for practicing but if you want to fall in love with art, these would work well for you.
The main reason why you will love these markers is their ink quality. They are some of the best and the most consistent markers I have tried. They don't clump up and the ink doesn't pool and leave behind a big mess. I can store them for some time and get back to them and they would still remain juicy.
The color selection is a bit limited but if you are just starting out, I think it should be good. You can add a few more colors as you go along and as you improve your craft. I like that it includes the basic colors, which you will need for all kinds of coloring.
This sketch is packaged in a sturdy and clear plastic case. You can easily see which color you should get.
These markers have an oval shape. They are not as rounded as other professional art markers, which can be a good thing because they won't roll off the table. You might find that there is a bit of a learning curve when using these markers if you are used to round markers. You need to be creative when it comes to getting the right angles.
These markers will save you a lot of money in the long run because of their refillable system. If you run out of ink, you can always get a refill. One refill bottle is not cheap though but that should give you at least 5 refills before you need to buy a new one. It extends the life of each marker, so you don't need to go out and repurchase the entire set. Just buy the ink that you ran out of.
I love the nibs because they glide so smoothly on paper. It doesn't feel like it's going to snag, thereby creating some of the smoothest lines. They are also durable. They don't show signs of wear and tear even after frequent usage although if they do wear out, you can always get a replacement and not have to throw out the entire marker.
What gives me so much joy when using these markers is their excellent blending power. This brand is known for their markers that blend so well, which is why professional artists love them so much. If you are looking for the most trusted alcohol markers that seamlessly blend together, you will not be disappointed with this basic sketch set.
It also features dual tips. One end is a brush tip and the other end is a chisel tip. These pens for drawing offer more range and versatility.
Pros
Great for beginner artists
Excellent ink quality
True to color
Durable nibs
Refillable ink
These are some of the most affordable sketch markers you can find out there. I would suggest saving up money for these markers. They are worth it.
2. Prismacolor 3620 Premier Double-Ended Art Markers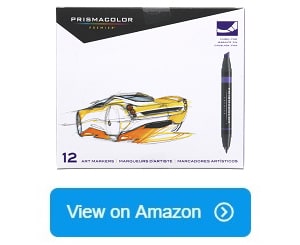 It's not hard to understand why these markers are often compared to the premium Copic art markers. These are good drawing markers similar to Copic but without the hefty price tag. There are a lot of differences between these markers and Copic though.
One of the key differences is the barrel design. The barrel has a black color, which I find good because it doesn't look dirty easily. If you smudge the barrel with some ink, it's not as noticeable as it would be on a white barrel. That keeps my set looking like new for a long time.
Unlike copic that has a brush tip and a chisel tip, these markers have a fine tip and a chisel tip. It might not very pleasant to those who prefer a brush tip but I find the fine tip easier to use for a wide variety of artworks.
You should note though that the chisel tip for these markers is thicker. They are not as flat as other markers, which might make them trickier to use. I do like chisel tips thinner because they do tend to dispense more ink if they are thicker.
These are some of the top colored markers for artists because of how juicy they are. They are very pigmented, so if you are looking for markers with striking colors, you won't be disappointed with these. On the other hand, the juiciness can saturate the paper you are using. I prefer using these markers on thicker paper because they have a tendency to bleed through.
This marker art set comes with 12 different colors that I think are a good starter set. If you prefer something more varied, you should get the set that includes more colors. It's not the top-rated skin tones sketch set though since you ill be getting rainbow colors with this but this is a buildable kind of set where you can just add the colors that you prefer.
The ink flow is quite consistent although I do occasionally find it a bit streaky. That is because the ink is thicker than others, so it takes more time to dry up completely. It would be best if you were careful not to let your hands touch the ink while it's drying up.
Pros
Excellent ink quality
Very pigmented colors
Good color selection
Can be blended with other brands of markers
Less expensive compared to Copic
Cons
Can bleed through paper
It can smear sometimes
These are good art markers because of the vividness of the colors. I highly recommend this to beginners and professionals alike or those looking for an alternative to copic markers. The quality is at par with Copic markers but it doesn't have the same price tag.
3. Bianyo Classic Series Alcohol-Based Dual Tip Art Markers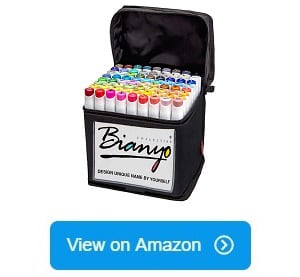 There are a lot of good choices out there for beginners if you know where to look. I say go for this one. It comes with 72 different colors of good cheap markers, giving you the color options that you need for your artwork. I think the selection of color is good and better than what more expensive brands can offer you, so if you are starting and you are looking for more colors to add to your repertoire, this should be a good choice.
Keep in mind that these art markers for coloring are alcohol-based. Because they are alcohol-based, they have a tendency to bleed through paper. Use them on a thicker kind of paper if you don't want to ruin the next page.
On the other hand, although they bleed through, they are not very streaky. I do find that you need to work quickly to prevent streaking and smudging because these markers dry up quickly. If you don't blend soon, you will be left with permanent marks.
I am satisfied with the pigmentation and vividness of the colors. They are very bright and they stay bright long after the ink has dried up. The ink doesn't have a tendency to fade over time. It includes a colorless blender which will help you work faster in blending your colors.
The size of these markers is just right. They are some of the most favorite sketch markers out there because they are easy to use for sketching. They are ergonomic and not at all clunky like many marker designs. I can hold them for a long time and not feel tired. The barrel also has a square shape, so there are more edges for you to hold. I personally prefer markers that are not rounded because they don't roll off the table easily. I just don't like how easy the number and letters on the barrel fade.
It doesn't have a brush tip though. These markers only feature a chisel and a fine tip. It should be good for beginners but for intermediate to advanced artists looking for a brush tip to create a watercolor effect, you might be disappointed.
These markers will arrive in a black zipper carrying case. I like how the case holds its shape. It's annoying when some carrying cases turn limp when it's not full. It's quite easy to bring with you anywhere.
These are some of the best markers for drawing because they are very versatile. Aside from paper, they also work on other mediums such as canvas, fabric, ceramics, and many more.
Pros
Budget-friendly
Perfect for beginners
Comes with a carrying case
Has good blending properties
Dries quickly
Vivid and pigmented
Cons
The name and number labels fade away easily
Can get streaky if you are slow to blend
Try these markers if you are looking for an inexpensive set that includes a lot of good colors. The color options for this set is amazing and will surely not disappoint.
4. Arteza Everblend Art Markers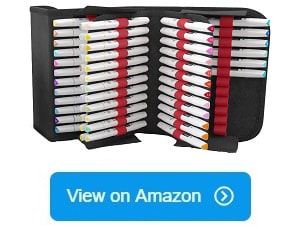 When it comes to the right art markers for professionals that will not cost you a lot of money, you should check out these ones. It's not surprising why many people compare these to more expensive markers like Copic or even Prismacolor because the quality is really comparable.
Right off the bat, you will notice its sleek carrying case. It's not like the other carrying cases because this one is not zippered. It can be opened and closed with two clasps in front, envelope-style. Inside the case are individual slots for the markers, which I like because it is easier to stay organized. I don't have to rummage through an entire case of markers. I can just pick the color I want and slide it out of the slide and put it back again when I'm done using it.
These markers are triangular. It's very easy to grip, even beginners or young children won't have a hard time using them. Like the previous marker, this one won't roll off the table. You can comfortably bring them on your travels as well if you want your kids to do some coloring while traveling. They won't fall off easily.
It comes with 60 different colors. They are all juicy and pigmented. They can be used as cartooning markers because of the many vibrant color options that you have. I just want to lament over the lack of skin tone options though, which makes it more difficult to draw people. There are some flesh tones included but not as varied as I would have wanted. It's a good start for beginners though.
The markers come with two tips – a fine tip and a chisel tip. I like the fine tip for letterings and sketching and use the chisel tip for shading and for calligraphy. Each marker has a number and color label on the cap, so they don't easily fade and you can find the color that you are looking for without too much trouble.
Another thing that is good about these markers is their replaceable nibs. Simply use a pair of tweezers to take out the old tips and install new ones. You don't have to keep on buying a new set every time a marker has worn out nibs.
The makers blend seamlessly. I like how well the ink incorporates. I just wish it came with more transitional colors to get that gradient effect.
Pros
Pigmented and rich colors
Affordable markers
Lasts for a long time
Comes with an easy-to-transport bag
Durable nibs
Cons
Lacking in skin tone options
Not enough transition colors
This is the closest thing you can get to professional-quality markers but without going over your budget. These markers are ideal professional drawing markers because the quality is comparable to the high end markers out there.
5. Shuttle Art 51 Colors Dual Tip Alcohol Based Art Markers
These prove that you don't need to buy expensive art markers to create the best art. Even without spending a lot of money, you can still get artist quality markers.
This set comes with 50 different colors. I think the color options fit the needs of beginners to intermediate artists because there are not many transition colors for creating a gradient look. However, all the markers are rich and pigmented. I wasn't disappointed with the accuracy of the colors. They come rich and vivid.
It does come with a 1 blending pen but I don't think that's even necessary because the colors already blend easily. The ink consistency is smooth and lays down on paper seamlessly without streaking. You do need to work fast because the ink dries up quickly.
It doesn't emit a strong odor and the ink is non-toxic. It's also acid-free, so it should be safe to use on thinner paper. It doesn't saturate papers that much.
I love the triangular shape. The edges are rounded, so it shouldn't be too difficult to use. You can use it for hours and not feel tired.
Like many of the other markers, these ones come with dual tips. It has a 1mm fine point bullet tip and the other is a 7mm broad tip. You can use the bigger one if you need more coverage and the finer one for sketching or doing lettering.
Since it is an alcohol-based marker, it can still bleed through paper. You shouldn't use this on thin paper or if you are going to use it on thin paper, don't let the tips of the pen get in contact with the paper for a long time to prevent the ink from saturating.
The carrying case that the markers come with is a basic zipper case. It's not that hard to stay organized although if you are looking for a specific color, it can be more difficult to spot the color you want because they are all jumbled in there.
The caps will tell you what colors they are because they are color coded, number coded and they indicate the color name. I like that the name is on the cap so that the labels do not fade easily when your fingers always touch them.
I just feel like the color options are not as complete. There are not a lot of the basic colors here and not enough transition colors. It's really more of a beginner-friendly marker set. The tips are also stiffer and less forgiving, so if you are used to soft brush tips, you might not like the stiffness of the nibs of these markers. However, they can be good for more control, ideal for beginners.
Pros
Easy to hold
Not streaky
Good rainbow color options
Dries up quickly
Stiffer tips
Cons
Lack of transition colors
Basic color options are limited
Get this if you are looking for a basic coloring set. They are inexpensive and are good cheap art markers for illustrations and letterings.
6. Caliart 100 Colors Artist Alcohol Markers Dual Tip
If you are looking for more color variety, try these paint markers for artists. This set comes with 100 different colors of markers. It's a good color selection for anyone who is into drawing or coloring. There are a lot of colors and a reasonable number of transitional colors, so it should be good for those creating a gradient look as well.
They can be considered the top pick markers for illustration because of their dual tips. One tip is a fine bullet tip that will allow you to do sketches and illustrations while the other side is a chisel tip that can be used for shading and for creating beautiful calligraphy.
Both types of nibs do a great job. They are not very soft and they don't wear out and fray easily. Even with frequent use, the nibs still hold up well against a lot of damage.
The ink quality is very pigmented. It is alcohol-based like all the others in this list, so be sure to use it on thicker paper or it will bleed through. It can also saturate paper, so don't leave it on paper's surface for too long.
Unlike some of the markers in this list, these ones have a rounded shape. They are still easy to use but if you place them on a table, they can roll off. Just place them back in their case to prevent this from happening.
I like the color choices. There are a lot of pretty colors and earth colors included in this set. If you are into drawing humans, you also have good skin tone options in this. I just don't like the caps because the colors are not presented accurately. You would have to swatch the colors on a piece of paper and then label them with the color name. You can refer to that when choosing colors. It is much easier to find the color you are looking for.
Blending the colors is easy. You should be able to enjoy mixing and matching different colors as if you are working with watercolor.
It won't smudge as well. I have tried using this on other mediums and it dries fast. I think beginners will like using this one because it won't get everywhere.
I also like that if you have problems with your markers, the manufacturer will readily resolve it.
Pros
Very pigmented and rich color
Blends easily
Good after-sale service
Not very pricey
Cons
Need to create a color chart because the color indicated on the cap is not accurate
These are really good alternatives to the expensive ones in the market. The ink's quality is at par with those expensive markers, so if you don't want to spend too much money, get this set instead. You also have more color options compared to the others.
7. Ohuhu 80 Colors Alcohol Markers
I can say that these Ohuhu markers are similar in quality as the other affordable markers in this list. I was not disappointed with this set. What sets this marker apart from the others is its oval shape. It's slimmer than the rounded ones, so you might find that it is easier to hold and use.
This set includes 80 different colors and a colorless blender. All the colors are striking and pigmented. I especially like the pastel options in this. There are also more flesh tones in this set than the other markers I have tried, so if you like to draw humans or cartoons, you will definitely like the colors included in this.
It's an alcohol-based ink, so it dries up quickly and isn't prone to fading. Even after a while, the ink still remains vibrant on paper. It also blends nicely and there is a good transition of the colors.
Like all the others in this list, these markers also have double tips. The fine bullet tip is perfect for drawing and outlining. I use it a lot for sketching and writing. The chisel tips are also good. They provide great coverage and they dispense a fair amount of ink without saturating the paper right away.
I find that these markers are similar in quality and consistency as other markers at the same price range. If you have other markers but you are looking at adding more colors but don't want the color consistency to be different, this can be a good choice. You can mix it with other markers and you won't tell a big difference.
These markers come in a black zipper case. It's a sturdy case that holds its shape well. I can easily organize the markers without having to grapple with the case. It also stays sturdy even when you place it in a big with your other things.
The caps of these markers are color coded. There is also a number that will indicate what color it is but there is no color description, so you will need to print the ones provided by the manufacturer and create a legend for yourself. That way, you can easily find the shade of color you are looking for.
One thing I noticed about these markers though is the inconsistent size of the bullet tips. Some are smaller than the others. It's not that big of a deal but it's something you should keep in mind when buying. The size difference isn't that big as well, so it might not be too noticeable once you already write it down on paper.
Pros
Blends easily
Compatible with other markers
Good price
Good color choices
Excellent after-sale service
Cons
Bullet tip sizes are not consistent
These markers are a good value for your money. Professionals and beginners alike will like how good these markers are. They can be a good option for those who are serious about their art.
8. Prismacolor Premier Illustration Markers
Practice your sketching or drawing skills with these markers. These markers come in different sizes of tips. You can choose from fine tips or extra fine tips, depending on your needs. Each pack comes with 5 markers with different sizes of nibs.
You can use the thinnest nibs to create eyebrow strands or fine wisps of hair and use the thicker nibs for fuller definitions on drawings and add more dimensions.
I think this is a good addition to any artist's marker collection. You will find this a compatible option if you already have the Prismacolor 12-count double-ended art markers and other markers from this manufacturer.
The fineness of the tips ensures that you get accurate and crisp lines. It doesn't smudge or get streaky, so you can pause when drawing a line and not see where you ended. Even beginners will like how well this marker lays down on paper. It offers the smoothest application. You can barely feel a snag.
The color is very pigmented. You can see it easily even when you use it with colored markers. The ink consistency remains the same. Although it is vivid, it doesn't bleed through thick paper. The ink also doesn't fade, especially when you mix it with other markers.
This should be a good designer or architect marker. The nibs are long and they hold up well to a lot of usages. Professionals who need to draw all the time will not be disappointed with these markers.
The ink also dries up easily. I didn't find it streaky, so even if I run my hands on it right away, the ink won't get everywhere although these are juicy markers. They dispense a lot of ink but they don't create a big glob of mess.
However, after some time and frequent use, the ink inside has a tendency to dry up as well. The ink flow might dwindle. You might need to shake the markers to get the ink flowing.
These markers are also easy to use. They are similar to pens. If you are used to the size of pens, you will like these.
Pros
Juicy and rich
Writes smoothly
Nibs hold up well
Does not bleed through thick paper
Creates clean and crisp lines
Cons
Can dry up fast and the ink might not flow as well
Every artist should have these markers. They are indispensable because of how well they create lines. The size selection will give you more options so you can create a wide range of drawings.
9. Copic Markers 6-Piece Sketch Set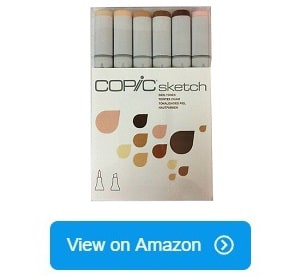 One of the things that I lament when it comes to buying markers is that there is a limited selection of flesh tones. If you are like me and you like drawing characters and humans, you will have a hard time choosing the right flesh tone color because of the limited options that you have.
It's a good thing Copic came out with this set that mainly consists of skin tones. There are 6 different flesh tone colors to choose from. There are other sets that you can choose from this line-up but this one is the perfect addition to your artist marker collection.
These markers have dual tips. It comes with a chisel tip for shading, calligraphy, and drawing and it also has a brush tip that many professional artists appreciate. A brush tip is hard to come by in markers, so it's good to know that you have an option with this set of markers. Many professionals like using brush tips because of how smoothly they apply ink and how well they can create the appearance of watercolor art without all the mess.
This brand is also known for its refillable ink and replaceable nib system. This set also boasts of the same kind of system. Although these are very pricey markers, you will save more money in the end as you only need to buy replacement nibs and ink refills, not the entire set.
The ink quality is top-notch. It smoothly lays down on paper without oversaturating it although I would suggest writing it down on a scrap piece of paper the first time you use it. Some of the markers have a tendency to become watery.
These are some of the best markers I have used as well when it comes to blending. They create seamless blending results, so professionals and beginners can enjoy using them.
Pros
Refillable ink
Replaceable nibs
Good range of skin tone options
Blends easily
Colors match the caps
Cons
A little too water when used the first time
Pricey
These markers might be too pricey but I think they are worth it if you are really serious about your art. There are so many markers out there that are good but don't last for a long time. But with the replaceable nibs and refillable ink system of these markers, you are getting a good deal. You can use your markers for years and not have to replace them.
10. Crayola Brush & Detail Dual Tip Markers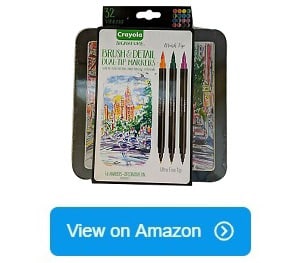 My quest for the perfect brush-tip markers led me to this set. These markers solely have brush tips, so if you prefer brush tips or you want to give them a try, you should check these markers out.
These markers don't just come with one brush tip but two brush tips of different sizes. There are 16 markers in this set and that comes with 2 different complementary colors. If you want more coverage, you can use the thicker brush tip. Use the thinner brush tip for the more intricate details.
I think these are better for achieving that watercolor effect and would be more fitting for calligraphy as well. The brush tips are soft and flexible, so they are easy to use.
I like the colors included in this set although I feel like some of the colors are too close to each other, so you aren't really getting more variety. They should be good for creating a nice gradation of colors though. If you like the colors to have a darker and a lighter option, you will like the colors in this set.
I like the tin can it comes with. It's very sturdy and there is a lot of room for more pencils. The markers in this set are thin, very similar to pens, so they don't take up a lot of space. If you are used to the size of pencils, you will prefer using this one.
The nibs are durable. They hold their shape for a long time. I haven't experienced fraying yet even though brush tips can be prone to fraying. Time will tell how long these will hold up though but for average coloring time, they seem to be quite durable.
The brush tips might not be easy to get used to, especially if you are using chisel or fine bullet tips in the past. After some practice, you will get used to it.
The ink quality and consistency are very watercolor-like. You can achieve that effect without creating a big mess around you. If you like to do watercolor art but you find it a hassle to bring water each time and have to clean and store everything, you will like this. It's more convenient to use because there is no need to use water. It's also easier to use when traveling. Kids will have fun drawing with it.
Pros
Great for brush pen artists
Good color options
Comes in a tin box
Perfect for calligraphy
Has two brush nibs sizes
Cons
Some of the colors are very similar to each other
Not easy to get used to
These pens are not your usual coloring markers. Their brush tips make them different from the others. Get these markers if you are into brush tips and you want to create a watercolor-like effect on your art projects.
11. Artify Art Supplies Artist Alcohol Based Art Marker Set
When it comes to the best quality of markers, people often think of Copic markers. But there are actually markers that are just as good and this is one of them. This set comes with 40 different colors of markers that are placed in a clear carrying case. It's one of the best carrying cases I have seen out there because it is made from a durable plastic material. I also like that it offers more protection than the fabric cases because if the markers leak, the ink won't get everywhere.
The color options are great. There are many right earth tones in this set, which I find perfect to use when drawing landscapes. Beginners will like this as their starter kit but also seasoned artists will find these markers ideal as well.
What makes these markers so great is their blending capability. They blend so seamlessly. You won't even see where the lines end. You can really tell that it dispenses just the right amount of ink because it doesn't clump up.
I think the size is just right. It's not too long and too thick. The markers are easy to hold, making them easier to use when drawing for hours. They don't cause hand fatigue.
Just like the other markers, these ones also have double tips. It has a broad tip that can cover a bigger area, perfect for shading. The fine tip can be used for sketching and filling in those details.
Although these markers are not expensive, they are sturdy. The barrel doesn't feel flimsy. Even when you drop the markers, they still hold up well. I can see this lasting for a long time.
The only issue I have with this is that some of the markers have a tendency to leak. You just need to make sure that the caps are tightly placed back and then you keep the markers upright to prevent this from happening.
Pros
Great starter markers for beginners
Best carrying case out there
Blends easily
Sturdy and good quality barrel
Good color options
Cons
Some of the markers have a tendency to leak
These markers are great alternatives to some of the expensive markers out in the market today. These markers are just as good in their blending abilities and just as durable.
12. Tanmit Marker Pens Dual Tips Permanent Art Markers
These Tanmit markers are the best choices for children and beginners. It has 40 color options and includes a carrying case. I am not fond of the carrying case that much because it feels a little flimsy but it does have a good selection of colors.
The fine bullet tip and the chisel tip are perfect for those looking for versatility in their art materials. The ink lays down so smoothly and it has blending capabilities similar to that of more expensive brands of art markers.
I do like how vibrant the colors are. They are pigmented and rich and they retain their vibrancy even after some time.
Unlike other markers that tend to run out on ink smoothly, these ones don't have such an issue. In fact, these markers are some of the longest-lasting ones I have ever used. They are already inexpensive but their longevity ensures that you will get your money's worth.
The ink dries up easily. It still gives you time to blend but once blended, it dries up nicely, so it minimizes streakiness. I like that it doesn't leave behind a big glob of mess. The markers also don't leak easily.
I also find the cap design interesting. There are small holes that make them easier to grip if you want to take off the cap. There is also a color indicator on the cap to tell you what color you are using.
Pros
Great for kids and beginners
Lays down smoothly
Excellent blending capability
Vibrant colors
Lasts for a long time
Get these markers if you are looking for high quality markers that won't cost you a lot of money. These markers are just as good as expensive ones with their good blending capabilities. You won't regret spending money on these markers.
What to Look for When Buying Art Markers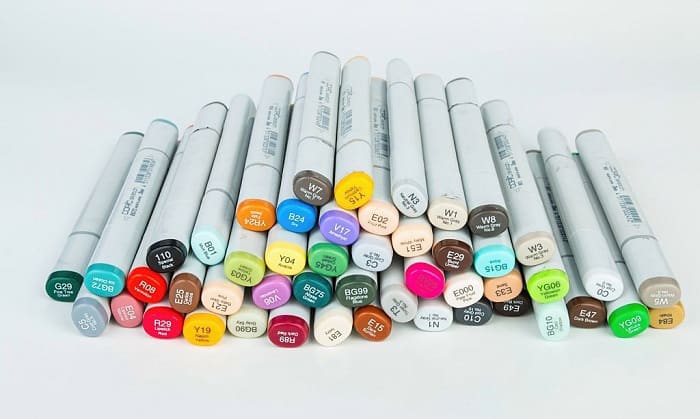 Buying art markers can be difficult because you are choosing from dozens of options. You can't easily tell if they are good enough unless you actually use them. But here are a few factors that you can use to narrow down your choices:
Ink Consistency and Quality
It's the most important thing that you should consider. If the ink quality is not good, it won't be easy to blend and it will get everywhere. You can tell that it's a low-quality marker if the ink doesn't lay down smoothly and you can see visible overlaps on the ink once on paper. It has to be blendable so you can get a uniform look.
It should not get streaky and should dry up easily. You don't want to use something that takes a long time to dry up because that would create a mess. Look for pens that dispense just the right amount of ink.
The longevity of the Marker
Even if you are on a budget, you don't want to spend it on markers that will run out on ink easily. That would be a problem if you run out of ink on your favorite markers because that would mean you need to buy the entire set. Check to see if it has a good amount of ink. It would be great if you can buy those markers with a refillable system so your marker barrels won't go to waste.
Color Choices
This depends on your needs. If you are starting out, make sure you pick marker sets with the basic and primary colors that you need. You can build your collection from there. If you are a professional, there are marker brands that cluster their markers per type. For instance, if you are only looking for more flesh tone markers, you can get this set only rather than buy a set with 50 markers just to get more flesh tone options. Assess your needs and buy those ones that match these needs.
Size and Design of the Barrel
This matters because markers that are too big can be difficult to hold. If they are too thin, they can be difficult to use as well. Choose something that feels just right.
Other Important Factors to Consider
What is an Art Marker?
An art marker is usually an alcohol-based marker that is used for creating art. They usually have double tips to provide the users with complete art experience. These markers usually come in a set.
How Does It Work?
Art markers don't require special tools to work. Just open the cap and then start writing. They usually don't need to be "activated". Other markers, especially the oil-based ones, need to be pressed down on paper but these markers usually don't.
These markers also usually come with a blending tool. It is a colorless marker that you use to spread your ink and get a good blended effect.
Who is This For?
These markers can be used by art students, design professionals, architects, art enthusiasts, kids, and all who like to do coloring. Whether you do coloring and art as a hobby or a profession, you will like having a set of markers.
What are the Different Types of Art Markers?
Art markers are not really specifically categorized. However, there are various options out there. For instance, you can find a brush type art marker where the nibs have a brush-like shape similar to watercolor brushes. They are better for professional artists or those looking to achieve a watercolor-like effect on their artworks.
There are those with dual tips where one tip is a fine tip and the other is a bullet tip. These versatile kinds of art markers can be used on a variety of projects including calligraphy, sketching and coloring.
Why Do You Need Markers for Artists?
Regular markers just won't cut it if you want a more professional look to your artworks. Regular markers can be streaky and they just don't blend well. Art markers, on the other hand, have excellent blending capabilities, so you can achieve smooth and even results.
There are also other features in art markers that you just can't miss such as the double tips, refillable ink system, and replaceable nibs. These are the features that make life easier for artists.
Frequently Asked Questions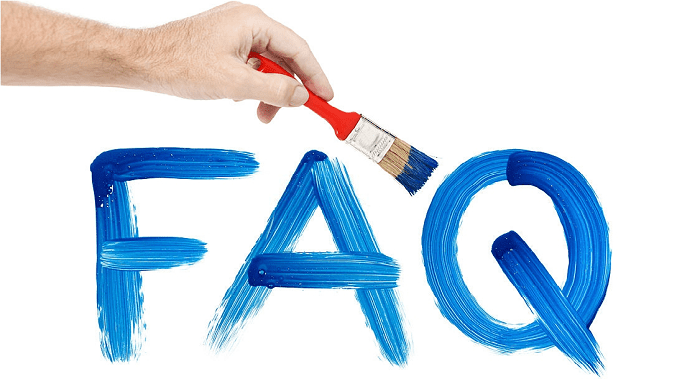 What are the Most Trusted Art Marker Brands?
There are a lot of trusted art marker brands but when it comes to professional markers, Copic is the most recognizable name. However, many compare it with other brands like Sharpie and Prismacolor because of their similar properties. Copic, however, has a refillable ink system and replaceable nibs feature that makes them a better choice if you are looking for long-term options.
Sharpie vs Copic – Which is Better?
It depends on what you are looking for. If you are looking for the best, Copic is better. It's also better in the long run because you can refill it once the ink runs out and you can replace the nibs when they wear out. The ink quality of Copic is good. It is excellent for blending.
Sharpie is also good when it comes to ink quality. It's a less expensive alternative to Copic, so if you are looking for something more affordable, this is a good option.
What Kind of Markers are Good for Drawing?
When it comes to drawing, look for markers with bullet tips or brush tips. Choose those that can be easily blended and can draw crisp lines without spreading out or becoming streaky.
Are Copic Markers Better Than Prismacolor?
Copic markers have a reputation for being better than other markers but many can attest to Prismacolor's quality. It all boils down to personal preference. Some people might find Prismacolor markers better for them while others prefer the consistency of the copic marker inks.
Are Sharpies Good For Art?
Sharpies have a good selection of art markers, so they should work for all sorts of art projects. It's just a matter of choosing the right Sharpie markers for the projects that you have.
How to Use Art Markers?
These markers can be used like a pen. You just pick the tip that you prefer because most of these markers come with two tips. Start drawing on thick paper. Use the chisel tips for filling. You can also find a colorless blender in these marker sets. Try blending the ink with that to achieve a uniform and smooth effect.
How to Organize Art Markers?
You can organize your art markers by color family. If it comes with a carrying case, just put all of the markers in the case, making sure that the cap is exposed so you can easily find the color you are looking for.
Where to Buy?
They should be available in regular art supplies, stationery stores, and big shopping stores like Home Depot or Walmart. You can also buy them from Amazon and other shopping websites.
How to Care and Clean?
If the barrel of the markers is dirty, simply wipe them with a paper towel soaked a little bit in alcohol. That will help get rid of the ink residues.
Conclusion
The best art markers are not difficult to find if you know what exactly you are looking for. Make sure you identify your preferences, do some research about different marker brands. Start with my suggestions above so you need not exhaust yourself finding the right markers that you can use for your artworks.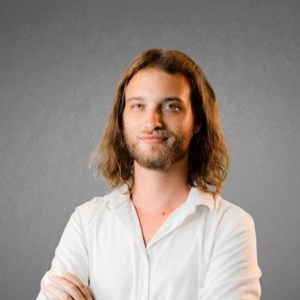 I am a former art teacher, so it is evident to me the importance of art in educating the new generation. We also want to help parents who plan to teach their children and desire the best tools and tips for them.