Art stamping is an age-old technique that is now returning to the contemporary art scene as a serious form that professional artists take. If you are new to art stamping, there are a lot of things to consider, which may seem a bit daunting at first.
Nonetheless, this review will help you by narrowing down the top ten best markers for stamping. These are fitting for both beginners and artisans. They are also apt for any budget. Hopefully, after this review, you will be able to decide on which stamping pens suit you and your artistic style best.
Top 10 Marker for Stamping Reviews
1. Impressart Enamel Marker
This Impressart Enamel Marker is a stamp pen that fills in stamped impressions by darkening with black acrylic ink. With this product, designs will truly stand out. I recommend this product also because it can suit any skill level, including both beginners and professional artists, which makes it a favorable product to give as gifts as well.
The best thing about this pen is its convenient applicator tip, which makes it easier for users to apply highlights in a fast, clean, and neat manner. Another added benefit of this marker is that it comes with a replaceable tip. As a stamper, I can work on any surfaces, even rough ones like wood, which may cause the tip to fray.
In addition, the excess ink from this marker is easy to remove with just a simple swipe of a damp towel using water or alcohol. It is thicker and darker compared to other ink markers in the market thanks to its good quality acrylic ink with a substantial consistency.
This marker is perfect for making stamped crafts and jewelry. They work exceptionally well on metal surfaces. For me, I enjoy contrasting this product's enamel ink on metal to give my works a unique style.
However, a small downside is that the time it takes for the ink to dry can differ depending on the specific surface. It will take a bit of trial and error but the end results will be worth it!
Pros
Clean and neat application
Replaceable marker tip
Thicker and darker ink
Suitable with all skill levels
Cons
Drying time differs on distinct surfaces
If you are looking for a practical stamp marker, you can start with this product. It is a reliable and durable marker that is perfect for both beginners and professionals.
2. Uchida Le Plume II Markers
At present, Uchida Le Plume II is one of the most reliable rubber stamping markers that feature dual tips. It carries a fine brush point on one end and another extra-fine point on the other end.
I love that these markers have double ends because I can fill in even the smallest areas of my stamp. It is easier to work with compared to other markers because I do not have to keep switching between pens as I work.
The markers come in a set of 12 bright colors, including primary, victorian, and pastel colors. Each color can also be bought separately, which is good in the case that users run out of ink for a particular marker.
This double-ended marker houses premium-quality pigment ink that is acid-free, photo-safe, and fade-resistant. Additionally, this set is safe for children to use because its ink is non-toxic. I can comfortably create and decorate rubber stamps with my children knowing that these are not harmful.
Since these pens make use of water-based ink, they tend to dry out faster than others. Thus, it is a good idea to store them properly, especially making sure that the caps are tightened in a correct manner. One piece of advice is to store these pens horizontally to ensure that their tips are continuously wet.
If any other problems occur, this brand has a dedicated customer service hotline that will be delighted to answer all your queries. If it happens that your markers are faulty or defective, you will be able to receive refunds and/or replacements.
Pros
Double-ended tips for a variety of use
Bright and eye-catching colors
Safe for kids to enjoy
If you are searching for one of the good and durable stamp brush markers, Uchida Le Plume II is very worth considering. Without a doubt, these markers will help all your art pieces stand out.
3. Ohuhu Dual Tip Brush Markers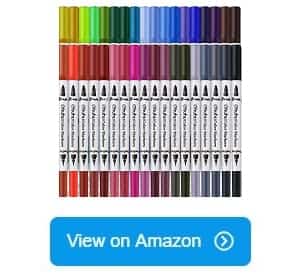 The Ohuhu Dual Tip brush markers houses a fine tip on one end for filling in and coloring small, intricate details while the other end is a brush tip perfect for blending and shading. This product is also considered one of the most reliable markers for coloring stamps. These markers make a fantastic budget alcohol pen choice. They are perfect for all kinds of artistic tasks.
I like how these markers come with high quality and premium materials at a very affordable price. As a beginner, I am comfortable and enjoy using these pens.
With a round barrel, it is easier and more comfortable to hold. Plus, there are small ridges on the cap to keep it from slipping off surfaces. What I really like about this marker is that I can choose from 36 different, vibrant colors that permit me to create eye-catching artworks right off the bat.
The colors come out consistently and smoothly, and can cover large areas with no problem at all. Mixing and combining colors is also a breeze because they are compatible with various mediums. Thanks to this marker, all of my artworks always relish a smooth and silky finish.
As a versatile marker, it allows users to fill both large surfaces and tiny details with ease. Its tips are also great for blending, creating ombre, and gradient effects.
The ink is alcohol-based, odorless, and quick-drying. Also, each pen's ink is well-saturated and rich, so I do not have to worry about streaking and ink drying when I am working on my art projects.
When markers are constantly used, over time, fraying is bound to happen. Luckily, these Ohuhu dual-tip markers have reversible tips. When fraying starts to happen, simply pull-out the tip and reinsert the other way around!
Pros
Inexpensive for its quality
Many colors to choose from
Reversible dual tips
If you are in the market for the most affordable markers for coloring stamped images, this may be the one you are looking for. This marker is great if the expensive and well-known brands are out of your price range.
4. Crayola Stamper Markers
Crayola Ultra-Clean washable stampers come in 10 different bright and vibrant colors. A plus point is their accompanying emojis. It is safe to say that this is one of the cutest stamping markers I have ever used.
This set comes with cute and adorable emojis. I have enjoyed many hours of stamping and decorating various items in my room and all over my house with these. I love that they can wash off easily, not only on my hands and clothing but even on painted walls.
Children and kids at heart will love this set because there is so much you can do with it. I use it to decorate my planners and journals. Likewise, you can use it to decorate your notebooks and sketchbooks. These markers will pop whether they are placed on paper or skin. Their ink also looks great on clothing because they do not smudge.
Each pen houses bright and vivid colors which help to create lively and energetic pictures. Moreover, these markers are not just solely for stamping because you can use the sides of the tips to develop fine lines and colors.
These stamp markers help people become more creative, imaginative, and expressive. They also add a nice element to any artwork. They are a lot of fun to use, especially with children because you will not have to worry about making a mess while having fun as all the markers are washable.
There are plenty of different sets to choose from. For example, some sets carry emojis, while others have space shapes, animal shapes, etc. If you are like me, you may want to collect all the sets one by one!
Just like the old Crayola stamp markers, these still have the circle borders around their design. When placed appropriately and carefully, it is sometimes possible to get results without the circle borders. However, most of the time, the circle borders are still visible.
Pros
Easy to wash off
Cute and colorful emojis
Kid-friendly product
Overall, this product is something I would recommend to people who enjoy creating art with their children. Kids will certainly enjoy using these Crayola markers with stamps for a long time.
5. ZSCM Dual Tip Brush Art Markers
The ZSCM dual tip art markers house 32 bright and vivid colored pens. It also carries a brush tip for an array of thin, thick, wide line widths and strokes. In addition, it has a firm fine tip to help you create neat and detailed lines. With just this one marker, you can still craft many different styles of art.
Its water-based ink makes it the ideal watercolor markers for stamping. It dries quickly and does not leave any odor. I can mix-match different colors as well as layer my paintings and drawings with ease because it does not leave any smudges, imperfections or streaks.
This product's nylon fiber brush tips are adaptable and reliable which makes my creations like stamping, journaling, and drawings look professional, striking, and well-made. Since its tip is nylon, I am sure that this marker can withstand even the longest hours of work.
Another thing that I love about this product is that beginners and professionals alike can use it. Hobbyists like myself can enjoy the fact that it has plenty of colors to choose from, while artisans can take comfort in knowing that it can endure wear and tear. This marker set is also a great gift idea for family and friends who enjoy arts and crafts.
Since the marker's ink has a thick consistency, some colors will tend to bleed through paper. However, if there is abnormal leaking, it is best to call their customer service hotline because these pens have a lifetime warranty. They will either replace the defective marker for free or give you a full refund altogether.
Pros
Plenty of bright colors to choose from
High-quality ink
Durable nylon tip
Comes with a lifetime warranty
Cons
Some ink bleeds through paper
This product is one of the top-rated markers for inking stamps. The markers' colors remain bright even after some time.
6. Belleza Suprema Dual Tip Markers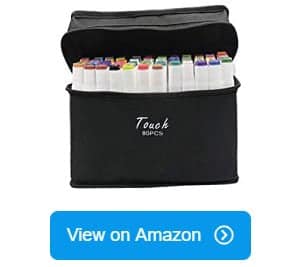 The Belleza Suprema art markers come with 80 striking colored pens. The set also includes a highlighter pen and a fine liner pen. Together, they provide a complete package that is ideal for hobbyists and professional artists alike. This product works well for sketching, calligraphy, adult coloring, and ink stamping. These pens can be categorized as Copic markers.
The premium ink can be layered and blended because it dries quickly and does not leave any streaks or blotches on surfaces like fabric, paper, glass, rubber, and wood.
I appreciate that this marker has dual tips because I can then draw both thin and thick lines without having to switch to other markers. I also love the portable storage bag that these pens come with because I know that I will not have to worry about storing them properly. I can also take my pens with me everywhere I go.
Another plus for me is that the markers have numbered caps, so I do not get confused about which pens I used. It makes it easy for me to create and draw gradients and ombre effects.
These markers' ink do not dry quickly. When sealed, these pens can last one to two years! They are also safe for children because they are non-toxic and odor-free. Kids and adults can use this even in enclosed areas without any worries.
After using it, I found that it is best to shut the caps tightly and store the pens properly. Since the ink is alcohol-based, it may dry out quickly. If the ink ends up drying, I position the pen upside down for 30 minutes, which usually solves the problem.
Pros
Plenty of colors to choose from
Dual tips for convenience
Comes with zippered carrying bag
Safe for kids to use
Cons
Ink dries quickly if not stored correctly
If you are in the market for markers to use with stamps, this is the product for you. This product works well on most surfaces, including rubber. Your artworks will look extra vibrant thanks to these markers' rich and concentrated ink.
7. Tombow Dual Brush Art Markers
The Tombow dual brush art markers have two pen tips that include a brush tip that is flexible enough to help produce huge line variations and a bullet tip for simple drawing and writing. This landscape set comes with nine colored pens and one blender pen making it easier and simpler to create gradients, ombre, and watercolor effects in drawings.
These brush markers are water-based, which means that they are easy to clean in the case of accidents. This type of ink makes colors simpler to blend and combine. I like that I do not have to worry about staining the tips when I am mixing because they always go back to their original state and color.
I also like how every time I start a new art project, the colors come out consistently and unfailingly as if I just opened a completely new pack! The colors always remain bright, even, and stable.
Since I enjoy hand lettering, journaling, and even stamping, I find this set a must-have in my collection. In my opinion, its blend-ability is much higher than other brands. Plus, add in its self-cleaning feature, this product is a notch above the rest.
This product is excellent for beginners because the tip is easy to maneuver. When used for lettering, the tip bounces back, making it easy to use and practice with.
Since this set comprises landscape colors, some colors may appear too dark or similar with other dark-colored markers like brown and black. I fix this by using the clear blending marker to accentuate each color better.
Pros
Blendability is top-notch
Self-cleaning tips
Easy to use for beginners
Dual tipped markers
Cons
Some colors look too similar
I have tested many sets but the Tombow brush art markers certainly stand out from the rest. The self-cleaning tips make every penny spent on this set worth it.
8. Crayola Triple Tip Washable Markers
The Crayola triple tip set comes with five tri-colored pens giving us a total of 15 bold and neon-colored markers. These markers make creating art more fun than it already is. Children and kids at heart can produce new effects and styles of coloring and shading by rotating the markers while coloring.
This product is an excellent marker to use with children because not only are these markers fun and enjoyable to use, the ink is also easy to remove since they are made up of washable components. It is easy to remove on the skin and most clothing fabrics.
I enjoy making arts and crafts on top of sketching and coloring. Therefore, I am happy that these markers are one of the most favorite markers for clear stamps. The ink feeds a unique look to my stamps.
These markers' tips are positioned carefully to give us the option to color and draw with just one color or three colors simultaneously. When I use all three colors, I can draw and write 3D calligraphy and pictures easily and beautifully.
Since each pen has three different colors at the tip, some color combinations are not always desirable. I have found that when this happens, it is best to use each color independently.
Pros
Unique triple tip markers
Kid-safe, washable ink
Perfect for stamp art
Cons
Some color combinations do not look appealing
This product adds a different twist on the regular ink markers that we are all used to using. Adults and children will enjoy using this while trying to look for which color combinations look good on drawings. These markers are also perfect for stamp art.
9. iMustech Watercolor and Stamp Pens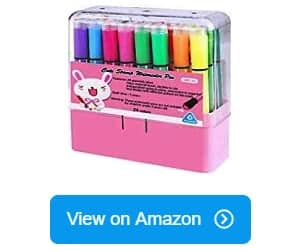 iMustech watercolor and stamp markers is a product that has an excellent bang for the buck. With 24 bold colors and shapes to choose from, you will get your money's worth with this set. Cute stamp shapes like fish, stars, fruits, and flowers are all included in this pack.
Enjoy hours of playing and enhancing your children's creativity and imagination with this set. Stamps are randomly packed, so each pack and order is a surprise.
Each tip or nib is made of a synthetic fiber that allows me and the kids to create smooth and effortless drawings. All lines and shapes always turn out fine and crisp. I also love the pen's ergonomic design that makes it so much easier and comfortable to hold. The hexagonal grip allows me to color and draw for hours without hurting or putting too much pressure on my hands.
Adding to the brand's kid-friendly theme, this marker set is non-toxic, odorless, and washes off easily. I wipe off any excess ink with a damp towel, and the marks on my skin and clothes disappear quickly.
These multipurpose rubber stamp markers are also great for calligraphy, coloring adult color books, sketching, and plenty of DIY art projects. Furthermore, I love that this set comes in a handy storage box with a slot for each pen individually. It also helps keep my work area clean and organized.
When left uncapped for a while, the ink tends to dry quicker than most markers. Always put the cap back on when not in use to prevent ink from drying.
Pros
Comes with cute stamp shapes
Multi-use markers for various art tasks
Safe for children to use
Wide color choices
Cons
Ink dries quickly when uncapped
Enjoy endless fun with these iMustech stamps and watercolor art pens. Simply sit back and watch your kids explore their imagination while using this multipurpose marker set.
10. Shuttle Art Dual Tip Markers
Shuttle Art Dual Tip markers are an affordable, inexpensive alcohol-based set. This starter kit houses 121 different color choices. Each color is rich and vibrant, and some colors are close to each other in shade to allow you to create natural ombre, gradients, and blending effects. It also comes with a free blender pen for added convenience.
This product has dual tips, including a broad chisel tip and bullet tip for highlights, sketching, and general artistic writing. This set is slimmer and thinner than other products because of its ergonomic triangular design.
It is comfortable to hold even when I shade and color for a long time. The caps are easy to remove, and the ridges help keep the pens from rolling off my desk while I am working. Its tips are sturdy and reliable because even after using these markers for a long time, I did not experience any wear and tear on its tips.
When creating art pieces, I prefer using bright and vivid colored markers. And these markers are precisely that. I also like that the ink dries up quickly without streaking. It occasionally bleeds to the back of the page, so I only use it on one-sided illustrations and surfaces.
Other pens, including the blender pen, dry out quickly if they are not used often. I suggest soaking the dried pens in alcohol to bring them back to life.
Pros
Good color choices
Affordable set for beginners
Comfortable barrel design
Dual tips for convenience
Cons
Rarely used pens dry quickly
The Shuttle Art Dual Tip Art markers are an excellent alternative to the expensive brands in the market today. They are good for beginners and hobbyists looking for cheap, outstanding, and reliable markers for their art projects.
What to Look for When Buying Markers for Stamping
All kinds of artists have different uses for all types of markers. Dye ink marker is one of the most popular pens that artists use for various artistic tasks. Here are a few buying tips when having to choose the right stamping markers.
Tip Shapes
The shape of your marker's tip is essential when using stamp art. Bullet tips are one of the most convenient and straightforward nibs to fill in the gaps more fully. This tip is the most versatile because it can cover large areas while also drawing in intricate details. Brush tips are also quite helpful because they can create different sized widths in strokes. Placing the tip in a flat position will allow you to cover a large area faster.
Ink Base
Is water-based or alcohol-based ink better?
Water-based ink markers are generally cheaper than alcohol-based ink markers. However, they do not last as long. If you want your stamps' colors to last long, alcohol-based markers like the Ohuhu dual-tip marker and Shuttle Art Dual Tip marker are the ones you are looking for. However, if you want easy-to-erase ink, Crayola Stamper markers and Tombow Dual Tip markers are the set for you.
Color Range
When creating artworks, color is one of the most critical elements to consider. Color choices are just as important as choosing the design for your work. It is always good to have a wide array of colors to choose from rather than having too little. Art pieces stand out because of eye-catching color combinations. When it comes to color choices, Belleza Suprema Dual Tip markers have 80 colors that you can choose from.
How Do You Color Stamp With Markers
You can directly color on top of the stamp to create distinct, unique colored impressions and outlines. After stamping, you can use a water brush to blend the colors. If you are looking for a watercolor or hazy effect, you can spray a small amount of water on your stamp.
Conclusion
Finding the best markers for stamping is a confusing and challenging task if you do not know and are not sure of which products to choose. Especially, If you are just joining the stamping world, selecting the right markers for you may take a bit of trial and error.
Out of hundreds of art marker brands in the market today, we have narrowed it down to the top ten stamp pens you can get on any budget. I hope that this review was fruitful in your decision-making of which ink pens to look for.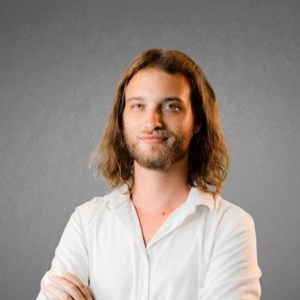 I am a former art teacher, so it is evident to me the importance of art in educating the new generation. We also want to help parents who plan to teach their children and desire the best tools and tips for them.