Did you know that calligraphy is good for the brain? It boosts your mental health and can be a good skill to acquire. If you like to draw, it's also nice to have calligraphy skills under your belt that you can use to label your drawings. And to ensure that you do the best calligraphy work, you should have the best calligraphy markers.
There are a lot of good options for calligraphy markers out there. I am here to help you narrow down your choices to the best ones that you can really rely on when it comes to doing neat and precise calligraphy.
Best Marker for Calligraphy

Reviews
1. Tombow Pen Dual Brush Markers
You would think that the right markers for calligraphy should be expensive but that's not actually the case with these markers. They are inexpensive but they are still good enough to help you do calligraphy seamlessly.
This Tombow dual brush pen is reliable. One is a brush tip and the other is a fine tip. I prefer using the brush tips for calligraphy but the fine tips are great for smaller letterings and adding more details to my calligraphy work.
These are felt tip calligraphy pens, so the brush tip isn't really going to give you the exact same quality that calligraphy pens will give. If you are used to the fibers of a brush pen or a paintbrush, you might be disappointed with these.
I also think it's harder to achieve thin strokes with these markers because the brush nib is more flexible. Beginners might need to practice more when using these.
I wasn't disappointed with the colors though. They included mostly primary colors but I like how vivid all of them are. They are also easy to blend. In fact, their blending properties are similar to that of more expensive brands. I still have plenty of time to spread out the colors or thin it out to my desired hue.
The ink quality is good. It seems to dispense just the right amount of ink each time, so you don't have to deal with a big glob of ink. A little bit of it goes a long way.
The tips are not as durable as I would have liked. Some of the markers tend to fray. However, I like that it has a self-cleaning feature. The ink doesn't clump up on the tips. You just need to avoid putting too much pressure when using it and just let the brush tips glide on the surface.
I also noticed that although it is pigmented, it doesn't soak the paper. It doesn't bleed through the paper. It's probably because it blends well and then dries quickly. Additionally, the color also doesn't fade once it dries up. It doesn't fade overtime as well.
Pros
Affordable
Works great when dipped in water
Blends easily
Bright colors
Don't easily bleed on paper
Cons
Might be too soft for beginners
Nibs have a tendency to fray
Get these markers if you are on a tight budget and don't fancy spending too much money on a calligraphy set. It also doubles as a coloring marker set, so you can get a lot of use from them. These are great for budding artists and calligraphists because it comes complete with basic colors.
2. Crayola Signature Crayoligraphy Hand Lettering Art Set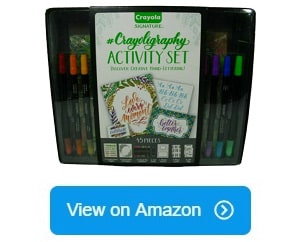 Want to start doing calligraphy but overwhelmed with the many tools out there? You might find it difficult to get started because there's just a wealth of information and tools that you supposedly need. Well, why not just get this one? I think this is a good starter kit.
These are the top-rated markers for hand lettering because it comes with a complete set. It has everything that you might need to get started including practice pages. You are getting 10 markers with a super tip and ultra fine tip and 2 markers with a brush tip and an ultra fine tip. It also comes with detailing gel pens, art pages, place cards and a photo frame. I think the additional things included in it would also make this an elegant gift option on special occasions.
Keep in mind though that this set only includes two brush pens. If you prefer doing calligraphy with brush pens, you will be disappointed. Most of the markers included are not brush pens. On the other hand, I do like all the markers included in it. The colors are vibrant and pigmented.
These calligraphy markers for beginners will not disappoint with their ink quality. I like how smoothly they lay down on paper. The thin barrel is also easy to hold. Even when you practice writing for hours, it won't easily wear you out. I think even those with arthritic hands will find these markers easy to use for extended periods of time.
I like the standard markers as well. The brush tips are more on the stiff side, so they can be a tad tricky to use. You need to press down hard on the paper to get it to move in the direction that you want. The standard markers, on the other hand, are more beginner-friendly. The nibs are smooth and they tend to last for a long time.
The guides included are quite helpful. It's basically everything you initially need to know about calligraphy. It includes metallic pens as well. I think this would be great in lettering cards or gift tags or special occasion letters.
Pros
Comes with hand-lettering tools
Beginner-friendly
Thin barrel is easy to hold
Cute color options
Easy to use even for those with hand arthritis
This set of markers is the best for beginners who are serious about honing their craft. You don't have to buy anything else. You can just get this and figure out what other things you need to advance your skills. This will teach you the basics. The markers are fairly good as well. They're not top-of-the-line but if you are looking for something that is good but will not cost so much money, this is a good fit.
3. Kuretake Zig MS34008V Memory System Calligraphy Markers
These markers are just as good as professional calligraphy pens. The traditional pens for calligraphy markers have a tendency to smear. These ones don't, which is why they are such a joy to use, especially if you just need to do quick letterings. They are easy to use even for beginners.
This set is a good basic set, ideal for beginners. They come with only basic colors but all of them are pigmented and vivid. These are dual tip markers. One side is a narrow tip and the other is a broad tip. It will allow you to get your preferred lettering size.
Although it seems like a basic set, it actually offers a lot of things. First, the ink stays vivid for a long time. Some markers tend to fade after some time. This one doesn't. This is why you can use these markers for doing letterings that you can frame to display in your home. If you own a calligraphy business, you will also appreciate the quality of the ink of these markers.
These markers are also smudge-proof. I like that the ink dries up well and doesn't smudge and leave traces behind.
The nibs are durable. Even after regular use, they are still intact. They are made from felt and I can say that they are quite well-made seeing as how they have resisted wear and tear.
The nibs are also bigger and wider than other markers. The wider tips are 5mm and the smaller ones are 2mm. I find these nibs easier to maneuver compared to brush tips. If you are a beginner, you might find these markers easier to use. However, some people might find it too stiff. If you are used to more flexible nibs such as brush tips, you might find them too stiff for you.
I also like that the markers don't run out of ink fast. After a lot of use, they are still going strong. There are a lot of markers out there that don't even last for a week. If you are a heavy marker user, you will like these.
Pros
Includes basic colors
Vivid and pigmented colors
Does not fade overtime
They don't smudge
Markers don't run out on ink fast
Reliable nibs
Cons
Nibs are on the stiff side
These markers really give you that high-end feel. Aside from the classy design of the barrels, the ink quality also screams high-end. If you want to start your collection of calligraphy markers, try these. They come with basic colors and the ink quality is exceptional.
4. Ohuhu Dual Tips Coloring Brush Marker
This can be considered the most favorite calligraphy set for beginners because of its selection of colors. If you want to have a lot of color options instantly, get this one. It's affordable and comes with the colors that you can use not just in calligraphy but also in drawing and coloring. This has 36 different colors and each marker comes with dual tips.
I have no problems with how vibrant these markers are. They are all colorful and they stay vivid. They can bleed through paper though, so make sure you use thicker paper. It's not that bad but if you prefer that the back portion of your paper stays clean, you will have to use something thicker.
These markers come with a brush tip and fine liner tip. The brush tip can be dipped in water to get that watercolor effect. I like to do this when coloring or filling in letterings but this can be just as easily used if you are doing calligraphy work.
I just have to lament the lack of neutrals in this set. I wish there were more light and flesh tones. However, if you prefer rainbow colors, you will like this set.
The firmness of the tips tends to vary, which might be a disadvantage to some people. I think they are flexible enough but others might be firmer than the rest. The firmer brush tips are more difficult to use since you still have to push down harder on paper to get your desired results. Additionally, the firmer ones have a tendency to fray since you are pushing down on it more.
The ink can be blended easily although you need to work quickly since they dry fast. I do like how it dries up fast so that it doesn't smear. I can also work in enclosed spaces since it is an odorless type of ink. It doesn't emit an annoying smell that can cause headaches.
The marker barrels are white but you can easily see which barrels belong to which cap because the caps are color-coded. They come with a carrying case as well, perfect for people who are on the go. You can just bring this anywhere you want.
Pros
Tips are flexible
Lots of color choices
Good quality ink
Dries easily
Odorless ink
Easy to organize because of the color-coded caps
Cons
Inconsistent firmness of the brush tips
Firmer ones tend to fray at the tips
I would suggest buying these markers if you are looking to expand your calligraphy skills more. You need all the colors that you can get just to make your letterings look more interesting. The colors in this set are impressive and you will love how vivid they are as well. Best of all, this marker set will not cost you so much money and will still give you durability that will make them last for a long time.
5. Tanmit 24 Colors Dual Tip Brush Pen Art Markers
Here is another marker set that will not break the bank. If you are on a budget and you are just looking for a calligraphy marker set that will do its job well, look no further than this one.
It's very similar with other markers. These ones also have a dual tip. It's good that it comes with a brush tip and a fine bullet tip. This makes it easier to create calligraphy strokes. If you prefer working with a flexible brush tip, you will definitely like this one. I also like that it comes with a fine bullet tip because I like to use that for adding more details and for lettering. It also comes in handy when doing sketching or drawing.
You get 24 different color options. These primary colors are great for mixing and blending. You can still get a new hue if you mix two colors together. No need to buy too many colors that you might not end up using anyway if you are a beginner.
I like dipping it in a little bit of water or just wetting the tips with a moist Q-tip. That gives a watercolor result that creates more character and depth to your calligraphy work.
These markers contain 30% more ink than your average marker brand. That means it has more mileage and can give you more hours of coloring and calligraphy fun. It's a good value for your money, especially since it's already inexpensive to begin with.
The nibs of the bullet tip and the brush tip are also durable. They are responsible for laying down ink smoothly. I was expecting the tips to be too firm because these are cheap markers but I was surprised that they are more flexible than expected. The nylon fibers used for the brush tips are more forgiving, so it was easier to achieve the strokes that I wanted.
It's also good that the ink is acid-free and does not emit a strong odor. I am very sensitive to marker smell and it can cause headaches quickly when exposed to the smell for a prolonged time, so it's good to use something with no detectable smell.
I also like that the barrels are black. It doesn't get streaky easily and can hide smudges. With white barrel markers, they do tend to look grimy when you get some of the ink on the barrel.
The caps also have a flared shape. I like that better because it helps make it easier to remove the cap. I just don't like that some of the colors on the caps are not the same with the actual color of the ink.
Pros
Good quality markers
Has a nice watercolor effect when dipped in water
Lots of color choices
Great for beginners
Cons
Some of the colors don't look the same as the indicated color on the marker
All in all, this set is a solid calligraphy marker set. They meet expectations when it comes to the quality of the ink and how easy they are to use. I would repurchase it.
6. Reaeon Dual Tip Brush Pen Art Markers
I like using these markers for coloring. You can't beat the price and the colors included. There are good rainbow colors and earthy colors included in this set, which should suffice if you are a novice artist. However, I find that it's also good for budding calligraphists.
Aside from its good color selection and low price, there are a lot of things to live about this marker set. These markers have dual tips. It has a 1-4mm brush tip that is just right in creating the calligraphy strokes that you want. The other side has a 0.4m fineliner tip. It's perfect for adding those delicate touches and details when doing illustrations, sketching or drawing.
It has a water-based ink but you can also water it down some more to achieve a watercolor-like effect. I have tried dipping it in a bit of water and spreading it out and it worked fine. It can be blended easily and dries up without further reducing the vibrancy of the colors. Aside from watercolor paper, it can be used on canvas as well.
I like how flexible the brush is and how easy the marker is to hold. It makes it easier for me to create straight and consistent lines. With other markers, the brush nibs are too firm so you need to press down harder on paper and this can affect the consistency of the lines. I didn't have such a problem with this one.
What is great about this is that the cap color is the same as the ink. I've lost count on how many markers out there have inconsistent color representations, so this is definitely a breath of fresh air. You don't need to swatch it and then refer to the swatches for the color you need. The colors are accurately depicted on the barrel and caps of the markers.
There are not a lot of downsides to this marker set except that in some markers, the brush tips come off easily if you forcefully remove the cap. They are easy to put back on though so that shouldn't be too much of a problem.
Pros
Water-based ink applies smoothly
Great color selection
Brush tips are excellent
Easy to control for beginners
Brush tips have a good coverage
Cons
Brush tip comes out when you forcefully remove the cap
You will be hard-pressed to find something wrong with these markers. They are a great buy for people who are on a tight budget and those looking for excellent quality brush tips for calligraphy.
7. Aen Art 60 Colors Dual Tip Brush Pens Calligraphy Art Marker
The color selection in this marker set caught my attention. If you like Copic calligraphy markers, these are very similar to them, especially the outside appearance. It also doesn't disappoint when it comes to the other aspects such as ink quality and performance.
I like the vividness of these markers. They are bold and pigmented. You can water them down a little bit to lighten it up but the ink still remains vibrant and noticeable. A little bit goes a long way. All you need to do is blend it to even it out.
It lays down smoothly. I don't find it blotchy. It's really a pleasant experience because the ink just settles smoothly without smudging. There's not a lot of friction as well with the nibs. The brush tips just glide smoothly on paper.
I just wish the color representation was more accurate. It's a lot darker than what is depicted on the color caps. You will have to test it out on a piece of paper to see if it's the shade you prefer. I would suggest doing a color swatch on paper and labeling them. Refer to that whenever you are deciding what color to use.
It's a good thing though that these markers retain their colors for a long time. They don't fade overtime even when exposed to air.
All 60 markers fit in its cylindrical case. It's very easy to stay organized. I also like that you can see the color of the caps immediately, so you can pull out the color that you want without taking out all of the markers. I can also stash the cylindrical case easily in my bag.
The marker caps have a triangular shape. I like this design because it makes it easier to take off the marker caps. I don't have to use unnecessary force just to remove the cap. This is also good for calligraphy artists who have problems with their grip.
Pros
Lots of colors to choose from
Ink lays down smoothly on paper
Inexpensive
Easy to use, even for children
Comes with a cylindrical case
Cons
Colors are darker than what is depicted on the cap
Go ahead and get these markers similar to a Japanese calligraphy pen. They are similar to more expensive marker brands but they won't cost you a lot of money. With these, you can enjoy high-end quality.
8. Profolio by Itoya Double Header Calligraphy Marker
Are you looking for large calligraphy markers? Set your sights on these. They are thicker than your average marker. Some people find this easier to hold, especially if you have young budding calligraphists. If you are teaching to younger kids, this would be a good marker set to give them.
It comes with basic colors. You can add a few more colors later but for those just starting to buy calligraphy markers, this should be a good starting point.
I like that the barrel is black. This makes it easier to keep it neat. It also comes with a clip, so that the marker doesn't roll off the table easily.
These markers also feature double tips. However, it doesn't come with a brush tip. It only has two chisel tips. One tip is thicker and the other is better for thinner lines. If you prefer working with a brush tip, you might not like these markers. However, a chisel tip is also great for doing calligraphy. It might even be easier to use if you are a beginner. It allows you to create bold lines and switch to thin lines easily. This smooth transition can't be easily learned when using a brush.
I like how safe these markers are to use. Because the ink is non-toxic and it is also devoid of acids, I can share them with younger kids because the ink is non-toxic.
The ink lays down smoothly on paper and is very pigmented. Aside from paper, this also works on other mediums such as metal, wood, plastic and stone. It's a very versatile kind of marker. If you run a calligraphy business, you might find these markers a great addition to your tools because it works on various surfaces.
You should also know that the ink dries up easily. I think this is good, especially for left-handed artists. You don't have to worry about smearing the ink everywhere. This can happen when the ink doesn't dry up easily and you accidentally run your hands over the ink.
These markers come with an opaque carrying case. This case is sturdy and can withstand impact. It's very easy to slide in your bag as well.
Pros
Good quality ink
Dries up quickly
Great for left-handed artists as well
Doesn't run out of ink easily
Thicker barrels
Cons
Doesn't come with a brush tip
If you like the quality of Japanese calligraphy pens, you will like this as well. These are both chisel tips, so if brush tips intimidate you and you are not yet ready to start your calligraphy journey using this often-finicky tip, you can try this one instead.
9. Artbrush Tower Metallic Calligraphy Brush Marker Pens
It's nice to have some metallic markers in your arsenal. The metallic sheen of these markers will make cards look more special. You can also use them to write calligraphy for wedding invitations or wedding entrance signages. They make things look more luxurious.
This marker set is a good choice if you only use metallic markers occasionally. It's inexpensive and you get 10 markers consisting of some basic metallic colors. It also includes a white color that looks transparent at first but dulls out to an opaque color. I think this would look pretty against a black surface.
The ink is very rich and pigmented, although I do find some colors darker than I expected them to be. Also, the two green colors too closely resemble each other that you will have a hard time figuring out which is which. I would have preferred something that is a different shade.
The brush nibs are long and provide good coverage. I find it easier to create the strokes I want because the nibs are soft and flexible. They also stay intake and don't fray easily even when used on rough surfaces. However, I would suggest not putting too much pressure when using them so that the nibs won't get damaged easily.
Beginners can easily use these markers. Aside from the flexible nibs, it also has a contoured barrel. It provides more areas for gripping, making this easier even for beginners to use.
Pros
Great for special occasion calligraphy
Vivid metallic colors
Comes with a white one that becomes opaque when it dries up
Brush nibs are flexible and soft
Precise and easy to use if you are a beginner
Cons
Two of the markers are almost the same shade of green
Not good for regular paper
I think everyone who is into calligraphy should have metallic markers. You never know when you just might need something with that extra shine to make your cards and letterings pop out. The quality of these markers is at par with other more expensive markers, especially when it comes to the quality of their nibs.
10. Sharpie Brush Tip Pens
This brand makes some of the best markers. Their brush tip markers are not an exception. These markers are still affordable but they can offer you the qualities that you can find in more expensive marker brands.
This set comes with 12 different colors of brush pens. These are the basic colors that you need for everyday coloring or calligraphy work. I think this would be great for beginners who want basic colors. You can try watering them down a little bit to create a more muted shade or leave them as it is if you want to enjoy their full vivid effect.
What I like about these pens is the brush tip. It's really one of the most trusted brush tips I have tried. Although it only has one end of brush tip, it can be easily angled so you can create both bold and thin strokes. It also has a flexibility that makes it easy to control. If you are a beginner who is not used to using brush tips, you won't have problems using these markers.
The tips are also surprisingly long-lasting. You actually don't need to use too much pressure just to get the angle you prefer. I think that's the reason why the brush tips last for a long time.
The ink fluidly lays down on paper. It dispenses just the right amount of ink so that you still have plenty of time to blend it in when coloring. It dries up quickly, too, so there are no risks of smudging or smearing. I also noticed that the ink also stays vibrant even after some time. It doesn't fade easily.
These markers are also some of the few markers out there that don't bleed on paper. I can confidently write on paper and not worry that it will get to the next page. What I don't like about this though is that it doesn't last as long as the other markers I've tried. It doesn't seem to have a lot of ink volume. But since it's affordable, that might be one compromise I'm willing to give.
Pros
Brush tips are flexible
Dry up quickly
Ink is resistant to fading
Doesn't smudge or smear
Ergonomic barrel
Don't bleed
These are great starter pens for those who are interested in learning calligraphy. The brush tips are flexible and easy to work with, perfect for beginners. If you like to work with brush tips, you will not regret buying these markers.
What to Look for When Buying Calligraphy Markers
When choosing the right calligraphy marker pens for your needs, I suggest keeping these factors in mind first:
Types of Tips/Nibs
The quality of your calligraphy work will greatly depend on the types of nibs that you are using. Brush tips are considered the best when it comes to doing calligraphy work because it mimics the functionality of a paintbrush. With this, you can really create precise strokes. However, brush tips or nibs might take some time to learn how to use. If you are a beginner, you will have to keep on practicing to get the hang of it.
Another option is the chisel tip. Most dual tip markers come with a chisel tip. This tip is broader and it tapers to the tip to allow users to write thin and thick letterings depending on how they angle the marker. This can be a good tool for calligraphy as well.
Fine tips and bullet tips are not as good for calligraphy because you can't easily get the strokes needed for this without having to outline or fill up your letterings. However, this can also help add more dimensions and style to your calligraphy work.
Quality of Nibs
Go for markers with flexible nibs, especially if you are using brush pens. If the nibs are not in good shape, they can fray and they can ruin your strokes. If you can, find those markers that come with replaceable nibs so that if the current one frays, you can easily replace it instead of having to buy an entire calligraphy marker set.
Also, make sure the nibs are made from a high-quality type of material. If it is made from a low-grade synthetic material, it will fray easily. If you are a serious artist or calligraphist, you definitely should invest in high-quality tools.
Color Options and Pigmentation
Calligraphy is just more fun if you have a lot of color options for your markers. See to it that what you are buying comes with vivid colors and those that you can easily work with or incorporate in your artworks.
Check to see if the marker colors are pigmented and if the ink is dispensed evenly. Some markers might dispense large amounts of ink and then taper off later, which can make it more difficult to achieve precisely and even calligraphy letterings.
Size and Shape of Barrel
The size and shape of the barrel will determine how easy the markers will be to use. If the marker is too thin, you might have a hard time achieving more complex strokes. For beginners, try something thicker because that is easier to hold. You can practice your grip and your strokes before you advance to thinner markers.
Ink Quality
Choose a marker with good quality ink that can be blended easily. If it is hard to blend, you will also have a hard time creating beautiful strokes. It should lay down on paper smoothly and should be able to create crisp lines. You don't want the markers to bleed everywhere. It should also dry up easily.
Other Important Factors to Consider
What is a Calligraphy Marker?
A calligraphy marker is a kind of marker that can be used for calligraphy purposes. These are usually double tip markers where one end can be used to make calligraphy letterings. These markers can also be used for drawing and shading. They come in the form of a regular marker or pen but with brush tips, chisel tips or fine bullet tips.
How Does It Work?
Calligraphy with markers is not difficult to achieve. In fact, they are easier to use than paint brushes because you can have more control over the marker. You use these markers like how you would use a pen or an average marker.
If you are using a marker with brush tips, you can try dipping the nibs in water to give you that watercolor effect. You can use it as-is but this method also works for those who like it watered down a little bit.
Angle your marker depending on the brush stroke that you prefer. You can do the same if you are using a chisel tip. If you are using fine tips, you might want to outline the calligraphy strokes first before filling them in.
Let the ink dry and enjoy your calligraphy work.
Who Is This For?
It's for artists and calligraphy enthusiasts. If you enjoy doing calligraphy work, you might want to try buying these markers. Professionals who get paid doing calligraphy should also consider adding these markers in their arsenal. They are much easier to use and they are quite handy to bring as well.
They can be used by people who do journaling as well. If you enjoy doing journaling work and you tend to incorporate calligraphy techniques, you will like these markers.
What are the Different Types of Calligraphy Markers?
Calligraphy markers can be separated by the type of nibs that they have. Here are some of those that you can choose from:
These markers have a brush tip similar to paintbrushes. They are smaller and more tapered and they can vary in flexibility. Some brush tip markers are fuller while others are slimmer. Others are firmer and some are more flexible. The flexible ones are ideal for beginners because they are easier to use.
These markers have a firm chisel tip that is usually made from felt. It is a thick and wide tip that tapers to at the end. If you angle your marker, you can create thicker strokes. If you write closer toa 90-degree angle, you can get slimmer strokes. It can be harder to use a chisel tip but with some practice, you will be able to achieve beautiful calligraphy work.
These markers have smaller tips that create fine lines. They are ideal for making smaller strokes. They are also easier to use but you might need to fill in some more if you want to get authentic calligraphy strokes.
Why Do You Need Markers for Calligraphy?
You need specific markers for calligraphy if you want to achieve the nuances in calligraphy strokes. You can't do that by simply using a regular marker. Regular markers don't provide the same flexibility in strokes as markers for calligraphy. These markers for calligraphy also make it easier to achieve complex strokes.
Frequently Asked Questions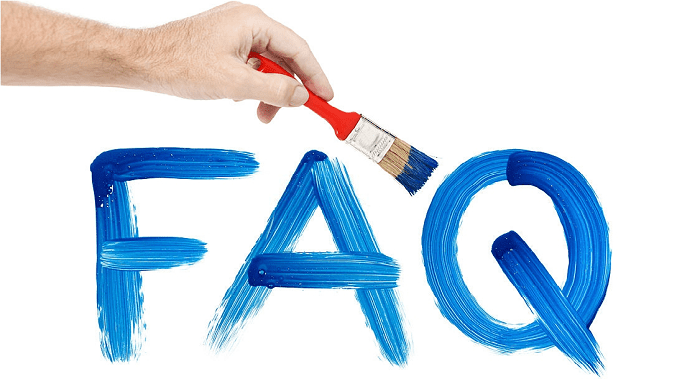 What are the Most Trusted Calligraphy Marker Brands?
You will never run out of choices when it comes to good calligraphy markers. It's just a matter of personal preference. I would suggest getting Ohuhu for a decent-priced calligraphy marker that does what it says to do. Tombow and Pentel calligraphy pen are inexpensive options as well. There are the more expensive brands like Copic but get them if you want to advance your skills or you want to invest in better quality markers.
How to Use Calligraphy Markers?
Choose the best type of paper. Some calligraphy markers have alcohol-based ink and these markers tend to bleed through the paper. Choose the tip you want to work with.
You can try printing letter guides and then practice writing on them. You will need to angle your calligraphy marker to get the right thickness of the stroke. It would be help if you practiced on a guide first to know how to angle your pen. Let the ink dry completely so it will not smudge on your paper.
For brush pens, you can use them directly on the paper or you can try dipping them in water first to achieve a watered-down effect similar to watercolor. Again, you need to angle your brush tip to achieve the strokes you want.
How Much Does Calligraphy Markers Cost?
Calligraphy markers vary in price. It depends on the brand and the number of markers included in the set. A basic set that comes with primary colors and less than 15 markers can set you back by at least $15. The more markers are included, the more expensive it is. But keep in mind that pricier does not always mean better. There are still a lot of affordable brands that can give you high quality calligraphy results.
Where to Buy Calligraphy Markers?
These markers are widely available. You can find in them your local stores such as Walmart, Target or Home Depot. These markers are also available online.
How to Care and Clean?
These are easy to take care of. You just need to make sure that they don't leak and that the caps are not left open. You can also try cleaning the barrel every now and then with a cotton ball soaked in alcohol.
Conclusion
The best calligraphy markers are the ones that fit your needs and preferences. There are a lot of good options, so it shouldn't be too hard figuring out which of the ones out there will really work for you. Just make sure you assess your needs first, especially when it comes to your budget so you can find one that works.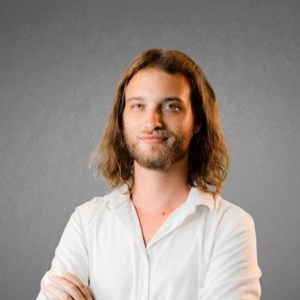 I am a former art teacher, so it is evident to me the importance of art in educating the new generation. We also want to help parents who plan to teach their children and desire the best tools and tips for them.