Before designers sew fabrics together, they brainstorm and translate their ideas into fashion illustrations. This sketching is an important step in the process as it serves as guides for the seamstress. More importantly, the drawings are considered works of art.
Many illustrators and designers like to execute their one-of-a-kind concepts with pens and markers, rather than other drawing instruments and coloring materials. Unlike painting, these tools are convenient as they do not require elaborate preparation. For artists who are always on-the-go, they bring their kits when they go to work or travel out of town to meet clients.
Maybe you're a seasoned illustrator looking to build your collection of markers or upgrade your tools. Perhaps, you're new to the industry and looking for reliable tools to start your career as a fashion designer. Either way, I'm here to assist you in finding the best markers for fashion illustration.
Top 10 Marker for Fashion Illustration Reviews
1. Copic Premium Artist Markers
Widely recognized as top-of-the-line, seasoned manga artists, architects, calligraphers, and fashion designers favor Copic markers over the other brands. Made in Japan so you can already imagine how remarkable these tools are. You will never regret buying them and they will be yours forever.
In case you want a set that saves you from the trouble of spending a lot of money on purchasing a new marker if one of them runs out of inks or has broken nib. For that, investing in this set is practical because the markers have replaceable tips and refillable inks.
While we're on the subject of saving money, let me just add that each marker has dual tips so you do not need to buy separate pens to get the best of both worlds. On one end is a brush tip that works like a real brush for rendering swirls and lines with varying width. On the other end of the marker is a chiseled tip that you can use to color large spaces and shapes.
Inside the nifty packaging with dividers, you will find neatly organized 72 markers with a well-balanced combination of cool and warm colors, as well as a mix of dark and light shades.
As for permanence, these acid-free alcohol-based inks have maximum lightfastness. Using them on uncoated papers, the inks have a long open time which means that you can go back and re-wet them years after you first applied the colors.
Fashion illustrators will love that these markers are blendable, enabling them to render color gradients to show depth. For best results, use these instruments on marker paper as they tend to bleed through the thin pages.
Although this set is ideal for beginners, they are still pricey if you look at the prices of other markers, especially on your initial purchase. But positively look in the long run, you do not need to buy new sets as you can avail of the refills.
Pros
Cost effective with replaceable nibs and refillable inks
Dual tips for multi-purposes
Offers a balanced combination of cool and warm colors
Acid-free alcohol-based inks with strong lightfastness
Compatible with marker paper
Sturdy packaging has dividers to organize markers
Cons
Bleeds on thin papers
Expensive on your first purchase
For fashion illustrators who plan to invest in a large collection of markers, I can guarantee that this set is for keeps. You can never go wrong with this set considering the quality of the refillable inks, replaceable nibs, and the selection of colors.
2. Prismacolor 1736674 Markers
Affirming the adage "Quality over quantity," this set of brush-tipped markers from Prismacolor is one of the most reliable tools for fashion designers. This brand takes pride in its impressive track record of producing markers that novices, advanced hobbyists, and professionals adore. Best of all, their products are more on the budget-friendly side.
With 8 art markers in one set, the product puts forth an unusual roster of colors, namely umber, sepia, green, orange, red, blue, purple, and black. Applying them on paper, I can get the rich hues in vibrant and highly saturated. Even better, the colors do not fade over time due to the strong lightfastness.
Digging more into the properties of the inks, I am happy to share that they do not bleed through paper. As I was testing them, I noticed that the inks dry fast which makes layering colors effortless without smearing. After frequent use, I observed that the markers have not run out of ink so there must be a lot inside the barrels.
In terms of the product's design, the nibs feel as if I was working with a real brush. Since these tools come with versatile brush tips, I use these markers for coloring, as well as drawing hair, facial features, and adding some textures to the fabrics.
For those who are studying fashion illustration or taking it up as a hobby, this product makes for a practical starter kit or an addition to your existing stash of markers. Just one thing to note is that these markers do not have refillable inks or replaceable nibs.
Pros
Highly saturated and fade-free colors
Perfect for coloring and layering
Brush nibs for different lines, strokes
Does not bleed through paper
Fast-drying inks
An affordable set of markers
Cons
No nib replacements or ink refills
Even artists who are still in the early stages of their career, this set gives you enough to work with. Not only that it gives you that same feeling of using a real brush, but you also benefit from the permanent inks' fast-drying component.
3. Shuttle Art Dual Tip Markers
Satisfying the need for both quality and affordability, complement your fashion design pens with these markers to complete your illustration. Offering 88 unique colors, you can spell out your avant-garde ideas in endless ways.
Starting with its specialty, the vivid colors retain their brightness once they settle on the paper. As these are blending markers, you can produce extra hues with the help of the blender included in the set.
Both pro fashion illustrators and enthusiasts will delight in both the quantity and quality of inks. For instance, this brand promises that its markers can draw a whopping 300 meters of a continuous line, which means that each barrel is filled with inks to the brim. Besides being fade-resistant, the inks are non-toxic and acid-free, which makes them safe for children.
When it comes to nibs, you can take advantage of the wedge nib to produce lines ranging from 1 mm to 7 mm or color large areas. Alternatively, use the 1mm bullet tip for outlines, details, shadows, and highlights.
Designed for comfort, the triangular barrels let me change angles and directions with ease. Plus, all the markers are encased in a durable black bag so you can carry this set everywhere and keep them organized at home.
Also, I want to mention that the inks are watery that bleed lightly through the paper. If you are working on a sketchbook, I highly recommend you place a scrap paper underneath.
Pros
Budget-friendly art product
Plenty of ink for coloring
Dual tips markers and a blender
Safe for children
Produces fade-resistant and vivid ink
Comfortable to hold
Cons
Watery inks that might bleed through paper
Quality should never be compromised even when you prefer affordable markers. Fortunately, this brand knows its customers well and crafted instruments that suit your needs.
4. Caliart 100 Colors Alcohol Markers
Another brand of fashion design markers on the economic tier, this kit offers 99 colors and 1 colorless blender giving you the bang for the buck. Recommended by artists and crafters, the performance of this product is beyond satisfactory.
Just like any artist, fashion illustrators love to combine mediums to convey their ideas on paper. To pull off this technique, the marker inks should dry within seconds to prevent bleeding, smudging, and smearing. In this way, you can work with other mediums to create effects that you cannot do with regular markers alone.
Looking at the colors after swatching, I discovered that this set included a range of skin tones. It helps a lot when you want to create pieces worn by a diverse group of models. Apart from black, white, and grays, the product provides a plethora of cool and warm colors.
A versatile art product, the markers have two tips on both ends: 1 mm bullet tip and a 7mm chiseled tip. In effect, these nibs allow for multiple functions including writing, sketching, and coloring. However, this product is flawed.
For one, the black fabric casing was flimsy. If I pull out one or two pens, it collapses and messes up the arrangement of the markers inside. To avoid this, I have placed cardboard as a reinforcement.
Pros
A complete set of 99 colors and 1 colorless blender
Inks dry within seconds to prevent bleed-through
Dual-tipped markers for varied functions
Includes a good number of skin tones
Offers a plethora of warm and cool colors
Creative endeavors do not have to be expensive. Whether you are a pro and a newbie in fashion design, you will find every color that you need in this affordable kit.
5. Prismacolor Premier Art Markers
Convenience and versatility are two aspects that many fashion illustrators look for, especially when they travel frequently to meet clients. Thus, dual-tipped markers became their go-to fashion design supplies, giving jet-setting artists the advantage of carrying fewer instruments.
Used by artists and designers from various creative fields, this set has demonstrated their ability to produce rich, vivid colors and smooth gradients. Deemed as a premium set of markers, the inks are alcohol dye-based that works on most papers with no bleeding. In the kit, you will find 12 colors that are suitable for fashion designers who are working with vibrant textiles.
Featuring a standard brush tip and a fine bullet nib, drawing line art and details, as well as coloring, would be a breeze. Upon testing, I find these markers also comfortable to hold. Gliding the bullet nib on paper feels smooth and effortless. Like other Prismacolor markers with brush tips, this one feels like I am painting.
In making sure that the color that both tips release is consistent, the ink is stored in a single source inside each marker. Since round pens tend to roll off the table, the caps are equipped with a stopper.
As a starting point, this set offers enough features to get your creative juices flowing. My only complaint is that the marker caps are hard to remove but other than that, I find the quality of these markers commendable.
Pros
Rich, vivid colors
Produces smooth gradients
Two-tipped featuring a brush and fine nib
Anti-roll caps
Single-sourced ink barrels for consistent colors
Despite the hard to remove caps, this set of 12 enables creative folks to bring their radical ideas to life. Fashion illustrators who experiment with an assortment of textiles can make the most out of the markers' ability to blend.
6. Amazla Alcohol Art Marker Set
In the early stages of your fashion career, it is more advisable to go for budget-friendly markers. Keep in mind that this does not mean that you are sacrificing quality and performance. For this reason, I include this set of 80 art markers.
Some say that the inks of this product can more or less perform like its more expensive counterpart so I tested them. True enough, the colors just pop as they are opaque and vibrant. Most sets with more than 50 colors tend to repeat colors, but with this set, all colors are unique.
As if 80 colors are not enough, blending them opens up a whole new world of shades. For my projects, I use blending techniques to show some shadows and highlights to add depth to my illustrations. Adding details or highlights using gel pens is easy since the alcohol-based inks dry quickly.
Like many dual-tipped markers, these have chiseled tips on one end and bullet tips on the other. Utilizing the 7 mm chiseled tips to color and shade makes it easier to cover large spaces. To render texture or shade small parts, the 1-2 mm bullet tip is extremely useful.
Since this set includes a bag for storage, I can carry the markers anywhere with me. Although I don't have anything negative to say about this product, I just want to mention that the bag is flimsy making organizing the pens can be difficult. Also, the ink color slightly differs from the colors of the caps so swatching them is essential.
Pros
Comes with 80 vibrant colors
Dual-tipped markers
Blending markers can produce more shades
Chiseled tips make coloring easy
Inks dry quickly
Cons
The flimsy bag makes organizing hard
Ink colors are slightly different from the cap colors
All in all, these fashion illustration markers have loads of exciting qualities to bring out the best of your visions. With 80 pens loaded with inks that blend so well, the only challenge you have now is to come up with vibrant ideas.
7. L'émouchet Twin Marker Pens
So you bought a new fashion sketchbook and now you are looking for drawing instruments so you can start sketching. Well, say hello to this affordable set of 170!
Knock yourself out with all the 168 colors and 2 colorless blenders. The set includes a swatch card and a 30-sheet marker pad, which I gladly use. After making a swatch, I saw the art product numerous grays and skin colors, in addition to the rainbow of hues. The skin tones are useful for drawing models and apparel with classy neutrals.
Due to the product's ability to blend, I can generate even more colors that are not readily available in most markers. Performance-wise, the 2 clear blenders exceed expectations as they do not pick up the colors of the other markers. These tools produce smooth gradients without visible edges that appear as the color transitions from dark to light.
In general, the tips are made of quality fibers that do not fray or cause the inks to skip. Since these are dual-tipped markers, you can sketch and color using the bullet nib and let the 7 mm wedge tip take care of the coloring. For the best results, use marker paper or card stock as these alcohol-based markers bleed on thin sheets.
Ever since I started using these markers, I have not seen a single color faded so it's safe to say that the inks are strong where lightfastness is concerned. Aside from markers, the manufacturer threw in a 2-finger glove to keep you from smudging your artwork.
While I appreciate this art product comes with a bag, it is not as sturdy as I expect it to be but I guess I'm just nitpicking.
Pros
Includes bag, 2-finger gloves, swatch card, and marker pad
Has a wide selection of colors, especially skin tones
Excellent colorless blending markers
Dual-tips made of high-quality fibers
Colors do not fade over time
Cons
Bleeds on thin paper
The bag is not sturdy
Technically, the drawbacks I mentioned are not real deal-breakers if you consider all the product inclusions and benefits. Besides, the main goal is to have the right tools to execute your ideas and these markers are more than enough.
8. Touchcool Markers for Arts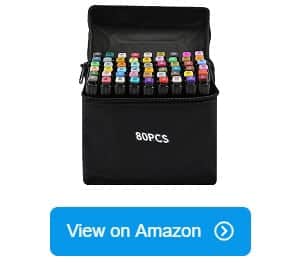 Our ability to express our ideas hinges upon the choices of available colors in design brand markers set. Hence, many designers lean towards buying packs with dozens of colors such as this art product.
Because of its double-tips, I can use several techniques to show the textures or the shades of the fabric. When presenting textiles with ornate shapes and patterns, the 1 mm bullet nib lets me draw with precision. To fill in large areas, the 6 mm chiseled tip enables me to color evenly and quickly.
Meanwhile, the blending marker is immensely beneficial as it seamlessly combines colors to produce another shade so I can render pieces that look closer to the fabrics that I want to use. In my experience, these alcohol-based inks dry fast. This allows me to work on the other parts of the design without worrying about smearing.
Easy-flowing and highly-saturated, the inks can compete with other well-established brands. Given that this product is in the budget-friendly category, beginners as they won't feel intimidated by the price. Moreover, they will not regret buying it due to the overall quality of the tips and inks.
Like other marker sets with this kind of fabric casing, the black bag could not hold all the pens upright, especially when I take a few markers out to use. As much as I love the colors, the inks have a faint chemical smell when I open the cap but it fades afterwards.
Pros
Double-tipped markers
Seamless blending tool
80 Highly-saturated colors
Quick-drying alcohol-based inks
Budget-friendly product
Cons
Flimsy fabric casing
Faint chemical smell
Every feature of the product meets the demands of fashion designers, such as the wide range of colors, blending capabilities, and smudge-free inks. What's even better is that the price is just right!
9. DasKid Dual Tip Art Markers Set
Some designers prefer to buy less than a dozen markers while others opt for sets of 80 or more than a hundred. Those who are looking for a middle ground will be pleased by this set of 50. Owing to the product's blending capabilities, you can concoct more hues to achieve the look you are going for.
Giving you premium inks that withstand fading and prevent smearing, these markers are great for both novices and veteran fashion illustrators. On top of the skin tones, you can embellish your outfits with the warm and cool colors to fit any season and occasion.
From printed fabric to classy monochromatic attires, you can create anything by utilizing the dual-tips.Sturdy yet gentle on paper, the tips do not fray despite frequent use. For outlines and detailed work, the 1 mm does the job exceptionally well. While, the 7 mm renders heavy strips of color to create ribbons and hair beautifully. Plus, it comes in handy for coloring large sections of my design.
An aspect of the product worthy of mentioning is the square barrel. Holding the markers feels comfortable and easy to control. At the same time, the body functions as an anti-roll feature to keep these precious tools from falling off the desk.
If you have no plans of buying acrylic marker shelves, the well-made fabric pouch will serve as your storage. It's easy to carry and perfect for outside drawing.
If there is one drawback in this product, it's that the tips release more ink as you apply more pressure, which can bleed through the paper. Like the other affordable markers, this product is not equipped with replaceable tips nor refillable inks.
Pros
Wide collection of colors
Suitable for beginners and pros
1 mm are useful for detailed printed fabric
7 mm renders smooth monochromes
Sturdy storage case
Cons
Bleeds through paper
Has no ink refills and replaceable tips
This product goes above and beyond in addressing the needs of the artists. A practical set of markers, you illustrate professional-quality wearable designs without hurting your wallet.
10. Copic Markers Sketch Fashion Design
Working in a competitive industry such as fashion requires creative skills and dependable tools. Designed for fashion illustrators, the company curated Copic Sketch markers to include 24 colors for you to sketch stylish ensembles.
Trusted by professionals, the markers contain blendable inks so you can whip up more hues like yellow-green, red-violet, and so on. Providing light, mid, and dark tones of each color, fashion designers can add shadows and highlights to make their sketches appear more realistic.
Since markers are alcohol-based, the inks do not soak up and warp the paper when you blend the colors. They dry up fast when you apply them on paper. You can work on the other areas of your illustration without smearing the parts you already inked. Having the ability to resist fading, your designs will retain its original colors for a long time.
Not your regular art supplies, the dual-tipped markers have brush nibs and medium broad nibs. Of all the brush nibs I tried, this one is firm enough which makes it easy to control, yet soft enough to spread the color. Using this tip, I can color my illustrations and render details by adjusting the angle and the pressure.
Lastly, I just want to turn your attention to this casing fabricated to organize your markers neatly. Attached to the wallet are slots that can fit each pen perfectly. Doubles as a portable studio, you can prop the storage case so you can easily pick out the color you need.
You're probably saying, "This brand is expensive!" If you think long-term this set is a great investment because all markers are compatible with the brand's airbrush system. Beyond that, the markers have ink refills and nib replacements so you do not have to buy whole sets in the future.
Pros
Offers light, mid, dark tones of each color
Blendable inks that dry fast
Strong lightfastness
Dual-tipped markers that replaceable
Includes wallet casing
Could these be the top-rated markers for fashion design? In keeping up with the ever-changing landscape of the industry, you should consider investing in this portable kit. Complete with light, mid, and dark tones, you can blend colors to your liking and articulate your vision through your wardrobe.
What to Look for When Buying Markers for Fashion Illustration
When we look for art supplies in retail stores or e-commerce sites, we feel overwhelmed by all the choices these shops offer. Most sets of markers are not cheap. So, before you set off to find fashion markers, take the time to ask yourself why you want to buy a new set of markers.
Perhaps you need more colors to sketch a new collection of outfits, or maybe you need something that blends smoothly. I'm sure you have plenty of reasons but having specific goals will guide you in your decision. If you're stumped, I'm sharing these pointers to help you out.
Color selection
If this is your first time to buy fashion sketch markers, choosing between a set of 24 and a set of 80 is a tough decision. You wonder if fewer markers would be enough or if they would limit your creativity.
The trick is to determine your choice of aesthetics. Do you want to create outfits with a rainbow of colors or with a few basic colors? This way you can easily determine which set to buy.
However, if you haven't figured out the style you want to be known for, that's okay. Depending on your budget, you can either buy a set of 80 markers or try a few markers until you discover your vision. As you develop your preference, you can purchase other colors that you need as most brands sell markers individually.
Marker tips and nibs
Nowadays, pens and markers come with different types of tips and nibs with a variety of sizes. The fine tips enable you to work on intricate details, while the chiseled tips help you spread colors on large areas faster. Don't forget the brush tips! These are great for rendering ribbon-like lines, which is also useful for fashion illustrations.
Again, you don't have to own so many markers just so you can have a wealth of options. As you produce more designs, you will eventually see that you only need specific types of nibs for your designs.
Replaceable nibs and refillable inks
Let me assure you that both sets offer more or less the same ink qualities. Regardless of the price, most nibs are durable.
If you earn a living from fashion illustration, investing in replaceable nibs and refill is worth the price. After all, these markers are not your average art supplies. Typically, one bottle lets you replenish the ink up to 10 times, which saves you money later on.
If you are a hobbyist who draws once in a while, you may not need that much ink or nib replacements. Of course, that doesn't mean hobbyists should only get the basic markers. You certainly can buy markers with replaceable nibs and ink refills if you are a heavy user.
Compatibility with other drawing instruments
Artists and designers, including those in the fashion industry, work with a variety of mediums. By treating your designs like a work of art, you will realize that you need more than just pencils, erasers, and markers. Certain techniques could only be done by specific instruments, such as drawing details.
To achieve your desired look, you need other tools like fine-line felt-tip pens, gel pens, metallic pens, or an airbrush. Always check the packaging to see the ink composition of the markers or read reviews like this one. Be sure that the inks dry fast and are compatible with other mediums.
Pricing and practicality
Budget is one of the constraints that many fashion designers have to deal with. Many of us are not ready to spend extravagantly on state-of-the-art tools. Deep inside, we know that it's our ideas and hard work that make us better designers. The hard truth is that no one cares about which brand we use.
Still, delivering results that impress our clients matter to us. We cannot afford to have problems like fading, smearing, and smudging given that we are already working with tight deadlines. By investing in reliable markers that fit our budget, we can lessen the problems and take advantage of the convenience the product offers.
Conclusion
Let's face it, neither quick-fix nor secret sauces in succeeding in a fast-paced, deadline-oriented industry such as fashion. As trends come and go, talent and hard work are your best bet but these should be paired with the right tools to propel your career forward.
For this article, I reviewed the best markers for fashion illustration that I have tried myself. Of course, there are other brands out there that you might also want to try, such as Touch markers, Prismacolor, Chartpak markers and many more. My wish for you is to find the one that is right for you.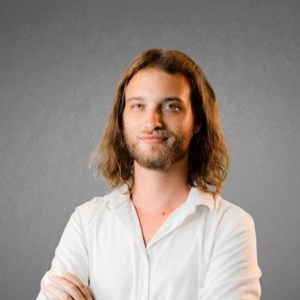 I am a former art teacher, so it is evident to me the importance of art in educating the new generation. We also want to help parents who plan to teach their children and desire the best tools and tips for them.