If you are looking for pens that allow you to draw sharp lines, gel pens are your best option! Not only that it lets you write neatly, but the tips of high-quality gel pens glide smoothly on paper.
Available in different color options, the ink of a gel pen is typically opaque. As a matter of fact, many creative individuals also use this for their art projects and bullet journaling apart from note-taking and signing documents.
Nowadays, gel pens come with different tip sizes and color choices to suit specific tasks. For that, let me share with you some of the best gel pens that you can use for writing, art projects, or both!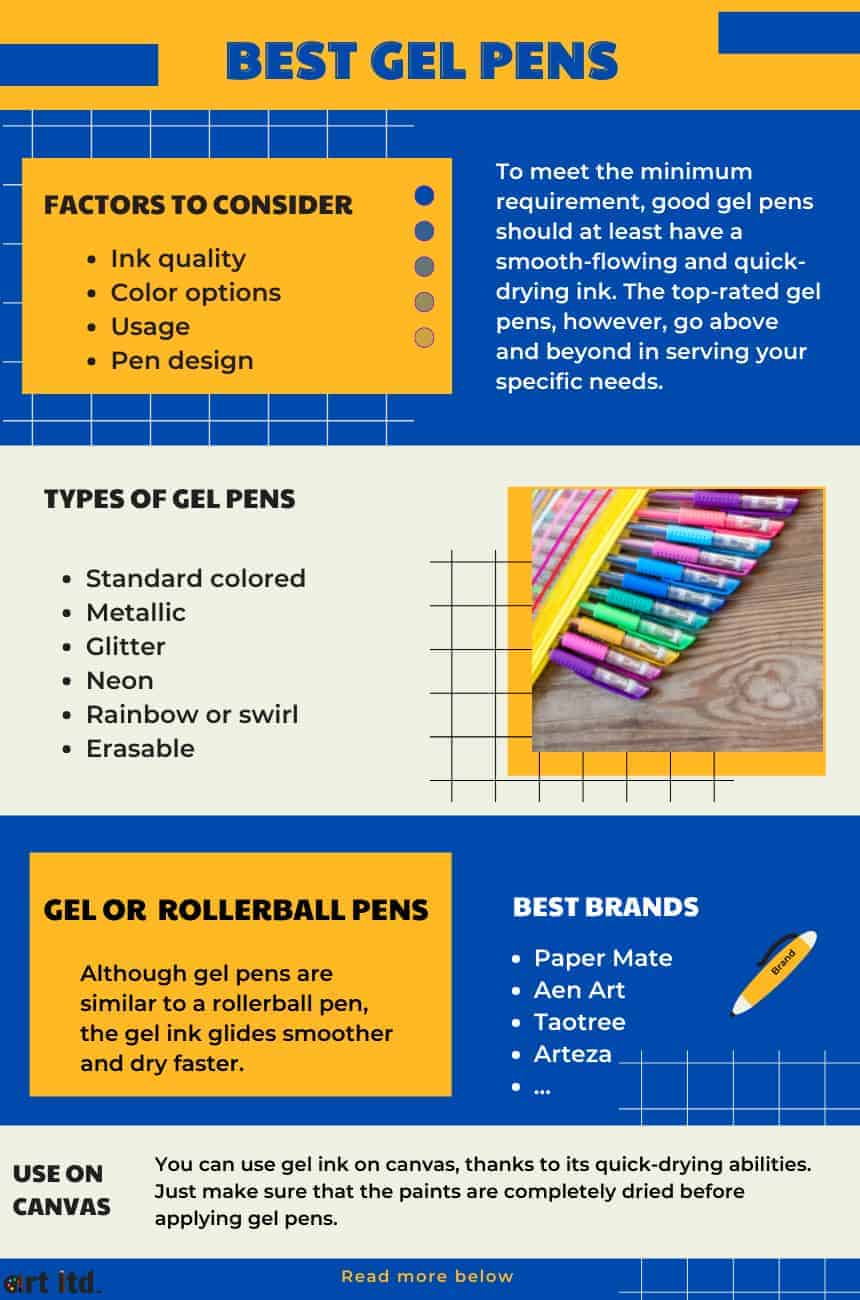 Best Gel Pen Reviews
1. Paper Mate 1951636 InkJoy Gel Pens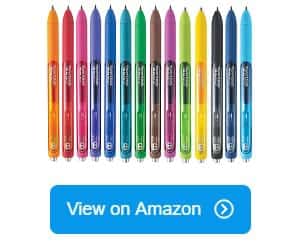 With 14 colors in a pack, Papermate gel pens are popular among office workers, bullet journal practitioners, crafters, and students. This speaks volumes about this product's performance. Allow me to show you its features so you can understand why it is beneficial to you.
The main highlight of this gel pen is the ink quality. For one, I'm impressed that none of the colors in this set look similar. For another, even a light color like yellow is highly vivid and readable on paper.
Featuring excellent ink for writing and decorating bullet journals, I find the colors are especially useful when I want to underline or color-code tasks in my planner. Also, I never experienced any skipping issues even after using this for months. Thus, it saves me from the trouble of going back to redo my writing.
More than that, these gel pens help me keep the pages of my notebook neat. The inks dry almost immediately, and I don't accidentally smudge my writing nor bleed through the next page.
Meanwhile, the tip of each pen is stable and sturdy. In conjunction with the lightweight body, the pen gives me absolute control over my strokes. Moreover, it prevents hand cramps when I'm writing for long hours.
If you are an artist or archivist, keep in mind that the inks are not acid-free. Hence, it is not suitable for commissioned artworks or works you need to archive. This set is best used for everyday writing and casual sketching.
Pros
Excellent bleeding and smudging prevention
Has smooth-flowing inks
Useful for writing, bullet journaling, and sketching
Offers unique vivid colors
Gives you full control over your strokes
Cons
The inks are not acid-free
Truly, this color gel pen set makes studying and working fun and efficient. Whether you use it to underline your notes or decorate your journal, the quick-drying ink ensures that your notebooks are neat!
2. Aen Art 4336949552 Glitter Gel Pens
Are you looking for some creative spark? You can never go wrong with this set of glitter gel pens! Earning many gel pen aficionados' seal of approval, each glitter pen in this set features a distinct color.
A great addition to my arts and crafts supplies, I mainly use these pens for making personalized greeting cards, hand-lettering, and illustrations. Apart from the glitters, the vibrant colors give a nice coverage. Moreover, I can produce commissioned artworks with these pens because the inks are fade-proof.
My experience in using these pens has been generally positive, especially when I tested them on different papers. The tips are stable and solid but they glide so well on textured paper, smooth cardstock, journals, and notebooks. At the same time, the inks flow consistently out of the tip.
Making neat illustrations and journal entries is achievable with these pens. Due to the inks' quick-drying nature, I'm happy to share that left-handed writers and artists will enjoy using them. Because the inks are bleed-proof, the backside of my journal pages remains clean and ready to use.
This gel pen set scores high where comfort is concerned. The rubber grip keeps the pen from slipping when my hand gets a little sweaty. Plus, I don't need to use force to remove the cap or put it back on. The cap snaps back onto the pen securely, ensuring that the ink and tip are protected.
Considering that this set has a hundred colors, the pens do not have any labels to indicate the name of the hue. To avoid confusion, I had to label each pen myself and swatch them. This way, I can tell which color or shade I want to use.
Pros
The ink flow is consistent on most papers
Offers 100 unique glitter colors
Useful for various art projects
Helps achieve neat writing and artwork
Very comfortable to use
Cons
Does not indicate the name of the color
Providing a wide range of glittery colors, this set is one of the best gel pens for coloring and sketching. Each pen possesses top-quality ink that guarantees no dull moments when you make art!
3. Taotree 662964 Glitter Gel Pens
Whether it's sketching, card-making, or embellishing your bullet-journals, you can bring your unique ideas to life with this set of shiny colored gel pens. Aside from the wide range of colors, this non-toxic product is suitable for children!
One of the things that I love about the glitter gel pen set is that the shiny color makes my artworks more eye-catching. Impressively, the colors never fade on paper because of the acid-free ink formula. Hence, I use these pens for both personal projects and commissioned pieces.
Another strength of this product is the smooth ink flow, which lets me write and sketch without getting distracted by skipping issues. Even though the inks seem juicy, I'm amazed that they dry pretty quickly. Regardless of the paper I use, the gel ink hardly smeared or bled through.
The pen comes with a soft rubber grip that keeps it from slipping from my sweaty hand. Alongside the sturdy tip, using the pen for long hours is painless! Usually, I'm annoyed when the cap is hard to remove but with this bunch, I never have to exert too much effort!
As much as I love the vibrant colors, they seem to run out fast. However, this is a common issue with this ink type. Taking to account its affordable price tag, I was not really short-changed.
Pros
Has shiny, vibrant colors
Suitable for children and adults
Never skips, bleed, or smear
Ensures that colors will never dull
Makes writing and sketching painless
More than just a decorative set of tools, this set is the top choice for fade-proof glittery inks. Optimal for any type of paper, there is no limit in what you can do with these gel pens!
4. Tanmit 4336945581 Gel Pens Set
Unlike a regular ballpoint pen, this pack of gel pens gives you ample ink colors to decorate your journal, highlight important text, color-code tasks, and create artworks. Despite its affordable price, its quality exceeds expectations.
Composed of 36 gel pens, the set gives me a handful of standard colors, metallics, neons, and pastels to help me show different styles and moods in my illustrations. The consistent flow of ink helps me create crisp details and write continuously. Besides, let me assure you that these pens are non-toxic and safe for children.
Besides adding a splash color to my otherwise dull notes and journal entries, the acid-free inks preserve the vibrant hues for a long time. This is welcoming news for professional crafters and artists who plan to use gel pens for the artworks they want to sell.
Functionality-wise, the fine tips glide well on most types of paper. On the other hand, the pen's body has a rubber grip. As a result, the combination of all these features makes it easier for me to control my strokes so I can sketch with more precision.
Just be careful as you might smear the inks. I noticed that the inks do not dry fast enough. While testing these pens, I also found that the inks bleed through thin papers. However, I don't think this will cause a big problem if the pages of your journal or notebook are thick.
Pros
Ideal for precise drawing
Includes different types of gel inks
Child-friendly gel pens
Glides smoothly on any paper
Effectively prevents discoloration
Cons
The ink tends to smear
May bleed through paper
Affordable and dependable, these are the best gel pens for drawing that boast smooth-flowing inks and good ergonomics. Featuring fine-tips and vibrant colors, you will never have a hard time sketching intricate details!
5. Daskid DGP-4848 Color Artist Gel Pen Set
With this gel pen set, the word "complete" is an understatement as it gives you so much more. Besides the usual ink colors, it includes metallics, glitter, pastel, and neon pens. Even better, each gel pen comes with a refill!
In my experience, the gel ink never clogs or skips when I tested it. Thanks to its fine tip size, I can create crisp lines and write neatly. If I'm using a ruled notebook, I can fit my penmanship between the lines.
As for coloring, the ink lays down smoothly without hints of streaks. On white paper, the gel pens appear bright and opaque. Meanwhile, the metallic and glitter pens make my artworks and letterings stylish. Having a choice of pastel and neon colors means that I can experiment with my style when I doodle or color my artwork.
Holding the pen feels light and comfortable, allowing me to take notes and finish an artwork with ease. The pen's transparent body allows me to see how much ink I have left for a on-time refill. Another reason to love this set is that it comes with a case to keep gel pens organized.
For left-handed writers, watch out for smearing issues since the gel ink does not dry quickly. Other than that, I think this gel pen set works well with any notebooks, bullet journals, sketchbooks, or adult coloring books.
Pros
Offers a wide variety of gel inks
Has a smooth ink flow
Perfect for writing and art projects
Provides ink refills
Includes a case to keep the pens organized
Bringing out the creative side in everyone, this set offers the best gel pens for art. Suitable for any drawing and writing surface, the combination of smooth ink flow and superb pen ergonomic makes your work a whole lot easier to accomplish!
6. Reaeon Gel Pens
Here's another rainbow set of gel pens that I highly recommend for any type of task. Besides the usual mix of standard colors, metallics, neons, and pastels, what sets this product apart is its neon-glitter and swirl pens.
If you ask me, my favorite is the swirl pens as they change colors as I switch directions. Equally interesting, the neon-glitter pens are both bright and shimmery. With these two alone, I can produce various effects when I sketch or color my artworks.
In the same vein, the others are just as vibrant and opaque, providing me good coverage. Any pen I use from this set, the gel ink is generally dependable. None of the pens skipped, smeared, nor bled when I tested them. As for longevity, the acid-free inks safeguard my artworks against discoloration.
Speaking of ink, I love that this set comes with refills. Luckily, the pen itself is not difficult to dismantle if I want to replace the inks. Even though the pens do not have a rubber grip, they are all surprisingly comfortable to use.
However, the ink runs out faster compared to other brands. Of course, the refills prolong the life of these pens but I wish I would not have to replace the ink when I have only used it for a couple of months.
Pros
Lets you explore various color effects
Has opaque colors for solid coverage
No skipping, bleeding or smearing issues
Provides gel ink refills
Easy and comfortable to use
For those who love to experiment with colors, this set is an awesome addition to your gel pen collection. Any writer or artist will find this useful for color-coding notes, coloring, sketching, and adorning their journal with one-of-a-kind inks!
7. Sharpie 2096159 S-Gel
Designed by a well-known brand, Sharpie offers a dozen black gel pens in a pack. Whether you are buying for your co-workers or for personal use, this product is one of the practical options you can find in most retail stores.
Typically used as an office pen, I particularly like this for signing documents, writing on cheques, and note-taking. The rich black gel ink gives my signature and penmanship a professional look. With a medium point size, I can write legibly in my notebook.
For a writer who always jots down notes quickly, I'm amazed that the pen can keep up with my pace without skipping. Meanwhile, the gel ink's quick-drying formula ensures my notebook is free of smudges and bleeding. Even after applying a highlighter over my paragraphs, the ink does not smear!
Looking at this product, I like that this retractable pen does not look cheap even though the price is very affordable. To release the tip, I just have to press the button at the top. Equipped with a contoured rubber grip, I could go for hours jotting down my thoughts without hurting my hand.
After using this for a couple of months, the only issue I found is that the pen can get scratchy. Sometimes, the line I draw gets thinner when I hold the pen at a certain angle. Since I don't use these pens to draw, I'm not bothered by these issues.
Pros
Suitable for note-taking
Can keep up with your writing speed
Guarantees mess-free work
Has a beautiful pen design
Not painful to write with
Cons
Can be scratchy at times
The line thickness is not always consistent
Factoring in the quality and the price, these are the best gel pens for writing. Highly dependable, the quick-drying ink averts bleeding and accidental smearing.
8. Soucolor Gel Pens
Although advertised as gel pens for coloring, this kid-friendly set has plenty of use. One gel pen pack includes 60 vibrant colors with ample options from metallics, pastels, rainbows, and many more!
Aside from taking advantage of the smooth-flowing gel ink for hand lettering and doodling, I use these pens to jazz up my bullet journal. Not only my to-do list looks more engaging, but I can also assign a color for a specific category. Safe to use on notebooks, the gel ink stays on top of the writing surface and never bleeds to the backside of the page.
Furthermore, these color gel pens show no sign of skipping if I change the speed or direction of my strokes. Meanwhile, the tip size supports neat penmanship and illustrations. I can draw sharp lines with consistent thickness.
Adding to the overall pleasant experience, each gel pen is wrapped with the so-called comfort grip. Besides keeping my hands from getting sore, the plastic body does not wiggle too much when I hold it. Because of that, it is much easier to draw more precisely.
As a bonus, the manufacturer includes a storage case where I can organize my gel pens. This way, I can carry them when I travel without having to buy another pen case! However, keep in mind that the gel ink is not exactly quick-drying and prone to smearing if you are not careful.
Pros
Multipurpose gel pen set for all ages
No skipping when you change the speed or directions
Adds vibrant hues to your art and writing
Optimal for precise drawing
Includes storage casing
Cons
The gel ink takes a little longer to dry
Hitting the sweet spot of what's required of illustration and writing, this set of vibrant colored pens contains high-quality gel ink. Apart from precise drawing, these pens make mundane tasks more enjoyable.
9. BIC Gel-Ocity Gel Pens
When you're studying, reading your notes in black ink can be uninspiring. If you want to make your writing more memorable, I recommend this pack of gel pens for taking notes. Affordable for students and professionals, it provides enough color choices to organize your ideas.
As with the rest of the pens, even a light-colored ink like tangerine is vibrant on my notebook. To make the most out of the vivid ink colors, I use them to decorate my notes and bullet journal. I think any writer will find the hues fun to work with, especially when editing long documents.
Sporting a versatile medium point, I can write paragraphs, underline important text, and create bold headings. Whether I'm using a cheap composition notebook or a fancy journal with mildly textured pages, the ink flows out from the tip with good consistency. Boasting quick-drying ink, left-handed people can forget about smearing!
In terms of format, the pen's ergonomics ranks high on my list. The entire length of the body is equipped with an easy-to-grip plastic that gives me full control. Since this is a retractable pen, I can just click the button to release or retract the tip. No matter how long I use this, the tip never gets stuck!
The only downside is that these gel pens tend to bleed or ghost when used on slightly thin paper. Given all the good qualities, I can overlook this issue and use notebooks with thicker pages. By the way, let me just add that these pens seem to contain more ink compared to other brands!
Pros
Great for studying, editing, and note-taking
Makes penmanship readable
Has quick-drying ink formula
Very easy to control
Contains more gel ink
Cons
Prone to bleeding and paper ghosting
Schoolwork can be a drag but you can always make it exciting and memorable with this set of gel pens! Manufacturing superb-quality gel pens for students, this brand knows exactly what you need to study.
10. TUL Retractable Gel Pens
While these professional gel pens look gorgeous, the product's performance is on point. Giving you 14 unique color choices, this set of retractable pens is worth your money.
Note-taking is a basic task but these gel pens make it pleasurable. Measuring 0.7 mm, I find the tip size optimal for long text, decorative headers, mind-mapping, and casual sketching. All colors are vivid, which makes my notes readable. That said, I don't have to be a pro artist to style my journal!
Like most bullet-point pens, the tip is very stable and sturdy. When I write, it releases the gel ink smoothly, letting the pen glide on paper. Furthermore, it ensures that the lines have consistent thickness even when I apply a little more pressure.
Despite using these gel pens for months, their ink quality and performance have not changed since I first bought them. I have never run across issues like skipping or smearing, which is pretty common with this ink type. Also, the ink is fade-resistant. I can go over my notes years later and still be able to read them!
Built to last long, the pen's body never breaks even if I drop it several times. Since the body is smooth, I'm glad the manufacturer attached a rubber grip to prevent the pen from sliding. Pressing the button to release or retract the tip does not require too much strength.
Although I love this set, some people decide based on the product's price since it is a little expensive. The other thing you need to be aware of is that the ink takes time to dry on glossy sheets. Based on experience, these pens are best suited for printer papers, bullet journals, notebooks, and sketch papers.
Pros
Appropriate for note-taking and sketching
Contains fade-resistant gel ink
Writes smoothly on most papers
Has elegant pen design
Has a sturdy build
Cons
A little expensive
Takes a while to dry on glossy paper
Easily the top gel pens for any office or school work, this product nails both functionality and aesthetic. If you don't want to waste a page of your notebook because of smearing issues, then this set is the right one for you!
11. Pilot 31294 G2 Premium Gel Pens
Pilot gel pens have fans across the globe, which says a lot about their quality! For those who want a finer tip size, this would be a great choice!
Looking at the selection of ink colors, I like that the set includes five black ink pens and a wide array of hues. I can write paragraphs using the black ones, while the rest are for mind-mapping, crossing out items on a list, or organizing tasks per category. Still, I can technically write with any pen since each ink color is vibrant and opaque.
Dispensing gel ink very smoothly, drawing crisp and neat lines is way easier with these rollerball pens. Cursive or block letters, my penmanship looks clean and legible. The fine tip allows me to fill out forms that usually provide small writing spaces on each page.
Unlike other sets that only include 1 refill per color, this set is my favorite because I can buy ink refills as often as I need. Beyond that, these gel pens are for keeps because they are made of durable plastic. No matter how many times I dropped these pens, the mechanism that releases and retracts the tip never breaks!
To tell you the truth, I have no complaints about the performance of the gel pen. However, I hope the manufacturer considers adding some light shades like yellow, lime green, or powder blue. These hues are useful for underlining!
Pros
Highly durable gel ink pens
Promotes neat and legible penmanship
Provides more black pens
Can be refilled as many times as you like
Suitable for journaling and mind-mapping
Made by a brand known for designing innovative writing instruments, this set gives you exceptional gel pens for bullet journals. With refills readily available in many offices and school supplies, consider these gel pens if you're thinking of long-term use!
12. Arteza ARTZ-8001 Gel Pens
Ideal for gel pen art, Arteza's box of ballpoint pens is packed with colors that display beautifully on white and black papers. Of course, this set can also be used for school, work, journaling, and crafts!
First, I have great news for parents who are looking for gel pens for kids. These inks are non-toxic; therefore, you can let your children go wild when they make art. Professional artists, on the other hand, find the acid-free gel ink beneficial as it retains the brightness of their illustrations.
As for me, I rely on these gel pens' smooth flow of ink and quick-drying capabilities for distraction-free sketching. I don't like dealing with smudging because it is so difficult to correct. Likewise, I hate going over the line I just drew because the ink skipped. Hence, choosing this gel pen set for illustration is a no-brainer.
We all know that the tip can dent the page when we press the pen harder. Luckily, the gel ink pen only requires minimal pressure when I draw and color. That said, I love using them to add highlights or outlines to my colored pencil or watercolor illustrations.
Besides preventing the gel pen from rolling off the table, the triangular body gives me full control over my strokes. From what I have observed, only the metallic ink pens seem to flow a little less freely but that does not mean that they don't work!
Pros
Works on dark and light papers
Can be used alongside colored pencils or watercolors
Safe for children to use
Prevents skipping and smearing issues
Ensures that the ink stay vibrant for a long time
Cons
The metallics do not flow as smoothly as the rest
Appropriate for kids or adults, this box of gel pens offers a wide range of inks to suit any creative project. Best of all, the product's ability to preserve the vibrant colors makes it an excellent choice for commissioned artworks.
13. Feela FAGP360 Gel Pens Set
For some color pen addicts, 100 gel pens may not be enough. If that sounds like you, then check out Feela's set of 180 ink colors. As a bonus, this brand provides a refill for each color!
Fans of metallic and glitter ink will love that this set includes plenty of shimmery ink choices to choose from. Along with the smooth flow, each gel pen contains opaque ink that guarantees solid coverage. At the same time, I can keep my notebook neat because the ink hardly smears or bleeds through the page.
Thanks to the vibrant ink, I also use the gel pen to jot down notes, mind-map and organize a to-do list. On that note, the tip size lets me write long text and stylish headers. The vibrant ink color ensures my notes are visible yet easy on the eyes.
Design-wise, the pen is comfortable to hold, while its plastic barrel is pretty much unbreakable. Moreover, the manufacturer included a plastic case with trays that hold each gel pen in place. The way they are organized makes it easy for me to see the colors I need to use.
While using them, I ran into a few minor issues. Some of the metallic ink pens look more like glitter. People who are used to working with these types of inks can tell the difference. The other issue is that some of the caps are hard to remove from the pens.
Pros
Includes refill for each gel ink pen
Shows up vibrantly on paper
Offers more color options
Convenient for coloring and note-taking
Includes a plastic case with trays
Cons
Some metallics look like glitters
Some caps are hard to remove
We have all heard of the saying "the more, the merrier," and this is especially true for this product. With quick-drying ink, you can work with each gel pen without making a mess!
14. Paper Mate 1956277 InkJoy Gel Pens
Owning dozens of gel pens can be wasteful, especially if you only need a few colors to work. Perhaps this pack of four gel pens is sufficient for your needs.
As you can see, each gel pen in this set has a unique color that I normally use to cross out an item on a list, mind-mapping, or write a thoughtful note to thank my co-workers. Somehow, my penmanship is more readable using these pens. Moreover, the vibrant ink helps me immediately find the text I underlined on a book page.
Knowing that neatness is important, this brand ensures that the ink dries fast. Any left-handed writer will enjoy using this since they don't have to adjust how they hold the gel pen to avoid smearing. Although the gel pen contains juicy ink, I can use a page back-to-back since it does not bleed.
Ink flow is probably this set's strongest suit. Backing this claim, I have used every gel pen from the set and have not seen the ink skip. After using this for a long time, I'm not even close to emptying it.
Like any pen made by this, I love the cute plastic exterior. Besides its aesthetic appeal, the gel pen feels comfortable to grip. I can work for hours without feeling the slightest pain in my hand.
For everyday use, this gel pen set meets all the criteria that students, writers, and office workers need to perform their tasks efficiently. But since the ink is not acid-free, I'm afraid this set is not suitable for artworks that you plan to sell.
Pros
Contains plenty of ink
Suitable for long hours of writing
Guarantees legible penmanship
Never skips, smears, or bleeds
Useful for mind-mapping or organizing tasks
Cons
The ink is not fade-proof
While not all of us may agree that this is the top-rated gel pen brand, I do not doubt its performance. Offering four vibrant and distinct hues, this product is a great choice for everyday note-taking and bullet journaling.
What to Look for When Buying Gel Pens
If you are guilty of impulsively buying pens, I'll be the last person to judge you because I know how you feel. After all, most of these gel pen sets are affordable. But how many of them end up collecting dust on our shelves?
Instead of acting on our impulses, let's make our next purchase more intentional. To start, let me give you some things to consider.
Ink quality
At the very basic, the gel pen you buy should be free of bleeding, smearing, and skipping issues. Most gel pen brands have perfected the ink flow but the drying time tends to vary. You don't have to be left-handed to choose quick-drying ink. Artists, for one, use a gel pen or two alongside watery mediums.
These days, you'll find acid-free gel ink but it may not be a necessity if you just want to write your ideas before you forget them. However, they will come in handy for anyone who wants to archive their work or sell illustrations.
Color options
One advantage that a gel pen has over a ballpoint is the variety of hues and style. Besides the standard colored ink, manufacturers crafted metallics, neons, pastels, rainbows, and glitters.
Thus, gel pens have become an alternative to colored pencils and markers for many coloring book enthusiasts. Most products are packaged in sets of 60 or 100. But if you only need to underline a text on a page, you can go for a set of four.
Gel pen brands offer fine, medium, and bold points, which is a lot more than ballpoint. For writing and basic coloring, this selection is sufficient. Of course, some brands make extra-fine tips like the Pilot Hi-Tec-C. For artists and designers who need a wider variety of tip sizes, felt-tip pen sets are your best bet.
Usage
Versatile in design and ink quality, gel ink pens are the go-to instruments for writing, coloring, and sketching. But if you look closely, each gel pen is more suited for a specific use. For example, a set of 4 multicolor gel pens can serve as highlighters but they are not appropriate for document-signing.
Pen design
When buying a pen, people tend to look at the color or the size of the tip but ergonomics also play an important role. Our hands have distinct features, which is why we also grip the same pen differently.
Moreover, some of us have health conditions that make holding a pen difficult. I highly recommend that you test out different pen types. If opening a cap is hard for you, try looking for pens with a twist mechanism or retractable ones.
Other Important Factors to Consider
What is the best gel pen? Who is this for?
To meet the minimum requirement, good gel pens should at least have a smooth-flowing and quick-drying ink. The top-rated gel pens, however, go above and beyond in serving your specific needs.
For instance, an acid-free gel pen adds value to the artwork that illustrators want to sell. Meanwhile, the glittery and metallic ones make your bullet journals more stylish. Non-toxic gel pen sets, on the other hand, make art projects safe for children. More recently, manufacturers have invented an erasable gel pen that you can erase with a special rubber.
How does it work?
The secret behind a gel pen's opaque and vivid color is the water-based gel's ability to carry dyes and pigments. Classified as a rollerball, the best gel ink pens have smooth ink flow similar to a fountain pen.
What are the different types of gel pens?
Every gel pen in the market works more or less the same but there are some minor differences. Here are the different types of gel pens:
Standard colored gel pen
Metallic gel pen
Neon gel pen
Rainbow or swirl gel pen
Why do you need gel pens?
If you want smooth flowing ink without applying too much pressure while you write, the fountain pen is an option. But fountain pens can be inconvenient to pack and carry when you're traveling. Hence, many people prefer to use a gel pen. I, for one, find this type of pen to be more low maintenance. Plus, most brands offer hundreds of color choices to choose from!
Frequently Asked Questions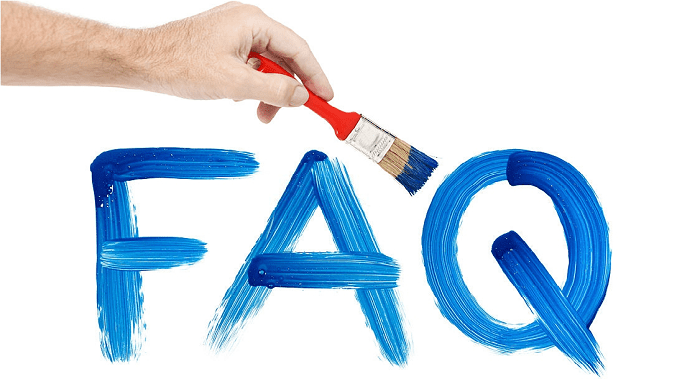 What are the most trusted gel pen brands?
Every gel pen I reviewed for this article has been tried and tested, which is why I recommend them. Gel pen fans love Paper Mate, Aen Art, Taotree, Tanmit, DasKid, Reaeon, Sharpie, Soucolor, Bic, TUL, Pilot, Arteza, and Feela.
Naturally, you will find more products and variants that did not appear on my list like erasable gel pen sets, Tekwriter gel pens, Pilot Hi-Tec-C, and Pentel Energel in many gel pen reviews and forums like Reddit. Needless to say, they are worth checking out!
Are gel pens good for writing?
Although gel pens are similar to a rollerball pen, the gel ink glides smoother and dry faster. Some left-handed people have reportedly experienced smearing issues but this usually depends on the brand they bought. If you are left-handed, you'll find several fast-drying gel pen products that are guaranteed smear-free!
Can I use gel pens on canvas?
Yes, you can use gel ink on canvas, thanks to its quick-drying abilities. Just make sure that the paints are completely dried before applying gel pens. That said, make sure to use archival ink to prevent discoloration.
How to make gel pens work again?
Reviving a gel pen is super easy! Using a dropper, add a drop of water into the cartridge. Then close the pen, shake it and then test it. Repeat the process if it does not work.
If this method does not work, try soaking the entire gel pen in warm water.
Do gel pens bleed through the paper?
It is unlikely for a rollerball gel ink to bleed through paper, even for the smoothest gel pen. The properties of the gel ink allow it to stay on top of the paper's surface, rather than soak the paper. At most, you will see some mild ghosting at the back of the page. The intensity of the ghosting will vary depending on the weight of the paper.
Conclusion
Testing all the gel pen sets that I could get my hands on has been pretty challenging. I don't think I have a single favorite since they have their specialties.
A gel pen with a fine tip may be excellent for writing and detail work but not for coloring. If you want to cover larger areas faster, a medium or bold tip will make your job easier. Thus, we gravitate towards different products.
Although I encourage you to explore other brands, keep in mind that cheap gel pen sets have inks that tend to clump. Before you buy anything, be sure to check out reviews so you can find the best gel pens for your needs!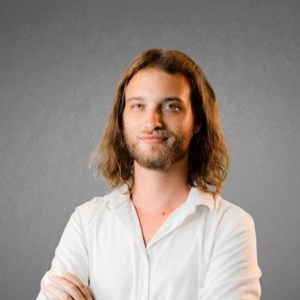 I am a former art teacher, so it is evident to me the importance of art in educating the new generation. We also want to help parents who plan to teach their children and desire the best tools and tips for them.