For any art and DIY lover, there's something deeply therapeutic about calligraphy. The constant ebb and flow of the calligraphy pen allow you to lose sight of all the stresses of the day and absorb yourself into the piece of art you're creating.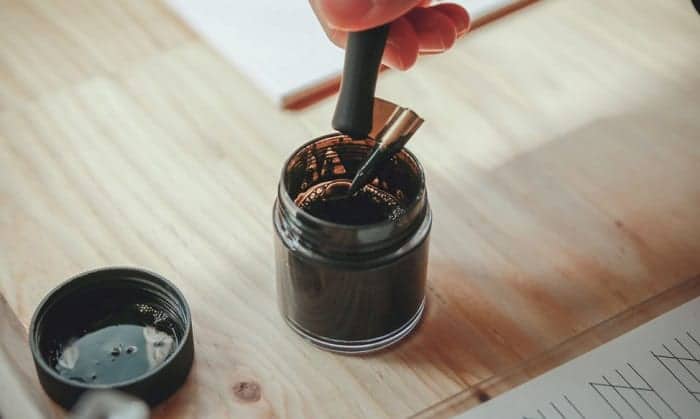 Meanwhile, ink is arguably one of calligraphy's most critical parts, along with pens and writing surfaces. The right kind of ink makes calligraphy writing very easy, smooth, and enjoyable.
Picking the best calligraphy ink may be challenging because there are wide varieties of formulas and colors to choose from. Nevertheless, there are some things to always look out for when getting one.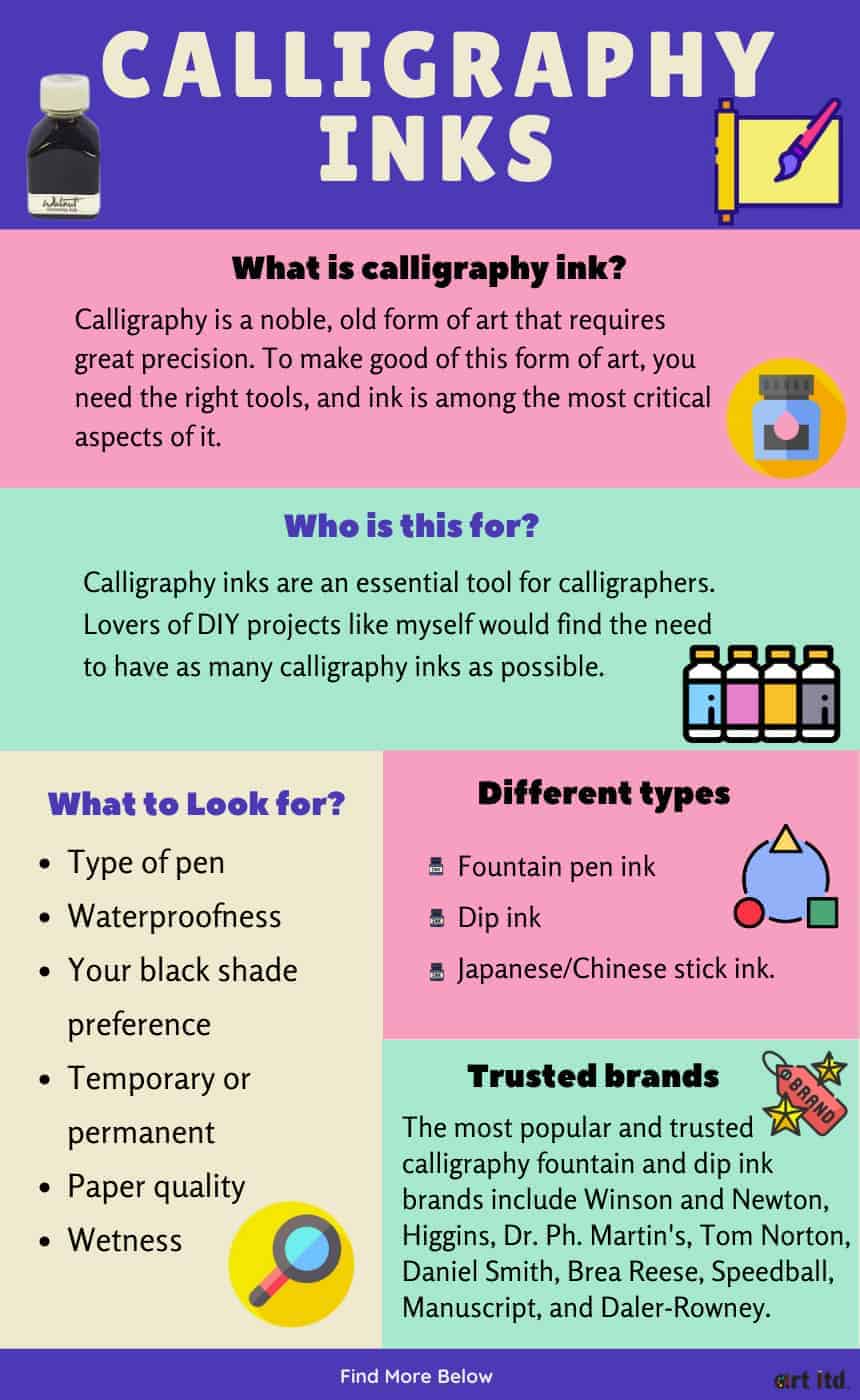 Top 10 Calligraphy Ink Reviews
1. Winsor & Newton Calligraphy Ink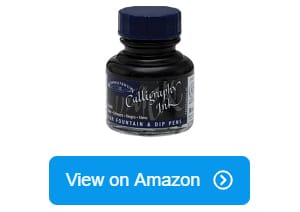 Our first highly-recommended entry is the Winsor & Newton Calligraphy Ink. The product gains rave reviews from users due to its distinct colors.
Like many customers, I like this ink because of its vibrant color. Notably, there are eight options for you to pick; they vary from the basic colors to the brightest and shiniest ones. It depends on the specific utilization that you can choose several of them to try.
Furthermore, the ink flows well when used in any pens. You can also use this product on various paper types since it is not clogged in your pens or bleeds on surfaces.
Best of all, the ink provides a shiny surface when dry. Such a feature makes our writing look aesthetically beautiful.
Most people like the glass bottle as it provides stability when dipping their pens. Among the various brands I have tried, this particular product stands out as it offers excellent performance for both writing and drawing.
Only I'm not too fond of one thing on this ink; it dries up quickly. You can try to dilute it with water or it to work more smoothly.
Pros
Has magnificent color and consistency
Offers good flow and doesn't clog
Rarely bleeds on paper
A lightfast ink for writers
Can be used in dip ink and brush
Cons
A little too thick that it dries up easily
If you are looking for reliable ink, I highly recommend this product because of its exemplary performance. It provides a smooth and pleasant look to your writings and or drawings.
2. Easyou Redstar Liquid Ink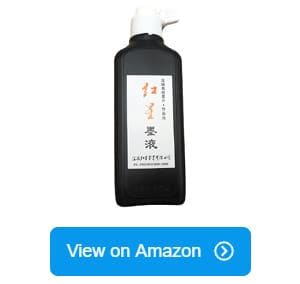 The Easyou Redstar Liquid Ink is a wonderful birthday present for your children who love calligraphy. Professional artists can use this product too since it is perfect for both traditional calligraphy and brush painting.
They will be intrigued by the slight fragrance, as the name implies. This ink indeed has a pleasant smell, unlike the other brands that have a strong odor. It makes long-hour of calligraphy lettering much enjoyable.
Since it dries quickly, you can rest assured that there is no sign of smear on your notes. The ink leaves a gorgeous dark sheen after drying, making your writing gorgeous.
Remarkably, this ink is thick, but it doesn't bleed that much on paper. Still, users are recommended not to put too much pressure when writing to avoid marking through the paper. You can write with ease because the ink flows very well.
Besides, this product offers good value for money because of its high quality and ample quantity.
I only have one comment on this product; this ink can be very thick if you do not mix it with some water.
Pros
Ideal for both kids and artists to use
Offers a pleasant fragrance as you write
Dries quickly and promises no smear
Does not bleed with the right pressure
Smooth and dark sheen after drying
High-quality ink with adequate quantity
Regardless of the minor flaw, you can rely on this ink for a long time as the price is reasonable, and its quality is excellent.
3. Dr. Ph. Martin's Calligraphy Ink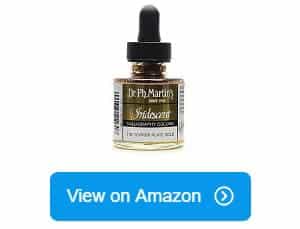 It is true that users quickly fall in love with how this ink provides glow to their work. The copper plate gold color was stunning as it creates fine details on various surfaces. You will surely love the way this ink gives eye-pleasing shimmer and shine to your calligraphy.
We can write this ink in the woods and get a fantastic result of its smooth and even lines. Hence, we will be inspired to work outdoors, specifically out in the sun, since this ink proves to be incredibly lightfast.
Notably, there is no discoloration at all due to its superior quality ground pigments. This ink is waterproof, so we are free from worry about smudging incidents on our artwork when wetted. DIY-ers can use this product with brushes, airbrushes, or dip pens to achieve an impressive aesthetic with their projects.
However, some customers might not be satisfied with the dropper coming with this product. It would be better if the piece can be more durable
Pros
Shines and shimmer when dry
Incredibly lightfast for outdoor work
Water-repellent to prevent smudging
Ideal use with brush, airbrush, and dip pen
Cons
The flimsy dropper on the bottle
If you love the gold color and how it gives shine and shimmer to your work, this well-made ink product is the perfect companion for your art projects.
4. Speedball Calligraphy Ink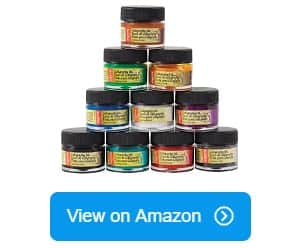 People who are into calligraphy and should start their journey with this full set of Speedball Art Products 10 Color Pigmented Acrylic Set.
For beginners, the colored calligraphy ink in this set was vibrant enough for them to create and practice freely. Users will surely love how the collection gives different hues to their work.
It is incredible to know that this set came with a durable palette, a convenient addition for those who love creating new shades. If that is the case for you, enjoy mixing and matching the inks to whatever color you want using the palette.
In my opinion, the ink has a smooth finish, providing a distinct glow into my work. The consistency of each ink is perfect, and it is not too thick or thin.
Plus, the container was designed ergonomically as it has a wide opening that made my life easy in getting inks. Kindly note that you should close the ink container tightly after use because prolonged exposure to air will leave it drying up quickly.
Pros
Colors of the inks are versatile and vibrant
Comes with a durable palette for easy mix and match colors
The consistency of each ink is perfect, not too thick nor too thin
Easy-to-use design
Cons
The inks dry fast if not closed tightly
Overall, users should purchase this ink for its vibrant colors and useful kit at an affordable price.
5. Yasutomo KY6 Sumi Ink
The next product that is widely loved by numerous calligraphers is the Yasutomo KY6 Sumi Ink. You will not be disappointed with this permanent ink.
Taking this black ink makes excellent sense if you want to own a basic color to decorate your hand-written letters. Since this model's formula is created for painting and calligraphy, it shows fine and smooth lines that make our art stand out.
What most people about this ink is that it flows well with high consistency. The smooth finish and vibrant ink make my copperplate look amazing. DIY-ers can start their very first projects with this reliable product.
Apart from that, I love how the container was designed. You might accidentally drop the bottle, yet it never breaks or spills. Users can control the amount of ink that they want because the container is squeezable. Besides, the cap was well made as it's easy to pour ink from the bottle, and it kept the ink from spilling.
Best of all, this ink smelled good as compared to other brands that have an annoying smell. It is a non-toxic ink that is made of natural ingredients, which is the vegetable oil soot.
I'm not too fond of the ink being thin as it smudges easily if not dry. Writers are recommended to wait for a few seconds for the ink to dry.
Pros
Basic color is a must-have for beginners
Ergonomically designed container for easy pouring
Smooth finish and line
Non-toxic and high-quality ink
No strong smell as compared to other brands
Cons
The ink is thin
It smudges easily when not dry
Overall, investing in this product will benefit beginner-level calligraphers. For me, the ink flows well, and it has a smooth finish. It doesn't have a strong smell so that I can focus more on my work.
6. YOLAKIS Calligraphy Pen Ink
The next set that wins the heart of numerous calligraphers, both beginners, and professionals, is the Yolakis Calligraphy Ink collection. You are going to be amazed by the series of beautiful and vibrant colors this set offers.
What I like most about Yolakis inks is that the calligraphy ink colors are shiny and versatile. With twelve colors provided, I can enjoy the different shades with gold powder to make my letterings stand out more.
Notably, the inks write flawlessly; I did not experience any inkblot compared to other ink brands. It is also permeable and adhesive enough to promise smooth writing for hours on end.
Moreover, users are granted top-quality ink when purchasing this product. In detail, this imported ink proves to be non-toxic and safe for use on various occasions. You can trust its European origin to utilize the product for an extended time without worry about your health.
It comes in an exquisite box with a foam tray to protect each bottle from breaking, which I find perfect as it is safe to carry around. It doesn't spill as each bottle has a cork that protects the ink from any leakage.
Only I wouldn't say I like one thing on this set. I have to shake the bottle to get the glitters constantly. The glitters settle at the bottom of the bottle when at rest, so we will need to shake it to get the right consistency.
Pros
Has a great vibrant color with powder
Smooth, adhesive and permeable ink flow
High-quality ink that suits various uses
A well-packaged box
Cons
Constant shaking as the glitters settle at the bottom
All in all, this set doesn't just have great packaging; it also has a great variety of colors. Each color provides a fantastic look for my work. The shimmering effect on the inks adds a different value to my show-piece.
7. ZZKOKO Calligraphy Ink
I received a set of ZZKOKO Calligraphy Ink from my husband as an anniversary gift. I collect and use different inks, and this set is an excellent addition to my collection.
I like how the packaging looks as it was designed artistically. Because of its appearance, it encourages me to create more incredible pieces.
Regarding its colors, this set has 12 radiant models in total. I specifically like my work to be colorful, and the variety of colors on this set is perfect for me. If you are fond of doing calligraphy, sketching, writing journals, or drawing, it will be ideal to have these beautifully-made colors in hand.
Furthermore, I like the shimmering effect on each ink as it provides a stunning look into my creation. Since the inks are safe to use and don't have a strong smell compared to other brands, we can use it around our kids. They can even join the creating process and make our projects more fun.
Besides, the container bottle is well made as it has a wide mouth, which makes it easy to dip a nib or a brush. Writers can freely pick the writing tools they like and start using this ink to do the artwork.
The only drawback of this product is that it needs constant shaking to get the right ink consistency. Perhaps all inks need to be shaken so that all components are well blended. This will not stop me from using this set as I love its brilliant colors.
Pros
The packaging is artistically designed which makes a perfect gift
Colorful ink with shimmering effect
Non-toxic and safe to use
Versatile ink for many applications
Cons
The bottle needs constant shaking to get the correct ink consistency
I highly recommend this product as I love how the colors provide life and glow to my art pieces. The shimmering effect when dry is exemplary. This set is well-packaged, which made the product a great item and idea as a gift.
8. Speedball 404696 India Ink
I have been using Speedball Super Black India Ink for quite a while now because I love this ink's richness and its non-toxic feature.
I am excited as this India ink calligraphy product provides boldness and brightness to my piece. As the name implies, the ink has a deep shade and is not hazy. I write fast when I'm in the mood, so I do not have to worry about smudging as this ink dries quickly.
Best of all, the ink doesn't fade even several years passed, my works still look the same as if it was just written. Since it is waterproof, calligraphers can do their art outdoors without hassle. You can also trust this product for long-term and professional projects as it is made to be a permanent ink.
It is easy to use and flow well as it has the right ink consistency. I'm not too fond of inks that clog, and thankfully I do not have any problems with clogging with this ink compared to other brands.
However, the ink doesn't hold well on
some calligraphy nibs
. I once tried using it with my speedball pen and had to dip my nib often before getting the right amount of ink for my artwork.
Pros
Provides the right boldness and brightness
No smudging as it dries fast
The ink has a deep shade and not transparent
Permanent ink for long-term projects
No clogging as the ink flow is smooth
Cons
The ink doesn't hold well on some nibs
Overall, you cannot go wrong with this bright and vibrant ink as it is suitable for any calligraphy artwork.
9. Winsor & Newton Calligraphy Ink Set
My son received a set of this Winsor & Newton Calligraphy when he joined an art contest in school. I tried using them, and I was amazed by its outstanding colors.
This set is perfect for calligraphy practices as it has all the primary colors needed for the work. Moreover, I love how the ink gives life into my artwork. It can easily be seen when written in calligraphy papers.
The containers are designed in the perfect size. It is easy to store and carry all of them around. Plus, the wide opening made it easy to get ink from the container. You do not have to worry about leakage or breakage as the box is made of glass. It is easy to get ink from it as it has a wide opening.
More importantly, your artwork will not lose its vibrance and liveliness through time, as this ink is lightfast. In truth, exposure to sunlight will not fade its colors. The ink doesn't blot, and it doesn't bleed on papers as well. I am delighted to find out that this product is easy to clean and doesn't have a strong smell compared to other inks.
I like the colors on this set except for the gold. I think the gold isn't that concentrated as I fail to achieve the color that I like.
Pros
Basic colors for calligraphy practice
Well-designed containers to carry and retrieve ink
Lightfast ink that preserves vibrance and liveliness
Does not bleed through paper
No strong odor
Cons
The color gold isn't concentrated
If you like brilliant colors, go and purchase this set to practice doing calligraphy. Also, this set can be a perfect gift as the packaging looks lovely and well designed.
10. Tom Norton Designs Drawing Ink
The last highly recommended entry for you to try is this Walnut Drawing Ink since it offers everything a calligrapher needs to create a natural and beautiful artwork.
I like the versatility of this product as I can blend It with other colors with no issue. I use this ink for my drawings and calligraphy, and it worked perfectly. It dries fast and doesn't bleed through papers, so I find the model very useful, especially if I am in a rush finishing a project.
The ink flows well, and it has the right consistency, which is not too thick. Hence, it works amazingly with my quill. Remarkably, this ink doesn't fade even if my artwork is exposed to sunlight sometimes.
Also, since there is no acid in this liquid, you can rest assured that no harmful effect will happen to your health, or paper surfaces.
The bottle has the right size, and it is easy to store and carry them around. Leakage isn't a problem as it has a lid that protects the ink from spilling.
This Walnut ink calligraphy product should have been perfect for me if it is water-resistant. Since I love blending colors, I had to be extra careful when using it.
Pros
Rich and beautiful color
Can be blended with other inks
An ergonomically-designed bottle
Acid-free ink for safe use
Smooth ink flow
Does not fade when exposed to sunlight
Cons
This ink isn't water-resistant
Overall, this product blends well with other colors, producing a fantastic result. It is easy to store, and I can carry them around without worrying about spilling
What to Look for When Buying Calligraphy Inks
There are many varieties and brands of calligraphy pens out there, with several ways in which each one is unique for every use. It's important to always put the following considerations in mind before purchasing the best calligraphy ink.
Type of pen
There are different types of calligraphy pens, and the kind of pen you use is the most crucial factor to consider when buying ink. The type of calligraphy pen ultimately determines the type of ink you buy. For example, fountain pens require a specific kind of ink and are more restrictive.
There are fountain pen brands that come with a converter to allow you to use different ink types; for instance, you could use an ink bottle instead of a cartridge. Dip pens, on the other hand, are more receptive to most types of inks. With a calligraphy dip pen, you won't have to worry about having a converter or not.
Waterproofness
It is always best to use waterproof calligraphy ink if you intend to place your project in an open place. A few drops of rain is all it takes to make a blurry mess of that perfect artwork, and you don't want your project to get destroyed when it comes in contact with moisture or rain after all your effort.
Some calligraphers turn to fixative or micro glaze to protect their art, but using waterproof calligraphy inks is preferable as it saves you that extra step. Note that the terms' waterproof' and 'water-resistant' are different. They sound similar, but while waterproof inks are not affected by water in any way, water-resistant inks may run, fade or blur when exposed to water, but your writings remain legible.
Your black shade preference
Do you prefer blacks to be a cool bluish color or a warm brownish color? If you prefer something more toned black, dip pen calligraphy ink is the ideal choice. The reason being that a dip pen black calligraphy ink is made darker and denser to enable them last long even in light. On the contrary, fountain pen calligraphy inks are cooler and bluish and fade away quickly.
Temporary or permanent
If you need to do a project that has to last for a long time without fading, a dip pen calligraphy ink or Chinese/Japanese stick ink are perfect choices. These calligraphy inks are deep-toned and made to last for a long time, even when exposed to light.
Fountain pen calligraphy inks smear easily and look crisp for a while before they begin to fade, especially when exposed to light for a prolonged period.
Paper quality
Although this isn't an ink property, your paper's quality has a considerable effect on your choice of ink, especially if you're looking at getting a fountain pen ink. If you are writing on a fountain pen friendly paper, you can use any ink you want.
However, if you're not sure of the nature of the paper you'll be writing on, especially in cases where you have to write on random print outs, you should stick to a well-behaved ink to minimize problems, such as feathering and bleeding through.
Wetness
The wetness or flow of an ink refers to how quickly it flows through a pen. Some calligraphers prefer wet inks, and others prefer dry inks. Wet inks generally feel smoother than dry inks, but dry inks are less likely to cause feathering on a paper of average quality. Pens too can be either wet or dry, so I'd suggest you choose an ink that compliments the wetness of your pen.
With so many calligraphy inks out there, it is often impossible to narrow down to just one perfect ink, and that's fine. Consider it a way of exploring. You don't need to purchase several different brands of calligraphy pens unless you happen to love them all, of course. You could choose one or two and begin working with them for a while before deciding whether it suits your style and requirements.
Other Important Factors to Consider
What is calligraphy ink?
Calligraphy is a noble, old form of art that requires great precision. To make good of this form of art, you need the right tools, and ink is among the most critical aspects of it.
When you pair the correct calligraphy ink with the right pen and paper, you can create amazing works of art. Calligraphy writing ink is different from the kind of ink used for printing but still gives a beautiful print effect. While printing inks are oil-based, calligraphy inks are water-based and less viscous.
Of course, there is a wide variety of calligraphy inks on the market. Some are runnier, some thicker, and some even come with shiny effects. The kind of calligraphy ink you use for calligraphy could make or mar your artwork, so it's always important to carefully select the types of ink you decide to use.
How does it work?
Using calligraphy ink is pretty straightforward and depends on your kind of pen. You may have to attach an ink-filled cartridge of your choice to the feed of your pen. The pen feed is usually connected to the nib of the pen, allowing ink to flow into the tip as you write. This design is typical in fountain calligraphy pens.
When using this kind of pen, you only have to change the ink cartridge when it is finished or need a color change. You can also buy bottles of suitable ink to inject into empty cartridges. Remember to clean the tip of your pen with little water immediately after use or before swapping inks.
For dip inks, you only have to quickly dip the tip of your pen in ink regularly as you write. Note that fountain pens don't work with dip inks. Dipping pens are designed specifically for that. It is crucial to wash the ink off the tip of your dip pen by briefly dipping in some water right before a color change and immediately after use.
Who is this for?
Calligraphy inks are an essential tool for calligraphers. Lovers of DIY projects like myself would find the need to have as many calligraphy inks as possible. I never make the same piece twice because I love custom projects. For this reason, I like to get creative with different kinds and colors of calligraphy inks. Anyone who wants to write calligraphy needs at least one calligraphy ink.
What are the different types of calligraphy inks?
There are three types of ink made for calligraphy; fountain pen ink, dip ink, and Japanese/Chinese stick ink. Fountain pen inks are specially for fountain pens, while dip ink and Japanese/Chinese stick ink are used with dip pens.
Fountain pen inks are usually very colorful, and for this reason, a lot of artists choose it over dip inks. They come in plastic cartridges and refills for when the ink in the cartridge runs out. Makers of fountain pens typically recommend the type of ink suitable with the pens, as fountain pens are often restricted to certain kinds of ink.
Using ink not recommended always leads to damage. Fountain pen inks are great for small projects that won't be exposed to water for long periods as they are dye-based and fade away easily.
Dip inks are thick and of dense black color. When you write with one, it gives an even flow that's crispy and without puddle. The best part about this kind of ink is that it doesn't change color or fade over time, like fountain pen inks. They are ideal for projects you expect to last for an extended period. Using waterproof models allow your artwork to come in contact with water without damage.
Another type of ink for calligraphy, the Chinese/Japanese stick ink, is created by grinding Chinese/Japanese ink sticks on an unglazed Gaken dish. The sticks come in a variety of colors you can choose from.
To get ink from them, you have to grind the sticks and mix them with distilled water. Although this may be a bit difficult for beginners, it could produce a wide range of tones for a great work of art when done just right.
Why do you need calligraphy inks?
If you assume that calligraphy is just fancy writing on paper, you'd be surprised to learn that I've worked with various kinds of materials, from glass and mirrors, to tile coasters, to wooden signs, and even metal!
The sort of inks I used had a huge role in enabling me to write on different creative surfaces. Even if you intend to design on just paper, writing calligraphy using a calligraphy pen but without a proper calligraphy ink would be hard and almost impossible.
Some people attempt writing calligraphy with a regular pen or without calligraphy ink, but it most often comes out bland. Calligraphy inks give your artwork the beautiful special effect you need, and without much effort.
Frequently Asked Questions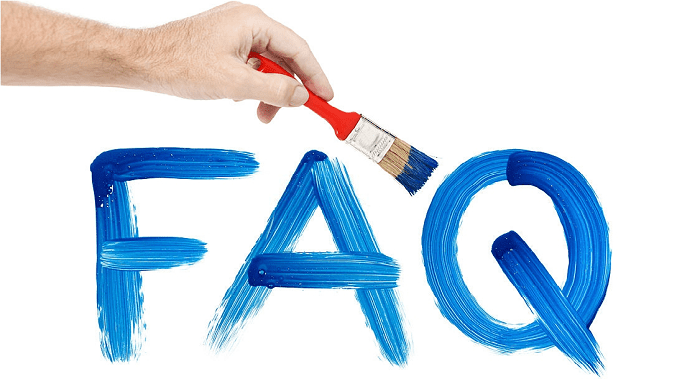 What are the most trusted calligraphy ink brands?
There are so many ink brands available, and it's always lovely to explore. Experienced artists who know their ink may find it less challenging to make good selections even from unpopular brands.
Newbies, on the other hand, mostly prefer to stick with calligraphy ink brands that have built enough good reputation over the years. Whichever category you fall under, if you prefer to get trusted brands, there are a few from which you could make selections.
Judging from my experience and knowledge, the most popular and trusted calligraphy fountain and dip ink brands include Winson and Newton, Higgins, Dr. Ph. Martin's, Tom Norton, Daniel Smith, Brea Reese, Speedball, Manuscript, and Daler-Rowney.
Is India ink good for calligraphy?
The black color of India ink is exceptionally attractive and is definitely great for calligraphy. But, India ink can't be used in all kinds of calligraphy pens. To write with India ink, you would have to use a dip pen due to its nature. India ink is often waterproof and can be corrosive, and can cause a fountain pen to clog.
How do you use calligraphy inks?
A calligraphy pen is not like a regular pen, and neither is its ink. Using calligraphy ink requires a little more attention and care. The way you use calligraphy ink depends on its type.
Dip inks and Japanese/Chinese stick inks are used similarly. They often come in a thick paste form that sometimes may need to be diluted depending on the flow you desire.
To apply dip or Japanese/Chinese stick inks, you only have to dip the tip of your dip pen (not a fountain pen, ever) in ink regularly as you write. I would recommend you load the ink on the pen with a brush or dropper, as this gives you better control of the amount of ink on the pen. Dip kinds of inks are best for big projects that you expect to last for an extended period, as they do not fade away quickly.
Fountain pen inks work quite differently. It would be best if you never dipped the tip of your pen in dip ink or Japanese/Chinese stick ink. Fountain pens are very selective on the kind of ink they require. Make fountain pens often give ink recommendations, and it's always best to stick with it to avoid damaging your pen.
Fountain pen inks come in cartridges that need to be attached to your pen. Refill inks are also available in the market to top up your ink cartridge when it runs down. The ink flows into the tip of your pen easily as you write. It's very convenient to use but is not suitable for all kinds of calligraphy artworks. I stick to using a fountain pen inks for letters and envelope designs as they fade away easily and quickly.
Where to buy?
Calligraphy inks are pretty easy to acquire. They are available in art shops and several online stores all over the world. You could always shop for calligraphy inks from reputable online art stores like Scribblers, Paper & Ink Arts, The Art Scene, Craft Carrot, Jackson's Art Supplies, Colours, and Curry's.
Multipurpose online stores like Amazon, Walmart, and Aliexpress also often have lovely calligraphy inks available. You could always check your favorite online/offline stores to see if calligraphy inks are available.
How to care for and maintain calligraphy inks?
Calligraphy inks require special attention and care. Dip inks and Foutain inks need to be cared for and maintained differently. To ensure your dip ink lasts longer, keep it properly closed when not in use.
I usually pour out a little portion in a different container I use for dipping. Doing this keeps me from having to dip my pen into the original dip bottle all the time. It also saves me the frustration involved in accidentally dipping the tip of my pen in the wrong ink color. Also, always keep your dipping container at a position where you can't easily knock it over.
For fountain pen inks, be sure always to use the right kind of refills. As tempting as it may be, never fill a fountain ink cartridge with dip ink or India ink. It never works, as it only gets your fountain pen clogged.
I'd advise you to stick with refills of the original ink color. Adding a different color refill could give you a color mix you don't like, and it is often hard to reverse. Always adhere to the fountain pen's ink recommendations too, it saves a lot of stress.
Conclusion
Calligraphy is a beautiful kind of art, and calligraphy inks give it its wonder. The best calligraphy ink is one that works for you and your pen. Of course, not all inks are suitable for a particular kind of pen, but that doesn't make them any less beautiful. If you have no luck with a specific type of calligraphy ink on a project, you could save it for another artistic endeavor.
Remember, there is no right or wrong calligraphy ink to use. Whatever works for your purpose and style is always the best option. If you have trouble finding the perfect one for your project, you could start with a few and experiment. Feel free to explore different types of calligraphy inks at any time. That's the beauty of it all.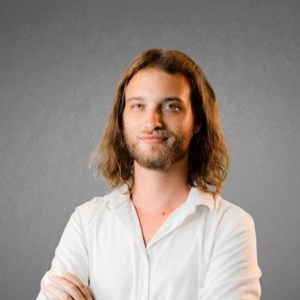 I am a former art teacher, so it is evident to me the importance of art in educating the new generation. We also want to help parents who plan to teach their children and desire the best tools and tips for them.