Every artist owns at least one sketchbook where they put their ideas on paper to study and develop them further. Other creative individuals use it as a visual diary to document their thoughts, day-to-day activities, and travels. From rough attempts to refined renditions, it provides an intimate look into their private thoughts and creative process.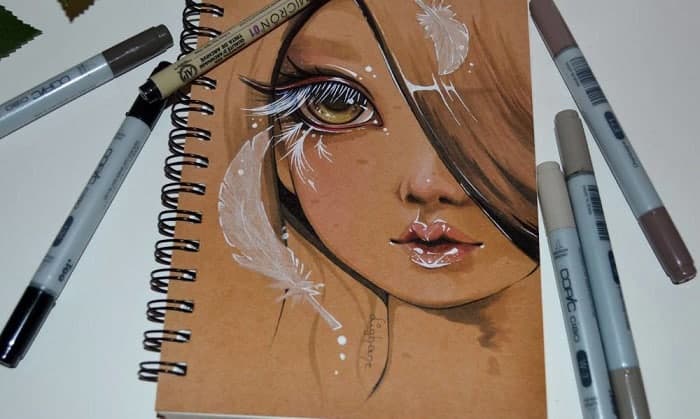 At the same time, each artist has a preferred set of drawing instruments. In turn, this would require sketchbooks that work well with their weapon of choice. For blending markers like Copic and other brands, you will need sketchbooks that let you mix colors bleed-free.
For this review, I invite you to look into the different qualities you need to consider to help you find the best sketchbook for Copic markers.
Top 10 Sketchbook for Copic Markers Reviews
1. Copic Wire-Bound Sketchbook
There is no arguing that the makers of this wire-bound sketchbook know what they are talking about. Made by the company that produced Copic markers, it is one of the top choices for art practitioners from different fields.
Although the sketchbook is intended for art markers, the uncoated premium bond paper has the right level of smoothness that gives me good control over the pencil. Even the fine-tipped pens glide effortlessly, letting me draw with enhanced precision. As for erasability, the paper retains its quality despite rubbing the eraser so many times.
Crafted for Copic markers, I can achieve the effects that I want as the nibs move with ease on the soft surface. Weighing just 157 gsm, so it lies in the medium-weight paper, which is thinner than a typical marker paper. Despite being thin, it holds the inks on top so well, even when I blend colors. Meanwhile, the slightly off-white tone plays a role in ensuring that the Copic inks retain their vibrant quality.
Containing 30 sheets, the sketchbook provides adequate drawing space for rough composition, general illustration, or visual journal. At size 5″ x 7″, I can draw patterns, portraits, calligraphy, cartoon characters, and other concepts without sacrificing the details. Thanks to the paper's acid-free content, the artworks will not easily discolor or deteriorate as they age.

With heavy marker applications, the paper tends to let the inks bleed. Outweighed by all the positive qualities, nothing should hold you back from this minor issue. By putting a scrap paper underneath the drawing page, you can protect the other sheets from accidentally getting inked.
Pros
Smooth premium bond paper for quality blending
Surface allows better control of drawing instrument
Superb erasability
Medium-weight paper lets inks stay on top
Adequate drawing space
Prevents discoloration and fade-proof
Cons
Heavy ink causes bleeding
No doubt, this Copic sketchbook your alcohol-based art markers is a match made in heaven. In every sheet, you get a slightly off-white tone and smooth surface that makes blending a breeze.
2. Ohuhu Marker Pads Art Sketchbook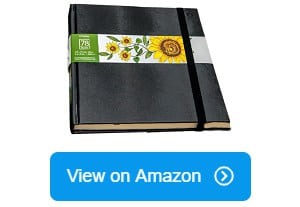 Multipurpose yet affordable, diary-style sketchbooks for Copic markers boast plenty of high-quality drawing space. Will these stand a chance against the juicy Copic inks? Let's go through the features to find out.
Categorized as a heavyweight paper, the 200 gsm lets the alcohol-based inks settle on top, allowing me to polish off my gradients. Whether I use Copics, fineliners, or a combination of both, the sheet makes inks stay in place so I can render crisp lines and color an area without smudging or feathering. Gentle to the nibs, it also prolongs the life of the delicate marker tips.
Besides alcohol-based markers, the sketchbook receives solvent-based inks, colored pencils, charcoals, pastels, and pen and ink favorably. Whatever medium you choose, the colors stand out against the white pages. Also, the acid-free quality protects the paper against weathering.
Consisting of 78 sheets, each paper has a double-sided texture that totals 156 pages of drawing space. Designed especially for traveling and field-art, the sketchbook's size of 8.3" x 8.3" is portable to carry in most bags but big enough for many kinds of illustrations. Sporting perforated pages, I can tear a page to lay the artwork flat on the scan or keep all the pages in the book like a portfolio or a journal with the help of the elastic strap.

Even though the sheets are thick, heavy blending tends to cause paper ghosting at the back of the page. Also, the hardcover effectively prevents the paper from creasing, but I could not lay the sketchbook flat when I use the middle pages. Based on experience, these are minor inconveniences that can be remedied.
Pros
Reasonably-priced portable diary-style sketchbook
Promotes easy blending
Perforated page design for easy to tear pages
Great for dry mediums and art markers
Smooth surface for neat renditions
100% acid-free content keeps papers in good condition
Cons
Heavy ink application causes paper ghosting
Hardcover makes it hard to keep the pages flat for drawing
Nothing beats an inexpensive sketchbook that lets you use it in many ways. A must-have for artists, you can make it your visual journal, portfolio, or simply a space for practice sketching.
3. Crescent Creative Products Sketchbook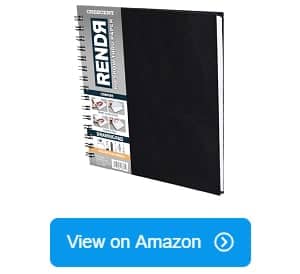 Popular among creative communities, the Rendr is the product of a patented technology that claims to revolutionize drawing experience. If that sounds too good to be true, allow me to explain why this is arguably the best sketchbook for Copics.
Preening itself with superior bleed prevention, the sketchbook proves that alcohol-based inks are virtually invisible on the backside after heavy application. This remarkable asset doubles the drawing space from 78 sheets to 156 usable pages. It is most useful for a series of illustrations with a continuous flow to form a story or use entire spreads to lay out my ideas.
Weighing 180 GSM, this sketchbook for acrylic paint, Copic, and fineliners withstands juicy inks. The surface has an even texture that aids in controlling my strokes to accurately sketch the concepts I have in mind. Built to make artworks last, this sketchbook makes me want to save it for special illustrations because of its acid-free and lignin-free contents.
Artists who draw everywhere they go will love the square 8" x 8" sketchbook as it fits the bag. Its wire binding lets me flip over the cover and prop it flat on the table or my lap so I can render lines and blend properly. On the other hand, the hardcover makes sure that no paper is bent or dog-eared.

Taking all features into account, I find the pricing reasonable. The only catch is that the inks appear darker when I first apply them and it lightens once they settle. It is not a real hassle, but it may pose some learning curve if you are not aware of this as it might affect your blending.
Pros
Both sides of the paper are 100% usable
Even texture promotes good control of drawing instruments
Acid-free and lignin-free content preserves artwork
Strong paper that withstands varied mediums
Can be laid flat on the table
Cons
Poses learning curve in blending
Well-suited for visual journaling and portfolio-building, this sketchbook has all the features you need to preserve the best of your ideas. After all, your artworks are valuable and your artistic gift deserves a space where they are presented in the best way.
4. Bee Paper Company BEE-20001 Book
Brought to you by a well-established art supplies brand, the 50-sheet Creative Marker Book has won the hearts of most Copic users. Functionality and durability are its strongest suits but let's deep dive into all the features that it has in store for you.
Advertised as a marker art journal, the sketchbook offers 180 gsm sheets that can effectively endure the juiciest markers. Similarly, the heavy-duty papers take in the inks of tech pens, crow quill pens, and water-based markers and capably prevent feathering. Indeed, this is advantageous for artists who want crisp lines and colors that stay within the shapes.
The Copic nibs and the sketchbook's ultra-smooth surface get along really well, making blending a blast. Manipulating the marker inks to my liking has never been easier. Having said that, the white sheet helps in bringing out the colors' vibrance while the acid-free quality prevents discoloration and deterioration.
Measuring 5-1/2″ x 8″ in width and height, the format is more suited for illustrations in portrait orientation but how you want to use it is up to you. Crafted with comfort in mind, the wire-bound ascertains that your drawing session will not be interrupted by a cover that flips back and forth while you work. Furthermore, the hardcover prevents the paper from damaging.

While the sheets are perforated, it is not easy to tear in my experience. I had to use a scissor to cut the page neatly. If you plan to use the sketchbook as a compilation of your artworks or visual journal, then you would not need the perforation anyway.
Pros
50 Durable marker papers
Works with pens, alcohol-based or water-based markers
Smooth sheets for crisp lines and smooth blending
Format suited for portrait orientation
Acid-free sheets for long-lasting paper quality
Cons
Perforated pages are not easy-to-tear
Although this is said to be an art journal, you can use the marker paper sketchbook for your art classes, crafts, rough compositions, or final artworks. The 180 gsm smooth, acid-free sheets are definitely versatile, durable, and affordable.
5. Copic Marker 50 Sheets Copic Sketchbook
Inspiration comes at the most unexpected times, which is why it is a good creative practice to carry a small sketchbook to capture the idea before it slips your mind. That is what this compact 50-sheet Copic marker sketchbook is for.
Giving you professional-grade papers, you can use your Copic markers anytime, anywhere. Due to its pristine white pages, the colors of the alcohol-based inks maintain its vibrance. The smooth surface provides you with better control over your pens, pencils, and markers.
Nevertheless, the specialty of this art product is its portability. Perfect for drawing in the outdoors, holding this lightweight sketchbook with one hand while holding a marker with the other will not strain a muscle. Unlike hardcovers, its spiral binding lets you flip over the cover without pulling the pages along with it, which could be distracting when working.
Furthermore, the 4" x 6" paper size is substantial for thumbnail sketches so you can test and experiment with ideas before rendering the final art on large canvases or marker papers. For speed drawing, space forces you to simplify your illustration and finish it in record time. As a result, you have more time to draw and improve your art.

My only concern is that the inks seep through the page after blending multiple layers of colors. As I have said, this sketchbook is ideal for quick sketches rather than polished finished art. Alternatively, it can be used as an art journal.
Pros
Smooth surface for decent blending
The pristine white paper retains Copic markers' color quality
Ideal size for thumbnail sketching and speed drawing
Lightweight sketchbook
Offers enough sheets for drawing
Cons
Multiple layers of inks cause bleeding
Documenting your big ideas by sketching them does not always have to be rendered roughly with a pencil or a pen. With this sketchbook, you can use your Copic markers to draw and add colors no matter where you are.
6. Canson XL Series Mix Paper Pad
Sketchbooks for mixed-media are deemed "workhorses" for its durable 160 gsm sheets that could handle inks and paints, or a combination of both. One of the most budget-friendly, reliable products for such art projects is this 60-sheet mixed-media paper variant of the Canson XL Series.
Trials and errors are inherently part of a creative experiment. This marker pad's heavyweight paper provides a forgiving environment for your mistakes. Despite multiple erasures, the surface remains as soft and smooth as it originally was. Speaking of smooth surfaces, it is congenial for sensitive marker tips.
For Copic markers, the fine texture serves as a smooth canvas for blending, but it also works well with acrylics, watercolors, and most dry mediums. Without causing the liquids to puddle, the paper contains the inks to help you create crisp and clean renditions. Along with the white color of the paper, you get vibrant hues, shades, and tones that add depth to your drawings.
Besides the durability it provides you when you are sketching and inking, the acid-free quality keeps the paper from turning yellow or disintegrating. On top of that, the perforated sheets give you the option to compile your artwork in the book or work on a loose paper. Best of all, the mixed-media pad comes in different sizes for you to choose from.

Still and all, this sketchbook does not come without flaws. If you get too carried away with blending and applied way too much ink, the colors will bleed at some point. To be on the safe side, place a protective sheet underneath the page you are working on, or apply fewer layers if you can.
Pros
Works with markers, acrylics, watercolor, and dry mediums
Durable heavyweight paper
Excellent erasability
Smooth surface for beautiful blending
Acid-free content ensures long-lasting quality
Perforated sheets let you work on loose paper
Cons
Too much ink causes bleeding
Designed as an all-around sketchbook, its sheets will keep up whenever you feel like switching mediums. For the budget-conscious artists, the best part about this is that the price is just right!
7. Illo Sketchbook
For artists, one sketchbook is not enough. Their creative minds are constantly filled with thoughts to record and ideas to sketch even when they are commuting or waiting for food in the restaurant. This is why I recommend a handy pocket-sized 112-page Illo sketchbook.
At 180 gsm, the sheets bear the optimum thickness that suits pen and ink, pencils, markers, and light watercolor application. Apart from drawing crisp lines, the slick surface enables me to manipulate inks for stunning illustrations. I was amazed by how vivid the colors appeared on the sketchbook's clean white paper when they finally settled.
In this day and age, sharing your work on social media is part of self-promotion. With this in mind, the 4.5" square sheet takes away the burden of having to awkwardly crop your illustrations just to fit the screen. Plus, an entire spread gives you a panoramic format with 9" on the long side, which is suitable for landscapes, street scenes, and what-have-you.
Built like a journal, the hardcover and elastic strap protects the sheets from bending and creasing. Unlike hard-backed products that tend to be unwieldy, the binding of this sketchbook can stay flat on the table when you open it. With a back pocket, you can keep clippings of illustration references, while the bookmark helps you find the page you want to work on.

Made of vegan-friendly materials, the sheets are not just kind towards living things but also towards your Copic markers' tips. Generally speaking, bleeding happens seldom and minimally. Unfortunately, the papers are not acid-free so your artworks will slightly fade later on.
Pros
Applicable for pens and some water-based inks
Slick surface for nice blending and line drawing
The clean white paper shows vivid colors
Provides the option to draw on square and panoramic formats
Pocket-sized journal-style sketchbook
Made of vegan-friendly materials
Cons
Minimal bleeding
Not fade-proof
Satisfying your regular dose of creativity, this pocket-sized sketchbook has plenty of high-quality sheets for all your ideas and stories. Convenient and comfortable to use, it affords you a workable space for you to work even when you are traveling.
8. ARTEZA Sketch Book
Coming from a brand that produces top art supplies, this sketchbook is getting so much hype among creative communities for its useful features. You get a generous offering of three sketchbooks in a single purchase, each of which contains 100 sheets of premium paper for alcohol markers.
Another good news is that this sketchbook is not just for Arteza-made art supplies. Proven safe for Copic markers, one sheet weighs 100 gsm and is bleed-resistant. Although it is not as smooth as a bristol, the fine textured paper lets the marker nibs glide so you can blend effectively.
An invaluable companion for art students or wandering artists, the 5.5" x 8." paper size provides a conducive space from rough compositions to finished art. Besides marker art, you can maximize the 3 sketchbooks by experimenting with other mediums such as pen and ink, pencils, and pastels. Due to the paper's bright white tone and its acid-free quality, the colors of your artwork not only would look vivid but would also never fade.
If your creative experiments turn out to be something you are proud of, simply detach the page and find a suitable frame to display it. For such instances, the perforated pages make tearing super easy, giving you a clean-cut sheet. Adding comfort to your drawing session, the spiral binding ensures your sketchbook stays flat if you choose to work on it rather than on a loose sheet of paper.

Despite the thickness, the paper may cause some light bleeding. It is wise to put an extra sheet underneath to protect the other pages. If you still encounter more issues other than bleeding, just let the manufacturer know and they will be happy to send a replacement for free!
Pros
Includes 3 sketchbooks with 100 pages each
Can be used for art markers and dry mediums
The bright white tone keeps colors vivid
Acid-free content ensures artworks will not fade
Perforated sheets for easy, clean tearing
Free product replacement if you are not satisfied
Cons
Not completely bleed-proof
A great package deal for both beginners and pros, as one purchase gives you an abundance of paper to experiment and master your creative techniques. There are zero risks in trying this sketchbook out because you get a free replacement if you find any issues with the sketchbook.
9. Brite Crown Sketch Book
Getting better at using a variety of mediums and improving a composition requires a good deal of time, effort, and of course, hordes of paper to draw on. Using a 100-page ink sketchbook like Brite Crown's, you get good quality drawing space for a broad range of mediums.
As an art product, its unique selling point lies in the paper's durability. When penciling your outlines, you can let down your guard a little bit and refine your strokes without ruining the paper because of multiple erasures. So far, the 95 gsm sheets get on well with graphite pencils, charcoal, pastels, fine-tipped pens, and markers.
Though it is generally smooth, the paper has a fine-tooth that provides enhanced control over your drawing instruments. For Copic users, this is a guarantee that the delicate nibs will get along with this kind of surface. Coupled with the paper's resilience, it endures marker inks so you can blend wonderfully.
In making sure that the colors of your artwork are bright as always, the manufacturer made the papers of this sketchbook acid-free. Since this is also suitable for kids, the double-coil spiral binding can hold the sheets together even when your child uses it roughly. Featuring perforated sheets, you can neatly remove the finished artwork and display it on the wall or give it as a gift.

Available in size 9" x 12", the paper is large enough to sketch visible details yet portable enough to carry in a bag. Because this product is more of an all-purpose sketchbook than a marker pad, it is not guaranteed 100% as a bleedproof sketchbook, so you need to put scrap paper underneath or work on an individual sheet. On the bright side, it is offered at a budget-friendly price so I could not really ask for more.
Pros
Durable 95 gsm sheets for Copic markers
Multiple erasures do not affect the paper
Plenty of paper for practice and final artwork
Fine tooth for good blending
Acid-free quality preserves color brightness
Suitable for children and adults
Cons
Does not guarantee bleeding prevention
Sometimes, you do not need high-end art products when you are mastering your craft. By putting in the work, a modest sketchbook like this can work wonders.
10. Koh-I-Noor Sketchbook
Nowadays, artists share their body of work online to reach out to their audience. Since this involves scanning, it is advisable to use papers that work correctly on scanners, especially if your markers are your main medium. For that, let me introduce this wire-bound sketchbook with "Domelock" technology, commonly known as the "in-and-out" pages.
With these "in-and-out" pages, you can work on individual sheets and then put them together back into the book. There is no need to tear the paper because of the slits on one side of the page that enable you to attach and detach. This smart feature also lets you rearrange your artworks for a portfolio or seamless storytelling using a series of illustrations.
Aside from that, the detachable page makes digitizing a piece of art very convenient since you can lay the paper flat on the scanner. Helping you get the best digital version of your illustration, the bright white tone of the paper ensures that the true colors are kept. Along with the acid-free content, it brings out a nice vibrant contrast when you are inking with your Copic markers and retains the quality of your artwork.
Even though this art product is not expressly advertised for markers, it has the makings of a no bleed sketchbook because of its 270 gsm smooth bristol papers. Similar to a cardstock, the lustrous surface receives the continuous flow of ink and lets them stay on top of gorgeous blending. The sheet gets along well with the Copic nibs, but you can also use pencils, pen and ink, and other mediums.

Equipped with a hardcover, all the papers inside are protected against the elements and issues like creasing. Like the other products of the same caliber, this sketchbook is pretty pricey. It gives me the impression of something that I would not use for mere practice or rough idea-sketching.
Pros
Neatly detach and attach in-and-out pages
Acid-free sheets retain color quality
Good for scanning hand-drawn artwork
270 gsm bristol prevents bleeding
Smooth surface for gorgeous blending
Overall, this art product strikes all the right chords as it helps artists create eye-catching illustrations that they can scan and upload without troubles. While it is not strictly a Copic sketch book, its smooth and thick bristol papers can deal with juicy inks.
What to Look for When Buying Papers for Copic Markers

In terms of criteria, the choice you make would hinge on the type of art project and how you want to use your art supplies. Artists who work in a studio may have different needs compared to those who frequently travel. Even then, the intention varies from each creative individual to another.
Some may want to use the sketchbook as a compilation of artworks, while others want to record their everyday life. Of course, mixed-media artists will most likely go for papers that let them use all their drawing instruments in their arsenal. Meanwhile, there are illustrators, calligraphers, and crafters who want to stick with Copic markers.
By knowing your priorities, it would be much easier to decide on what to look for. That said, you still need to take into consideration the following criteria to make sure that your Copic markers work to their fullest potential.
Bleed prevention
Bleeding is the bane of every artist who uses mediums like pens and markers. Not only does it stain their desks, but it also affects the other pages of a sketchbook and makes blending more difficult than it should be.
The thicker the sheet, the less likely it is to cause bleeding. For your reference, the papers that fall into this category include bristol, thick premium bond paper, marker paper, mixed-media paper, and hot-pressed watercolor paper.
Weight of paper
Bleeding prevention aside, the weight affects the behavior of the alcohol-based inks on paper. If the paper is too thick, coloring an area will burn more ink compared to thinner sheets. However, this should not be the only basis for buying a paper.
Many artists tend to use the heavier, thicker sheets for finished artworks. The thinner ones are useful for tracing because they tend to be semi-translucent, which comes in handy for calligraphy, designs, and other art projects. Both types of paper can be found in sketchbooks and art paper pads.
Paper texture
If you are looking for alternatives to Copic markers skbk 9×12 sketch book and similar products from the same brand, you can opt for mixed-media, bristol, and other variations of paper. Just remember that they have different textures that would affect the overall look of your artwork.
Generally, a smooth surface is appropriate for blending and it also keeps your marker nibs from fraying too quickly. If you want a bit of texture, a paper with a fine texture like a mixed-media sketchbook and a hot-pressed watercolor paper pad are your best options.
Sketchbook Size
We may not always realize this but the paper format sometimes dictates the way we draw and come up with ideas. For example, we tend to use landscape orientation to illustrate breathtaking vistas or architectural designs. Portrait orientation is frequently used for portraits, poster layouts, or panels of comics, while a square page forces you to think outside of the box.
Furthermore, the sketchbook's size is an important deciding factor. A lightweight, pocket-sized sketchbook is easier to carry but its limited space challenges you to simplify your drawings. Meanwhile, an A5 or an A4 can be unwieldy to hold if you are in a place where you cannot find tables like parks but it gives you more space to draw on.
Build
Art supply companies have made a plethora of sketchbooks in different sizes, formats, binding, covers, and many other features, such as perforations and in-and-out pages. Now, it is up to us which one to choose.
A journal-style sketchbook lets you keep all your day-to-day illustrations together. Its hardcover binding and elastic strap secure all the pages but they give an impression that the contents are confidential. Meanwhile, the back pocket offers storage for references, notes, and other mementos.
On the other hand, a spiral-bound sketchbook efficiently serves the needs of students and professionals who need a space for their ideas, rough compositions, and final artworks. They can be laid flat on the table so you can work comfortably, while the perforated pages let you tear a sheet by pulling gently.
https://youtu.be/wSHDnTNKzys
Conclusion
Growing as an artist entails a lot of time spent on mastering techniques, developing a distinct style, and experimenting with mediums. Luckily, we live in an exciting time where different kinds of sketchbooks have been invented, giving us more diversified options. Many of them compete in providing their patrons with the right paper for Copic markers.
However, having tons of choices makes it harder to pick the right sketchbook for our needs. Be that as it may, let me assure you that all the art products I reviewed above can be considered as the best sketchbook for Copic markers. In the end, it is really up to you how you will use their features to your advantage.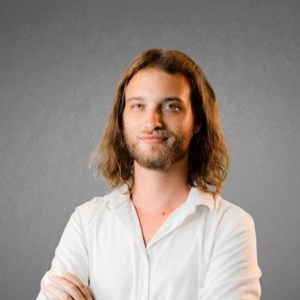 I am a former art teacher, so it is evident to me the importance of art in educating the new generation. We also want to help parents who plan to teach their children and desire the best tools and tips for them.