You might have been looking for a cheaper alternative to Copic for a long time but could not find one that is refillable. Well, we finally found that could fit into that definition. It is the whole new Blick Studio brush markers!
To get to know them better, we'll have a Blick Studio brush markers review. Let's find out how they will perform compared to Copics and other premium markers.
Some users find them to put up really well with Copics but some feel like they could do better in terms of color range, blendability, and tip quality.
Blick Studio Brush Markers: What is It?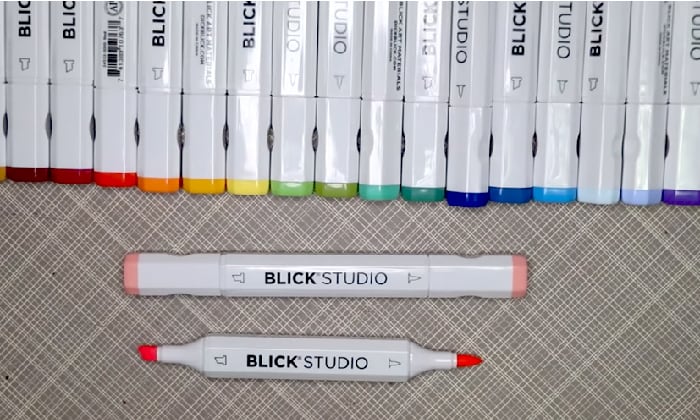 These are alcohol markers that are part of the Blick Studio series.
It comes in an octagonal-shaped flat barrel, so they roll as you lay them on your working area. These markers have a brush tip and a chisel tip combination.
The tip shape is indicated on each side of the barrel, and the chisel end has a step back to further emphasize that side. Furthermore, these marker tips are made with rubber, not felts or plastic.
The cap is color coded on both ends. However, the color codes are random. They are not even in order according to the color family and generally do not have anything to do with the colors I guess, except for the gray tones.

Anyhow, the color codes on the cap and on the barrel are still useful for easy recognition and to prevent caps from swapping.

Each side of the caps has a small slot that gives you a cozy snug as you remove the caps. But this cap does not fit the other side, you cannot stack them as you color.

These markers are refillable and both tip types are also replaceable! Yes, read that right. The nib replacement is sold in packs of three and the refills are available in 95 colors. This Dick blick alcohol ink contains 25 ml of ink that would last up to 9 refills.
1. Blick marker types
Aside from the Blick Studio brush markers, there is one more marker under the Blick Studio markers series.
The Blick Studio marker carries the same ink as the Blick Studio brush marker and is also refillable.
It comes in a larger barrel that is rounded, which is very similar to This type has a wider chisel tip and a bullet tip instead of a brush tip.
Apart from the Studio series, Blick has another dual-tip brush marker. These are the Blick Illustrator They have a rounded barrel similar to the Ohuhu Honolulu series.
It has more or less than the same tip combination as the Blick Studio brush markers. However, they only have 24 colors. Not refillable and tips are not replaceable.
2. Colors of blick studio brush markers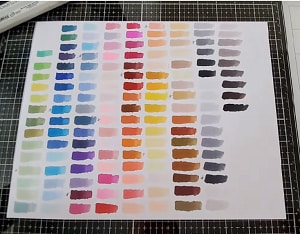 The largest color set has 144 assorted colors, next to that is the 96, 48, and 24 assorted color set. They are also available in smaller color sets and are available as single markers as well.
● Set of 6
○ Assorted Colors
○ Blue Colors
○ Floral Colors
○ Grey Colors
○ Green Colors
● Set of 12
○ Assorted Colors
○ Portrait Colors
If you use a lot of grays then you will be pleased with how much gray is included in this selection. However, some may find this color range a bit short.
Checking the Blick Studio marker color chart, you will discover right away that a great number of the largest sets are almost identical in color. That would mean you get fewer colors than what is expected plus the 144 set includes 2 colorless blenders.
Moreover, if you are new to alcohol markers, this amount of colors is more than enough for you to start with. You do not have to dive into a large set. The 24-set color selection or the Portrait set would go a long way.
3. Price point
Individual markers can cost $3.58 to $4.15 but if you get the largest set, that will only cost you about $2.4 a marker.
That is cheaper than Prismacolor Premier brush markers or the Spectrum Noir Illustrator marker and a lot cheaper than Copic Sketch.
When they run out of ink, you can get the 25ml ink refill at $7.11 (7-9 refills). If you do the math, each refill will only cost you more or less $1.
4. What are they used for?
Blick Studio brush markers can absolutely put up any coloring projects on paper. Just remember though that these markers prefer a thicker type of paper.
The quality is adequate enough to be used in graphic or cartoon illustrations, sketches, and different fields of design.
5. Pros & cons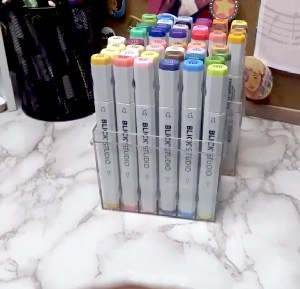 Less expensive than Copics
Refillable
Replaceable tips
Refill comes in larger volumes
Easy to find but exclusive to Blick stores only
Has rubber tips
Colors are limited, not varied enough
Obscure color coding system
Some colors are very similar
Lighter tones are streaky
Colors tend to fade too soon
May bleed more
Prefers thick paper.
How Do You Blend Blick Studio Brush Markers?
Blending with Blick Studio brush markers is quite different from other alcohol markers. Here are some of the things you have to keep in mind to avoid unwanted results.
Tip 1. Use heavier paper like the Canson Bristol board (96lb) or Hammermill cardstock (100lb). Usually, it is recommended to use smooth marker paper to avoid ruining your tips but the Blick Studio brush markers don't seem to like that smooth texture.
They turn out to be patchy and speckled when used on smooth papers. Maybe because they are more potent and they need a thicker paper that can absorb those extras.
Here's how blending looks on smooth bristol paper compared to Prismacolors.
Tip 2. The best way to blend them is to start from dark to light. The pale colors can get streaky and they do not seem to blend well with a single layer so will have to overlay 2 to 3 layers and pick colors with similar tones.
Although blending with mixed color tones may also work. Do it using gentle pressure and avoid long strokes.
Blick Studio Brush vs Copic Marker: What is the Difference?
Blick actually did a great job to get close to Copics but here are some things that were put behind.
● How the colors are arranged or coded. Blick does not have a color system in place while the Copics have a very solid color system. Everything in the alphanumeric code they assign on each marker is significant.
● Blick markers vs Copic marker color. Blick would not really compete with the Copic 358 color range. Blick has 142 colors but you'll end up getting less than that since there are plenty of similar colors within that range.
● The brush tip is less pointed than the Copics and a bit shorter too. This means you would not get the same precision as Copics. The strokes created are shorter and blunter.
● Tip options: Copics Sketch has 3 and the Copic Classic has 9. Blick Studio brush markers are limited to brush and chisel tip options.
● Dick Blick Copic marker sets are one of the most complete sets you can find but you can also find Copics in other stores. Blick Studio brush markers on the other hand are sold by Blick official stores only and you would find them anywhere else.
Frequently Asked Questions
Are Blick Studio brush markers alcohol based?
Yes, the Blick Studio brush markers are all alcohol based.
Can you refill Blick markers? Are Blick Studio markers refillable?
Not all Blick markers are refillable. The Blick Studio marker refills can be used to refill both Blick Studio brush markers and Blick Studio markers.
The Block Illustrator marker on the other hand is not refillable, this type seems to be the only disposable version among the Blick marker series.
How many Blick markers are there?
As mentioned, Blick Studio alcohol based markers are currently available in 3 variations. These are the Blick Studio Brush marker, Blick Studio marker, and Blick Illustrator marker.
Moreover, the Blick Illustrator marker is only offered for a limited time. I think this product seems to duplicate the first two so they get phased out eventually and this was only sold to get rid of the inventory or until the supplies last.
Blick markers also have a water based version, these are the Blick Watercolor markers which are available in 8 color variations.
Conclusion
Based on this Blick Studio brush markers review, these markers do not match the Copic 100% but they are way more advanced than the other counterparts.
Its blending capability, color range, and brush tips have mixed feedback. Some love it while some don't. This only means that these things are really a matter of preference.
There may be a lot of markers that perform better than Blick Studio brush markers but they are mostly disposable.
The fact that you get replaceable rubber brush tips and refillable ink at a cost less than half a Copic Sketch is already a good deal.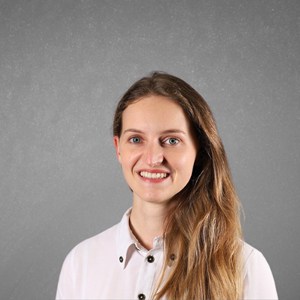 Art has always been a part of my life; it influences my upbringing and later my career choice. For me, it is always a part of my parenting technique. So for whichever purpose that you come to art, you can start here with us.