Watercolor is a medium of painting used by many artists and hobbyists. It is not only watercolor paint that artists need to create an artwork. The artists also need the right watercolor papers to bring beautiful paintings to life.

The watercolor paper plays a significant role in painting, allowing artists to draw their sketches, apply watercolor paints to enhance and complete their artworks. For these reasons, it is essential that watercolor papers hold qualities for ease in practice.
To provide you information about the best watercolor paper for beginners in the market, we have rounded up the top among them. After studying each product, we believe that these watercolor papers can make your first artworks exquisite.
Top 10 Watercolor Paper for Beginners Reviews
1. Arteza Watercolor Paper Cold Press

The perfect smooth texture of the Arteza Watercolor Paper makes it just right on top of our list. Many painters, including me, like this watercolor paper cold press texture since it is very smooth.
The thing is, its smoothness does not interfere in handling the paint. In truth, this paper takes in the paint well. The paints hold naturally on the paper and blend with other colors beautifully.
The Arteza watercolor paper is also thick, which is suitable for a good painting. It has a paperweight of 140 lb or 300 gsm and a size of 9 by 12 inches. You can apply many washes as it can absorb water well. Besides, you can use the paper for mixed media and sketching.
Like most papers often used by beginners, this watercolor paper is made of wood pulp. Due to this excellent material, the product can provide paper stability and safety. Besides, the durable product is also an acid-free paper, which will last for an extended time.
This package comes in 2 pads with firm binding. A pad of this product contains 32 sheets. So, with 64 sheets provided, you have enough room for practicing your washes to create your first masterpiece.

The other side of this paper seems rough. I see the grainier side as the downside of this watercolor paper.
Pros
Made of wood pulp providing paper stability and durability
Acid-free paper that makes it long-lasting.
Smooth texture that can take paints naturally and blend with colors well.
Comes with 2 pads that contain 64 sheets with sturdy binding
Cons
The other side of the paper seems odd and rough, not suitable for painting
This Arteza Watercolor Paper is a heavyweight paper and can take in many washes without pilling or bleeding. It is certainly handy and appropriate for novice watercolorists who need enough and sturdy surfaces for practicing.
2. Arches 1795072 Watercolor Paper

The Arches Watercolor Paper is a popular product due to its stability and high quality. It might be the top-rated watercolor paper because it can absorb lots of water without pilling or making the colors fade.
This watercolor paper is constructed out of 100% long cotton fibers. The material is recognized for its durability and toughness. In truth, there is about 1 year life span for each 1% cotton that a sheet of paper contains.
The Arches watercolor paper is formed utilizing a cylinder mold. With this process, the fibers are distributed evenly, making the paper stable and resilient. This watercolor paper can take in lots of water. So, when you make brushes of washes to get the color you desire, the paper will not warp or peel off.
Another feature that I love about this product is its internal sizing, in which gelatin is added with water and pulp solution. It will not make the paper tear easily even after scratching.
Also, this paper can hold your colors well. The color pigment you apply in this cotton paper would likely appear beautiful, and deeper.
The only drawback I can see is the watercolor paper texture, which is hot pressed. A hot-pressed paper has a smooth and hard surface. Although a smooth paper is good for most artists, beginners would find the paper quite slippery and have a hard time controlling the paint.

On the other hand, the beginner can benefit from its form, which is in the watercolor block format. Beginners can practice more efficiently on blocks without using buckles. This watercolor paper has one block with 20 sheets and a paperweight of 140 lb, which is the recommended weight for a good painting.
Pros
Constructed from 100% long cotton fibers
Shaped using a cylinder mold making it durable
Takes in lots of water without pilling
Adds gelatin in the water and pulp mixture solution making it untearable
With watercolor format appropriate for beginners
Cons
Quite slippery because of the hot-pressed texture
Generally, the Arches watercolor paper promises finest quality. It goes through advanced monitoring and testing.
3. Bellofy Watercolor Paper Pad

The heavyweight of Bellofy watercolor paper pad is what makes it among the top of our list. It is about 130 lb with an A4 size of around 9 by 12 inches. Most users are amazed by its paperweight that can manage several heavy washes.
What I love with this product is that it can manage wet-in- wet efficiently. You can apply your wet paint over another wet-paint layer already on your paper. As well, no need to wait for your paint to dry. Indeed, it is perfect for watercolor beginners and little children who love to paint and are excited to see their completed paintings.
This watercolor paper is also environmentally friendly as it is constructed from acid-free and recyclable paper. When you buy this product, you are contributing to a better environment. Also, acid-free paper is sturdy and can stand up to the test of time.
Bellofy watercolor paper is a smooth cold-pressed paper. The color you apply to this paper holds well, giving life to your art piece. Besides, you can paint on both sides of the paper, which is smooth on one side, and the other is textured. You may choose which side works best for your painting.

However, as some users experienced, the paper may bend when you do not tape or fasten the edges. This may add to your work, and I find this as its only weak point.
Pros
Heavy paper of 130 lb that can handle heavy washes
Made from acid-free, recyclable paper: environment-friendly and sturdy
Handles wet-in-wet efficiently, ideal for beginners and kids
A cold-pressed paper with a smooth texture
Pack of 50 sheets with 9 by 12 inches in size
Cons
You might put tape on the edges of the paper to prevent it from bending
I find the Bellofy watercolor paper a must-try product for having a perfect water-coloring experience. This is because it can amazingly handle the wet-in-wet technique, making painting easy and fast for beginners.
4. Canson XL Series Watercolor Paper

Take it from experience, Canson manufacturer, which is around for almost 463 years, has created another best art accessory, the Canson XL Series watercolor paper. It is a cold-pressed paper that is great for beginners and appropriate for light washes.
No worries, as this paper comes in a bulk pack with 100 sheets. Its weight is around 90 lbs or 185 gsm, which is quite thin, yet I think manageable. It is around 9 x 12 inches that are of decent size for an artwork.
It may warp a bit with many washes, but you can try drying and flattening, then the paper indeed becomes doable. This paper is best for sketching. And with its semi-rough surface, you can manage to paint beautifully.
Your artwork may have a long life span because of its neutral solution, or it is acid-free. Pretty certain your artwork may be preserved for many years. This is what a Canson watercolor paper does significantly.
Another best thing in this paper is that it holds the color tight, which does not fade easily. We know that color or paint gives life and enhances the artwork. And this watercolor paper blends and sustains the colors finely. Certainly, you will love the colors shown on this paper.

The drawback of this paper is it is lightweight and thin. It might not be suitable for heavy washes. But if you know how to apply light washes, I think you can create beautiful artwork. I still consider this one of the most suitable watercolor supplies for beginners.
Pros
Guarantees to last long because it is acid-free
Cold press paper with a semi-rough texture suitable for beginners
Holds color pigment tightly and beautifully
Comes in a bulk pack with 100 sheets and of decent size
Cons
Not ideal for heavy washes
I don't think why you cannot use this watercolor paper in your first artwork. The Canson XL Series is perfect for sketching and watercolor painting. You can also use any mediums in this paper, whether pencil, watercolor paints, or watercolor pens.
5. Fabriano Watercolor Paper

When it comes to handling your watercolor paint and water well, the Fabriano watercolor paper does its job. This is because of its heavy paperweight, which is 140 lb. It is also a cold-pressed paper with four textured surfaces such as softened, satin, fine, and rough.
You will have no problem with pilling because this watercolor paper is constructed from 100% cotton. This material is recognized for its water absorbency. Also, it is an acid-free paper with a neutral pH that can hold your artwork for ages.
What I also love with this paper is its natural bright white color. Your colors will rise above the surface, making your artwork adorable and lovely.
The paper is in a block pad with 25 sheets with a size of 5 by 7 inches. It is glued on the four sides. There is only a small open part where you can insert a sharp knife or blade to remove the top sheet after finishing your art piece.

On the other hand, some users found the paper not glued well. So, they either used tape or clip to prevent it from bending while they paint. This is the only disadvantage I see in this watercolor paper, although it can be resolved easily.
Pros
Manages washes well because of its heavyweight: 140 lb
4 options of texture: softened, satin, fine, or rough surface
Constructed from 100% cotton, making the paper pilling resistance
Natural bright white makes colors of the artworks lively
Comes in block pad with 25 sheets and glued on the four sides
Cons
Might require a tape or clip on the edges of the paper
In general, the Fabriano watercolor paper is one of the most favorite watercolor papers for beginners. It holds the paint and water well without pilling.
6. Ucreate PAC 4925 Watercolor Paper

The UCreate Watercolor Paper is such a different paper from the rest. It has this unique surface called vellum, which is derived from calfskin. What good with this material is that it has a smooth texture and is applicable for light washes.
Also, vellum has this lifting ability in which you can lift colors comfortably. Besides, it also has these luminous and translucent qualities that can revive your painting. Most users enjoy these variants of surfaces that are visible only in vellum.
Another notable feature of this paper is that it is acid-free. The paper is long-standing, and beginners can keep their first artwork for many years. As well, the paper can be recycled.
The package of this paper includes 50 sheets, which is useful for practicing. It is large, with about 9 by 12 inches in size. Although the paperweight is 90 lb or 130 gsm, it does not leak, warp, or rip.

This paper's only downside is that it curls up a little bit when it is dried, especially if you soaked it with repeated washes.
Pros
Made from waterproof vellum that can handle repeated washes
Acid-free paper and can endure times including your artwork
A package with 50 sheets with 9×12 inches suitable for practicing on
Paperweight of 90 lb or 130 gsm that does not tear or warp
Cons
It will curl up a little bit when it is dried
In general, this watercolor paper is excellent for budding artists such as children and beginners who are enthusiastic about learning painting. This is because it will not leak, buckle or rip and the 50 sheets with big size are best for practicing.
7. TecUnite 4336943677 Watercolor Paper

If you are a watercolorist beginner and looking for practice sheets, the TecUnite watercolor paper will indeed suit your needs.
I love this package because it comes with 120 sheets with a decent size of 6 by 9 inches. It is of good quality and perfect size to practice painting.
This paper is made from pure cotton pulp, which is attributed to having good water absorbency. Notably, this one can resist pilling, avoiding creating a muddy mess on your paintings. Plus, it is an acid-free rub-resistant paper. As well, it can handle repeated layers of washes.
As it is a cold-pressed paper, it is certainly appropriate for beginners. This is because with its pleasing texture, the beginners can control their paints or washes easily. This texture is also ideal for wet and dry media, sparing you the trouble of finding different papers for different painting types.
The paper is quite heavy, with about 98 lb or 145 gsm weight. Also, what I like about this paper is that it can hold the colors well. This can make your painting come to life and appeal.

The drawback I see in this watercolor paper is its color, which is quite grey. If you are looking for a watercolor paper that is clear white then this paper is not for you. On the other hand, I see that this paper is doable for beginners, novices, and kids with its quality.
Pros
Made from pure cotton pulp that can take in lots of washes
Resists pilling for a neat painting process
Acid-free resistance making it tough and can handle repeated daubs
Cold-pressed paper in which beginners can control their washes well
A package consists of 120 sheets good to practice on by beginners
The quality and quantity of Fabriano watercolor paper are why we include it among the top-rated watercolor paper for beginners. This package is perfect for watercolorist beginners who need to improve their washes and create a beautiful painting.
8. Fluid 850088 Watercolor Paper

The Fluid watercolor paper is an excellent choice for watercolorists and beginners, according to numerous users. Besides, they mostly praised its watercolor paper block pad, which consists of 15 sheets—no need to stretch it as the paper is glued on two sides for comfortability.
As this watercolor paper is heavy with about 140 lb, it provides durability and stability. With its thickness, you can have multiple washes without damaging the watercolor paper.
It is also acid-free paper and in conformity with ISO 9607 standards of permanence. Thus, you can protect your artwork's lively colors for a long time without signs of fading.
The Fluid watercolor paper is made from 100% cotton, one of the top-tier watercolor paper materials. What is good with cotton paper is that it can absorb much water. This material allows you to work on your wet-in-wet techniques.
Another thing that I like about this paper is that it is a hot-pressed watercolor paper. In this texture, you can use it for mixed media, proving its versatility. You can freely create and practice different types of paintings with this paper.

In my opinion, the only weak point of this paper is that the paper is quite tricky to remove on the block. On the other hand, you can take off the watercolor paper carefully or use a sharp blade to separate.
Pros
Made from 100% cotton with good water absorption capability
Comes in a block pad, and no need to pin and tape the edges of the paper
Acid-free paper for long-lasting artwork
Meets ISO 9607 standards of permanence
Hot pressed watercolor paper and can be used for mixed media
Heavyweight paper that can manage multiple washes without peeling off
Cons
Need to be careful when removing the paper on the block
The Fluid watercolor paper is another good product of the European mill masters, over 400 years in the paper-making. It is definitely of good quality and suitable for beginner and professional watercolorists.
9. Newbested 6515 Watercolor Paper

This lightweight Newbested watercolor paper is indeed a contender in our watercolor paper for beginners. Even though it is lightweight, it can absorb water well and does not wrinkle and warp.
As the paper is made of pure cotton pulp, it can withstand various environmental conditions. Also, it prevents discoloration, fading, and deterioration for a long-lasting artwork. You can daub many times without damaging the paper.
This paper is safe as it is acid-free, which means it has a neutral solution with a pH over 7. Also, the paper is protected by alkaline like calcium carbonate. This element counteracts acid compounds absorbed from the air, avoiding yellowing or fading.
I find this watercolor paper great for beginners because of its cold press texture. The cold-pressed paper has a soft and semi-rough surface on which painters can apply smooth washes efficiently. With such texture, this paper is ideal for detailed artworks.
What I like with this watercolor paper is its decent quality and affordability. The pack of this watercolor paper consists of 100 sheets with about 12 inches by 17 inches in size. In one buying, you get sufficient space for practicing your painting. I recommend this paper for beginners who want to perfect their washes.

The watercolor paper gsm is around 185 or 90 lb, which is best for light water applications. Although, I consider its weight its only weak point because it is thin and lightweight. It might not handle many washes. On the other hand, I think it will not interfere in creating beautiful artwork in the case of this watercolor paper.
Pros
Made of pure cotton pulp to withstand various environmental conditions
Promises safe use with acid-free paper
Contain calcium carbonate to prevent fading and yellowing
Cold-pressed paper with a soft and semi-rough surface for beginners
Consists of 100 sheets for sufficient practicing space
Lightweight yet wrinkle-resistant
Cons
Only suitable for light water application
Overall, this paper is ideal not only for watercolor paints. You can also use it in some arts and crafts projects and can even be used by professional watercolorists.
10. Sax 408400 Watercolor Paper

The Sax Watercolor paper is of the finest quality that can take in light washes. This is because it is of hot-pressed texture with a smooth and fine-grained surface on both sides of the paper. Besides, there is not much visibility of the tooth on the watercolor paper.
What is good with this paper is that the paints dry fast on its surface. So, you can apply another stroke of washes without waiting for so long. Hence, this product is appropriate for the kids and beginners learning how to paint.
Another feature of this paper that I like is that it is acid-free, which means the paper will not turn yellow as it ages. It makes the watercolor paper lasting, thus preserving your artwork for many years.
Most users of this watercolor paper praised its package, which comes with 100 sheets. Art teachers benefit from this package as they distribute the paper to their students. This product works well for the students at an affordable price too.

Hence, the disadvantage I see in this paper is that it is not quite good for several layers of repeated heavy washes. This is because it is lightweight, with about 90 lb or 140 gsm. On the other hand, it has a decent size of 9 x 12 inches to accommodate your artwork well.
Pros
Acid-free paper that is made to last long and can preserve your artwork
Hot-pressed texture with a smooth and fined grained surface for
Allows the paint to dry fast
Comes in a package with 100 sheets good for beginners and kids
Perfect price especially for art teachers who provide art papers for their students
Cons
It is not a heavy-duty paper that can take in repeated heavy washes
If you are looking for beginner watercolor paper, I recommend the Sax Watercolor paper. This product is perfect for those who practice their paints and students and kids doing their artwork projects.
What to Look for When Buying Watercolor Paper for Beginners

Choosing a watercolor paper has a significant influence on your first artwork. You may select a paper that is expensive yet cannot handle heavy washes. Or choose an economical package with 50, 100, or 120 sheets and practice polishing up your washes.
Also, you might look at the watercolor paper name when choosing a paper. In truth, there are some factors that you have to consider. To guide you in picking a watercolor for beginners like you, we would like to present the aspects you should know in choosing the right watercolor paper. These are the following:
Material
Most watercolor papers are constructed from 100% cotton pulp or fibers and wood pulp. The best material for watercolor paper is 100% cotton fiber. It has the best surface that is absorbent and can take a huge amount of water.
Hence, it can control heavy and light washes. The wet-in-wet techniques, which most beginners do, are good for cotton watercolor paper. The wood pulp is also absorbent. But, cotton paper is more receptive than wood pulp.
Meanwhile, if you want your paper to endure the test of times, then it must be acid-free. If the rate of paper is less acidic or acid-free, it slows the aging process. This feature will prevent your paper from yellowing or fading and protect your first artwork for many years.
Texture
The most popular textures of watercolor paper are hot-pressed paper and cold-pressed paper. For beginners, the cold-pressed paper is the fittest.
Some cold-pressed papers are smooth or semi-rough. With this, the watercolorist beginner can control their paint; unlike with hot-pressed paper, beginners might have difficulty handling their washes.
This is because of its slippery and hard surface. Besides, the hot-pressed paper is best for detailed work. You should know how to choose watercolor brushes for beginners to have a good stroke and control your washes.
Paper Weight
Watercolor paper varies in paperweight. There are thin, lightweight, and heavyweight watercolor papers.
The paperweight is in pounds in the United States.This refers to a ream of 500 sheets. In Europe, the paperweight is in grams per square meter.
The ideal paperweight of an ideal watercolor painting product is 140 lb or 300 water paper gsm. You may also use 280 lb or 600 gsm, which is quite costly.
If, in one instance, you are a beginner and want to practice on, you may use the 90 lb or 185 gsm. Besides, there are thin papers that do not warp or pill when applied with repeated washes.
Meanwhile, heavy paper is suitable for heavy washes. Also, there is no need for stretching. On the other hand, it is quite costly.
Form
The form of watercolor paper can be in blocks, pads, rolls, panels, and individual sheets. A beginner wants more space to practice his painting.
I suggest that you go for blocks or pads, which are ideal for practice. Besides, in a pad, there are enough sheets contained for you to practice your washes.
In a block, you do not need to fasten the edges or stretch the watercolor paper. It provides comfort, especially for a beginner like you.

Conclusion
After thorough and long research hours, we believe that the above products are the best watercolor paper for beginners. These papers are used and tested by many watercolorists. And they find them substantial in creating their first artworks.
Take time to go over these watercolor papers and get the papers suitable for your paint and needs. Choosing the right watercolor paper will indeed beautify and keep your first art piece for many long years.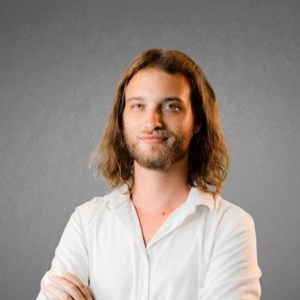 I am a former art teacher, so it is evident to me the importance of art in educating the new generation. We also want to help parents who plan to teach their children and desire the best tools and tips for them.