Are you sick of making your work more presentable? Worry not. A Tombow Dual Brush Pen is all you need. This unique art tool may be new to some people in the art world, but the steps in using it are pretty easy to follow.
Anyone can pull off a captivating work as long as they know how to use Tombow dual brush pen. Luckily, that is the article's primary purpose. This article aims to teach you how to use one.
So, what are you waiting for? Start scrolling and improve your artwork with a Tombow dual brush!
Supplies You Need
Tombow Dual Brush Pens
Colorless Blenders or Brush Pen
Blending Palette (optional)
Lettering Paper or Watercolor Paper
To make your calligraphy realistic, you will need the help of other tools like the colorless brush pen to apply on your lettering paper. This item usually comes with the Tombow Dual Brush Pen Set. So, you will not have a hard time searching for it.
You can get your Tombow Dual Brush Pen Art Markers and blenders with no worries.
Before proceeding with the Tombow dual brush pen tutorial, make sure you are all set and already prepared all the materials needed.
How to Use Tombow Dual Brush Pen: 4 Amazing Methods
I will now introduce all the steps you need in using a Tombow dual brush pen. There are many techniques that you can do with this art tool, so choose over the following:
Method 1: "Kiss" Blending
When I say kiss blending, I am not talking about its literal meaning. Kiss blending means that you will have to contact two different pen tips. It is one of the simplest techniques that produce exceptional results.
Step 1: Contact the Pen Tips
It is the first method when you blend Tombow dual brushes, wherein you have to touch one tip of the pen onto the tip of the other marker. This will allow you to rub a small portion of color to the colorless end of the blender.
Step 2: Draw or Write Over the Paper
The next thing is to start drawing or writing on your preferred paper. But I still highly recommend using lettering paper, especially if you are doing calligraphy.
And that's it. This technique is pretty easy, don't you think?
Method 2: Do a Direct Blending
This method is done more directly onto the lettering paper. In this technique, you have to blend a lighter shade together with a darker color. This will result in a stunning ombre look in your calligraphy.
However, this technique needs a thicker paper quality because thin papers might rip or fray with too many layers of color. One paper that I do not recommend for this technique is watercolor paper and other rough-textured papers.
Step 1: Start Writing Using the Lighter Shade
Write out your word using a bright color shade. Colors like sky blue, pink, and yellow are good examples.
Step 2: Add the Darker Shade
Next, color over the word using a darker shade. You can apply it above or below the letters to create a dynamic effect. Do note that you must only combine a tiny amount of the dark color to avoid overdoing the artwork.
Step 3: Blend the Dark Color to the Lighter Shade
Lastly, use your colorless blender or colorless brush pen to beautifully blend the darker color to the light one. This will create the ombre effect that I mentioned earlier.
Method 3: The Mixed Color Technique in Blending
A blending palette comes in handy in this style of blending. But if you do not have one, you can always use some type of laminated or plastic-coated surface to mix your selected colors. A plastic bag, plastic paint palette, 0r a simple zip-lock cover will do.
Step 1: Add Color to the Palette
The first thing to do in this method is to add your chosen color, which you will mix later on. Put two to three colors onto the blending plate.
Step 2: Run the Blender Through
Next, you will run your colorless brush pen or blender through your selected colors to pick the ink up. Use the blender as your brush pen to start your calligraphy. Trust me, it will create an amazingly streaky effect using your selected colors.
You can play more with this technique and add your own personal skill. Rotate the brush to your liking. You can do this while picking up colors or when lettering on the paper. This will allow you to discover more effects for your writing.
Method 4: Using Watercolor Paper
This technique is quite unique from others. You will be using watercolor paper, which is known for its thin paper quality. Water is also an additional tool in this technique.
But to produce exceptional art using this paper, you have to make sure that it is as smooth as possible. So, you will be dealing with only the brush and two similar colors to avoid overlapping the colors, which may tear the paper.e
Step 1: Write Your Word Using the Lightest Color
Yes, you read it right. Just directly use the lightest color of your choice to put on the watercolor paper. Use it to write the entire word you were thinking.
Step 2: Apply the Dark Color Next
Similar to the steps I mentioned, it's time for you to overlay the dark color after writing the word with the lightest shade. Afterward, you can get and dip your brush in clean water.
Step 3: Start Blending
After applying all the colors, it's time to start blending them. Ensure that your colors come in contact with water for it to successfully mix. I find this method relaxing, especially when I observe how the water slowly combines with the color.
Tombow pens stunningly blend together because they're water-soluble. After you use water for mixing, witness how beautiful your calligraphy is.
Since you already witnessed the remarkable result of this art tool in blending and creating legendary effects, it's time to know a few pro tips when using this art tool.
Pro Tips:
Avoid making big and hefty strokes when blending, as this would reflect on the artwork. Use the brush to lightly feather the dark shade into a lighter color.
When working with colors, it is best to do one or two letters at a time. This will make your blending easier.
For more tips and tricks, you can also watch this 4-minute video:
Conclusion
How was the tutorial on how to use Tombow dual brush pen? Did you enjoy it? Now you can captivate your viewers by creating exceptional calligraphy using your Tombow Dual Brush Pen Art Markers.
This tool holds a lot of power and even allows you to discover various effects in every stroke. That's why it is one of my favorite art pens. Besides, you also can refer to ways to use other brush pens such as watercolor brush pens or brush pens for drawing.
How about you? Tell us what you think in the comments. Everyone, especially us, would love to hear it. And if you enjoyed this article, you can also tell your friends about it. We'll greatly appreciate it. Remember to keep practicing and hone your art skills.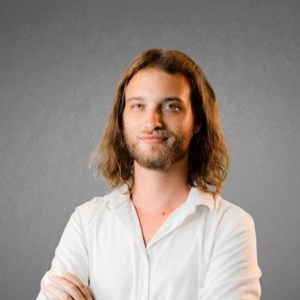 I am a former art teacher, so it is evident to me the importance of art in educating the new generation. We also want to help parents who plan to teach their children and desire the best tools and tips for them.