We have different reasons to start decorating our gardens and labeling our plants. Some of us want to teach our kids (and ourselves) something new. Others intend to fill their houses' front space with various flowers and worry that they might mix up the space for each flower seed.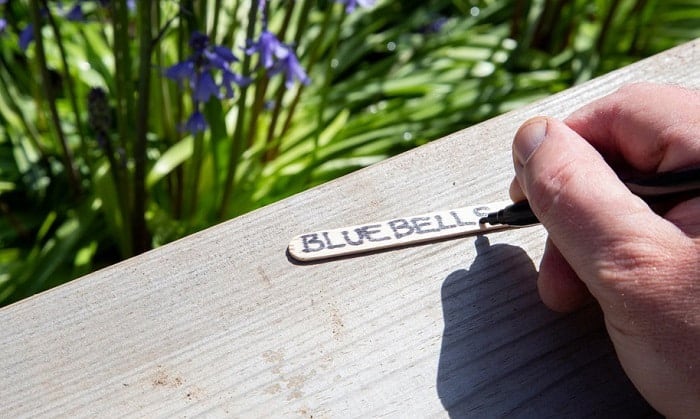 Whichever reason it might be, we need to decide on two things to complete our little DIY projects: label items and markers. Hopefully, you already figure out which surfaces you want to write the plant names on; then, the best permanent plant markers are the only missing piece.
We've rounded up here some ideal picks; read on as you might find what you want.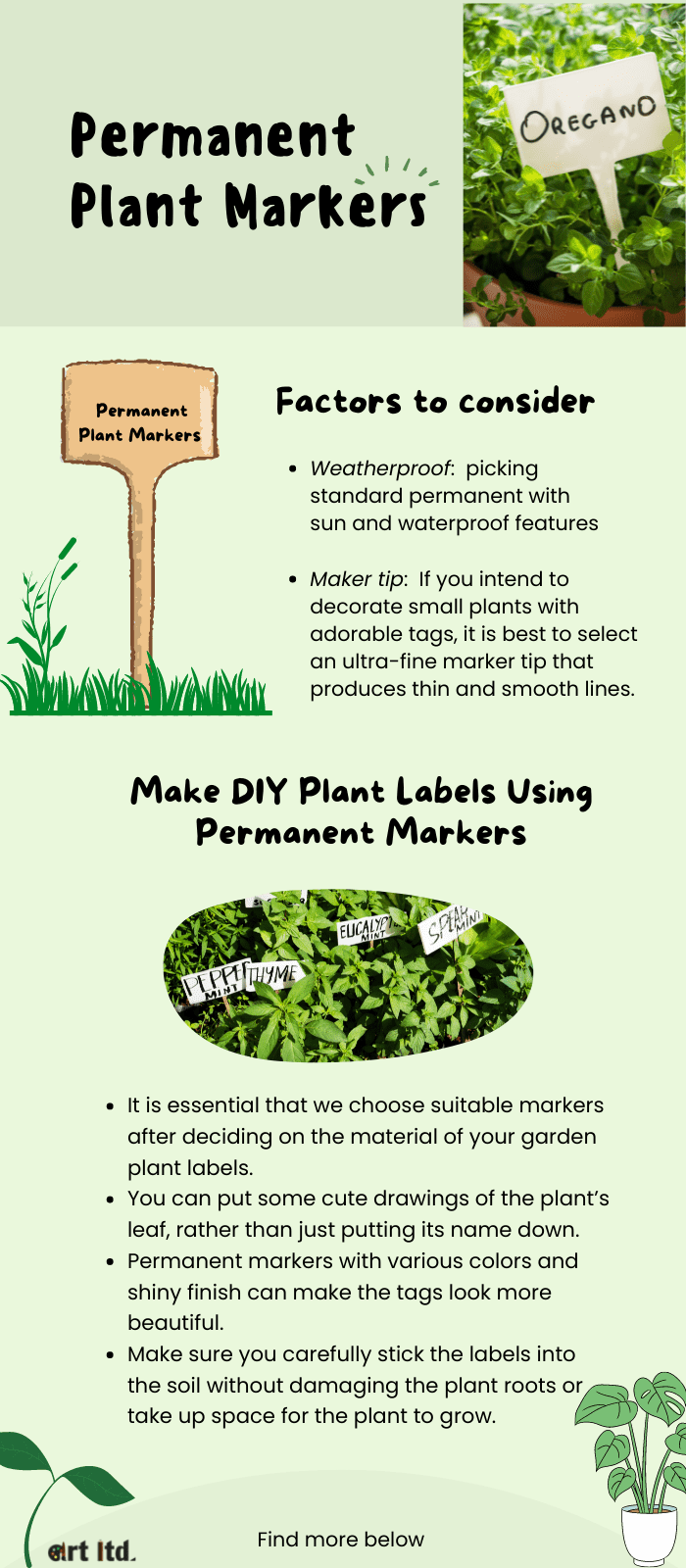 Best Permanent Plant Marker Reviews
1. Staedtler Garden Marker Pen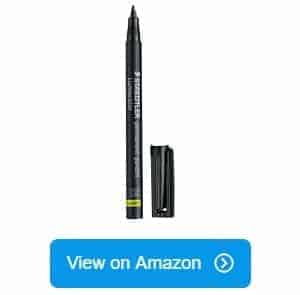 Is your garden site full of sunshine on most days, and you need a marker ink that does not fade under frequent sunlight exposure? If yes, go for the marker pen from Staedtler.
In truth, after months of sitting outdoors, my plant labels written by this marker are still legible. It is a surprise to me that the ink can hold on that long under changing weather. Hence, you can rely on this sunproof and water-resistant ink formula for use all year round.
For your information, this marker point measures 1mm, meaning it is ideal for medium-sized tags and labels. As soon as you write the plant names down, they dry immediately and stick here without fading.
I have tried using this permanent marker on plastic, wooden, and metal surfaces. And its black ink appears bold and smooth on those pieces. Not to mention, if you apply it on handmade paper tags, it will work wonders without a doubt.
Also, in one pack, there are two pens made with ergonomic design for a comfortable hold. It is 9.25-inch tall, just like our usual markers. And since the pair is reasonably priced, I suggest you purchase more than one set to use for various tasks.
Yet, this marker is not the best choice to write on small labels as its line is rather thick.
Pros
Best marker for use under frequent sunlight exposure
Water-proof ink formula, ideal for all seasons
1mm point writing thick and bold lines
Works well on wooden, plastic, metal surfaces
Ergonomic design for a comfortable hold
Reasonably-priced pack of two
Cons
Not ideal for small-sized labels
All in all, I am confident that this pen is the best outdoor permanent marker that does not fade under glaring sunlight or pouring rain.
2. DP INDUSTRIES Garden Marker Pen
A gardener's go-to pen to decorate or label their plants is the DP INDUSTRIES Clip Strip Garden Marker. You will be amazed by its ink's durability and sheerness.
While most sharpies fail us as time goes by, this pen leaves long-lasting marks despite element hazards. Many months, and even years, for which gardeners write their plant labels, the ink remains readable.
Harmful ultraviolet rays are no match as its formula has a UV filter, ensuring little to no fading under glaring sunlight. Also, downpours and freezing temperatures can not erase the ink since it is waterproof. You might even say these markers are very stubborn in a positive way.
This marker pen performs well on numerous labels made of wood, plastic, glass, etc. Plus, it writes smoothly and dries quickly, promising no ugly smears on our plant tags. So, a seamless and quick DIY project is guaranteed.
Notably, no Xylene is included in these makers' production, as DP INDUSTRIES wants to make sure they are safe for both its customers and the environment.
You can buy them in a package of two or four pieces as they are relatively budget-friendly. However, it is a bit inconvenient, especially for a forgetful person like me, that the cap does not fit well onto the end of this maker.
Pros
Super sheer and long-lasting
Contains a UV filter to withstand harmful sun rays
Waterproof to avoid fading during rain and cold weather
Writes smoothly and dries quickly
Ideal on wood, plastic, glass and more
No Xylene, thus safe for health and environment
Cons
Cap does not fit well on the maker's end.
Overall, this pen is undoubtedly among the best fade-resistant and weatherproof plant markers money can buy.
3. Artline Garden Markers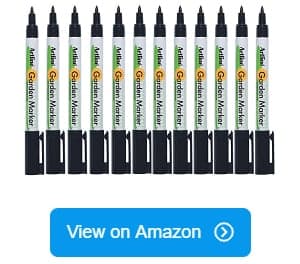 You win half the battle of creating beautiful and long-lasting plant labels when you have in hand the Artline Garden Markers. These models might be the magic marker pens you have always been looking for.
This multiple-pack product comes in twelve pieces that prove to be versatile. Not many markers can leave clear and smooth lines on porcelain or stainless steel surfaces. Luckily, this Artline pen is among the few, as it is ideal for writing directly on flowerpots and plant buckets.
As expected from a high-quality product, this marker's ink is formulated without Xylene. Its safe use is approved by The Art and Creative Materials Institute. Thus, we can confidently teach our little kids about plant names and other things with these toxic-free makers.
Besides, its ink is instant-drying yet fade-resistant, promoting ease in use and long-lasting clarity. When writing by this 0.8-mm bullet tip, we create crisp and slim lines with minimum effort.
I am delighted that these garden makers are available at an excellent price. In exchange for a small investment, we can have a robust and solid barrel made of aluminum. Thus, we can bring these durable pens to work outdoors without worry.
However, this marker's Acrylic tip is not as strong as its body, meaning you should not press it too hard while writing to avoid damaging it too soon.
Pros
Multiple-pack markers come in 12 pieces at a great price.
Applicable on porcelain and stainless steel surfaces
Safe product approved by The Art and Creative Materials Institute
Instant-drying yet fade-resistant ink.
8-mm bullet tip, creating crisp and slim lines
Robust Aluminum barrel for outdoor applications
Cons
Acrylic tip requires gentle press only
Despite the minor flaw, these porcelain and stainless steel plant markers will support your work in the garden and make it more enjoyable.
4. Sharpie Extreme Permanent Markers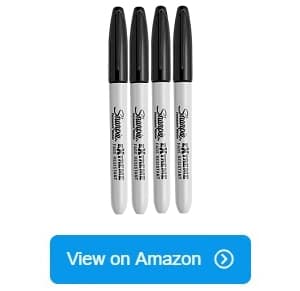 We all at least once come to Sharpie to shop for premium writing implements. While most of its products perform outstandingly on paper, we need pens that work well on various surfaces and stay permanent. Fortunately, their Extreme Markers can cater to those requirements for garden uses.
Since we leave our finished labels out in the rain, UV lights, and a lot of mud, the marker ink is required to withstand harsh conditions. And as its name suggests, this model can fight the extremes with its fading-resistant formula.
So if you still struggle to create clear plant signs with the old Industry Markers from Sharpie, it is time to opt for this alternative.
Furthermore, the pen screams top-rated quality with its excellent design. From the durable tip to its ergonomic body, we can comfortably use this model to create more than just plant tags. It leaves neat and bold lines on glass, wooden, fabric, and plastic labels. Remarkably, the marker works just fine on oily surfaces.
While the tip varies from 0.9 to 1.1 mm, its color ranges from black, green, blue, and red. Taking a great look into the collection, it seems like we have multiple options to get creative. Some users might love to use high-contrast shades like these to teach their kids how to decorate a beautiful garden.
Just a side note, you should store this marker carefully in case its ink can leak into the cap.
Pros
Withstands rain, UV lights, mud, and other extreme conditions
Comes with a fade-resistant formula for garden use
Durable tip and ergonomic body
Produces neat lines on glass, wooden, fabric, plastic, and even oily surfaces
Various options: 0.9 – 1.1 mm tips, black, green, blue, and red ink
Cons
Requires careful storage to prevent leaking
We all think Sharpie markers can barely survive outdoor uses, and this model proves the opposite. Give it a chance, and the product might become your favorite garden marker pen.
5. FLYMAX Black Permanent Marker
If those pens above might create too thick lines to your likings, the FLYMAX Black Permanent Marker with a 0.7-mm point can be a better option.
For small-sized garden tags, we can barely make out the plant names written in bold strokes. Hence, opting for a pen with an extra-fine tip like this one makes excellent sense. In other words, this plant marker is ideal for details.
Yet, what makes me love this marker more is its Acrylic tip that works flawlessly on plastic, wood, rock, golf balls, ceramic, and even concrete surfaces. Its versatility comes in handy when we want to make robust plant labels and look for the right marker to write on.
Some notable features of this maker are its no-leaking, no-smearing, and quick-drying ink. It takes a few seconds for our written tags to completely dry and show a mirror-like finish. So, this marker is a reliable choice to have shiny and beautiful plant labels. Plus, I find no problem with its ink fading due to exposure to sunlight or rain.
Other than that, you can trust to use this set around and with small kids as it is completely safe and odor-less. In truth, this FLYMAX marker is qualified by EN71-3 standards for no heavy metals found in its formula. Without harmful chemicals, the product can join your little ones' DIY plant projects at school.
The only drawback of this otherwise perfect permanent marker is its ink running out a bit fast.
Pros
Extra-fine point measuring 0.7 mm, ideal for details
Acrylic tip works on plastic, wood, rock, ceramic, and concrete surfaces.
Offers no-leaking, no-smearing, and quick-drying ink
No fading issue caused by exposure to sunlight or rain
No heavy metals, harmful chemicals, and odor-less, certified by EN71-3 standard
Cons
The ink may run out fast.
It is hard to resist such great garden marking pens from FLYMAX. We can enjoy our projects with labeling plants thanks to its smooth and safe use.
6. Whaline Plant Labels with Gel Pen
The process of selecting and making plan labels can be time-consuming and tiresome. Knowing such a struggle, Whaline offers the ultimate convenience in a package of 200 T-Type labels and 2 gel pens for us to use right away.
We can never go wrong with this plant tag design as it affords a safe and beneficial method to mark the plants. In detail, their fragile roots will not be hurt by too-sharp edges. And the soil will not be damaged, like with most metal labels.
Furthermore, these T-type pieces are made of Polyvinyl chloride – a durable material that can resist water intrusion and stand up to sun rays. And since they are bendable, it is unlikely for them to break any time soon.
Best of all, two gel pens included in the package are an excellent complement to these tags. Their black ink presents well on the grayish-white surface, and the smooth tag allows us to write fine and detailed lines with high precision.
With 200 pieces of labels, measuring 2.36 inches x 3.94 inches each, there is a scope for creativity that we can explore. Drawing cute doodles, writing plant names in calligraphy, adding price tags, and more fun activities are all possible with this convenient package.
However, both these labels and gel ink can hardly survive strong winds and pouring rains. So you might not want to leave them outdoors when the weather conditions become too harsh.
Pros
T-Type label design does not hurt fragile roots and soil
Polyvinyl chloride labels can withstand water intrusion and sunrays
Durable yet bendable tags for long-lasting use
Black ink writes and shows well on smooth grayish-white labels
200 large labels for various uses: drawing, writing, or adding price tags, etc
Cons
Should avoid strong winds and pouring rains
Overall, if you want to shorten the selection of plant labels and permanent markers in half, go for this cost-effective and convenient package.
7. Sharpie 39108PP Permanent Marker
Once again, we stumbled upon a unique pair from Sharpie. After utilizing it to create plant labels for some time, I come to the conclusion that it holds up better than expected. So here it is – the Sharpie 39108PP Permanent Marker.
If a black marker is not your pick since your hand-made labels are in dark colors, this silver-ink pen can be your call. It produces shiny, visible, and opaque lines on different surfaces, giving beautiful gloss to your garden decorations.
We should never doubt Sharpie's product quality as this marker features stable writing tips, promoting no shaking and smearing. Furthermore, its design affords comfort with standard pen size and ergonomic shape.
Most importantly, its ink, once dried, can resist water, thus staying readable under light rains when placed outdoors. The reason why we can call this product a permanent marker as it remains clear and neat over time with no fading issues.
Besides, we can trust and utilize this Sharpie pair since it is free of toxic chemicals that can cause harm to our health and the environment. In fact, it receives AP certification for art materials, so we are guaranteed worry-free use.
However, in extreme weather conditions, the sheen ink can lose a bit of its clarity. So, it is not highly recommended for prolonged exposure to UV rays and heavy rains.
Pros
Appears shiny and opaque on dark labels
Stable writing tip, no shaking, and smearing
Comfortable design with standard size and ergonomic shape
Dried ink can resist water.
Permanent ink that resists fading
No toxic chemicals, AP certified
Cons
Not highly recommended for extreme conditions.
Although this Sharpie maker is not the ultimate option for gardens located in areas with harsh weather, it performs well for our DIY projects to decorate our plants.
8. FLYMAX White Paint Pens
Not originally produced for plant labels, but the FLYMAX White Paint Pens are widely-loved by gardeners due to their water-resistant and environmental-friendly formula.
Before you explore more about this option, make sure that a marker with a medium-sized tip creating thick and bold lines is what you need. Compared to all permanent pens above, this one's point is twice, or even three times, bigger as it measures 2.5mm.
As expected, we can enjoy a smooth writing flow with its round tip and large ink supply. Also, this premium product is quick to dry, within several seconds upon contact with any surface. If you purchase this collection for your little ones, worry not, as it does not often leak and smudge.
For many of us, safety is our priority when selecting art materials. If that is the case for you, opting for this one will give you peace of mind as it is approved by ASTM D-4236 and EN71-3 standards. That means the product contains no heavy metals nor adds potentially harmful substances without notice for customers.
Also, its white ink will create some fantastic effects on your black or dark-shade plant tags. You can write it on multiple surfaces, be it ceramic, leather, metal, or directly on rocks.
You might already expect that these pens are too thick for small and detailed writings. So it will not look good, or even readable, on small-sized plant labels.
Pros
Features a 2.5mm tip for thick and bold strokes
Smooth flow with a round tip and large ink supply
Quick to dry and no leaking or smudging
Contains no heavy metals nor adds harmful substances without notice
White ink adds effect on black plant tags.
Ideal for ceramic, leather, metal, rock, etc
Cons
Thick lines are not for small and detailed writings.
If you want to add some cute drawings to your small tags, it can be difficult with this pen. But believe me, other than that, this product stays among the best garden markers with white ink.
9. A.M. Leonard Hort Nursery Pen
The next option for you to make easy-to-see and long-lasting plant labels is the A.M. Leonard Hort Nursery Pen. It is mostly used to mark young plants for sales.
This marker is available in black; hence, it is the best choice for bright-color tags. Since its tip slides smoothly, we can freely create beautiful calligraphy or simple writing on our handmade plant labels.
If you work on a DIY project with your kids, you can confidently let them use this marker. We should not be afraid of them creating a mess since the pen's ink formula is fast-drying and non-smearing.
Also, many gardeners choose this nursery pen to label their young plants due to its long-lasting ink. In truth, you can leave your buckets of flowers with cute name tags written by this marker out in the open for a whole spring, and its ink will barely fade out.
What sets this product apart from other permanent markers is its extra-fine point. Its tip is small and robust enough to produce tiny lines on a medicine bottle label. So if you plan to create small-sized and cute T-Type tags, this model is what you need.
Just a heads up, you might want to use this pen within a short duration, or make sure to store it the right way, since its ink can dry up pretty fast.
Pros
Available in black color for writing and drawing
Non-messy nursery pen with fast-drying and non-smearing ink
Long-lasting and fade-resistant ink for outdoor uses
Features an extra-fine point for small-sized plant tags
Cons
Should not leave the cap off for too long
Whether you need a marker for your large-scaled nursery or small garden, this best permanent marker for plant labels can write clear and neat lines for you.
10. Burpee Garden Labels with Marking Pen
Our final recommendation is another set of well-made labels and marking pen for use right away from Burpee.
If you want to quickly label your young plants for sales or name a huge number of different seeds in your garden, it is best to go for a package like this. So, there is no need to adventure out to find materials for hand-made plant tags, then scour different stores to find a suitable marker.
The T-stake tag comes with a simple design, made with sufficient space to write down flower names or prices. Also, we can stick this piece into the soil without damaging plant roots.
Besides, these tags are made of plastic, thus sparing us much worry about rust and corrosion hazards that most metallic labels bring. Each one is double-sided for convenient use, in case you want to write information on both surfaces.
Regarding the Burpee marker, the product can provide fade-resistant written lines that are hard to erase. Elements such as water and sunshine will pose very few damages to your labels since this pen's ink is moisture and sunproof.
Although this marker does an excellent job on plastic labels included, it fails to write smoothly on multiple surfaces, including wood, rock, ceramic, and more.
Pros
The convenient package includes T-Stakes labels and a marker.
Ideal label design for writing
Plastic labels do not post rust and corrosion hazards nor harm plant roots.
Burpee marker provides fade-resistant lines.
Withstands water and sunshine well
Cons
Not ideal for use on surfaces other than plastic
All in all, we can all agree that this package is incredibly convenient for use on large-scale marking tasks. If you own a nursery and plan on putting a price tag on those young plants, this product can come in handy.
What to Look for When Buying Permanent Plant Markers
Searching for the best plant markers might not be that tricky and time-consuming if we know what features are essential.
Weatherproof – Since we surely put our plants outdoors for them to soak in the sunlight and light rain, our permanent markers must withstand changing weather. We can opt for weatherproof markers that are formulated for garden and nursery uses. Or else, picking standard permanent with sun and waterproof features makes excellent sense, too.
Maker tip – If you intend to decorate small plants with adorable tags, it is best to select an ultra-fine marker tip that produces thin and smooth lines. Such pens often measure around 0.5 to 0.7 mm, allowing us to draw doodles and writing beautiful calligraphy on small-sized labels.
But if you plan to create bold and opaque strokes, garden row markers with thick and round tips are highly recommended. These pens make sure that your labels can be seen from a distance as their points often range from 0.9 to 1.1 mm and more.
Besides choosing the tip size, make sure you go for the durable one that can withstand pressure, so it will not damage easily when we write.
How Do You Make DIY Plant Labels Using Permanent Markers
It is essential that we choose suitable markers after deciding on the material of your garden plant labels. Do you make hand-made wooden tags? Or do you prefer writing directly on ceramic or glass buckets? Some of us might have bright ideas for writing on beautiful rocks in the garden to mark our flower seeds. It's your call.
When we already know which type of labels we will make, it is time to pick the right marker and enjoy some fun time writing plant names. You can put some cute drawings of the plant's leaf, rather than just putting its name down. Plus, permanent markers with various colors and shiny finish can make the tags look more beautiful.
When the task is done, make sure you carefully stick the labels into the soil without damaging the plant roots or take up space for the plant to grow.
Conclusion
Marking your plants can be fun as long as you have the right accessories for the job. Either you are looking for metal plant markers or wooden nursery pens, I hope you already have the right pick in mind. After purchasing the best permanent plant markers, start decorating your gardens, teaching your kids something new, or growing vegetables for your family's healthy meals. No matter what you plan to do, we wish you can do them with much joy.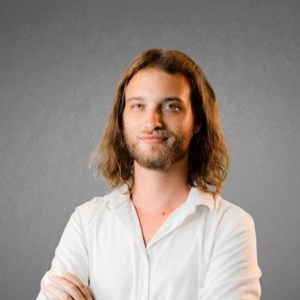 I am a former art teacher, so it is evident to me the importance of art in educating the new generation. We also want to help parents who plan to teach their children and desire the best tools and tips for them.