Art comes in all sizes and shapes, among which watercolor markers art seems a popular choice amongst artists, amateur or otherwise. There's always a challenge, however, in picking the best watercolor brush pens that allow you to create art, but also save time and money. No matter if you're just starting out or have been at it for however long, finding the right equipment is never that easy.
To that end, I have personally handpicked 10 sets of watercolor pens to experiment with. The reviews of these sets, alongside a product buying guide, should help you narrow down your choices and make the journey of finding your next favorite toolset much less painful.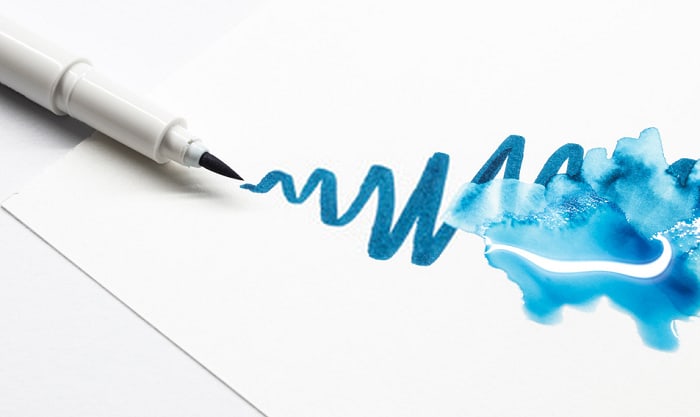 I am what you might say a semi-professional artist, who has taken up painting as a hobby but somehow decided to turn it into a side hustle. While I can experiment with a lot of different options since I'm under no pressure to produce, having the right gear on hand is still important to me and my work, especially when the orders come rolling in.
Watercolor brush markers have become increasingly popular among the art communities, not only for their affordability but also for their convenience and mess-free applications, unlike most traditional painting kits.
The products I present below will tend to offer enough versatility and the right level of quality that any type of artists, professional or amateur, can count on.
Here is a List of Top 10 Watercolor Brush Pen Reviews
1. Benicci Watercolor Brush Pens
Including a set of 25 colors, you really can't go wrong with the Benicci watercolor brush pens. The colors are vibrant, suitable for a variety of arts, including calligraphy and other traditional forms of art.
I chose this set because of the number of colors I could get for so low a price. But more importantly, it was the bonus add-ons that caught my attention. This kit comes with a refillable brush pen, a watercolor paper pad and a carry case, which is extremely convenient for when I want to take my work with me just about anywhere.
Another thing I like about this set is the superbly flexible brush tips, which are perfect for drawing both broad and thin lines, and smooth transitioning in-between. They also hold their shapes rather well, even after a lot of uses.
100% toxic-free, these watercolor paint pens are also a great ingredient for my bonding time with my niece and nephew. While they're not exactly artistic, the colors never fail to put a smile on their faces.
The one drawback of this kit is that the sharpness of the pigments can lessen as more water is added. This means that multiple applications are a must before my artwork is rich enough for public display (and by public, I mean my family).
To summarise, below are the pros and cons of these watercolor brush pens.
Pros
Non-toxic and safe for children
Comes with add-ons including watercolor paper pad and carry case
Suitable for various types of art including calligraphy
Flexible tips for ease of painting and writing
Fine tips for detailed work
Cons
Colors fade if too much water is added
Overall, if you're after reasonably priced watercolor markers for beginners with lots of extras to kickstart your artistic pastime, give these a go and you won't be disappointed.
2. DecoSpark Calligraphy Watercolor Brush Pens
This is the kit I started out with as they are basic but the quality is still top-notch. The brush tips are real and offer a degree of flexibility and softness that allows me to adjust the thickness of my strokes quite easily. This is particularly important for calligraphy. It has also helped create a great many paintings that are in no way different from what I would have created with real brushes dipped in paints squeezed out of a tube.
The brush tips are highly durable, not showing any signs of damage and consistently holding their shapes thus far.
The set comes with 20 colors, which is more than I would ever need, though there's a lack of pastel colors that would have come in handy for more complex pieces of artwork. That said, if you're only going to use them for calligraphy, what you get with this kit should suffice.
Warm colors that come with it are brilliant and easy to blend, with just a single water brush pen. This water brush pen is included and can be used to blend and mix various colors to create interesting effects. Cool colors are more challenging to blend, however. A little more time and patience is required to get the desired effect.
DecoSpark prides itself on its top-grade materials that create products of outstanding quality. Effectively sealing is also in place to prevent ink from leaking. Paints also take a shorter time to dry, allowing for time-efficient painting. Not that I don't want to spend much time on my hobbies, but when producing to order, I do need time on my side.
Pros
Great for multiple purposes, including coloring, doodling, illustrating and calligraphy
Comes in 20 vibrant colors
Real and flexible brush tips for greater painting effects and executions
Includes a water brush pen used for blending colors
Easy to wash and clean up with plain water
Effective sealing to prevent leaks
Water-based, non-toxic and odorless, suitable for children
Cons
Cool colors can be hard to blend
All in all, the DecoSpark watercolor brush pens are versatile and useful for artists, no matter the skill level. If you're in need of a no-frills watercolor paint set, you can't go wrong investing in one of these sets.
3. Ohuhu Watercolor Calligraphy Brush Pens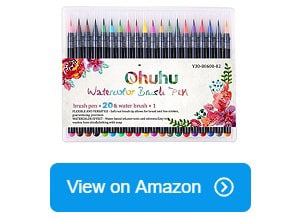 The devil is in the details. It's the fine lines and tiny shapes that make some of my paintings more interesting than others. And I could not have done that without the versatility offered by this painting kit.
The fine tips really do pack a punch when it comes to intricate artwork filled with laborious details. They are flexible and have not failed to impress me with their ease of use, be it for painting, coloring, lettering or calligraphy.
Coming in 20 colors, and a water coloring brush on top of that, this set offers me enough tools to carry out my art project, no matter what it is. The water brush pen allows me to mix and blend various colors to create new and exciting ones. So even if you can't find your favorite color in the set, don't sweat, just make it yourself. Then it would be your own true creation.
The water brush pen can also deliver watercolor effects that are out-of-this-world and truly amazing. Odorless and free from toxic, these watercolour markers can also be enjoyed by the children in my family.
To sum it up, the main pros and cons of the Ohuhu Watercolor brush pens amount to the points below.
Pros
Fine and flexible tips, perfect for calligraphy
Comes with a water brush for mixing paints
Odorless and free from chemicals
Cons
Some colors harder to blend than others
4. Artezia Watercolor Brush Pens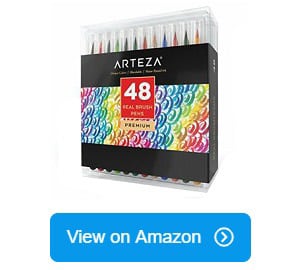 If you're looking for something a bit more lenient on your hip pocket, these Arteza watercolor brush pens have got to be the way to go. It is so affordable I only need to raid my piggy bank for a handful of gold coins to finally get my hands on one.
The water-based paints in these pens help add some brilliant and popping colors to my artwork. They are extremely easy to use and when used right, are highly effective. The pens are also amazingly comfortable to hold, allowing me to go for hours on end without even a little bit of fatigue.
The tips of these pens are real brushes, offering the same effect as the conventional paint brushes. The fine and supple tips allow me to get cranking on the details of the art pieces. The paints flow smoothly, with no disruptions or inconsistencies in the brush strokes. This is particularly important as I go about producing more hand lettering projects for my clients.
The best thing about this kit is the number of colors it includes. There are very few options out there where you can get the same amount of colors for the price it's currently going for.
Altogether, below is a summary of the main pros and cons outlined in the Arteza brush pens review above.
Pros
Comes in 48 colors, a real value for money pack
Vibrant colors that can be mixed
Fine and supple tips for great detailed work
Free from odors and harmful chemicals
Cons
Basic plastic packaging, unsuitable for transporting
Overall, if you're searching for the most bang for your buck, this value pack by Arteza is worth the extra you need to pay, especially given the number of colors you will get without the need for separate buys.
5. Genuine Crafts Watercolor Brush Pens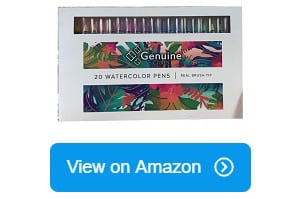 The Genuine Crafts watercolor brush pen set offers great value for money, with top-grade quality that should last a long time. I like the real brush tips, made from flexible nylon, which allow for a smooth transition between thick and fine strokes, perfect for calligraphy.
The nylon tips are well worth the money as they last through a large number of uses without spread or smear. They are fantastically durable and easy to care for. The pens are also well designed, with a leakproof and mess-free guarantee for me to easily use it on the go, making my job easier and more timely.
I would recommend though, that if you plan to take this set with you everywhere, do refill your water brush pen as there are certain watercolor effects that can't be achieved without adding a bit of water to the mix. It's also important to remember to store these pens correctly. I have seen a lot of complaints with regards to the pens drying out. While that could be a nuisance, the way you store these pens do have an impact on their lifespan. Purchases often come with instructions on how you should keep them, so please follow these instructions and your brush pens will stay as pristine and new as when you first bought them.
If you're not happy with them whatsoever, make sure you make use of the guarantee programs that often come with your purchase.
To sum it up, below are the pros and cons of the Genuine Crafts watercolor brush pens.
Pros
Good quality and great value for money
Flexible real nylon tips with softness
Smooth transition between broad and thin strokes
Durable and easy to care for
Leakproof and mess-free, suitable for both adults and children
Cons
Can dry out first but avoidable if you follow the care instructions
Overall, the Genuine Crafts watercolor brush pens are a great option if you have a constrained budget but don't want to compromise on quality and lifespan.
6. Doodle Hog Watercolor Brush Pen Gift Box
With 48 colors in the pack, the Doodle Hog Watercolor brush pens are a budget-friendly kit, but with integrity and quality for both serious or amateur artists. If you're a professional, investing in one of these kits is a smart decision. From just a few drops of water, the sky's the limit when it comes to the number of colors I can create yourself, by mixing the vibrant colors that come with the kit. The intensity of the colors is also retained, no matter how much blending I do.
The flexible tips with high-quality brushes also allow me to get down and dirty on business with intricate work of details. They offer a smooth transition between broad and thin lines, without streaking or smearing, helping to add a professional touch to my otherwise amateur artwork. This kit is terrific for coloring or calligraphy, though because of the soft tips, I don't recommend them for lettering. There's also a need for care and patient execution of these pens if you want to use them for intricate details.
The kit comes with 2 refillable water brushes, which is one more brush than I would have got from a standard kit. While that doesn't sound like a big deal, having double the amount of water offers me a lot more opportunities to get my artwork completed on the go, without ever running out of tools.
There's not a lot of information provided by the seller with regards to the chemical makeup of these brush pens, but because they are water-based and from a lack of odor, I would assume that they aren't made with harmful chemicals. However, it's highly recommended that you do some research before letting your children play with them.
To summarise, below are the pros and cons of the Doodle Hog Watercolor brush pens.
Pros
Great value for money with lots of colors and a small price
Top-quality tips and brushes for smooth strokes
No streaking or smearing
Works with or without water, convenient on the go
Versatile tips for creating both thick and thin lines
Comes with 2 refillable water brush pens
Cons
Soft tips that aren't suitable or lettering
Lack of information on the chemical makeup, or lack thereof
Overall, the Doodle Hog Watercolor brush pens are a must-have if you're serious about creating art. With this high-value, budget-friendly and feature-packed kit, you get to focus more on your creativity and leave the hard work to it.
7. Chalkola Watercolor Brush Pens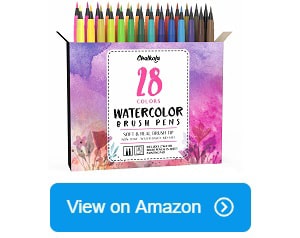 The Chalkola Watercolor brush pens provide a great solution for my commercial artwork as they are equipped with real brush tips that provide interesting effects with each application. The colors are vivid, allowing for blending and mixing without reducing the effects they offer.
This kit also comes with a painting pad, providing a platform for my creativity to run wild without the need for investing extra money in a separate buy. The sketchbook is of a good size and premium quality that goes well with the brush pens. The paper is thick and acid-free, perfect for both dry and wet applications without bleeding.
These brush pens are also perfect for a great many types of painting and art, including coloring, lettering, sketching, and calligraphy. They also don't take long to dry, preventing smudges that I often see happening with a gel pen or oil-based paints. This is particularly important when I need to take my work on the go. As inspiration hits, I can instantly transfer my ideas onto my pad and conveniently slip it back into my backpack afterward, without having to wait for the ink to dry.
While this kit is perfect for the child in me, it also works for the children themselves. The paints are water-based, so chemicals and odor are non-existent, rendering it a safe set of watercolor brushes for both adults and kids.
I also like the risk-free guarantee that comes with this kit. The seller is fast to replace my dry pens with new replacements, free of charge. If you're after something with a bit of assurance, this set is the way to go.
In a nutshell, below is a summary of the pros and cons of the Chalkola Watercolor brush pens.
Pros
Comes with a quality painting pad for immediate start
Suitable for a variety of art projects including coloring, calligraphy, sketching, etc.
Water-based paints, free from chemicals and harmful odor
Real nylon brushes with top-notch quality to avoid smearing and streaking
Free replacements for damaged brush pens
Cons
Some colors require more effort to blend than others
All in all, there's little to fault this kit for. With its premium quality and a high level of practicality, you can let your creativity run wild without the extra work of cleaning up.
8. Vacnite Watercolor Brush Pens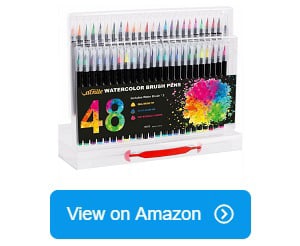 This is yet another kit that offers me a great deal to satisfy both my hunger for art and my hip pocket. It comes with a great selection of lively colors and two refillable water brush pens, allowing for limitless blending and applications.
The soft and versatile brush tips have accompanied me in an array of art projects, still remaining vibrant after multiple uses. Spreading, smearing and smudges are of no concern to me at this point in time. The water brush pens are particularly useful for taking my artwork on the go. They allow me to add interesting-colorful effects to my work with a simple dab of the water brush pen.
The paint flow is superb, allowing me to move from thick to thin lines, and vice versa, without disruption or inconsistency in the strokes. The paints also take very little time to dry completely, allowing for smudge-free applications. The durable nylon materials used to make these brush tips also mean that they are easy to clean and care for.
Though from a professional's point of view, these brush pens are invaluable since they are most certainly perfect for any skills level or purposes, from adults to children, amateur to commercial artists. Besides, they are also great for a variety of art types, from calligraphy to coloring, sketching, painting and so on. The fact that they are non-toxic and odorless is also great for use among children.
To sum it up, below are the pros and cons of the Vacnite Watercolor brush pens.
Pros
Comes with 48 colors, offering great bang for your buck
Premium quality brush tips for frequent uses without spread
Comes with 2 refillable water brush pens for abundant applications on the go
Non-toxic and free from odors
Smooth paint flow and brush strokes for consistency
Flexible soft tips for easy application with no force
Cons
There are disproportionately more dark colors than lighter ones
Overall, if you want a great deal more for a whole lot less, these Vacnite watercolor pens for beginners are worth considering for their durability and versatility in what they allow you to create.
9. Crafty Croc Watercolor Paint Brush Pens
The Crafty Croc Watercolor brush pens come in 24 vibrant colors, and that's ample for me personally. These colors are easy to blend, with a simple dash of water from the water brush pen.
This kit comes with 2 water brush pens, which means a higher level of convenience and more uses before I have to refill. These two water pens also come in different sizes, allowing me to produce numerous colorful effects with different types of techniques.
Another great thing about these water brush pens is that they work on Watercolor pencils or crayons as well. This is a great level of versatility that few painting kits offer. If you have children who are into their Watercolor crayons, this is the perfect way to introduce them to a new, fun way of creating art.
The pigments are so vibrant no matter how much water is added, still they retain their intensity. The brush tips, made from flexible and soft nylon, are highly durable and perfect for a variety of applications, from painting a large-scale project to intricate work on details and fine lines.
I also like the hard case these pens come in. It provides a great solution for taking my hobby with me wherever I go. It helps me to keep things organized and easy to find the moment I need them. It also comes in handy if you have kids at school age. It is lightweight and fits perfectly in their backpacks, allowing them to participate in art projects at school while still having their own favorite painting kit with them. The water-based non-toxic paints also help to keep your kids out of harm's way as they go about their art production.
In a nutshell, below are the pros and cons outlined in the Crafty Croc watercolor brush pen review above.
Pros
Lively colors blendable for limitless color options
Comes with 2 water brush pens of different tip sizes, usable on Watercolor pencils and crayons
Flexible nylon tips with durability and long lifespan
Comes with a hard case for easy storage and carrying
Free from chemicals and odors, perfect for children
Cons
Tips can be too soft for intricate details
Overall, the Crafty Croc Watercolor brush pens are a versatile option, made for multiple purposes and artists of all ages. If you're searching for durability, convenience, and top quality, this kit is definitely worth your while.
10. PaintMark Real Brush Pens
The PaintMark brush pen set is my absolute favorite for its vibrant set of colors. While they are fast to dry, the colors maintain their intensity once they've set in. This is particularly important as it doesn't require me to apply multiple layers to get the desired effect. As a result, it helps save time, effort and ink, allowing for a prolonged lifespan.
If you're like me and can never avoid getting paints smeared all over your hands no matter how hard you try, these paints can be easily cleaned off with water. This is a lovely surprise as the pigments are oil-based, so I was expecting it to be harder to remove with water, compared to their standard water-based counterparts.
As they are free from toxins and odors, the paints are completely safe for my skin as well. If you have kids who have a knack for art, or just want to have fun, there's not a cause for concern as they mess with these pens.
The only setback about this kit is that it doesn't include a water brush pen. If compared to other standard kits that offer the same amount of colors for similar prices, this can be a serious disadvantage. That said, it offers its own uniqueness, with top-notch quality and the range of colors you need. Having to fork out a couple of extra dollars for a water brush pen probably won't hurt your pocket too much.
To summarise, below are the pros and cons of the PaintMark Watercolor brush pens.
Pros
Colors with high intensity for easy blending without fading
Suitable for a wide range of uses
Including metallic colors for special effects for calligraphy
Money-back guarantee for peace of mind as you shop online
Fast to dry
Cons
Water brush pens not included
All in all, this PaintMark watercolor brush pen set is ideal for calligraphic art, with the vibrant and unique set of colors it offers. If you're seeking a simple kit for complex art projects, this kit can quickly become your favorite.
What to Look for When Buying Watercolor Pens
If you have decided to pursue Watercolor painting for a hobby, or are an active participant of this craft, knowing what to look for when choosing the best watercolor pens is as important as the artwork itself. To help you find the right watercolor painting kit, below are some factors to consider as you go shopping.
The right number of colors
It's important to consider the nature of your work and determine the number of colors you really need before paying up for the first kit that comes your way. If you're in need of a set to help kickstart your calligraphy project, you probably won't need a whole lot more colors than you would for vibrant realistic portraits. While paying a bit extra for a lot more colors represent great value for money, the colors you hardly use will remain untouched to the point that they would dry out before you decide to give them a go.
Tool toxicity
Tool toxicity refers to the level of chemicals used in producing a watercolor brush pen. This is extremely important if you are buying them for your children, or know that at some point these pens will be used by them.
Most watercolor brush pens are free from chemicals and emit very minimal odors or fumes, given the advanced technologies used to create these pens. However, it's dangerous nonetheless to assume that every paint kit is non-toxic and odorless. It's important to check the product details for confirmation from the manufacturers before you purchase. Alternatively, you can carry out your own research to find brands that are best known for their low tool toxicity, then try to find their products and where they are sold.
Product features and what it includes
If you're after maximum value for the money you're willing to spend on a kit, it's worth learning what features or components are included in a product kit.
If you're a beginner and just want a no-frills way to take up your new hobby, an all-inclusive kit with water brush pens and painting pad can be an ideal option. This way, you can reduce the outlay you have to fork out for a kit as you're working out what is best for your painting style and projects.
On the other hand, if you're a professional artist who knows what they need, shopping around can help you ensure that you get the most bang for your buck. I often look at the specific colors that come in the pack and ask myself how many of those colors I would never touch. The kit I end up purchasing would often be one with a higher number of colors I know I would use. This is a simple buying tip I'm sharing here as we all want to get the best value for our dollars.
Replacement policy
Most sellers or manufacturers will have a policy in place to deal with damaged or unsatisfactory products, such as when the brush pens dry out too fast or the paints don't flow. Most of these policies allow customers to request for a replacement free of charge. But no two guarantee programs are the same. It is thus important to check what policy is offered before you purchase a kit.
Other Important Factors to Consider
What is a watercolor brush pen?
A watercolor brush pen is a system designed to store watercolor pigments and deliver it at the same time. Imagine a tube of paint and a brush. If you put the two together, you will have a watercolor brush pen.
This invention has given artists such as you and me a very convenient option for producing art, but without the mess of the traditional "paint and brush" system. These watercolor brush pens are easy to store and conveniently put to use with just one simple gesture of pulling off the cap.
They are also designed to work well on the go, accompanied by water brush pens, used to mix colors or to add special effects to your painting.
How does it work?
Watercolor brush pens consist of two main components: a container which is the body, used to store pigments, and the brush tip, which acts like a paintbrush, used to deliver, mix and apply pigments to paper. Watercolor brush pens can be applied directly to paper. The time-efficiency lies in the fact that you don't have to dip it into a separate container of pigment and water. You may not even need a container of water if your purchase comes with a water brush pen.
Water brush pens are extremely versatile and can be used in more ways than one, though their primary purpose is to add interesting effects to your artwork. You can use it with normal pigments as you would with a brush itself. You can simply dab it in the pigments to pick up the colors, then apply them straight to paper. In the same way, they can also be used to lift colors from watercolor pencils or crayons and apply them to paper. Alternatively, you can use them to blend and lift colors from the paper by applying them directly on top of the pigments that you have already applied to the paper, either with a watercolor pencil or crayon.
Who is this for?
There's no restrictions to who should or can use these watercolor brush pens. If you're a professional artist or just someone who is into art for recreational purposes, watercolor brush pens are a great option for you.
They are designed for creators of all ages, from adults to children, for they are easy to use, free from mess and don't take much more than plain water to clean up. Most watercolor brush kits on the market are also free from chemicals, rendering them perfect for children or individuals sensitive to strong odors. It's highly recommended that you read the product details carefully, however, as you go about your shopping. While it's often assumed that water-based pigments are toxic-free, it's worth checking before presenting your credit card.
What are the different types of watercolor pens?
Watercolor brush pens can be either oil-based or water-based.
Water-based paints are characterized by the binding mediums used to suspend and keep pigments together. In most cases, these paints are more environmentally friendly, emitting less fumes and odors than their oil-based counterparts. They also dry faster and can be washed off easily with plain water. Oil-based pigments, on the other hand, are bound by oil, often Linseed oil. They can take longer to dry but once set in, they are highly durable and resistant to abrasion, water, and sunlight. They are harder to clean up with just water.
Most watercolor brush pens are water-based, thus extremely easy to use and clean. However, you will also find a few options out there that includes oil-based watercolor, which carries a bit of benefits and risks of both oil-based and water-based paints. Their pigments can be more vibrant and intense, though also harder to wash off if they get onto your skin. They can take a tad longer to dry, but once dried, they are harder to lift with just water. Unlike traditional oil paints that come out of a tube, the technologies used to produce these markers also allow for a reduction of chemicals and fume emission. So even if they are oil-based, most watercolor brush pens are safe for children. Oil-based watercolor also means that they can be more versatile and easily applied on various other surfaces other than paper. They are still watercolor, however, so the types of canvas they work can go on are still limited.
In most cases, water-based brush pens are perfectly fine for whatever paper-based projects you have in mind. But if you're after something a bit more durable and resistant to the elements, it can be worth considering an oil-based watercolor marker set.
Why do you need watercolor markers?
Watercolor markers are designed to aid artists in creating art without the usual mess of a conventional system that requires as much time to prepare and clean up as it does to produce an artwork. They are easy to pack and unpack, convenient for artists to bring their work on the go.
Frequently Asked Questions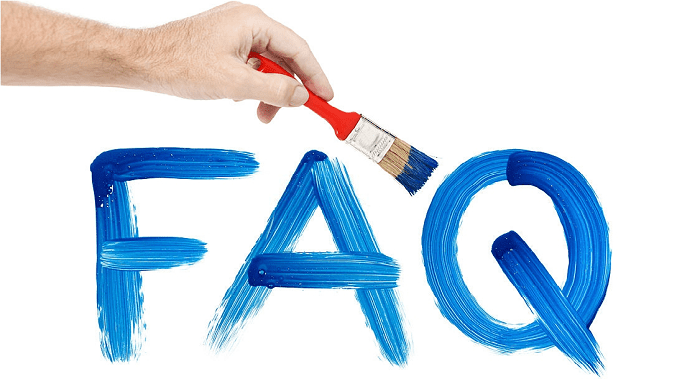 What are the most trusted watercolor marker brands?
We are blessed with a whole host of choices when it comes to watercolor brush pens, but the most reputable brands include Winsor & Newton, Ohuhu, Magicfly, Arteza, and ColorIt watercolor brush pens. With information readily accessible on the internet nowadays, it's easier than ever to learn more about the science that goes into producing each watercolor brush pen. Do conduct your own research on each brand before trying them out. If you're lucky enough to find your favorite brand, stocking up on supplies will be much easier.
What pens to use with watercolor?
From time to time, there will be a need for using waterproof pens on watercolor, be it for touching up a piece of artwork with fine details or for making it pop with bold outlines. There is a wide array of such waterproof pens in the marketplace, but not all are made equal. It's worth trying out a variety of brands and products to find what works.
How do I use watercolor brush pens?
Watercolor markers can be used just like any other markers, though they require a few simple steps below to facilitate paint flow before you can start to produce colorful effects with them.
Shake the pen well before you use it
Pull off the cap and press the nib against a piece of paper until you start to see some ink coming out
Dip the brush pen into the water container
Test the pen to ensure you have achieved the right paint flow and consistency in the strokes
If your product comes with a water brush pen, you can apply it on top of the colors already on the paper to blend and mix them together
Where to buy?
Most manufacturers offer their products through independent retailers, so you may struggle to purchase these products directly from the manufacturers, even if you think that may help save you some dollars.
Don't despair, however! The market is packed with these Watercolor brush pens and they don't cost a whole lot. So you can easily grab one for less than $20 on eBay or Amazon. It's not easy to pick a product straight off the bat, however, as these online platforms are flooded with options. It's important thus to make use of the reviews provided above, on top of reading the customers' reviews for each product, to ensure you narrow down your choices effectively and go for the right watercolor markers most suited for your needs and budget.
Alternatively, supermarkets or specialty stores that offer art supplies are other places where you can find a good Watercolor paint kit. The main benefit of purchasing in-person is that you get to test these pens before forking out your hard-earned money.
What is the warranty?
Most products such as Watercolor brush pens don't come with a warranty, for the nature of the products. However, most reputable sellers and manufacturers should offer some type of guarantee, be it a money-back guarantee or free replacement in case of damage or unsatisfactory performance.
Ensure you have equipped yourself with sufficient information regarding the policies that come with a product before buying. If a seller doesn't offer a guarantee program, it's best not to go ahead with the purchase. Otherwise, you can proceed at your own risk or discretion.
How to care and clean?
Compared to the conventional "paint and brush" painting system, these watercolor brush pens are much easier to care for. The general rules of thumb are as follows:
Ensure you put the cap back on immediately after use, this is applicable even if you're just temporarily switching colors
Store your brush pens horizontally to ensure the ink doesn't congregate at the bottom of the pens
To clean your water brush pen, simply squeeze the water through the chamber until it reaches the brush tip, then wipe it gently on a towel or paper towel. Repeat this step into your brush tip is entirely clean.
Conclusion
Finding the right equipment for any type of hobby is nothing short of overwhelming, even more so when it comes to finding the right watercolor brush pen. Depending on your needs, budget and what you have planned for your next artwork, each set of best watercolor brush pens offers different features and benefits.
Notwithstanding, with the product reviews and the product buying guide outlined above, you can narrow down your choices and are one step closer to the perfect watercolor brush pen for your next art projects.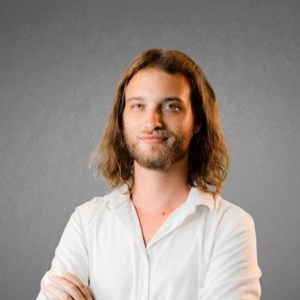 I am a former art teacher, so it is evident to me the importance of art in educating the new generation. We also want to help parents who plan to teach their children and desire the best tools and tips for them.