For artists, a sketchbook often functions both as a notebook and a journal. Its blank pages are breeding grounds for new ideas where techniques and mediums are tested. When used as a visual diary, these spaces provide a glimpse of the creative process and everyday scenes.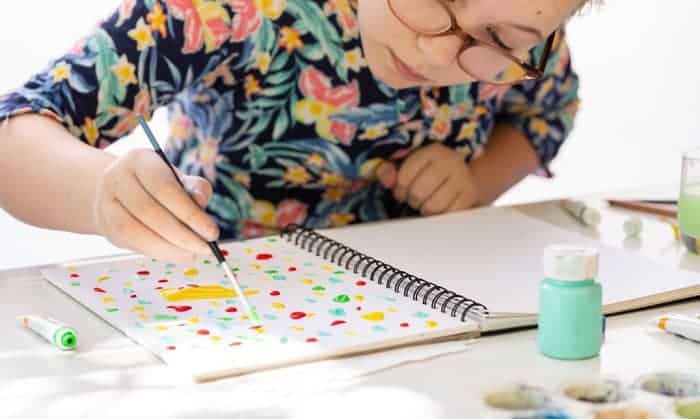 Typically, many artists combine more than two materials as they push the limits of their imagination. Therefore, the pages of their sketchbooks must be resilient to support multiple layers of wet mediums like watercolor and gouache. In addition, the surfaces need to work well with pencils and delicate marker tips.
For this article, let's dive into the best mixed media sketchbooks to see all the features and benefits of each product.

Best Sketchbook for Mixed Media Reviews
1. Canson XL Series Mix Paper Pad
A tight budget should never get in the way of making art. For many artists, this is the go-to mixed-media sketchbook for everyday illustrations.
If mistakes worry you, this brand of sketchbook promises superb erasability that allows you to comfortably develop your artwork. Even after multiple erasures, your drawing surface will retain a "good as new" quality for you to sketch and blend colors. On the other hand, the acid-free composition keeps your artworks vibrant for years.
Weighing 98 lbs, the sheets do not weaken even if you go wild with dry and wet mediums. Each page encourages you to play with more colors as it endures a couple of layers of watercolor without absorbing the liquid right away. At the same time, it also leaves the backside of the page clean and ready to use.
For pencil application, the fine texture makes the rendition appear a little grainy but a smudge stick can smoothen it out. Although this is not a marker pad, the considerably smooth paper can take in pen and marker inks while giving you good control in laying down the colors. No matter what medium you use, the colors appear vivid on white pages.
Thanks to the side wire binding, you can flip over the cover and prop the sketchbook flat on your lap or desk. Plus, the perforation gives you the option to tear a paper neatly or keep all the pages together.

Since this sketchbook does not specialize in one specific medium, it naturally falls short on certain aspects. For one, the watercolor causes the paper to warp. For another, the ink of blending markers bleed through the back of the page.
Pros
Can handle multiple erasures
Retains vivid color quality for years
Supports mixing and blending colors of any medium
Can be laid flat on your lap or desk
Pages can be torn neatly
Cons
Watercolor causes paper warping
Markers cause bleeding
As you can see in this Canson mixed media sketchbook review, the product's drawing space is decent for sketching and exploring various mediums. Because of its affordability and good erasability, you can work without feeling guilty about making mistakes.
2. Strathmore 300 Series Mixed Media Pad
Whether you are refining your techniques or developing ideas, this Strathmore mixed media sketchbook covers everything you need. Suitable for art students and professionals, its portable size lets you carry it anywhere you go.
Soft yet durable, the sketchbook has pristine white sheets that can make any color pop. Using markers, you only need a few layers to create a solid color without visible streaks.
Its vellum-like texture provides an even surface that does not harm the markers' or tech pens' fragile nibs. With fine texture, the sheet gives you better control when applying watercolor, gouache, and acrylic. Aside from that, the texture picks up color from the pencil's tip, which lays down beautifully on paper. As a result, you can bring out the depth and dimension of your illustrations.
Because the 117 lbs paper does not absorb the liquid right away, you get enough time to blend the colors. In most cases, marker inks and wet mediums do not cause intense bleeding. The only time the ink or paint will seep through the page is if your application is very heavy. After all, the sketchbook is intended for refining your skills and creating rough compositions.
With that said, bleeding can be averted by placing scrap paper underneath. Another plus point is that you can tear the sheet neatly thanks to the micro-perforation, and you can work on a loose-leaf.

All is good, except for the flimsy sketchbook cover. Its material makes it prone to folding and wrinkling when placed in a bag.
Pros
Renders solid color without visible marker streaks
Pristine white pages make the colors pop
Has a fine texture that goes well with most mediums
Medium-weight paper gives enough time to blend wet mediums
Does not cause intense bleeding
Cons
Flimsy sketchbook cover is prone to wrinkling
Exploring techniques, materials, and ideas diligently is a good way to advance your creative skills. Keeping a mixed-media pad like this one lets you practice on a reliable paper so you can get a closer idea of what your final artwork would look like on canvas.
3. Arteza Mixed Media Sketch Pad
Expensive products tend to pressure us to make perfect artworks to make the most out of them. However, perfectionism often gets in the way of learning. For beginners and art students, this affordable mix media sketchbook provides good quality papers to hone their artistic gifts.
Featuring a light texture, the paper catches the colors of pencils which makes shading and blending fairly easy. On that note, watercolors and acrylics stay on top of the sheet for a while so you can manipulate them to your liking. Nevertheless, the surface is amply smooth to render crisp lines with fineliners.
Also, the white surface brings out the true colors of your chosen instruments. Considering that this paper is in the medium-weight range, it is resilient in receiving liquids. Made of acid-free materials that are buffered with some alkaline reserve, this paper ensures that your artworks stay vibrant.
In terms of drawing space, the 9" x 12" page lets you draw illustrations and still make details visible. Like any spiral-bound sketch pad, this one is comfortable to use as it lays flat on the table. Although it is bulkier because of all the 120 sheets it provides, it fits in a backpack so you can bring it with you when you travel.
So far, the only problem I have with this sketch pad is that the alcohol-based markers seep through the paper. But then again, juicy alcohol-based inks are notorious for bleeding. It is certainly much better to use cardstocks or bristols for final artworks but if you are practicing, this issue should not bother you.

Another thing to note is that both watercolor and acrylics warp the paper. Taking these minor issues into account, the sketchbook is best used for practicing and rough sketching.
Pros
Suitable for beginners and art students
Displays true colors of your chosen mediums
Resilient papers that receive wet mediums well
Comfortable to use
Drawing space is big enough to add details
Cons
Paper warps when in contact with liquids
Alcohol-based markers bleed through paper
Offering 120 sheets in one sketchbook, it would take some time before you run out of pages to polish your skills and study different mediums.
4. Deviazi Mixed Media Sketchbook
With a ring binding placed at the top, this mixed media spiral sketchbook is appropriate for illustrations in portrait orientation. Not to mention, the format makes it easier for left-handers to work.
Although this product is meant for light washes, the light texture promotes good manipulation of both wet mediums and dry mediums. Yet the smoothness jives with the markers' nibs as they glide across the paper. In particular, the paper can hold the liquids from the wet mediums and inks of the markers on top, allowing you to spread and blend the colors.
In the case of colored pencils, the texture grabs the color on the nib as you shade. Using fineliners, it is not difficult to draw sharp fine lines because of the even surface. Due to the paper's thickness, the ink stays in place without feathering.
Moreover, your artworks will never fade or deteriorate because of the paper's acid-free composition. Even better, the paper maintains its strength regardless if you slather glue for collages. The combination of all these features will ultimately result in neat renditions that can stand the test of time.
You can pour your heart out in art-making and afford to make mistakes as this sketchbook contains 100 sheets. Slightly bigger than an A4 paper, you get a substantial drawing space to accommodate your wild imagination.

While the paper bends when soaked, it seems to fare better with acrylics than watercolor. Also, multiple erasures could snag the sheet. If you are using it to practice sketching or creating rough compositions rather than final artworks, this is not a big deal.
Pros
Appropriate for any skill level
Best used for practice sketching and rough compositions
Easy manipulation of wet and dry mediums
Thick and strong for collages
Offers substantial drawing space
Comfortable to use for left-handers
Cons
Paper snags after multiple erasures
Wet medium bends the paper
Addressing the needs of both left-handed and right-handed artists, the sketchbook's format handles most mediums properly. Appropriate for novices and professionals, this product gives you plenty of drawing spaces to practice your skills.
5. Bachmore Drawing Pad 9×12"
As an affordable mixed media pad, the overall quality of this product is acceptable for art classes and practice illustrations. Without further adieu, let's go through each feature one by one to see what this product has to offer.
Consisting of 100 sheets in a pad, every page is slick that the tips of the pencils and the pens move across it without a hitch. Drawing neat and crisp strokes with pencils is a piece of cake since the paper is smooth. Meanwhile, the fine texture grabs the colors evenly, which gives you control in shading your illustrations. Because of the smooth texture, it is a whole lot easier to render solid colors without feathering.
Since the paper is sufficiently thick, felt-tip pens and fineliners will not cause bleeding. On top of that, the stiff paper holds up nicely for collage artworks.
Owing to the hard front and back covers, this sketchbook's design guarantees that your drawing surfaces are protected. Moreover, it provides steady support so you can get a flat surface if you are drawing while standing up. With a spiral binding at the top, the format conforms to the needs of both left and right-handed individuals.

Given that this sketchbook is on the budget-friendly side, you can expect to experience a few quirks. For instance, rubbing your erasers several times would break the paper. It is also worth noting that layering and blending with wet mediums weakens the paper. At any rate, this product works best for rough compositions and mixed-dry mediums.
Pros
Plenty of drawing spaces
Optimal for rendering neat, crisp strokes
Works best for rough sketching and mixed-dry mediums
Suitable for collages
Budget-friendly sketchbook
Hardcovers provide support while you draw in the outdoors
Cons
Erasures weaken the paper
Difficult to use for layer and blending wet mediums
Providing you a hundred pages to draw on, the sketchbook has decent quality papers that can work properly with mixed-dry mediums and collages. At an affordable price, you do not need to empty your savings just to refine your skills.
6. ECHR Mixed Media Sketchbook
Believe it or not, every surface of this sketchbook is a space for you to flaunt your artistic talent. Made with vegan-friendly materials, you can be sure that this product does not harm the environment. Does it have what it takes to be the top-rated multimedia sketchbook?
Wrapped with pure cotton, the case cloth of the hardcover is a canvas that you can customize to show more of your unique personality. More importantly, the endpapers are the same as the 100% hot-press cotton drawing pages. Here, you can draw an opening spread or a title page.
Taking in the pencil well, the white surface makes light sketches visible and does not smudge the lead. With minimal texture, the paper grabs the colored pencils and the pigments stay where you laid them down. Using fineliners, intricate details are painless to draw due to the smooth texture.
As for wet mediums, washes of watercolor or acrylic does not buckle the paper, which is why artists enjoy using this sketchbook so much. Maintaining a flat surface for you to work, it receives the paint evenly. Because it does not dry right away, you can effectively blend and layer colors.
Another nifty feature of this sketchbook is its journal-style format with a binding that can lay flat on the table or work on an entire spread. The acid-free content safeguards the quality of your artworks. Because of its compact size, it can fit most bags so you can make art on-the-go.

There are so many reasons to love this sketchbook but I wish the manufacturer would improve the binding. I noticed that the thread that binds the pages together is a little brittle, which makes it prone to breaking.
Pros
Customizable case cloth hardcover
Journal-style sketchbook that opens flat
Optimal for dry and wet mediums
Acid-free content safeguards the quality of artworks
Paper remains flat with wet mediums
Cons
Binding is not strong enough
For serious artists who want to bring reliable sketchbooks when they travel, this product is a perfect match. Expressing yourself in every part of this sketchbook, you get so much out of a single purchase.
7. Strathmore 500 Series Mixed Media Pad
Many artists consider this as one of the most favorite sketchbooks for mixed media. Judging by the brand's reputation, there is no doubt that this product can deliver. Anyway, let us see why it is beneficial for creative folks.
First of all, its 64 pages have a vellum-finish that is perfect for most types of pens, and therefore inks a pleasurable experience. Your strokes would appear neat and crisp as the paper prevents smudging. Furthermore, the smooth surface makes it convenient to render smaller details. Plus, it will not harm the sensitive tips of your pens.
In conjunction with the paper's thickness, each sheet endures wet mediums like watercolor, acrylic, and gouache. Since it effectively prevents bleeding, you can use both sides of the page. After sampling various coloring materials, the hues appear vibrant on the white pages.
Even for pencils, the paper catches the lead and displays your strokes well. Erasing your pencil sketches will not damage or leave marks on the sheet. Consequently, your illustrations will look much cleaner.
Looking at the sketchbook, the hardcover already gives the impression that it is a premium product. Appropriate for visual journaling or portfolio, the acid-free content protects your artwork against fading and deterioration. Besides that, its binding is secure so the sketchbook is not likely to fall apart.

Perhaps, the only minor inconvenience I found in this sketchbook is that it struggles to lay flat. However, this is one of the limitations of hardbound books in general, so it is something that I expected.
Pros
Enables you to render illustrations neatly
Vellum-finish makes it easy to render smaller details
Effectively prevents bleeding when using wet mediums
White pages display vibrant colors
Erasing pencil work does not damage or leave marks
Appropriate for journaling and portfolio
You can throw pretty much any medium on the pages of this sketchbook and it can take them all splendidly. Even though this product is not exactly cheap, its premium quality is definitely worth the money.
8. Arteza Watercolor Sketchbook
Square is an unconventional format for sketching since we often work on a landscape or portrait orientation. As such, it prompts us to think outside of the box. If you are up for the challenge, this watercolor sketchbook may just be what you are looking for.
Advertised as a watercolor sketchbook, you are not limited to only one medium as it has toothy pages, as well as smooth ones. On the toothy side, you get the upper-hand with wet mediums as the texture lets you play with painting techniques. Whereas the smooth surface helps you bring out more details in your intricate artworks.
Alongside the textures, the weight of 230 gsm sees to it that the paper can hold up with acrylics and gouache. Just the same, the smooth surface supports neat renditions of felt-tip pen as the thickness keeps the bleeding at bay. Prolonging the life of your artworks is the acid-free composition of this sketchbook's pages.
Design-wise, the beige linen wrap and the black strap gives the sketchbook a sophisticated look, which is an advantage if you want to use this as a portfolio. Aesthetics aside, the hardcover is durable enough to protect your precious illustrations against the elements. With a ribbon bookmark, it is easy to find the next page to work on.

Just a heads up: The textured and smooth pages are not arranged in any form of order, which can be confusing. On some surfaces, the eraser scratches the paper after rubbing a couple of times. While these imperfections may pose some learning curve, they don't get in the way of making art.
Pros
The toothy surface is great for painting techniques
The smooth surface helps brings out details
Thickness supports wet mediums
Prevents felt-tip pens from bleeding
Can be used as a portfolio
Cons
Different textures on every other page
Rubbing erasers scratches the paper
While this product is classified as a watercolor sketchbook mixed media is indeed its strongest suit. Despite its minor issues, it certainly does an excellent job of handling both wet and dry mediums.
9. Canson Artist Series Mix Paper Pad
As a well-known brand, it is not surprising that this Canson mix media sketchbook is winning the hearts of many artists. Weighing 224 gsm, it is crafted for a diverse range of dry and wet mediums. More than that, the sketchbook features two types of surfaces.
First, the fine texture is a nice surface to glide your pencils as it picks up the lead evenly. Inking is a breeze because the page is sufficiently smooth for the tips of markers and pens. Another benefit is that the inks do not feather, which makes it perfect for precise renditions.
Helping you achieve neat sketches, the paper makes light pencil drawings visible. Apart from that, multiple erasures do not peel the sheet. No matter how many times you make mistakes, you can be assured that the paper is in good conditions.
Second, the pages with medium texture enhance your control when painting with acrylics, watercolor, and gouache. With light washes, the paper buckles minimally but it holds up the liquid long enough for you to spread and blend. Since the sheet prevents the bleeding of liquid coloring materials, the backside of the page is completely usable.
Because of the durable wire-binding, the rings do not bend or dent while kept inside a bag. At the same time, this format allows you to focus on a single page if you flip over the cover and the other papers. On that note, you can detach the paper neatly if you want to work on a loose-leaf since each page is perforated.

Generally speaking, I really have no major complaints other than the fact that the alcohol-based markers seep through the backside of the sheet. That's just how it is with alcohol-based inks but, thankfully, colors do not leave marks on the next page.
Pros
Performs well with dry and wet mediums
The fine-texture side is optimal for precise renditions
The medium-texture side is superb for wet medium
Durable wire-binding does not dent
Micro-perforation helps detach the paper neatly
Cons
Alcohol-based inks bleed through paper
Impressive in every way, this sketchbook is highly recommended for beginners, learners, and professionals. Consisting of fine and medium textures, the product promises to help you achieve astonishing results.
10. LYTek Mixed Media Paper
Closer to the size of a mixed media sketchbook A4, this product is gaining popularity in the art industry. Boasting premium-quality sheets, you get a generous amount of drawing space. Best of all, its pages are made for a broad range of mediums.
Starting with the paper's quality, the sheets catch graphite and colored pencils wonderfully. In particular, the smooth texture of the page lets you render pencil drawings and color blending with enhanced precision. In effect, the colored pencils appear crisp and vibrant on the white paper.
Getting along well with the inks, you can apply various sketching techniques as the nibs of your pens and markers glide effortlessly across the page. Resulting in beautiful solid colors, there will be no visible streaks when you use markers.
Moving on to the wet mediums, the paper is resilient towards washes of watercolor as it hardly buckles. Even if it bends, it only happens very lightly. That aside, its light texture does not make it hard for you to manipulate the paint. Just like the markers, you can expect the sheet to display vivid colors.
Regardless of the medium you use, your artworks will retain its quality because the papers are acid-free. Another safety feature is the sketchbook's durable coated chipboard hardcover. Apart from being water-repellent, it keeps the pages from creasing.

Like most sketchbooks, this has micro-perforation for easy tearing. My only gripe is that the drawing surface is not exactly 9" x 12" as indicated on the cover. Once you tear the paper, you only get 8.65" x 11.2".
Pros
Supports accurate drawings
The smooth texture is suitable for various techniques
Colors of most mediums display vibrantly on paper
Resilient towards wet mediums
Water-repellent covers effectively protect paper
Cons
The work area is actually 8.65" x 11.2"
Admittedly, I was tempted to give this a perfect score if it were not for the smaller drawing space. It may very well be an excellent mixed media sketchbook for watercolor. If you are not strict with measurements, this sketchbook is a must-have. Especially for artists who experiment with a variety of materials.
11. Stillman & Birn Softcover Sketchbook
A tough contender for the heavyweight division, Stillman & Birn sets the bar high in terms of quality. It is only natural to set high expectations since many people claim that this is one of the sketchbooks that has the top-rated mixed media paper.
In addition to the weight of 270 gsm, its surface is a great match for your wet mediums. The paper holds the liquid on top so you can blend or spread across the page. Plus, its smooth texture is ideal for intricate details. When it dries, you would find some beautiful light texture coming through with vivid colors.
On top of that, the paper handles most types of markers and pens, especially those that are culprits for bleeding like Copic. These instruments move on the pages without skipping or harming the nibs. Moreover, a single page withstands a combination of mixed wet and dry mediums.
Sketching with any type of pencils is delightful as the paper picks them up marvelously. Praised for its excellent erasability, the sheet maintains its quality despite rubbing your eraser several times. Resulting in cleaner output, it allows you to maximize all 52 pages.
Beautiful inside and out, the softcover does not just safeguard the soft pages but also makes you want to flaunt the sketchbook. With the sewn-binding, you have the choice of working on a square page or painting a panoramic illustration across the spread.

This sketchbook has aced in every way. The only weakness is, perhaps, the end page that slightly lifts from the cover as the glue does not seem strong enough. Fortunately, this does not affect the drawing surfaces as you can open the spread flat.
Pros
Extra-heavyweight paper can take in mixed-media
The smooth texture is ideal for detail work
Skip-free sketching using markers and pens
Paper withstands multiple erasures
Provides the option to work on a square or panoramic format
Cons
Glued end page lifts from cover
Aside from mixed-media, the product seems to also be considered as one of the most trusted
sketchbooks for markers
. Its quality is the closest you can get to an actual marker pad. If you want to combine markers and paint in your illustrations, you can not go wrong with this one.
12. Grumbacher Mixed Media Paper
Can't decide between working on a sketchbook or a loose-leaf? Can't make up your mind on which medium to use? Well, this sketchbook lets you get the best of both worlds!
Versatile and durable, both dry and wet mediums respond well to the paper. Its medium tooth provides you effortless control over watercolor, acrylics, and gouache. At the other end, you can easily layer colored pencils and pastels to bring out some complex shading in your illustrations.
Combined with the weight of 185 gsm, the paper does not buckle with light washes, but that's not all. Since mixed media artworks can be messy, you can detach a sheet without tearing it off. This way, you do not accidentally leave marks on the other pages. Once you are done, you can slip the paper back into the book.
This is possible thanks to its Domelock Technology, which is also known as the "In and Out Pages". Aside from working on an individual sheet, it is convenient for scanning or rearranging your finished artworks in the order you like. Sturdy and elegant, the hardcover functions both as protection and a stable surface for you to draw on your lap or while standing up.

Given all these features, this sketchbook is an ideal space for your experiments. The only challenge in using this is that the pages tend to slip through the ring binding on its own. Even so, it is not a deal-breaker as it does not happen all the time.
Pros
Paper promotes effortless control over most mediums
Medium tooth help bring out complex shading
Does not buckle with light washes
In-and-out pages let you work on a single sheet
Hardcover provides protection and stable surface
Cons
Pages slip out on its own
Functionality-wise, the sketchbook is probably the most versatile product in the market. Despite that, it does not cut corners in terms of paper quality.
What to Look for When Buying Mixed Media Sketchbooks

When working with a range of dry and wet mediums, a good mixed media pad is your best bet. Keep in mind that artists have different preferences. Therefore, it is wiser to opt for something that meets your needs rather than assuming that someone else's choices will also work for you.
Choosing a sketchbook can be nerve-wracking because it could mean buying something you do not like and sticking to it for a while. As with any creative endeavor, making mistakes is part of the process. However, with the help of a few guidelines, you can get a better idea of the kind of mixed-media sketchbook you want to buy.
Type of paper
Mixed-media sketchbooks are made to be compatible with most wet and dry mediums. The catch is that they do not always work necessarily well enough for a specific type of medium.
For example, you can control your alcohol-based markers better on a smooth surface but the same paper would be difficult to manipulate watercolor. On the flip side, your slightly textured mixed-media sketchbook can take in water-based paints. With Copic markers and similar types, it absorbs the ink quickly when you blend and it bleeds more.
The whole point of getting a mixed-media sketchbook is so you can test and use different mediums. You need to set some realistic expectations and be aware of possible consequences.
Weight of paper
The weight of a paper refers to the paper's thickness. Mixed-media sketchbooks consist of paper that falls within the medium to heavyweight. That is because the sheets need to withstand the wettest of mediums such as watercolor, acrylic, and gouache.
By nature, the thinner paper would buckle or curl when you paint on them even with light washes. A sketchbook that has 160 gsm sheets would suffice if the majority of your work mostly involves dry mediums and light applications of wet mediums. Conversely, if you are inclined to use a mix of wet-medium, then go for a multimedia sketchbook with at least 190 gsm.
Size of paper
Nowadays, there are plenty of sizes available apart from the standard formats that we are all accustomed to. Naturally, this makes the selection process even more confusing. It would be best if you can identify the type of work you want to do and why you need a sketchbook for those in the first place.
To give you some ideas, let's start with the all-purpose mixed media sketchbook A5. This measurement provides ample space to practice your techniques or explore ideas. On the other hand, an A4 paper lets you draw more details as it is bigger than A5 but it still fits in most bags.
Of course, there are sketchbooks with bigger sizes like A3. Likewise, you would also find some compact mixed-media pads that are smaller than A5. Let's not forget that these products also come in a square format.
While there are no strict rules as to how you should use these sketchbooks, switching sizes let you explore different ways to approach your artworks.
Binding
Typically, sketchbooks come in either a spiral-bound, a wire-bound, or a sewn-bound. Each of them has advantages and disadvantages. Thus, it is best to choose the one that matches your needs.
Both spiral and wire-bound lets you flip your sketchbook so you can focus on the specific page you want to work on. If you are sketching at a park, this type of binding is convenient since you can hold the book while standing. More importantly, it lays flat on the table.
Some sewn-bound sketchbooks could be unwieldy when you are drawing while standing up. But, some brands have managed to perfect their sewn-bound sketchbooks. Because they can lay flat, you have an entire spread to sketch on without a spiral-binding getting in the way.
Cover
Different brands manufacture mixed-media sketchbook covers in various formats and materials. For the sake of simplicity, let us refer to them as paperback and hardcover.
Besides protecting the sheets inside, the cover can be a space for artists to personalize their sketchbooks. Some brands even go as far as wrapping the hardcover with a soft canvas that can be painted on. Others are clad with synthetic leather, which makes the sketchbook look more like a journal.
People tend to associate hardcovers with more serious sketching or journaling. Because the hardcovers are more durable, they are suitable for artworks that you want to keep for a long time. Beyond aesthetics, they provide a solid support for when you draw in places where you cannot find tables.
By contrast, some mixed-media pads have thick papers as front covers and chipboards on the back. Paper covers often take a beating, especially when you carry them around more often.
In my opinion, covers like this give me the impression that the sketchbook is meant for casual sketching rather than finished artworks. It removes the pressure of having to perfect the ideas, thereby giving me the freedom to explore more.
What are The Most Trusted Mixed Media Sketchbook Brands
Whenever we think about making art, we refer to ideas and mediums. The choice of paper to use is hardly discussed even though it has a direct effect on the materials we use.
However, testing all the papers you find in the market would cost you a lot of money.
A good starting point would be to go after the trusted brands. Most artists go for Strathmore, Canson, Arteza, Deviazi, Bachmore, ETCHR, LYTek, Grumbacher, and Stillman & Birn. Needless to say, you would find many other equally powerful brands out there. You can keep exploring for options to your heart's content.

Conclusion
Playing a plethora of mediums can be a messy endeavor but it leads to many stunning results. With the right mixed media sketchbook, you can get the most out of your chosen instruments and materials.
Learning how various mediums respond to different types of paper will give you a great head start on your creative journey. If you are looking for a sketchbook, this knowledge will come in handy.
In this article, you have read all the features of some of the best mixed-media sketchbooks. Now, it's time for you to decide which one suits you best.
I am a former art teacher, so it is evident to me the importance of art in educating the new generation. We also want to help parents who plan to teach their children and desire the best tools and tips for them.