In many ways, gouache is similar to watercolor, except it carries a higher pigment load and appears more opaque. Using the right set of brushes, you can play with shapes, colors, and textures with gouache paint.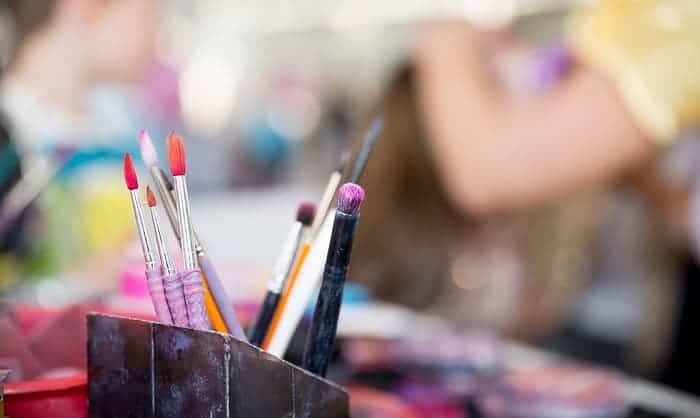 Yet, having a high-quality gouache paint set will mean nothing if your brushes are not up to par. Some brush sets may seem durable at first glance, but their bristles would split or shed over time.
Whether you're buying your first set or replacing an old one, choosing ideal paint brushes can be a daunting task. If you need expert advice and recommendations, check out my list of the best brushes for gouache!
Best Brush for Gouache Reviews
1. HIMI Gouache Paint Brushes
Designed for gouache and watercolor, the paintbrush set is available in different pastel colors to suit your personality. While they may look cute, these brushes let you paint like a pro!
Given the watery nature of gouache, the nylon bristles enable me to grab and lay down the paint onto paper with good control. It almost feels like every strand responds to the direction of my stroke. Thanks to the sturdy ferrules, the bristles do not split up while I brush.
Another favorite of mine, the liner brush has a sharp point for minute details and outlines. It helps me draw with better precision. For solid coverage, the flat brush enables me to go over an entire surface evenly.
When it comes to blending, I love using the slightly rounded that come in three sizes. With these options, I can blend colors on big or smaller areas. Moreover, they ensure the edges are sharp.
Made of birch, the brand guarantees that the handles will never crack. True to its promise, I've been dipping these brushes in liquid and they never deteriorate! Even the beautiful pink color does not chip off! Despite that, this set is very easy to clean and maintain.
Frankly, I can't think of any downsides to this product other than it performs a lot better with gouache than watercolor. Since this review is focused on gouache, I don't see any reason you should not buy this brush unless you plan to use it with watercolor.
Pros
Offers cute yet durable paint brushes
Prevents bristles from splitting while painting
Can handle different gouache techniques
Great for precise painting
Very low maintenance
Cons
Performs better with gouache than watercolor
Indeed, this set gives me all the high-quality paint brushes to complete my gouache paintings. Apart from its top-notch performance in blending and detailing, maintaining these brushes is super easy!
2. ZenART Watercolor Paint Brushes
Made of pure synthetic hair that resembles characteristics of the squirrel and kolinsky sable, these travel brushes for watercolor and gouache are certified vegan-friendly. An excellent choice for beginners, it includes clear information on proper usage and maintenance in the package.
Like a real sable, the brushes' bristles snap back to their original forms when I lessen the pressure that I apply on the brush while I paint. At the same time, they can hold liquid the way the squirrel brush does.
Alongside these unique capabilities, the selection of brushes lets me render broad strokes, blend, and intricate details. Just to give you an idea, I find the rigger brush fantastic for creating sharp lines.
For me, the cat's tongue seems to be the most versatile as it lets me produce thick and thin lines, as well as paint leaves or fins with triangular edges. Similarly, I can paint the florals and other types of details and textures using a round brush.
Because they perform consistently well with watercolor and gouache, I don't have to spend extra to buy separate brushes sets for each medium. Meanwhile, the well-designed handles are the icing on the cake. The brush does not slip from my hand since the handle is slightly thicker towards the ferrule while the length is just right.
One thing that annoys me is the loose hair of the flat brush. To be fair, the brush is not shedding all of its bristles! Rest assured, the set is reliable for both leisure and professional painting.
Pros
Vegan-friendly brushes similar to sable and squirrel
Works well with watercolor and gouache
Offers brushes for plenty of applications
Provides clear information on usage and maintenance
Has well-designed handles
Cons
Watch out for loose a strand or two
Vegan or not, painters will enjoy this multifunctional set of brushes! Inspiring artists to experiment with their wet mediums, the clever design of these brushes fits various gouache techniques.
3. Miya Artist Paint Brushes
This set of hog brushes will surely get you to put on your creative thinking cap. I'm certain that mixed media artists will love using them on paper, canvas, miniatures, and other materials!
Granted, these brushes are suitable for thicker mediums as they can take more paint when I dip them. By nature, the bristles are coarser than nylon so they became go-to brushes to create more defined brush marks. The fan brushes, in particular, make my strokes look more organic.
Considering the brushes in the assortment, I can work on detailed paintings as well as dramatic/ broad strokes. If I want to cover a large area faster, then the wide brush is the way to go! More notably, the bristles have a nice spring as they quickly respond to the amount of pressure I applied. Thus, laying down and blending the gouache is a breeze.
Since the hog brushes are very easy to clean, I don't get my gouache tainted with other pigments, especially when I don't intend to. On the other hand, the handle of the brush is much longer than the usual watercolor brushes. Such a feature enables me to work with an easel.
While testing these brushes, I noticed that some strands are sticking out. Luckily, I managed to resolve this by cutting them with scissors. That said, I think the gouache paint brushes are awesome all-around tools for mixed-media artists who work on different types of surfaces.
Pros
Compatible with plenty of mediums and surfaces
Allows you to paint details and broad strokes
Posses coarse bristles for well-defined brush marks
The bristles are easy to clean
Ideal for painting on an easel
Cons
Some strands tend to split and stick out
Exploring more than one medium is thrilling with this diverse set of durable and easy-to-clean brushes. From small details to beautiful washes, everything you need is just right here!
4. Dugato Artist Paint Brushes Set
With ten unique brushes for gouache paint and other wet media, this is a decent starter pack for anyone who wants to dabble in arts for the first time. Suitable for a wide array of projects, these brushes are also safe for children!
Unlike the usual offerings of a basic set, this one includes angled brushes. I find them comfortable when painting thick straight lines. As a sucker for details, I love that it also provides the rigger brush for ultra-fine lines.
What impressed me the most is the set also has a wide brush that allows me fastly cover an entire paper with paint in no time. Available in three different sizes, the filberts give me the flexibility to paint marks and blend colors together.
Another advantage is that the bristles themselves respond to the movement of my hand. Regardless of the type of brush, they are springy yet they glide smoothly even on toothy sheets of paper. Plus, they can hold quite a lot of paint.
Built with short handles, I find the brushes more appropriate for painting on a flat surface and smaller drawing spaces. However, they can be suitable for non-flat surfaces like DIY decors and miniatures. Since the brushes are soft, they are fantastic for body painting.
While these brushes take a beating, I notice that their hairs tend to fray after a long while despite proper maintenance. Maybe I just painted with these brushes too often. Still, that's not so bad since I can use it for dry-brushing techniques.
Pros
Good-quality brushes for artists of any age
Offers 10 unique brushes
Useful for a wide array of arts and crafts
Best paired with gouache and watercolor
Safe for body painting
Cons
The bristles tend to fray
If you need child-friendly brushes for arts and crafts projects, look no further! When used in tandem with your favorite gouache, this set of 10 brushes can help you bring out those beautiful ideas to life.
5. Adi's Art Pro 4336965684 Paint Brushes Set
It's not every day that we see good-quality synthetic brushes for gouache at an affordable price. Hence, this set of 10 brushes by Adi's Art Pro is such a great find!
First, let me commend this brand for its elegant packaging. It's the perfect gift for your artistic friends and children. Just add a cute ribbon and a gift card with a thoughtful message!
Honestly, opening the box feels like opening a gift. I was surprised to see that the manufacturer included a beautiful fabric brush case! Aside from keeping the brushes organized, I can also pack them neatly if I want to paint outside of my studio.
Equally impressive, the paint brushes soft enough to glide smoothly on watercolor paper but stiff enough to hold the gouache. Even with round brushes, I can blend and paint shapes with crisp edges. When I need to paint tight spaces or add details, the rigger does the trick!
While I've only highlighted a handful of brushes, I assure you that the others perform exceptionally as well. The set covers all the painting essentials for different genres, be it abstract or realistic depictions. I love using them for hand-lettering as the bristles' quality enables me to paint more precisely.
Longevity is not an issue as the brushes are built to last long. Unlike other low-cost products, the bristles remain intact despite frequent use. On that note, I like that they are all very easy to clean. My only complaint is that the handle's paint chips off after a while but it does not affect my painting.
Pros
High-quality yet budget-friendly brush set
Terrific gift idea for your loved ones
Provides fabric brush case
Suitable for any gouache techniques
The bristles do not wear off easily
Cons
The paint on the handle tends to chip off
This set of brushes proves that low-cost does not always mean low-quality. Whether you are buying this for your loved one or yourself, its packaging makes it a meaningful gift for anyone who wants to pursue gouache painting.
6. Transon TR2620 Paint Brushes
Does your style involve a lot of details? Then this set of 8 round brushes might just be what you're looking for! Known for their versatility, these tools are a practical choice for painting all kinds of subject matter.
Taking advantage of its shape, I only have to adjust methods of holding the round brush to utilize its pointed toe and belly. Certainly, the bigger brushes are convenient for broader strokes and blending but I also use them for hand-lettering. Meanwhile, the smaller brushes function as riggers for me.
What makes this set compatible with gouache is the goat hair. While they are not as springy, these brushes bring out beautiful washes of paint. In my experience, the bristles respond to my strokes very well. As such, I can get as precise as I want.
Gripping the brushes feel smooth and comfy. I can work with my painting without even realizing that I have been at it for hours. The same is true for painting on a canvas or a vertical surface.
Although I mainly use them for gouache, these brushes handle watercolor, oil, acrylic, and ink brilliantly.
Over the months, the handles' bronze finish has chipped off while the brushes' pointed toes have slightly loosened up. It's not a big deal if I'm only laying down colors to cover large surface areas. When making intricate details, I would reshape them with my fingers so I can still use them.
Pros
Useful for any style or subject matter
Convenient for precise details
Compatible with gouache and other wet mediums
Responds to your strokes accurately
Easy to use for long sessions of painting
Cons
The bristle's pointed toes may loosen
The brush handle's bronze finish chips off
Besides offering the best detail brushes for gouache, this set is also compatible with a lot of wet mediums. Moreover, the round paint brushes are perfect for exploring different painting genres.
7. D'Artisan Shoppe Artist Paint Brush Set
You don't need to be a professional to make art. Still, you might need decent-quality brushes like this set from D'Artisan Shoppe to deliver your spirit flawlessly. In one set, you get a good mix of hog and synthetic brushes, as well as a lovely travel casing.
When I opened the package, I was amazed by how carefully the manufacturer wraps each brush in plastics. On top of that, it also came with very clear instructions on proper care for products to keep them last longer. Even more impressive is the selection of the brushes themselves as they can apply to any wet medium.
For gouache, I prefer synthetic brushes as they are softer. By that I mean, they produce fewer streaks when I spread the paint on paper. Because they hold less water compared to hog, it is easier for me to control my strokes.
The 11 synthetic brushes are more than enough for me to complete a water-based painting. However, I can work with some oil paint with the hog brushes. So far, not a single strand went out of place! From what I can see, the ferrules of these brushes are durable.
While the brushes are long-handled, they are lightweight and comfortable to use. Since I work mostly with details, I need to get close to the paper and canvas and the handle can get in the way. I wish the manufacturer would make short-handled versions of these brushes.
Pros
Has superb synthetic brushes for gouache
Provides hog brushes for denser mediums
Includes a brush case for storage and travel
Lightweight and comfortable to hold
Guarantees no shedding and splitting
Cons
Long handles get in the way while painting details
By all means, the synthetic bristles make for good gouache paint brushes! As a complete package, I can see that this set caters to artists who use both watery and dense mediums.
8. Adkwse Paint Brush Set
Onto following featured brushes for gouache paint, you will be satisfied with varieties and qualities. This kit gives artists all the tools to create art projects. With a paint tray, brushes, palette knives, sponges, and a pop-up case, all you need to do is find a piece of paper and some paints.
Some sets claim to have "fan" brushes but they look like a mop. This set's fan brush, however, has bristles that spread like a fan that is wonderful for highlights on hair and grass that look more natural.
Then, I would top off my painting with details using the fine-liner brush. It is slim enough to work as a pen yet soft enough to control the gouache. Just the same, the other brushes have a nice spring to them but I particularly like the round brushes for blending.
Smooth to touch, the handles are painless to work with, especially when I get too carried away with painting. While adding texture is possible with the brushes, I dab the sponge onto the paper to make it appear organic.
Let's not forget about the palette knives and paint tray! On top of that, the pop-up case serves both as a storage and a brush holder while I work.
Considering all the items included, I think it is a suitable set for anyone buying art supplies for the first time. Just be careful in washing the brushes as it may shed a strand of bristle or two.
Pros
The fan brush is useful for adding highlights
Has soft nylon bristles for smooth laydown
Includes sponge for textures
Easy to carry when traveling
Ideal for long hours of painting
Cons
Prone to shedding strands of bristle
Like a swiss knife for painters, this kit provides the best paint brushes for gouache alongside other gouache essentials. Thanks to its portable casing, traveling with this set feels like bringing your entire studio!
9. Nicpro 4336961073 Artist Pro Paint Brushes
Boasting superior nylon watercolor brushes, this set is quite affordable for beginners and students alike. From a wide flat to a fine rigger, you get a full range of shapes and sizes of brushes to work on gouache and watercolor techniques.
For instance, the soft bristles can bounce back and hold a sharp point. It enables me to keep the edges of the shape sharp and accurate right down to the tee. Even for blending, the round and filbert brushes quickly respond whenever I adjust the pressure and speed.
Next, the rigger helps me color very tight spaces and create fine lines. Its tip is so fine that I can sketch details and outlines, as well as produce stylized text with it. To cover the entire paper with gouache faster, I wash the surface using the widest flat brush.
Working on a table, the short handles let me get closer to the paper to see the details I paint properly. If you paint for long hours, I'm sure you will like that the brush handles are light. I can hold them near the ferrules or somewhere in the middle yet have good control over my strokes.
Despite multiple washes, the handles' finish never chipped off while the ferrules never rusted. I never had a hard time cleaning off the paint but a few strands of bristles loosen up. While it seems like a common issue among this type of brushes, I assure you that it's manageable.
Pros
Optimal for gouache and watercolor
Helps in precise renditions
Adjusts to angle, speed, and pressure
The short handles let you see your work closer
Provides a full range of brushes at an affordable price
Cons
The bristles tend to shed a few strands
A great addition to your stash of gouache painting supplies, these brushes' performance is well-suited for perfectionists. Built with springy bristles, they keep up with your movement.
10. LorDac Arts Brush02 Paint Brush Set
It may seem counterproductive but you can do a lot with only seven brushes as long as they perform well on any surface for gouache. Let's explore the features of these brushes so you can use them to your advantage!
Appropriate for water-based wet mediums, synthetic bristles are comparable to natural brushes. Painting is a breeze as the springy bristles hold the paint and spread it evenly. With these capabilities, I have no trouble manipulating gouache.
The combination of flats, filberts, rounds, and angled brushes allows me to play with a lot of techniques. I rely on the round and filbert brushes to make stunning gradients. For flat lines, the angled brushes give me better ergonomics.
No matter how long I've used these brushes, they retain their shape. Not only that the ferrules are rust-free, but they also do a great job of crimping the bristles. I don't have to pick up stray bristles on my painting!
Another highlight is the thick brush handles. Despite that, they feel light on my hands. For those having a hard time with slim handles, you may find these brushes more comfortable to hold.
Traveling artists and students will be delighted to know that this set comes with a fabric case. By flipping the cover to the back, it transforms into a brush holder. Its compact design does not take up a lot of space in my bag!
Perhaps my least favorite among the bunch is the #3 brush. For a round brush, I expected the toe to be pointier.
Pros
Holds and spreads the paint smoothly
Provides an ample variety of brushes
The bristles can retain their shapes
Prevents bristles from shedding
Has a superb ergonomic design
Cons
The #3 brush is not as pointy
Arguably the best gouache brushes for traveling painters, this set of 7 can go a long way! Soft yet durable, the bristles are pretty low-maintenance as they can spring back to their original shapes.
11. Onson Artist Paint Brush Set
For painters who love to work with complex details, Onson offers a set of 15 brushes, three of which are liners. Thanks to its storage case, traveling with all these tools will not be cumbersome!
I never thought I would need three different riggers until I bought this set! It made a world of difference since I can now paint very fine hair, whiskers, and other details. I can see that these brushes can be useful for landscape, portrait, animal figures, architectural designs, and hand-lettering.
For random streaks, I use the fan brush. Then, I blend colors with the filbert and round brushes. Made of nylon, the bristles bounce nicely as I wash and spread the gouache across the paper smoothly.
Even if I rotate the brush, the bristles move along without splitting. Whether I move in a different direction or put more pressure on the brush, I don't leave any strand of bristle behind.
With a sponge, I can add some textures to make my painting look more interesting. This something that I cannot achieve with brushes alone. I like that the set also includes the palette knife as it comes in handy for mixing paints.
My only complaint is that the casing can't stand the way it was advertised. It's not a big deal as I use it for storage. After all, I'm really after the brushes.
Pros
Has three liner brushes for extra-fine details
Prevents splitting and shedding
Suitable for traveling artists
The fan brush creates random steaks
Bristles bounce nice painting
Cons
The casing does not stand
Adding textures and a three-dimensional look to your gouache painting is doable with these brushes! Highly dependable, this set's strongest points include shed-proof bristles and a nice spring that lets you control your medium.
12. Adaxi Watercolor Brushes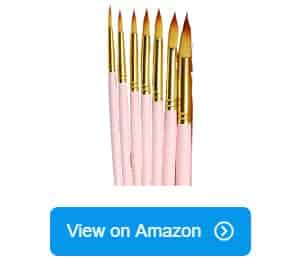 With round brushes alone, you can come up with a spectacular gouache painting. Featuring good absorbency and flexible bristles, artists of any skill level will love the versatility of each brush!
First, let me turn your attention to the brush's round belly and pointed toes. I can fill an entire page with gouache with the biggest brush in the set but it is also useful for short strokes. Capable of retaining their shape, I can change the pressure and not worry about deforming the brush or splitting their toes.
Furthermore, the nylon bristles pick up sufficient amounts of liquid and lay down the paint evenly. As a result, it enables me to build up layers and create smooth gradients. On the other hand, I manage to flesh out details and textures using the finer brushes.
Secondly, the brushes are compatible with denser mediums. Indeed, it's welcoming news for mixed media artists. What I find most reassuring, however, is that the brushes are not hard to clean. Plus, the brushes do not shed at all as the ferrules are firm and secure.
For long-handled brushes, I find them pretty light and easy to wield. While the finish is smooth to touch, they do not slip from my sweaty hand.
Compared to other brands, the size 0 brush seems a tad thicker. Of course, I can still produce details with it but I have to hold it a certain way to ensure that only the toes touch the paper.
Pros
Can retain the brushes' form
Suitable for a variety of gouache techniques
Lays down the paint evenly
Compatible with different wet mediums
Low maintenance yet highly durable
Cons
The size 0 brush is a little thick
The cute packaging is irresistible but you'll be even more impressed by how these round brushes perform with gouache. Even though all the brushes in this set are round, they are highly versatile in application.
What to Look for When Buying Brushes for Gouache
Seeing all the brushes in an arts and crafts supplies shop can feel confusing for first-time gouache painters, especially if you have no idea what to paint yet! Here are some pointers to help you decide which brushes or sets to buy:
Shapes
Round brushes may be multifunctional but they cannot produce fine streaks like a fan brush or details like a rigger. If you know the style or genre that you are going for, then you can buy the exact brushes you need to produce a body of work. For those who want to experiment, you can get a set of riggers, fans, flats, filberts, and rounds.
Sizes
In many cases, the size of the paper and the subject matter will determine the brush size you use. Filling up a postcard-sized paper will require a slightly different set of brushes compared to working on a poster-sized paper. Riggers are well-suited for details while a wide flat brush can cover the background with colors faster.
Types of bristle
Many painters recommend synthetic brushes for gouache as they are springy and easy to control. The bristles are capable of carrying the right amount of paint needed for a nice laydown. When used correctly, goat and hog brushes can produce various effects.
Handles
A good ergonomic brush handle makes painting more feel relaxed as you control your strokes. Even if your palm sweats, you can still grip them properly. Short-handled brushes work best when you are painting on a flat surface, like a table. Meanwhile, long handles are great when working on an angled surface, such as an easel.
Durability
Most brush sets come with instructions on proper maintenance so they can last for years. However, some brushes may not be as durable. For example, the ferrules do not hold the bristles or the handles firmly enough. Be sure to buy sets that are known for longevity.
Compatibility with mediums
Watercolor brushes are generally compatible with gouache. If you also want to work with oil and acrylics, check the product's label to see the mediums you can use with the brushes.
Can You Use Oil Brushes for Gouache
Yes, you can use oil brushes like a hog for gouache but it will produce a different effect. Sable brushes work well with watercolor and oil so it is safe to use with gouache. If you want an all-around brush, nylon bristles can be used with oil, acrylic, watercolor, inks, tempera, and gouache.
How Do I Clean & Care for My Gouache Brushes
You can clean your brushes with warm water and reshape them with your fingers. Note that each brand comes with specific instructions.
Conclusion
Gouache is a wonderful medium to use even for beginners. To make the most out of its vibrant colors, you need to explore techniques. While practice makes perfect, having reliable brushes can certainly improve your work.
Just like writing, we hold our brushes differently. The brushes that painters recommend on video tutorials and forums like Reddit may not suit your needs. Finding the best brushes for gouache can take some time but once you have the right one, you will begin to appreciate painting even more!
If you haven't found the right set of brushes yet, I highly recommend trying out one of the products I featured!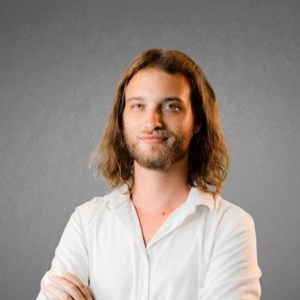 I am a former art teacher, so it is evident to me the importance of art in educating the new generation. We also want to help parents who plan to teach their children and desire the best tools and tips for them.