Airbrushing is a fulfilling outlet for self-expression and artistic growth due to its versatility and ability to produce intricate details and stunning color effects.
Using the best airbrush paint can unleash your imagination, letting you revel in the colorful world of airbrushing, where creativity knows no bounds.
If you are on the lookout for the perfect airbrush paint, whether you are planning to use it for fine art, for 3D prints, or any airbrushing project, consider the following significant factors:
Coverage: Coverage levels may range between solid and vibrant colors and a translucent appearance. This means consideration of the paint's consistency, pigment levels, and versatility.
You may choose between pre-thinned or readily available airbrush paints for minimal preparations and easy applications, thick paints for high color intensity, or versatile airbrush paints that can be thinned down for a sheer coverage.
Viscosity Range: Depending on the brand and target application, airbrush paints fall under different viscosity levels, ranging from thin or watery to thick.
When using them with correct airbrush pressure levels or thinning methods (for thicker paints), you may expect seamless coverage and effortless applications. Therefore, it is imperative to consider your airbrushing tools to get the most out of your paint, regardless of its viscosity.
Longevity: The airbrush paints are durable. Besides excellent lightfastness, optimum resistance against cracking and peeling preserves the quality of your work for the longest time possible.
Not only does durable paint retain your work's aesthetic features but also save you from unnecessary touch-ups in the long run.
In this comprehensive guide, we will unravel a roundup of the finest airbrush paints available on the market. As you go on your artistic hunt for the best paint for airbrush, we will explore an array of vibrant hues, seamless blends, and intuitive features.
| | | | | | |
| --- | --- | --- | --- | --- | --- |
| Top | Product name | Color Selection | Capacity/bottle | Finish Type | |
| 1 | Sig Wong Airbrush Paint Set | 24 | 20 ml | Gloss | Details |
| 2 | TIMBERTECH Professional | 12 | 30 ml | Semi-Gloss | Details |
| 3 | The Army Painter | 12 | 18 ml | Matte | Details |
Top 7 Airbrush Paint Reviews
1. Sig Wong Airbrush Paint Set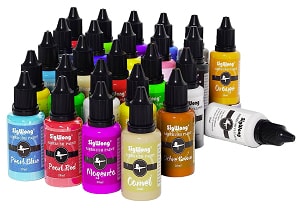 Specs
Diverse Color Selection: 16 common colors, 4 neon colors, and 4 pearl colors
Quantity: 20 ml for each bottle
Easy to Clean: Made of water-based, non-toxic formula and included airbrush cleaners
Satisfaction Guarantee: Comes with prompt customer support
When it comes to airbrushing, color selection is key to birthing those creative ideas – and that's why this airbrush paint set by Sig Wong truly stands out.
With an impressive array of shades, this powerhouse kit packs the punch we need for all our airbrushing projects.
Its smooth and ready-to-spray consistency sets this product apart from other airbrush paint brands. The pre-mixed formula is a dream come true — no diluting needed. Thanks to its special consistency, it will flow perfectly every time, and users won't have to worry about clogging or blockage.
This airbrush paint is a killer pick with oodles of versatility. The fast-drying, durable formula is resilient against deterioration—thus, an ideal choice for any surface, be it paper, canvas, wood, fabric, metals, or ceramics. I even use this airbrush paint set for helmets, and the result is always a vivid, eye-pleasing color.
Another thing I love about this air brush paint kit is the messy-free creative sessions. The paint uses a water-based, non-toxic formula, which makes cleaning up a cinch—just soap and water and I'm good to go.
Moreover, the set comes with two airbrush cleaners, making it a snap to switch colors without loads of paint buildup. They help keep my airbrush spic 'n span for a smooth transition.
Unfortunately, one drawback I've noticed is that some bottles needed a labeling for quick color selection.
Pros
Extensive color selection
Ready-to-spray consistency for smooth application; no cracking and peeling
Versatile and quick to dry; suitable for various surfaces like canvas and ceramic
Easy cleanup with a water-based formula
Airbrush cleaners for effortless color switches
Cons
No labeling on some bottles
The vibrant colors, smooth consistency, and wide range of applications make it a reliable choice for painters of all levels.
2. TIMBERTECH Professional Airbrush Paint
Specs
Color Selection: 12 brilliant primary colors
Quantity: 30 ml for each bottle
Color Quality: Fade-resistant
Ease of Use: Easy to apply and clean up
Safe to Use: Gluten-free and water-based formula
When it comes to premium artist quality, Timbertech Airbrush Paints truly excel. These paints offer incredible vibrancy with their amazing range of primary opaque colors.
I love how thick and creamy they are, allowing for easy blending and a smooth texture that retains brush strokes and curves. They also dry quickly with minimal color changes.
Upon testing, these airbrush paints don't seem to be a letdown, whether I use them for wood, ceramic, canvas, or fabric art projects.
Besides that, the water-based acrylic formula is quite a treat, promoting seamless paint flow. It can render stunning and evenly distributed coverage, especially for plastic models!
With the opaque, transparent, pearlized, and fluorescent options, amateur and experienced artists can revel in a colorful variety of possibilities and maximize their creativity with different art pieces.
These paints' high-quality light-fast pigments offer long-lasting color brilliance. With a collection of 12 main opaque hues, I can have a vast palette and bring my ideas to life.
These airbrush paints are not only of superior quality but are also suitable for beginners and children. Plus, they are gluten-free and washable.
However, it's tough to use them with paint thinners without producing clumps. The good thing is that using these solvents is unnecessary.
Pros
Vibrant primary opaque colors that are gluten-free and washable
Thick consistency for easy blending and brush stroke retention
Quick-drying with few color changes; suitable for children and beginners
Versatile for various surfaces with even distribution
High-quality pigments for long-lasting brilliance
Cons
Caution is needed with paint thinner to avoid clumps.
This set of airbrush paint empowers artists with its exceptional quality, vibrant colors, and versatility. These paints unlock creativity and create breathtaking masterpieces across a variety of mediums.
3. The Army Painter Starter Airbrush Paint Set
Specs
Color Selection: 12 vibrant Warpaints Air with primer and thinner included
Quantity: 18 ml for each bottle
Compatibility: Suitable for Warpaints Acrylics, simplifying highlighting and shading
Ease of Use: Features paint mixing balls for easy and consistent color mixing
Finish Type: Matte
The Army Painter Starter Airbrush Paint Set possesses superior paint quality that can produce vivid hues and even coverage, which beginner and experienced artists can use to amplify their mini figures.
Moreover, the airbrush paint effortlessly syncs with Warpaints Acrylics. The Triad System is impressive as well. For each color in the Warpaints Air range, there's a corresponding base and highlight color in Warpaints Acrylics.
The compatibility between these airbrush paints and acrylics promote cohesive painting for miniatures, especially when it comes to matching shades and highlighting.
Apart from that, the mixing balls in each bottle are very useful in cultivating the perfect shades and gradients. Plus, the matte finish is a neat and edgy touch.
For someone like me who prioritizes smooth and optimal coverage, the pigmented colors are an advantage. That also means brilliant hues with fewer layers and less wastage.
Besides that, I think that it's thoughtful for brands to formulate non-toxic paints such as this set. It can guarantee worry-free painting sessions even when the kids are nearby.
I have one quick reminder, though: keep the paints tightly sealed after every use. Lesson learned for me when I left one of them uncapped and the paint dried out.
Pros
Exceptional paint quality with high coverage and vivid colors
Compatibility with Warpaints Acrylics for effortless coordination
Paint mixing balls for precise color blending
Pigmented colors that require few layers of application
Non-toxic formulation
Cons
Paint may dry out easily if left uncapped.
I recommend this set for anyone searching for an airbrush paint set that combines quality, precision, and efficiency. Its unparalleled paint quality, innovative Triad System, and highly pigmented colors make it a valuable asset for any miniature painting enthusiast.
4. S. Art Supply 16-Ounce Pint Airbrush Thinner
Specs
Versatile Formula: Water-based; ideal airbrush thinner for acrylic paints
Quantity: 16 ounces
Increased Paint Quality: Efficiently thins out acrylic paints for enhanced color transparency and flow
Safe Formula: Non-toxic
The focal feature of the U.S. Art Supply 16-Ounce Pint Airbrush Thinner lies in its versatility and effectiveness when it comes to airbrushing certain types of art projects. Let me tell you why.
First of all, I like that this water-based thinner is specifically formulated to thin out acrylic airbrush paint to provide ample consistency while adding transparency and color depth.
Honestly, thinning out airbrush paints is a bit difficult for me. But the acrylic-based binders in this formula is yet another useful attribute to achieve precise paint quality for efficient applications.
I can actually vouch for its efficiency when I used it with my Vallejo paints, which were challenging to thin out. Impressively, this thinner was able to enhance the paint flow and color transparency without compromising the pigment's quality.
As I often deal with miniatures, getting into the fine lines and delicate details is a common hurdle, more so with a small-tipped airbrush. That's why paint thinners, especially with extenders like this one, get the job done easily and fast.
Thus, I suggest using this thinner with a suitable airbrush paint for all artists who are into painting miniature models or small-scale projects. It's non-toxic as well.
Overall, this all-around airbrush thinner is a useful tool to enhance paint versatility without compromising its quality. Artists of all levels can revel in its amazing properties and revamp their work with the best colors and coverage.
On the flip side, the lid design could be improved for hassle-free applications. I usually transfer it into another container with a nozzle or simply replace the lid right off to avoid spills. Despite that, it's still worth using for its effective performance and quality.
Pros
Effectively improves paint flow, color transparency, and depth
Can be used with paints for small-tipped airbrushes
Maintains paint quality with acrylic-based binders
Non-toxic, suitable for miniature painting or detailed work
Cons
Dispensing caps may be leaky.
Overall, this all-around airbrush thinner is a useful tool to enhance paint versatility without compromising its quality. Artists of all levels can revel in its amazing properties and revamp their work with the best colors and coverage.
5. ARTME Airbrush Paint
Specs
Extensive Color Range: 24 vivid colors including classic opaque, neon, and metallic shades
Quantity: 30 ml for each bottle
Versatile Formula: Non-toxic formula, suitable for different surface types
Ease of Use: Ready to spray and easy to clean
Finish Type: Metallic
Great Satisfaction Service: Backed by a money-back guarantee
The ARTME Airbrush Paint is one of the top-rated airbrush paints I opt for when multi-surface application is necessary. It is suitable for metal, paper, ceramic, or for canvas applications for precise color representations.
With the versatility of this kit, I can explore various artistic hues and stunning metallic finishes across different surfaces. Aside from that, the 24 vibrant colors are a good selection to practice color mixing, especially for beginners and students learning to upgrade their palette.
Using this for Gunpla customizations is another impressive feature. Since this airbrush paint is suitable for a variety of high-quality airbrush guns, it can deliver optimal outputs.
It glides effortlessly through the sprayer for consistent, accurate coverage without gumming up the nozzle.
Aside from that, I love the ready-to-spray formula, saving time and effort during applications. Therefore, thinning is not necessary.
Moreover, the nozzle lid makes every application mess-free and easy. With minimal preparation and practical use, beginners and students are the ideal users for this airbrush paint kit.
Cleaning up is a breeze with water and soap, adding to the overall convenience of this kit. Plus, these paints are non-toxic, making every painting session safe and worry-free.
The only caveat for this paint is that it can dry out quickly when left uncapped. Despite this minor drawback, the beautiful color assortment of this kit is a total no-brainer for novice airbrushers.
Pros
Extensive color range (24) with vibrant options
Versatile and suitable for various surfaces like ceramic and canvas
Readily available for spraying for fast and easy applications
High-quality pigments for long-lasting results
Thinning is not required; mess-free, non-toxic, and cleanable
Cons
May dry out quickly if left uncapped
In a nutshell, this airbrush paint offers endless possibilities with its extensive color range, versatility, and ready-to-spray formula.
6. Henyiewl 28 Colors Airbrush Paint Set
Specs
Wide Color Selection: 28 vibrant neon and metallic colors
Quantity: 30 ml for each bottle
Versatile Formula: Non-toxic formula suitable for multiple surface types; ideal for resin models
Upgraded Quality: Ready-to-spray formula for smooth applications with minimal blockages; easy to clean
Finish Type: Metallic
Satisfactory Service: Responsive after-sales support
Sifting through this Henyiewl paint set, I must say that the color assortment is the ultimate highlight. Since every color in this set effortlessly complements airbrushes, switching between hues or mixing different shades is no trouble.
For that reason, beginners and aspiring miniature artists are off to a good start with this airbrush kit. The creamy consistency glides flawlessly onto the canvas with little to no clogging, which promotes efficient applications.
With its impressive adhesion properties, this paint effortlessly bonds to diverse surfaces, particularly resin models. Although the paint adheres well to fabric, leather, plastics, metals, and on most surfaces, I think the metallic sheen and vivid neon color payoffs are more visible on resin.
Thanks to its upgraded formula, quick color laydowns and effortless applications are achievable. I also noticed that airbrush blockages are minimal, providing fast and efficient coverage.
Moreover, this airbrush acrylic paint set is totally non-toxic, so it's all about a fun and safe experience. There's no preparation needed before usage. All we must do is give the bottles a light shake before application.
However, I think additional instructions for the thinning method should be provided, since the paint can still be modified for custom color transparency.
I tried thinning it down using a 1:1 ratio of paint and thinner, and the color transparency seemed way better, especially for glazing.
Pros
Offers an extensive selection of bright colors
Smooth airbrush flow with no blockage for seamless application
Versatile, can work as a resin, leather, and fabric airbrush paint,
Only requires shaking before usage
Non-toxic paint for enhanced safety
Cons
Instructions for paint thinning can be added to modify color transparency.
This is a beginner-friendly airbrush paint set that displays a vast selection of colors to mix and play with. Its upgraded formula ensures seamless airbrush flows, versatile adhesion, and beautiful color laydowns.
7. FansArriche Airbrush Paint Set
Specs
Great Color Selection: 20 vivid colors, including neons and metallics
Quantity: 30 ml for each bottle
Diverse Surface Compatibility: Can be used on different surface types
Durable Paint Quality: Provides waterproof coating when dried
Ease of Use: Thinners not required and easy to clean
This FansArriche airbrush paint set is a must-have for serious airbrush hobbyists like me! With 20 vibrant shades, from glimmering metallics to super-bright neons that really pop under UV light, it offers practically unlimited ways to express creativity.
Besides that, one feature that truly sets this airbrush paint apart is its ready-to-spray formulation. As an airbrush fan, I'm pretty digging this nifty feature, which means no more extra mixing and thinning.
Since it is formulated for multiple surface types, I recommend using this for shoes or even for clothes alongside wood, plastic models, metals, ceramics, and other textile surfaces.
I'm quite impressed with the color payoffs and metallic finishes, which appeared consistent regardless of the surface type. Not to mention the waterproofing properties after the paint dries.
When cleaning, I simply use water and soap to effortlessly clean my airbrush and brushes, leaving them in pristine condition for my next creative endeavor.
The paint's easy washability is a feature I greatly appreciate as it saves time and effort in maintenance. The quick cleanup means I can seamlessly transition from one project to the next without any hassle.
While this paint set offers excellent functionality, take note that its bottle seal takes effort to remove.
Pros
Vast color selection (20) to achieve various color depths and shades
Ready-to-spray composition for fast applications
Suitable for different surface types, including textiles, wood, and plastic
Offers excellent longevity with its waterproofing properties
Easy to clean for seamless transition between projects
Cons
Hard-to-remove bottle seal
Therefore, this airbrush paint set promotes abundant vibrant colors, easy application, and versatile use. I believe its overall performance and quality make it a valuable addition to any airbrush artist's tool stash.
What to Look for When Buying Airbrush Paint
When considering airbrush paint, it's important to assess its coverage capability or how much a single coat can color an item.
Luckily, a wide range of airbrush paints are readily available for application without thinning. Some brands, however, offer a lineup of pre-thinned airbrush paints for quick, easy, and efficient applications to save preparation time and effort.
Although airbrush usage or type may significantly impact the overall coverage, different airbrush paint brands offer varied coverage levels, depending on their pigment saturation or consistency.
Typically, paints with thick consistency produce solid colors and seamless coverage. You may want to opt for these paints when working with base coats. Meanwhile, it is best to consider the proper thinning methods for your paint if you want excellent overlays.
The viscosity of airbrush paint can vary across brands and purposes. Paints with either thin or thick consistencies can render respective painting merits as long as correct thinning methods and pressure levels are provided.
For instance, thin and water paints work best with lower airbrush pressure levels, whereas thick paints require higher pressure.
Ensure your airbrush type correlates with your paint's viscosity range. This factor also helps you determine whether a paint thinner is needed for enhanced application quality and versatility.
Some airbrush-ready paints have a thicker consistency like the Vallejo airbrush paint. Without thinners, this paint delivers promising results with even and smooth coverage. Although it can be thinned down to modify color transparency and depth according to one's preferences, doing so is quite challenging.
Thus, it is imperative to consider the compatibility and workability with thinners if you're using viscous paint and want to maximize color transparency and paint flow.
Take note that thinning paint with water may compromise the pigment's quality. To facilitate the mixing process, consider using a model paint mixer to blend the thinner and paint effectively for your airbrush.
When choosing airbrush paint, you have to think long-term. This means seeing how it stands up to common paint issues, including peeling or cracking. Remember that durable airbrush paints can save you more time, money, and effort in the long run.
Fortunately, airbrush-ready paints can stay rigid for a long time and compete with a regular paint's durability. With added varnish application, these paints can last longer.
Oil paints tend to be more durable, but they are not as straightforward to use as acrylic and water-based types.
While it may not look as significant as the other airbrush paint attributes, the bottle design actually is. Different brands use droppers, flip caps, and nozzles.
An ergonomic bottle design can ensure seamless and hassle-free paint transfers and distributions. Thus, choosing the best design allows you to enjoy more time painting rather than preparing.
Color is crucial to render realistic hues when working with miniature models or painting projects that require complex or detailed features as well as large-scale projects.
Different airbrush paint brands offer a vast selection of colors that you can purchase individually or in sets. The ultimate choices all go down to your preferences, needs, or budget.
The price range of airbrush paint varies depending on the brand, volume, selection (set or individual), variant (pre-thinned or not), and paint type. Whichever you choose, it is significant to assess your budget and closely consider your options.
The airbrush paint sets typically range from $30 up to around $200. If you're just starting out with airbrush paints, you may opt for individual colors or a set that includes the shades you really need.
As you ensure your options align with your specific needs and requirements, you'll be able to get your money's worth.
Other Important Factors to Consider
What is Airbrush Paint?
Airbrush paint is a truly elite medium. It's made with precision for effortless application via an airbrush system.
Different products may be compatible with an airbrush, but real airbrush paint stands out with its meticulously ground pigments and specially blended additives – perfect for a smooth spray.
This specialized paint amalgamates artistry and scientific precision, enabling artists to harness the boundless potential of airbrushing, unveiling intricate details and captivating visual effects with unparalleled finesse and control.
How Does It Work?
An airbrush kit usually includes a compressor, airbrush, and paint.
The compressor should be turned on to make an airbrush work.
The paint is transferred into a small bucket located at the top of the airbrush.
Basic airbrush paint tools typically feature dual controls – one for the air flow and the paint flow.
The main control depends on the button on top of the airbrush. Push it down, air will be released. Push and drag it backward, and the airbrush will release air and dispense paint at once.
To apply a thin coat of airbrush paint, push the button and pull it only slightly. Push and pull the button hard, and it will spray heavy coats of paint.
For vivid and detailed lines or strokes, bring the airbrush close to the surface. Move it further away from the surface to easily cover large areas.
The wheel at the end of the airbrush lets you adjust the paint volume. You may lower it down to control the amount of paint and prevent smears and spills.
What Are The Different Types Of Airbrush Paint?
Acrylic paints are handy, user-friendly, and incredibly versatile – perfect for all kinds of surfaces, from canvas to fabric! They are often cleanable and colorfast once dried.
Some art enthusiasts experiment with oils and enamels as their model car airbrush paint due to their impeccable color rigidity and intensity.
However, since they're thicker than acrylics, they tend to clog the airbrush or cause uneven applications. Thus, careful and precise thinning is a prerequisite when airbrushing with oils and enamel paints.
Urethane paints are excellent automotive airbrush paints because of their durability. However, they are toxic.
For that reason, this type of paint is commonly used for large-scale painting tasks that require heavy-duty applications, such as for cars and boats. Plus, it is resistant to chips and peeling and can withstand harsh conditions.
When using an airbrush for automotive paint, numerous car designers and specialists use urethane clear coat paint to protect the original paint of their cars.
Inks and dyes are the ideal paints for beginners since they can easily be used without too much airbrush pressure. Since they are thin, these paints provide excellent color transparency and flow.
Watercolors can work with airbrushes due to their consistency. They are best used in illustrations and art projects or small painting tasks.
However, watercolors are not lightfast and offer poor longevity compared to the other aforementioned paints.
Why Do You Need Airbrush Paint?
Airbrush paint unravels a different world of artistic textures and effects that ensued from unique painting or spraying techniques.
The integrated push and pull controls reveal versatile applications that can render detailed and fine lines, vast coverage, different color depths and intensities, and optimal color transparency on various surfaces.
The fine atomization of paint particles achieved through an airbrush enables precise control and smooth application, making it a valuable tool for artists seeking to explore new dimensions in their creations.
Frequently Asked Questions
Can I Use Regular Paint With An Airbrush?
It is possible to utilize a wide range of paints with an airbrush, provided they possess a thin consistency.
If you are going to use regular acrylic paints straight out of the bottle, it may not work properly, since they are too thick. That is why thinning is a must.
It is imperative to avoid paints containing substantial particles that could potentially clog the airbrush mechanism. As long as these conditions are met, you can experiment with various paints.
Can Airbrush Paints Be Mixed To Create Custom Colors?
Sure, you can totally blend airbrush paints to get those custom colors.
Slip into a smooth transition and gentle gradation with ease – just be careful not to overdo it, since even the tiniest bit of paint can cause quite a difference! Go ahead and take it slow, and make subtle tweaks along the way for perfect results.
Before applying the paint, do a test spray on paper to make sure you got the shade you're after. Also, don't forget to give your airbrush gun a good clean whenever you switch colors, or else there will be an unsightly combination of hues.
How Should I Store Airbrush Paints?
Store your airbrush paints safely indoors, away from moisture. Keep them in an easy-to-reach spot, so you can give them a shake now and then.
Make sure they are always positioned upright to avoid any spills or breakage.
Are Airbrush Paints Safe To Use?
It depends on the type of airbrush paint. For instance, using water-based airbrush paints may be generally safe, thus proper ventilation may not be necessary.
However, inhaling these paints can still pose respiratory risks with prolonged exposure.
On the other hand, most urethane airbrush paints are highly flammable and may result in explosions. Make sure you use them away from the main living area of the home, in a location with ventilation with a mask on.
Spray Paint And Airbrush: What Is The Difference?
Airbrush paints allow for a higher degree of control, making them suitable for small details and fine lines. On the other hand, spray paints are best for covering large areas and dispensing significant amounts of pigment all at once.
Another difference is that airbrush types are less suitable for outdoor, windy locations, while spray paints perform very well under these conditions.
Conclusion
Whether you are a seasoned artist or just starting out, the best airbrush paint can make a massive difference in your artistic endeavors.
However, you should always consider factors such as coverage, viscosity level, longevity, bottle design, color selection, and cost, as they significantly impact the quality of your painting experience and the final results.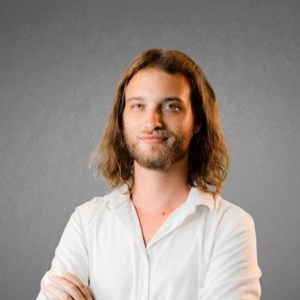 I am a former art teacher, so it is evident to me the importance of art in educating the new generation. We also want to help parents who plan to teach their children and desire the best tools and tips for them.