When we think of an ink pad, the first two things that may come to mind are identifications and documents. I usually see one when filing for applications at banks or government offices. But there is more to it than what we know.
Ink pads are versatile materials. They are commonly used for stamping logos and design labels of small businesses. You can use ink stamp pads for crafting, card-making, journaling, and more.
You may think all ink pads are the same, but each one has its own distinctive features. I have listed down the best ink pads for stamping. The product reviews will enlighten you on stamp pads, together with the buying guides and FAQs that I included.
Best Ink Pad for Stamping Reviews
1. Ranger Jet Black Archival Ink Pad
The Ranger Jet Black Archival Ink Pad provides a beautiful and full black color that dries quickly but stays permanently on matte or glossy papers.
Its pigmentation and amount of ink are exceptional. It has a deep black color that immediately shows on paper right at the first stamp. Moreover, the pad has a remarkable amount of ink that lasts a long time without drying out.
Even if the ink is heavily pigmented, it doesn't bleed through paper. It works well with water-based inks and markers without damaging the surface and smearing the black ink.
You can use it to create the main outline for coloring or to stamp details over colored images. Either way, this waterproof ink complements the colors by highlighting the images or sketches.
I specifically love this product because it dries quickly, especially on matte surfaces. If applied on glossy materials, I leave it on for a few minutes or heat it a little when I still have other steps to do. Once dry, the black color is exceptionally bold, and it doesn't smear when touched.
The stamp pad itself has a standard size that fits simple crafts such as pattern-printing and scrapbooking. But unlike other ink pads, the case offers more convenience with its removable hinged lid. It also has a raised felt pad for easy use. These features give flexibility and comfort when doing art projects of different kinds and sizes.
Given its long-lasting and quick-drying formulation, an unwanted stain may be difficult to remove. Be careful when using the ink pad, and clean your stamps to avoid permanent stains.
Pros
Beautiful and pigmented black color
Long-lasting, smudge-free, and waterproof ink
Dries easily on matte or glossy materials
Works well with water-based inks and markers
Equipped with removable hinged lid and raised felt pad
Cons
Takes some effort to remove the permanent stains.
Overall, the permanent black ink of this ink pad offers impressive coverage, application, and longevity. It may be the best ink for stamping on paper.
2. Tsukineko StazOn Jet Black Inkpad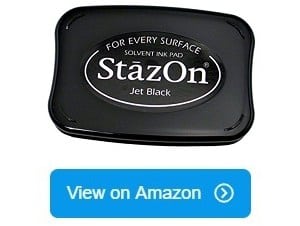 Another product with a lovely black shade is the Tsukineko StazOn Jet Black Inkpad. It has a solvent-based ink made to decorate a variety of non-porous surfaces.
Living up to its name, its quick-drying solvent ink stays on for a long time. Like the previous item, this jet black color is rich and full when applied to a surface. What is more, the pad contains a generous share of ink. Just a slight press of the stamp will already give a decent amount for your use.
But what makes its ink special among stamp pads is its multi-surface application. As mentioned, it incredibly adheres to non-porous and semi-porous materials such as metal, rubber, and leather, among others. No need to worry about immediate fading because this permanent ink is made to withstand smudging.
This item is an excellent art material for mixed media. You won't have to confine yourself with papers and boards. Furthermore, you can use this to embellish home decors made of glass, porcelain, and plastic. The creative ideas are endless with this practical option.
The main outer lid of the case is removable, but it can be sealed tight to prevent the ink from drying. It is also equipped with an inner plastic liner for additional coverage. Its dual layers of protection guarantee the lifelong freshness of the ink.
A minor drawback is the uneven distribution of ink across the stamp pad. I feel that the center part is more saturated than the sides. This, however, is mitigated by the raised pad, which somehow controls the ink transfer. I suggest practicing first to control and estimate the right amount you need.
Pros
Quick-drying solvent ink with rich jet black color
Multi-surface application on non-porous and semi-porous materials
Stays on for a long time
Contains a generous amount of ink
Equipped with protective inner plastic lining
Cons
Uneven distribution of ink
Nevertheless, this ink pad is a wise investment. It is a practical art material that promises long-lasting application on multiple surfaces and guarantees ink freshness even when kept in storage.
3. Lsushine Craft Ink Pad for Stamps
Expand your art collection with the Lsushine Craft Ink Pad for Stamps. It is a set of ink pads with 15 beautiful shades that will mark your world with colors.
This pack has a range of rainbow colors with light and deep shades, together with gold, silver, and copper.
The inks have a water-based solution, thus having a light consistency. While other users might prefer dye-based inks because they are heavier and livelier, the subtleness and freshness of colors from water-based ink make them ideal for pastel art and delicate designs.
Each stamp pad measures about 3 x 2 inches. It is relatively small compared to most ink pads, but this is just the right size considering that they are 15 shades altogether.
Since the colors are individually packed, you can easily take out what you need. The cases can also be piled up for organization and storage. The small size and stackable cases in this collection make them handy to bring anywhere.
You can do different kinds of projects with these craft ink pads. I use these when making holiday cards and tokens because they work remarkably on paper, wood, and fabric. During my leisure time, I rely on them for scrapbooking and journaling.
This bundle makes an excellent gift for children. The ink is safe on the hands, and the sponge ink pad is soft and delicate. Once more, the packaging comes in a lovely gift box. Kids will have fun finger-painting with this colorful set of stamp pads.
However, the ink doesn't work well with rubber stamps because of its solution. Stamps may end up messy because of the watery consistency. I suggest lightly dab on the pad before gently pressing on the surface. Results may not be crisp, but the imperfection adds a little personal touch.
Pros
15 water-based ink pads with fresh and subtle shades
Stackable small cases for organization and storage
Applicable to paper, wood, and fabric
Manufactured with safe ink and a soft sponge ink pad
Fun art material and lovely gift for children
Cons
Doesn't work as well with rubber stamps
Still, this pack of ink pads is recommended because of its exquisite shades and convenient packaging. Any kid gifted with this stamp pad collection will be delighted.
4. Avery Carter's Black Foam Stamp Pad
Get the best deal with the Avery Carter's Black Foam Stamp Pad. It is a useful ink pad that gets multiple jobs done for an affordable price.
This product is made for regular use. It is designed with a soft foam pad for hassle-free stamping. Also, its micropore pad can withstand frequent use while ensuring long-lasting ink freshness. Similarly, this technology provides a balanced coating of stamps when pressed.
The ink pad is refillable. Once it dries out, just purchase the inker sold by the brand. It is made with a dab-on applicator to spread ink on the pad evenly. The stamp pad itself is a bargain, but its available ink fillers make it even more economical.
I find this trustworthy when printing hundreds of invitations and favors for birthdays, weddings, and other events. It is also recommended for hobbyists who enjoy ink-printing.
The pad is standard-sized, so it is big enough to fit different kinds of stamps. I have used this a couple of times on several occasions, but the ink still works flawlessly every time.
The ink dries with a nice matte finish. I love how it appears on textured paper. Its muted finish makes the whole design cohesive. This is preferable when opting for a plain style.
While it claims to be black, the color appears to be lighter when stamped. Regardless, it still works fine. As a budget-friendly product that works wonders, I have no other complaints about it.
Pros
Designed with a soft foam pad for hassle-free stamping
Micropore technology withstands frequent use.
Made with a standard-sized refillable ink pad to fit different kinds of stamps
Offers an economical option
Perfect for special occasions and hobbies
Gives off a nice matte finish
Cons
The ink color is lighter than black.
On the whole, this stamping ink pad is a steal. It is a reasonably-priced but effective option that is exceptionally reliable for regular use and special occasions.
5. Melissa & Doug Rainbow Stamp Pad
Boost childhood development with the Melissa & Doug Rainbow Stamp Pad. It is a multicolored ink palette with six bright shades that will keep kids amused while learning!
Melissa & Doug is a company that creates educational toys and art supplies for children. It recently partnered with the American Academy of Pediatrics to promote healthy play and design fun tools to foster early brain development.
Even before this alliance, the company has always inspired imaginative thinking among children through its innovative products.
This product includes six colors of three primary and three secondary shades. All ink colors have vivid pigmentation to stir interest and creativity that would advance the skills of young children through arts and crafts. No need to worry about the mess because the colored inks are washable. Hand stains can be easily washed with water.
The packaging is also made for the use of young children. The case has a sturdy plastic for protection when dropped. The ink pad is sizeable for big stamps that are commonly used in schools.
One disadvantage is the shared cover for all six colors. While this allows easy access and switching of colors, the palette is vulnerable to color contamination.
On the good side, this will train children with their hand control and motor skills. They can be taught to use separate stamp sets for each shade and to wipe them clean after use to avoid staining.
Pros
Six colors with vivid pigmentation
Designed for early brain and skills development
Ink washes off easily from hands with water
Sturdy plastic packaging
Sizeable ink pad for big stamps
Cons
Shared cover for all six colors
By and large, this rainbow ink pad is a valuable and child-friendly art material that combines learning and entertainment all in one multicolored palette.
6. Tsukineko VersaFine Onyx Pigment Ink
Dare to create sharp details with the Tsukineko VersaFine Onyx Black Pigment Ink. It is a high-quality ink and stamp pad that has made an incredible mark among users.
Tsukineko is one of the leading creators of inks and art stamp pads. It has been a favorite brand among stamp enthusiasts because of its original and wide array of products. It always designs and manufactures unique ink pads for distinct purposes, thus setting high standards in the arts and craft category.
The VersaFine is one of its best sellers. It has an oil-based pigment ink that astoundingly captures finely detailed designs. Additionally, its printed patterns are resistant to water, fading, and smudging. This makes the product a suitable partner of water-based inks and markers.
Similarly, this is ideal for making embossed designs. After applying ink, sprinkle embossing powder on the stamped print. Then, tap the excess and brush off some areas. Finally, use a heat gun to reveal that shiny, metallic finish.
This product is adequately filled with black ink. I've been using it for many art projects that require detailing, yet the ink stays full and wet. I could say it has relatively more ink than other brands.
On the downside, it is a bit pricey. This is understandable given its seasoned performance of creating bold and stunning impressions. In the long-run, you could actually save more because the pad can produce many prints and it is refillable with an inker.
Pros
Manufactured by one of the leading creators of inks and art stamp pads
Oil-based pigment ink creates finely sharp prints
Ink is resistant to water, fading, and smudging
Ideal for making detailed and embossed designs
Refillable with inker
Cons
A bit pricey compared to similar products
In general, this well-trusted stamping ink pad is a must-have. It may be the best stamp pad for intricate patterns.
7. Ranger Emboss It Clear Embossing Ink Pad
Make your designs pop with the Ranger Ink Pad. It has an invisible ink that will magically transform your art to another level.
This product creates beautiful and neat prints. It has a transparent ink that leaves a clean base for any colored embossing powder. The stamp pad also controls just the right amount of ink so that impressions are done spotless.
I really love working with it because it can make simple but sophisticated art projects. It is the perfect choice for white papers and boards.
This versatile ink pad is one of the few kinds that have compatible ink for clear stamps. Similarly, its embossing ink has decent wetness and stickiness to let powder cling to it.
The results are incredible once the powder has been heated to reveal a smooth and glossy finish. Moreover, the design comes with a polished and solid color because of the invisible layer of ink.
Artists and hobbyists who are interested in trying clear embossing ink should opt for this. It is a less expensive option than the previously mentioned product. Fortunately, its performance will give the same satisfaction but for a lower price.
A minor concern is its less coverage and detail. Some embossing powder may not stick or may detach when using a heat gun. I suggest letting the powder sit for a while before heating.
Pros
Clear and invisible ink for embossing projects
Creates a beautiful and clean base, and a smooth and glossy finish
Works with different kinds of stamps
Embossing powder sticks well and long
Less expensive option
Cons
Has less coverage and detail
In the end, it does a splendid job for a fair price. This is a one of the
best ink pads for stamping
that will turn a plain work of art into a classy piece.
8. Lsushine Rainbow Finger Ink Pad
Plan fun art activities with the Lsushine Rainbow Finger Ink Pad for Kids. It is a pack of 20 vibrant shades in delightful packaging that children will surely obsess with.
The first Lsushine product on this list was already impressive. But the art company continues to surprise us with another exciting product. Featuring a wider assortment of bright and fun shades, this collection will encourage children to further expand their colorful imaginations.
The ink pads measure 1.57 inches on each side. They are smaller than most pads, but their cute sizes are made for small stamps and journaling. They also come in rectangular box packaging that is perfect for storage and gifting.
Kids will definitely enjoy this collection. They can use their own hands to paint anything, and easily wash them off with water and soap.
The sponge ink pad is nicely moist and filled with ink at first use. Even in the long-run, it is still hydrated, and the stamp prints are also consistent with its bright colors. Best of all, it creates a safe and fun playtime as the ink is non-toxic.
These little pads are adorable, but they may be unable to fit large stamps. Still, they are a practical choice among adults and children when working on small projects. Undeniably, this set is value for money.
Pros
Wide assortment of 20 bright and fun shades
Fairly sized for small stamps, journaling, and child's use
Comes in rectangular box packaging
Safe, non-toxic, and easy to clean
Practical and value for money
Cons
Too small for large stamps
In general, Lsushine creates the best stamp pads. They are perfect for young and budding artists who are still exploring colored inks.
9. ExcelMark Ink Pad for Rubber Stamps
Make great impressions with the ExcelMark Ink Pad for Rubber Stamps. It is a straightforward but useful ink pad that can achieve crisp prints.
As reviewed earlier, VersaFine is one of the best stamping ink for detailed designs. However, it is a bit pricey for some users. As an alternative, you can purchase ExcelMark instead. It comes in a red, purple, blue, green, brown, or black shade that is sold for a good price.
For a reasonable cost, this ink pad similarly leaves clear and detailed prints. Compatible with rubber stamps, its ink has a dry consistency which actually helps in keeping sharp, clean, and full colors. Other stamp pads with over-soaked ink dry longer and end up blotchy and messy when pressed.
This product is dependable for general use. It has a standard size to accommodate stamps of different shapes and patterns. It has an evenly flat felt pad for equal ink coverage. In addition, the hinged lid ensures that the pad is always covered immediately after use. This also allows easy and fast use by simply flipping it over.
On the other hand, you may need to press several times for coverage. This may be because of the dry ink. I had to add extra effort to sufficiently cover my stamp.
Pros
Leaves clear and detailed imprints
Compatible with rubber stamps
Comes in standard size and evenly flat felt pad
A good alternative to expensive brands
Sold at reasonable price
Cons
May need to press several times for coverage.
Despite this, I am still impressed with the results. The full color and intricate designs it can make are amazing, and it's all for a good bargain. It is one of the best ink pads for rubber stamping.
10. Tsukineko Tuxedo Black Memento Inkpad
Last but not least from its manufacturing company is the Tsukineko Tuxedo Black Memento Inkpad. It is a water-based dye ink with fantastic color, quality, and brilliance.
Equally impressive as the VersaFine ink pads, this product has fast-drying and non-fading features. The ink pad can create detailed impressions that won't smudge when filled in with colored pens and pencils. Comparably, you can also add embossing powder to highlight your designs.
On the other hand, its ink is noticeably fuller than other stamp pads. It also offers more versatility as to surface application. VersaFine works best with uncoated paper, but Memento is suited for coated paper, glossy vellum, and printer paper to replicate fine patterns.
You can also explore different art styles with it. Aside from stamps, I tried using an ink blending brush for the gradient. It gives a beautiful shading effect to my designs and adds a softer touch to the colors. This is one of the best ink pads for blending.
If you enjoyed using it, it comes in other beautiful shades. It is even sold in a smaller amount in a dewdrop shape for you to conveniently bring anywhere. But since it is tried and tested, just get the full-sized stamp pad.
Again, the products under this brand are on the expensive side. But you will surely get the most of your money from its amazing quality. If your pad runs dry, you could just purchase the inker for replenishment.
Pros
Fast-drying and non-fading water-based dye ink
Works with colored markers and pencils without smudging
More vibrant than ordinary ink
Applicable on glossy, coated, and uncoated paper
Offered in different colors and sizes
In general, everything from this brand is uniquely superior. The outstanding performance of this ink pad will keep your satisfaction filled.
11. 2000 PLUS Black Ink Felt Stamp Pad
Get the 2000 PLUS Black Stamp Pad for office use. It is a full-sized ink pad that is specifically made for large stamps with wider coverage.
This brand offers a wide variety of innovative stamps. It sells self-inking and pre-ink stamps that are already installed with their built-in pad. Their products are revolutionary, and it all started with their simple but effective stamp pads.
Measuring about 6 x 3 inches, this black ink pad for stamping is larger than regular ones. It is made to fit stamps with wider coverage, including message and date stamps. This is ideal at the office, where you could use customized stamps for receiving documents or printing logos.
The ink has a firm consistency that dries well on paper. This black variant has a dark color that creates clean and refined impressions with full coverage. It can make prints look sleek and professional, thus fitting for corporate or business use.
You could get this refillable ink pad for a good deal. The felt pad has superb quality in comparison with other pads of the same type. Its material controls ink to avoid over-soaking and smudging. Moreover, it can be easily replenished with a roll-on ink refill. The pad absorbs the ink, thus ensuring even distribution across it.
This is effortless to use – open the lid, press on it, and transfer ink on paper. There is no need to apply much pressure. Just lightly rub across and tap on the surface for the ink to stick.
However, it comes in a flimsy plastic case. It doesn't seal shut because it only has a flap cover. I had to tie a rubber band or keep something heavy on it to preserve the ink's freshness.
Pros
Large-sized than most ink pads
Superb felt pad that controls and distributes ink
Sleek and professional impressions suitable for office or business use
Easily refillable with roll-on ink
Effortless use by lightly rubbing and tapping
Cons
The plastic case is not very sturdy.
Nonetheless, I recommend this as an office staple. This uniquely large-sized stamp pad will do its job well for a long time.
12. YPSelected Craft Ink Pad
I am ending my product reviews with a set of colorful stamp pads. The YPSelected Craft Ink Pad has a soft touch that can produce pretty impressions with little effort.
This product has a cute size. With a foam pad measurement of 2.4 x 1.5 inches, it is smaller than the standard sizing. This may be unfavorable to some artists, but I find this size useful when decorating letters and invitations with postal stamps.
There are different good shades to choose from, including silver. I can make wonderful designs with its beautiful selection of craft ink pads. Moreover, it is applicable on paper, wood, and fabric. You can think of endless art projects with its wide assortment of colors.
The pad is made with a sponge material. Because of its soft texture, it can evenly ink stamps with intricate designs by pushing through their shapes and gaps. With a few gentle dabs, you can get ample coverage with little effort.
The ink pad is dry when you purchase it. Just add a few drops of water to hydrate the solution. You could also try storing it upside-down to help the ink stay on the top layer. These can be conveniently organized by stacking on top of each other so your work table will not be a mess.
This stamp pad is functional for a low price. However, set expectations for average quality. The plastic packaging is lightweight and the sponge is a little thin. Some pads may also have ink with a lighter shade when applied.
Pros
Small-sized for decorating letters and invitations
Available in different good shades
Can be conveniently organized by stacking
Made with soft sponge material
Functional for a low price
Cons
Average quality with light colors and material
Even so, it is workable given its price. I recommend this for occasional use. This is also a great starter to experiment on colored ink pads.
What to Look for When Buying Ink Pads
Ink pads are simple by design, but each one has unique features that cater to your specific needs. Shortlist your choices and select the best ink pads for stamping with these buying guides:
The purpose of using ink pads
This is the first factor that should be considered. Stamp pads for office use generally range with neutral ink colors such as black, blue, or red. Craft stamp pads are designed for art purposes, having a wider variety of shades and application styles, making them the best ink pads for card making, scrapbooking, or painting.
The material of the ink pad
This usually comes in two types: felt or foam ink pad. Felt stamp pads are made of series of thread weavings that offer an equal distribution of ink across the pad. Foam ones have sponge material that can evenly ink flat and detailed rubber stamps.
The size of the stamp pad
If you already own rubber stamps, you may want to consider the size of the stamp pads. These usually come in the standard full sizes or smaller ones that may or may not fit what you have. We have different preferences regarding size, but it's best to look into measurements to ensure compatibility carefully.
Other Important Factors to Consider
For experienced stampers, the type of ink is a crucial consideration. Inks can either be dye-based, pigment-based, water-based, or oil-based. These vary in terms of consistency, permanency, vibrancy, and surface application. By making a stamping ink comparison chart, you could see differences among these and tell which ink type is appropriate for your use.
Your art style will also dictate your final pick. Most ink pads are designed for basic impressions, while craft stamp pads may be more flexible for embossing, blending, coloring. Ink also applies differently on particular media. Regular ink pads are made for porous surfaces such as paper, wood, and fabric, while special stamp pads like solvent ink pads work excellently on non-porous such as metals, plastic, and glass.
What are ink pads?
Ink pads are small, flat cases affixed with soft, absorbent material for storing ink. These are made for creating impressions on paper, fabric, wood, and other media with stamps. The cases are usually made with a plastic base to hold the ink and a hinged or removable cover for protection. A layer of felt or foam is installed inside, which evenly distributes the ink across the pad and controls ink transfer.
How do they work?
Traditionally, rubber stamps are pressed on top of stamp pads to get ink. This collected ink is then transferred and printed onto a surface to create impressions. On the one hand, self-inked and pre-ink stamps have built-in stamp pads that can be replaced after running out. These are usually made for office use, which requires repetitive, fast, and clean stamping of documents.
Who are these for?
Ink pads are commonly used for office purposes. In a corporate setting, they are used to stamp dates, seals, or signatures when receiving letters or authenticating documents. They are also helpful in printing logos on product labels made by small businesses.
Another use is for arts and crafts. On regular use, they are used by hobbyists for decorating scrapbooks, letters, and other personal items. On special occasions, ink stamp pads are convenient for designing invitations and tokens with customized stamps.
What are the different types of ink pads?
As mentioned earlier, one difference among ink pads is their cloth pad material. But a more distinguishing feature is the type of ink that comes with the pad. The common types are dye ink pads and pigment ink pads.
Usually found on felt pads, dye ink has a thin, translucent, and fast-drying consistency. Conversely, pigment ink has a denser and opaque make-up, and it is usually used in foam pads. There's also solvent ink, which excellently works great with metals, glass, rubber, and other non-porous materials.
Ink pads also have different types of ink solution – water-based and oil-based. Water-based ink has a light consistency that is washable or less permanent on the surface, while oil-based ink has a thicker and water-resistant feature. Water-based ink is suitable for recreational use, while oil-based ink is ideal among professional artists.
Why do you need ink pads for stamping?
Rubber stamps are economical and convenient tools. They are handy for repetitive and frequent tasks, such as receiving office documents and branding product labels. Instead of using expensive and complicated technology, simple tools like rubber stamps are more than enough to do the work.
But of course, they will only work with ink pads. Ink pads are designed to hold ink well for a long time and control its even transfer for stamping. They have long been reliable partners of rubber stamps in creating impressions for different purposes.
Frequently Asked Questions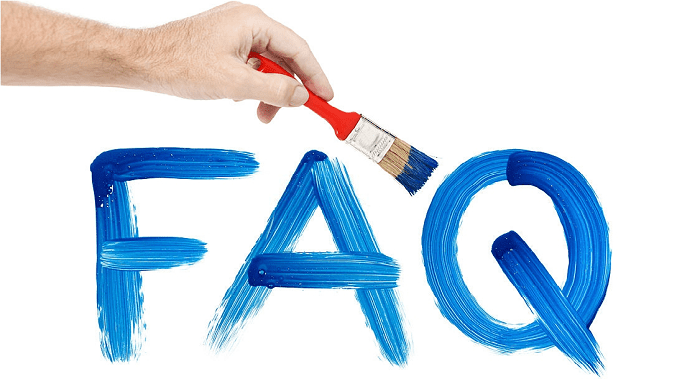 What are the most trusted ink pad brands?
Ranger Industries and Tsukineko are two of the most trusted ink pad brands among stampers. They specifically manufacture ink and stamp pads, thus making them reliable companies for these products. Through the years, they have innovated and introduced unique kinds of ink pads that became a favorite among users.
What is the difference between dye and pigment ink pads?
Dye ink pads contain thin and translucent colored ink that produces soft shades when applied on a medium. They usually have felt pads since dye ink can penetrate and soak the layers well. However, the ink is less resistant to water and fading over time; hence it is recommended for indoor application.
On the one hand, pigment ink pads have dense and opaque ink that can withstand water, light, and smudging better than dye ink, thus making them more appropriate for outdoor use. Since pigment ink tends to suspend on a surface, foam pads are used to store the ink where the ink can fill the gaps. The colors may be less vibrant, but the difference is unnoticeable.
What can I use instead of an ink pad?
You can use paintbrushes and makers to cover your rubber stamps with colors. However, the impressions may come out blotchy or uneven since the application is made part by part.
You can also make your own ink pad household items like sponges and containers. Simply fit the sponge in a container to get the right ink pad measurement. After cutting it into the appropriate size, place the sponge inside the box and add paint or ink. This is a fun alternative for arts and crafts, but it may be somewhat messy to do.
What is the best way to store ink pads?
Store ink pads flat with the bottom side facing down to spread the ink across the pad and avoid it from dripping or leaking. Another way is having them upside down when they are noticeably dry. That will keep the ink on the top layer when used. In either case, always ensure that the case is tightly sealed.
Where to buy stamp pads?
Amazon is the best place to buy stamp pads. You can easily browse and purchase items with the best prices right through the website. Have them conveniently shipped at your home for a low fee or even free.
Conclusion
To sum up, ink pads are plain yet multi-purpose items. They are proven to be useful at home for arts and crafts or at the office for official tasks. People can use them instead of using markers or pens. There are different kinds of ink pads to choose from, and I am happy to have shared some of them with you.
This post included reviews of the best ink pads for stamping. The buying guides and answers to FAQs also gave additional information about stamp pads. I hope you already have one ink pad in mind that you want to purchase by this time. I am excited about your pick, and I hope you will have a great time with it.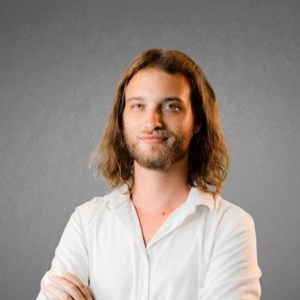 I am a former art teacher, so it is evident to me the importance of art in educating the new generation. We also want to help parents who plan to teach their children and desire the best tools and tips for them.