The best calligraphy books are indispensable when trying to learn calligraphy. If you can't enroll in calligraphy lessons or classes, your best option is to use modern calligraphy books. There are plenty of calligraphy guides out there. And since you can't buy every one of them, you should find out which books are worth reading and can help you learn calligraphy in no time at all.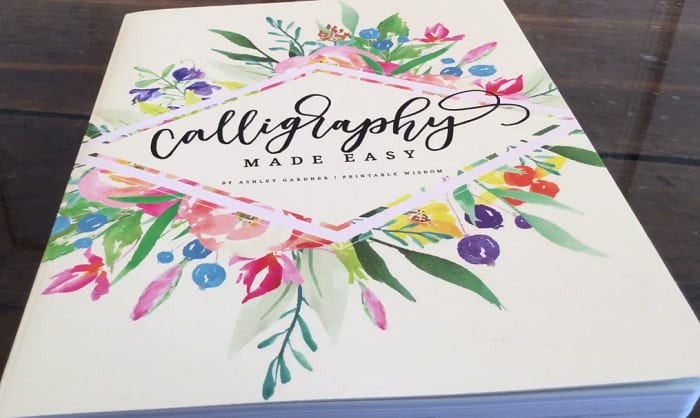 This article will help you identify the right book to learn calligraphy. You will be able to pick the books that suit your budget and lettering styles. Check out below which of the books out there are perfect for your needs.
Top 12 Calligraphy Book Reviews
1. June & Lucy Guide to Modern Calligraphy
This is one of those calligraphy line guides that set you up for success. It's really the perfect beginner book because it goes through a step-by-step, non-intimidating process of learning calligraphy. What is truly remarkable about this book is that it thoughtfully provides what the newbies need.
Instead of immediately jumping into a litany of instructions, the book of June & Lucy sets you up first so that you are comfortable using it and holding your calligraphy pen. It's a big deal for me because this makes it easier to actually get started. It eliminates the obstacles that you might initially encounter.
It's a very big book. There's nothing flimsy about it, especially its cover that is made from premium material and has a matte cover design that goes straight to the point and devoid of fluff. It's one of those books that you can proudly showcase on your shelf.
The print is legibly showcased as well. Everything seems to work cohesively and the step-by-step learning guide makes sense. It truly helps hone your basic calligraphy skills.
It comes with a lot of practice pages. And since the drill worksheets are big, I didn't have trouble navigating through it. You also have the option of going to the author's website and get additional pdf worksheets that you can print out.
This calligraphy workbook is also affordable and packed with a lot of features. The only caveat that I can see is that the paper is a bit thin. I would have preferred something thicker. If you use alcohol-based markers,
the calligraphy ink
might bleed through, so be sure to place a piece of scrap paper behind to prevent this from happening. There might be some ghosting at the back of the paper though.
Pros
Big book, great for beginners
Comes with drill worksheets
Affordable
You can get additional pdf worksheets
Easy-to-understand instructions
Cons
Paper is thin
Markers tend to bleed through
All in all, this is a solid calligraphy instruction book. It has everything that you might be looking for in a starter book. I would recommend this to anyone who wants to cut to the chase and go for a book that gives them all the crucial information that they need to begin.
2. Whitney Farnsworth Pretty Simple Lettering
This calligraphy practice book sets itself apart with its multiple alphabet calligraphy style options. What I truly like about this is that it allows you to master different fonts so you can apply them on various occasions. There are styles suitable for formal occasions like weddings and more casual ones like birthdays and baptisms.
It's intended for beginners and also intermediate users who need to supplement their knowledge on calligraphy. For beginners, you can develop and master your base skills with the way this book presents information. The calligraphy letter guide is easy to understand.
It's a very well-illustrated book. Every page is a treat for the eyes. The cover page is sturdy and has a nice design, too, so it can very well be displayed on your bookshelf with ease. Another thing that I like about this is the spiral bound. Unlike non-spiral bound books, this one is easier to lay flat. I don't have to hold it down with my other hand, so I can freely practice my letterings.
It comes with a lot of practice pages that I soon used up. I would suggest getting extra tracing papers because you will use these practice pages up easily.
The spiral also makes this more difficult for left-handed people to use. Additionally, it's also a pricier book compared to others in this list.
Pros
Shows you different styles of calligraphy
Allows you to work on your base skills
Pretty book with nice illustrations
Good practice pages
Lays flat because it is spiral bound.
Cons
You might need to get extra tracing paper to be able to practice more.
Not ideal for left-handed people
Despite some of its transgressions, it's a great book to buy if you are serious about improving your basic calligraphy skills. If you are looking for a calligraphy lettering guide that will truly guide you in mastering your strokes and working on your basic skills, you won't be disappointed with this one. It's a tad pricey, sure, but I think its benefits trump the downsides. I would even buy this even if I already have some basic calligraphy skills just because it shows you different kinds of letterings. Overall, it's a great buy and you wouldn't regret buying it.
3. Paper Peony Press Modern Calligraphy
This is an amazing book for beginners and intermediate users. Right off the bat, you can see why it's a popular calligraphy book. It's packed with a lot of beautiful features. The illustration is pretty and can entice those with a minimalist aesthetic. It's neat and everything has been categorized effectively.
What makes this such a great option for buyers is the way it teaches users 5 different font styles. If you want to quickly broaden your calligraphy range, I would recommend this book in a heartbeat because it goes right down to the alphabet styles.
I wouldn't recommend this for extreme beginners though because it doesn't tackle creating shapes and strokes but rather going over how to make alphabet styles instead. I think it's more intended for advanced beginners and intermediate users who already have some knowledge in creating shapes.
I like how it includes instructions for both uppercase and lowercase letters. After going through one font style, I can confidently do sentences already, which is great if you want to do lettering projects right away.
It's a sturdy book that can take a bit of rough handling, especially when doing calligraphy. However, I do wish it comes with a spiral spine to make the pages flat and make it easier to practice. The pages are a tad thin as well, so alcohol-based ink can easily bleed through.
Also, I would suggest you start working with a good set of calligraphy marker pens. They are more practical for this kind of book, but you can also use the traditional calligraphy pen. You should make sure that the ink dries up well or use a scrap piece of paper behind it to prevent any permanent damage on the book.
Having said that, it's still a good book that I can buy multiple sets of to practice because it's affordable.
Pros
Learn up to 5 different font styles
Comes with instructions for both lowercase and uppercase letters
Puts emphasis on letters
Pretty illustrations
Cons
Might not be ideal for extreme beginners
Ink bleeds through
Doesn't stay flat
If your calligraphy level is advanced beginner to intermediate, this is an ideal book for your practice. This book will allow you to explore different types of handwriting, which should jumpstart your ability to make beautiful calligraphy sentences.
4. Leslie Tieu Modern Calligraphy
Looking for a book for calligraphy for dummies? Set your sights on this one. This book comes with 109 pages replete with information and tips on how you can get started in doing calligraphy. What's even better is that it comes with a spiral spine so that it lays flat when you use it. It is recommended if you want to focus on practicing your letterings and tracings but without the book impeding, which can happen with the traditional style of books.
The author recommends using a Tombow Fudenosuke pen to get started; however, you can also try other pens that you might already have.
This book not only lay down the instructions on how to create the letterings but it also delves deeper into that such as how you can create your own style of writing. I find this beneficial. With other books, I'm simply copying and memorizing the strokes and what is being instructed but with this one, I can actually create a unique style of handwriting simply by following the instructions. It comes with complete instructions, particularly with slating and spacing.
Another advantage is that it makes suggestions on what kind of pen and calligraphy paper you should use. It doesn't leave you to fend for yourself. Instead, it goes through the preparation process, so you can confidently do calligraphy.
There are not a lot of downsides to the quality of this book but I do wish it has more styles of letterings. This one only comes with 3 styles. However, there are a lot of examples included.Also, it shows you how to do other techniques like shadowing and adding more flourishes to your handwriting. Besides, you will be advised about how to make banners, perfect for journaling.
Pros
Has a spiral spine
Breaks down all the crucial steps in calligraphy
Great for beginners
Excellent printing and good quality pages
Has additional projects aside from letterings
Affordable book
I would suggest this book if you are a complete beginner. It's an easy book to follow, thanks to the structured approach of the author and the step-by-step process of which the information is presented. You won't get lost and it will allow you to understand your personal calligraphy style.
5. Chalk Full of Love Hand Lettering 101
This book screams to get noticed. It has a pretty dotted cover with a gold-tone spiral spine that will make you stop and pause to look at it. If you like displaying your calligraphy books, you will like this one. It just begs to be displayed.
Content-wise, it's not the most informative. I find the other books have a more in-depth guide in hand lettering. However, it still offers valuable information that beginners and intermediate users will like. Its strong point is the way it teaches various font styles. It has a lot of font style options and also delves deep into how you can create your own font style. Having said that, it's a book with instructions that can be easily digested. Beginners will have an easy time navigating through its various instructional pages.
I can't say anything bad about the quality of the paper. It's thick and the ink doesn't bleed through easily. It also comes with a lot of practice pages. Almost half of the book is blank for practicing. If you need more, you can easily download a pdf file, which is the same as the letters in the book.
Additionally, this book has a spiral spine. If you have tried writing on a calligraphy book without a spiral spine, you know how difficult that can get. It's hard to keep the pages flat long enough for you to do a decent stroke. The pages of this book lie flat, so you won't have such a problem.
I just think this book is a bit overpriced for what it offers. They could have done away with all those extra pages and added more instructions or font styles.
Pros
Striking book cover
Can show you how to write different fonts
Good paper quality
Easy to understand and follow
Lots of practice pages
Spiral spine
It's still a good book to get if you like to have more intensive practice. If you don't like to print extra pages or you just want to bring a practice book everywhere with you, this is a good option. It's a well-made book with a lot of perks which gets your money worth
6. David Harris The Calligrapher's Bible
Whether you are looking for the most favorite copperplate calligraphy book or a beginner's guide to calligraphy, this book will serve you well. You can say that this is the Holy Grail of calligraphy books because of its extensive list of font styles. I would suggest this even to experienced calligraphists who want to broaden their range of font styles.
What really strikes me as the best part of this book is how well each font style is explained. It delves deeper into how each stroke can be achieved – from learning how to angle your pen to how you should position your hands. It really makes it easier to master the technique, so you are not just a blind follower but you also understand the rationale behind the stroke.
Compared to the other books, this one has the most font styles to offer. If you are interested in expanding your font repertoire, go ahead and get this book.
However, it doesn't come with a practice page. I would suggest scanning the pages or tracing over the letters with a thinner kind of paper. This is not a deal-breaker, especially since practice pages for other books are limited as well. I prefer having more font options than blank pages.
It's a sturdy book as well. The spiral spine makes it easier to lay down the pages flat, so you are not struggling to keep it open. The pages are all sturdy, as a result, they are not going to come off and rip up after a few uses.
Pros
Clear and easy-to-follow examples
Teaches different font styles
Good quality paper
Doesn't tear easily
Spiral spine
Cons
Doesn't come with practice pages
This book deserves its "bible" moniker. It teaches you almost everything you need to know about calligraphy. Also, it has a lot of font styles, so I know this book can be helpful not just to beginners but to experienced calligraphists as well. It is easy to overlook the book's downsides given how helpful and informative it is. I would recommend this to anyone who is serious about improving their calligraphy skills.
7. Gray & Gold Publishing Calligraphy Notepad
When you purchase this notebook, keep in mind that it's not meant to be a primary calligraphy book. Instead, it's designed to be a supplementary one. If you have a nice calligraphy book and you don't like to ruin the practice pages, you should give this book a try.. The practice pages are great. You won't feel bad even if you mess up.
The book of Gray & Gold comes with a lot of pages. It's also inexpensive. Therefore, if you need more practice pages, you can get this notebook without considering too much about your budget.
This notepad includes three sections together with a dotted matrix. If you want to have full control over your strokes, the dotted matrix can be a good option. You can also choose the angled and straight lines. It allows you to practice different strokes, so you can learn how to get better control.
There is some very slight bleeding. It's something that you should expect unless the pages are made from cardstock. The ghosting behind the pages can be seen as a downside but isn't too annoying if you are using this as a practice page.
You can bring this notepad everywhere. If your main calligraphy practice book is too big, heavy and bulky, get this instead. It's easier to bring and it can withstand some rough handling. The exterior cover is sturdy.
One thing I wish to see in this notepad is a spiral binding rather than the regular glued one. It will be more convenient to practice as it keeps the pages flat. With this one, I have to force the pages to lay flat, which can get a tad annoying sometimes.
Pros
Great for practicing
Great as a supplementary book for main instructional books
Inexpensive
Lots of pages to practice with
Cons
There is some ghosting on the back of the paper
It does not lay flat
It's a good notepad to buy if you are looking for extra pages to practice your calligraphy skills. I would suggest getting this if you have an instructional book already. If you don't like to mar the perfection of your instructional book, you can use this as an alternative. It dispenses the need to print out practice pages.
8. Sally Sanders Modern Calligraphy
Do you have a child or a teenager who is keen on learning calligraphy? Other instructional workbooks might be too complex for them to understand but this one is just perfect for younger beginners.
This book teaches young calligraphers all the basics including how to create the strokes and how to angle the pen. I think the information in this book is great even for adults who are starting to learn how to do calligraphy.
You can learn three different lettering styles. It's a good number so as not to overwhelm young learners. I also like that this book provides a lot of practice pages. Right next to the letters, there is a blank space for you to practice on.
It shows you where and how to start your strokes. The letters come with red arrows that will indicate the direction of your strokes. I like how well this is illustrated because it makes it easier to get the gist behind creating the strokes.
It also comes with instructions on what kind of pens you should use. And speaking of pens, this has pens that you can use to get started. It's a perfect option for people who want to cut to the chase and get started in learning how to do calligraphy.
The pens are sturdy and they dispense a good amount of ink. I would say the pens are pretty basic but work well as a starter pen. You can always advance to better calligraphy pens if your skills have improved.
It's a sturdy book that you can bring anywhere. However, it doesn't have a spiral spine, so it won't lay flat. Additionally, I think it's a bit pricey for what you are getting.
Pros
Can be used even by adults
Offers three different fonts to learn
Comes with a lot of practice pages
Comes with a brush pen
Good pen color options
Easy to use
Cons
A little too pricey for what you are getting
Get this if you are an absolute beginner looking for an easy book to follow. It doesn't get too technical, which makes it easier to follow. This book can be a good gift to young adults or kids who are interested in calligraphy as well.
9. Sarah Richardson Copperplate Calligraphy
Copperplate calligraphy might look a little advanced but in fact, it's one that I can easily master if I spend enough time practicing. The book dives deep into the intricacies of calligraphy in a way that is easy to understand. As a beginner, I didn't feel like I was lost.
It's a good and elegant book that has nice color photos to engage you. It shows you exactly how it is done. The author also included a lot of nifty tricks that truly helped beginners like me overcome those initial hurdles. It's an easy read and the step-by-step instructions flow so smoothly.
There are also a lot of practice pages included in this book. It suggests using a lightbox to make it easier to trace. However, even under natural lighting, it's still easy to use. I don't suggest writing directly in the book because it has a glossy surface that makes the ink more difficult to dry up. You will need to print out practice pages or use a blank paper to trace it.
I also like how much information is presented in this book. There are a lot of useful tips on how you can address the letter envelopes and tips on how to do flourishes.
Pros
Teaches the proper way of holding your pen
Beginner-friendly and easy to read
It offers a lot of valuable techniques
Lots of instructional pictures to guide you
Plenty of additional information
It's an interesting book that you will not regret buying. If you want to strengthen your copperplate calligraphy skills, this book will help you go a long way. It is also replete with information that you can use to hone your skills.
10. Amy Latta Hand Lettering for Relaxation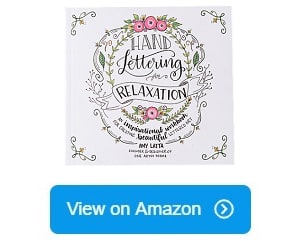 This is one of the top-rated lettering books out there for users of all levels. It's not only for calligraphy enthusiasts but also for lettering enthusiasts as a whole. You can use the information in this book for different purposes such as bullet journaling, writing on envelopes, and labeling.
It is a thick book but it is devoid of fluff. In fact, it only contains one blank page for practicing. Some might consider this a downside but others might like it because it focuses mostly on information. If you want to practice, you can get extra papers and trace it instead.
There is a lot of information on this book, which covers from basic lettering techniques to specific guidance on how you can draw banners and other small art details for those who like to do journaling.
The quality of the paper is remarkable. It's thicker than the other books I have tried, as a result, it will hold up well against a lot of damage. However, it's a big and hefty book, so it might be a little hard to carry.I like how there are a lot of font styles and flourishes that you can learn from this book. The author even teaches you how to convert your work into digital format.
The author lays all the information down in a way that is simple to understand. I did not struggle to follow the instructions and everything seemed to flow seamlessly.
Pros
Thick book with lots of information
Comes with information on how to convert your work into digital format
Great quality paper
Comes with a lot of instructions on how to do banners and other journaling must-haves
Very easy to understand
Cons
Doesn't come with a lot of practice pages
This book is value-for-your money, so consider adding it to your list of calligraphy must-haves. Honestly, it's enough to help you hone the skills that you need for doing calligraphy work. It's a great buy for anyone who is looking for a complete book.
11. Molly Suber Thorpe Mastering Modern Calligraphy
This book is a complete guide to doing calligraphy. I was hard-pressed to find anything wrong with it, especially since it covers everything and shows you not just one or two types of writing styles but a myriad of different and beautiful writing styles. More than that, the author teaches you how to do flourishes and strokes so that you can personalize your writing styles in a creative way.
Everything about this book is well-made and sturdy. From its hardbound cover to its strong spiral spine, you will know that this is a book that will last you for a long time. There's nothing flimsy about its pages either. The instructions are printed on thick paper.
I like how the author included some warm-up exercises before delving deeper into the nitty-gritty of alphabet letterings. If you are a beginner, that will help work up the courage to try something more intricate. It will also loosen up those stiff wrists and fingers so you can do the more difficult stuff.
It's a good book if you have zero knowledge of calligraphy because it teaches you everything that you need to know to get started. You will be instructed about what supplies you need to get, particularly the types of pens and calligraphy nibs and what makes them different.
Since it is spiral-bound, you can lay it flat. This makes it easier to trace over the letterings or scan the pages to be used as a practice page. It's quite a hefty book though, so it's going to take up space in your bag.
Pros
Beautiful book
Comes with a hardcover
The pages are sturdy and thick
Comes with warm-up exercises
Provides tips on choosing the right supplies
Shows different layout for your calligraphy
Has spiral spine
This is one of the most complete calligraphy books out there. You will not regret buying this book because it contains a wealth of information that can truly help you build the right calligraphy skills. It's a great book not only for beginners but also for intermediate and experts.
12. Maureen Peters Calligraphy Workbook
This book is written by an experienced calligrapher. Significantly, it teaches you 5 different types of fonts. If you are into classic font styles, you will like this book. You will learn how to do Casual Pointed Pen, Italic, Gothic, Foundational and Uncial styles of writing.
It's an easy-to-read book. The author really had beginners in mind when she wrote this because everything about this book is simple and clear. I didn't feel like I was struggling to understand her point.
It also shows you everything that you need to know to get started – from picking the necessary writing tools to working on your strokes. It even comes with a few projects that you can use to test how much you have learned. I can see how far I have gotten and how much I have learned and if I made a mistake, I can easily backtrack and see what else I'm missing.
It's quite an expensive book though for what it contains. I do wish it contains more information such as other styles and flourishes, but for a basic book, it's good.
Pros
Shows step-by-step methods
Detailed book that is easy to understand
Comes with projects that you can use to practice your skills
Simply written
Shows you what tools to get
Cons
A little pricey for what you are getting
What to Look for When Buying Calligraphy Books
Not all calligraphy books are created equal. If you want to get an excellent lettering book that suits your needs, here are a few factors you need to consider:
Skill Level
Are you an absolute beginner and don't know even the basics of calligraphy? You need to look for the best calligraphy books for beginners then. Let's choose a calligraphy book based on what you need to know. There are also calligraphy books for advanced beginners, intermediate and the more experienced calligraphy artists.
Also, it is important to check how good its instruction is and make sure it fits your level of experience. It will help you work on your basic skills first before moving on to a more intermediate book.
Practice Sheets
Most calligraphy books have practice pages or projects that you can use to practice what you have learned. Again, choose the one that suits your needs. If you are looking to hone your calligraphy skills so that you can use it on making wedding invitations or cards, you will need the books with practice projects that will enable you to do just that.
Quality of the Book and Paper
Is it a good book? Is the cover sturdy? What is the quality of the paper? It's hard to practice on pages that have poor quality, especially if you are using the dip style pens. Dip style pens tend to be scratchier than other types of pens such as felt.
You would also want a book with thicker pages so that the pen will not bleed through, especially if you are using the alcohol-based ones. Alcohol marker pens tend to bleed through. It can be hard to use the book for practicing if the pages are thin and flimsy.
You can also adjust and try a different brush pen if you happen to buy lettering books with thinner pages.
Style
If you are looking for a book to learn calligraphy, you should identify your style preference first. As you know, calligraphy has different lettering styles. Finding the style that you prefer will help you navigate the suitable book. The book should be able to explain clearly how to achieve the style of lettering you prefer, and guide you in detail how to create the strokes easily.
Calligraphy Pens
If you already have calligraphy pens, consider which books would be able to accommodate the types of pens you prefer. Some books might not be good for alcohol-based pens and other books might be too fibrous, so the scratchier dip style pens might be a hassle to use.
Size
Do you plan on bringing your book everywhere so you can practice it? You would want to choose something handy and easy to bring. If it's big and bulky, it might be tiresome to carry. Also, you should check whether you will be able to access the pages comfortably.
Price
Check the price and compare it with the other calligraphy books in the market. It's important to pick a book that suits your budget but still has excellent quality to bring to the table.
Other Important Factors to Consider
What is the Top-Rated Book to Learn Calligraphy?
The advice here is to start with the basics. The Basics of Brush Lettering is a good book for people who are learning from scratch and need to work on the foundations of their skills. If you are a more advanced learner and you want to work on your different lettering skills and various strokes, the book Creative Lettering and Beyond: Inspiring Tips, Techniques, and Ideas for Hand Lettering Your Way to Beautiful Works of Art is recommended. The title is lengthy but it's a good book to learn some solid techniques in hand lettering. It will enhance your hand lettering skills through step by step instructions.
It really boils down to your needs. Go with a book that matches your lettering preferences and your skill level.
How Does it Work?
Calligraphy books are basically instructional books. They can come in paperback or hardbound options. They guide users on how to perform calligraphy strokes and letterings. It can go through a step by step process on how to use your pen so you can recreate the strokes. Many of these books also come with sample letterings that you can study on your own and copy.
You might also come across some lettering books that have blank pages. You can use those to practice your lettering skills. The books also talk about what tools you will use and the differences, advantages and disadvantages of these tools. This makes it easier for you to pick the right tools that will work.
Who is This For?
Calligraphy books are for anyone interested in doing calligraphy. Calligraphy is a form of art which has a lot of uses. Whether you are a hobbyist who just wants to have calligraphy skills as a feather on your cap or you are a professional who does commissioned work on wedding invitations, signages and many more, calligraphy books can be helpful. They contribute to harnessing your calligraphy skills. Additionally, if you want to study calligraphy on your own without enrolling in calligraphy classes, the books are a big help.
What are the Different Types of Calligraphy Books?
These books can be differentiated in terms of skill level. There are calligraphy books for beginners, for intermediate and for experienced artists. You can also find hardbound and paperback calligraphy books.
Why Do You Need Books for Calligraphy?
You need these calligraphy books if you want to hone your calligraphy skills. Doing calligraphy is not easy at the beginning because of the complexity of the strokes. Since many people can't take classes in calligraphy, learning how to do it through these books is the best option. It can save you a lot of money and you can pace yourself when learning. You will also be able to figure out how to do the strokes and practice as often as you want.
You need calligraphy books if you want to learn in a convenient way. These books can be brought anywhere. Whenever you would like to practice, you can just get the book out and start practicing.
Frequently Asked Questions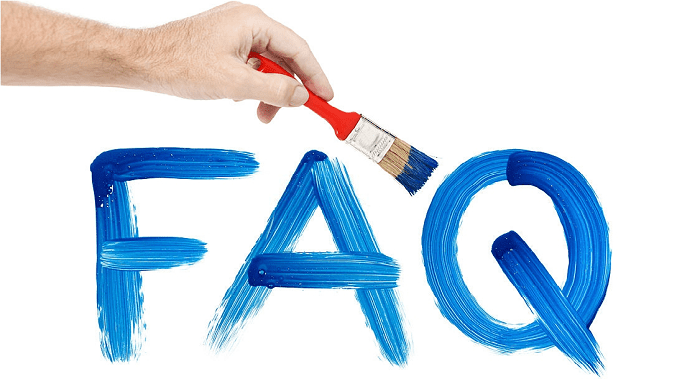 What are the Most Trusted Calligraphy Book Brands?
There are a lot of good brands of calligraphy books out there depending on your needs and preferences. The ones listed above are a must-have. Paper Peony Press, June & Lucy, and Leslie Tieu are some of the most easy-to-follow books that can get you started in doing calligraphy in no time at all. They are a good training ground for people who are looking to improve their skills.
How Do You Do a Calligraphy Book?
It's best to take a step-by-step approach when going over your calligraphy book. It is recommended to read the book first and determine which styles you want to start. There are usually blank pages for you to practice on, so be sure to use them. You can also get separate papers to keep on practicing while still following the instructions on the book.
Who Wrote Books on Calligraphy?
Many artists and writers who have written books of calligraphy. Margaret Shepherd is among those notable names in the calligraphy industry that have created instructional books for calligraphers of different levels. She catered to the calligraphy needs of a lot of famous clients. You can also check out the works of Cari Ferraro and Molly Suber Thorpe.
Where to Buy?
These books are available in different art and paper stores. If there is a particular book that you have a hard time finding in physical stores, you can buy them from online stores such as Amazon instead.
How to Care and Clean?
Be sure to avoid dog earing your calligraphy books. Don't fold the pages. You also need to avoid putting marks on the writingl because the pens can bleed through. You can use the blank pages for practice but if you can, use a separate sheet to preserve the value of the book. You might be able to sell them in the future.
Conclusion
Getting started in doing calligraphy doesn't have to be daunting. With the best calligraphy books, you should be able to get familiar with creating legible and beautiful calligraphy in a short period of time. I suggest starting with a beginner level calligraphy book to strengthen your basic skills and then move on to more difficult books. Kindly be noted that the more you understand your style, the easier it is to find which books to buy.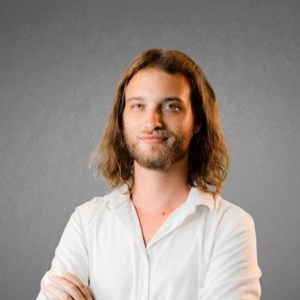 I am a former art teacher, so it is evident to me the importance of art in educating the new generation. We also want to help parents who plan to teach their children and desire the best tools and tips for them.