If you love jotting down notes and documenting fun ideas and memories, bullet journaling is something you're sure to enjoy. It's a terrific way to let your creative juices and writing skills flow while organizing your life. All you need is a cute journal and the best bullet journal pens you can find.
Finding the right pens for bullet journaling sounds easy, but a lot of thought goes into finding the perfect one. It's not easy as just looking for a pen with a color you like and scribbling away.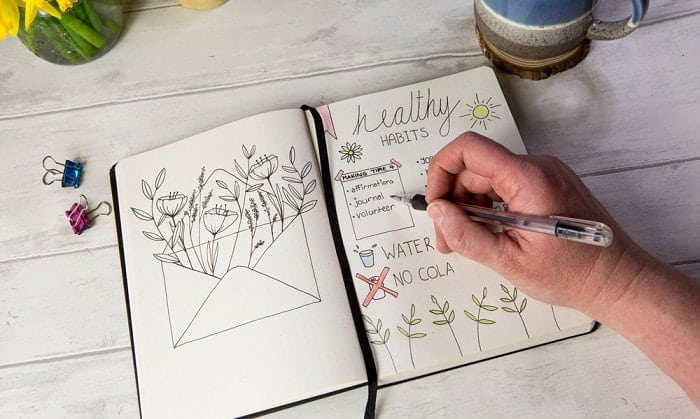 There are specific things to look out for, like bleeding, longevity, what kind of tip you're most comfortable with, and more. But the most important thing is to go with a pen that will allow you to journal your preferred style, whether it's with bold ink or fine point note-taking in tiny handwriting.
Here are some of the most fantastic bullet journaling pens out there.
Best Pen for Bullet Journal Reviews
1. iBayam 18-Color Fineliner Pens
Fineliner colored pens are a go-to for someone who loves giving a pop of color to their journals. It's an excellent way to spice things up when you're sick of the usual black ink against a white background. This set by iBayam is a great colored pen set if you want a more fine point option.
It comes in 18 bright and vibrant colors that are all eye-catching and never dull. While the colors are bold and beautiful, the pens have a super fine point tip at 0.38mm, making it suitable for notes, hand lettering, and detailed drawings. The tip is also metal-clad, so it's strong and durable.
The ink of these fineliner colored pens is water-based to reduce smearing and help minimize bleeding through to the next page, which saves you from ruining a couple of pages of your bullet journal. The ink is also acid-free and non-toxic, which ensures your colors won't fade over time.
I love how writing with these fineliner pens is super smooth even if they're very fine. They don't skip on me and just glide onto the page so effortlessly.
Although this set offers many vibrant, lovely colors, I find that the set is a bit too limiting if you're looking to write notes and create drawings with more complex color palettes. The colors are quite basic and don't give that much of a selection—just one or two reds, one or two blues, and so on.
Pros
Comes in 18 bright and vibrant colors for more eye-popping journaling
Has a super fine point tip, perfect for note-taking and small doodles
The ink is water-based and acid-free, so the vibrancy will last a long time
The pens have a metal clad tip that is strong and durable
Writing with these pens is smooth and has minimal bleeding
Cons
The color range isn't too wide, which limits your choice of color palettes
2. Sakura Pigma Micron PN Pens
Just because you use your bullet journal for everyday writing doesn't mean you should settle for mediocre ink. These Sakura pens have amazing ink quality, so they're perfect for daily journaling.
These pens have a fine point at 0.45mm, making them ideal for taking notes and doing hand lettering that requires intricate detailing. It's a great option if you have naturally small handwriting or would like to save space on your pages.
The plastic nib is durable yet flexible, so it moves with you as you write. It allows for fine to medium strokes, giving you a bit of versatility.
The ink is the star of the show with these pens. It is of archival quality, so it's fade-resistant and acid-free. That means your notes will hold up nicely for quite some time without the pigment disintegrating or changing color. It's also waterproof for added longevity.
Because the ink dries quickly, it doesn't bleed through pages on your bullet journal. So you can be sure that you will be able to make the most out of every sheet.
I also love how this pack of pens offers great value for money. In one set, you get three pens of fantastic quality.
The only thing I dislike about these pens is that they're quite quick to dry up. I've noticed that if I leave the cap off one of these pens, I'll have a hard time writing with it the next time I pick it up.
Pros
Has a durable yet flexible plastic nib for fine to medium strokes
Has a fine point at 0.45mm for note-taking and hand lettering
Archival ink that's waterproof, acid-free, and fade-resistant
Dries quickly so as not to bleed through journal pages
Offers value for money because you get three pens in one set
Cons
Can dry fairly quickly if you keep the cap off for long
These Sakura pens are among the top-rated pens for bullet journal entries if top-notch quality ink is your biggest priority. It's amazing how this ink holds up even after months or years, and its quick-dry design is very helpful.
3. Zebra 15ct Mildliner Creative Marker Pens
Brush pens, highlighters, and markers are a great choice if you want to add some color to your bullet journaling without having to use heavy ink. This set of markers by Zebra is great for mild colors.
These mildliner brush pens come in a whole bunch of soft and mild colors, so they're never overbearing or too striking. They work well to complement the notes you already have, so they're great for writing headers, coloring doodles, or even highlighting. They're the complete package because of how versatile they are.
Each marker has two ends—one for a chisel tip that can produce bold lines, and another fine point end for coloring and writing titles.
The ink dries fairly quickly and is water-resistant as well. This combo ensures the ink will not smear or smudge that easily, and your page will remain pretty and neat.
I also quite like the design of these brush pens. They have a white, minimalist yet modern look to them. They also have a pocket clip for easy storage and portability.
But when it comes to bleeding, these brush pens are a bit questionable. I find that layering them in multiple strokes in the same area can cause bleeding and thinning of the journal page. I recommend you only use them for one layer of highlighting or header writing.
Pros
Gives your journal some soft and mild colors without being overly striking
Each marker is double-ended with a chisel and fine tip end per color
The ink is quick-drying and water-resistant for less smudging and smearing
Each pen has a white, minimal design with a nifty pocket clip
Versatile because they can be used for writing headers or highlighting
Cons
Not recommended for layering because it can bleed after multiple strokes
If you're looking for highlighters and softer colors to complement your notes and written work, these are probably the most suitable markers for bullet journal entries for you. They're fun, easy to use, and give your journal a light pop of color without going overboard.
4. Arteza Rollerball Pens
A good gel ink pen is a must-have when it comes to bullet journaling, whether you're just starting out or are years into the hobby. This Arteza set of rollerball pens are great because of their gel ink that is bold and black.
The black gel ink writes super smoothly and evenly across pages, so they're a pleasure to write with for anything, whether it's quick calendar updates or long diary-like entries full of stories. While the ink is very bold, I appreciate how it doesn't bleed onto the next pages.
The gel ink pen is fade-resistant and acid-free, so your entries will be preserved for a long time without it fading to a grotesque gray or purple over time. Even after years, your writing will still be pigmented.
The fine point gel ink pen is very lightweight, giving you an easier grip that won't wear out your wrist or fingers. If you tend to get writer's cramps now and then, try this out.
This set is excellent for stocking up your home and office with pens in every room that you do journaling in because it comes in a set of 20. You'll never have to worry about running out.
If you're used to thin fine point pens, be warned. Although they are technically fine point at 0.5mm, they feel a bit thicker in their strokes because of how bold the pigment is.
Pros
Made with bold black gel ink that writes smoothly and evenly
Fade-resistant and acid-free, so your writing will be as pigmented as ever
The pen is quite lightweight so that you never get writer's cramps
While the ink is bold, it doesn't bleed onto the next pages
Great for stocking up because you get 20 pens in one set
Cons
Writes a bit thicker than the usual fine point pen
Because these Arteza pens are easy to use and of awesome quality, it's hard to mess up while using them. That makes them terrific pens for beginner bullet journal enthusiasts who want an ideal journaling pen without investing in too-expensive, upscale brand names.
5. Tanmit 36-Color Fine Point Pens
Felt-tip pens are among my favorites for journaling, especially when I want to use colors in my notes and schedules. This fine point pen set by Tanmit is one of my favorites because it comes in 36 non-duplicate colors for a wide range of shades and hues.
The 36 colors are all vibrant and unique. I like the big selection because it's perfect for mixing and matching color palettes that work nicely together.
These felt-tip pens are fine point, so they're great for tiny details, whether in your lettering or doodling. They also have a metal clad tip for added sturdiness that isn't susceptible to much breaking.
It has premium water-based ink that gives you exquisite color. It dries quickly and has little to no bleeding, which is always handy in any type of pen and ink art. The ink is also acid-free, so they're safe to use with artsy children—no toxicity and fewer chances of making a mess.
These felt-tip pens are great to have around for any journaling occasion because they're so multi-functional. They can be used for hand lettering, writing letters, coloring finer and more detailed sketches, and more.
The only thing I don't like that much about this set is that when the pens are new, the felt tips can be hard and rigid. I find that it's best to break in each felt tip first and get it to a comfortable writing flow that's smooth and juicy.
Pros
Comes in 36 vibrant and unique colors for building multiple color palettes
These pens have a fine, felt tip that is metal-clad for protection
Made with premium water-based ink that dries quickly and has no bleeding
Very safe to use because they are acid-free, so it's good for kids
Multi-functional because you can use them for anything, from writing to coloring
Cons
The tips can be quite hard and rigid when they're new
If you're looking for a fairly wide selection of cheerful and colorful bullet journal markers for daily note-taking and the occasional coloring, this Tanmit felt tip set is right for you.
6. Tombow Fudenosuke Brush Pens
When you're doing different writing and lettering techniques in your bullet journal, switching from pen to pen is kind of a hassle. Tombow's brush pens are a great solution because you get two different brush tip options in one pen.
These brush pens are made in Japan, one of the hubs for high-quality bullet journal pens in Asia. The country has always been known for quality goods, and these pens don't disappoint. Japanese creators designed this pen with the artist in mind, so you're in good hands.
The pen is dual-ended, so you're provided one side for a hard tip and the other end for a soft tip. That makes this pen very versatile and useful if you have different writing techniques, like switching from calligraphy to note-taking in one page.
The brush tips are quite flexible, so they're a pleasure to use for hand lettering and calligraphy because you have full control.
The ink is also very high-quality. It's water-based and highly pigmented—exactly what you want for black ink. By changing the pressure on your pen, you can go from thin and fine lines to bold and powerful strokes in mere seconds.
While these brush pens are ideal for doing hand lettering or cursive headers and titles, I find that the ink runs out faster than I want it to.
Pros
Made in Japan, which is known for its high-quality art goods
Dual-ended so that you can use a hard tip or a soft tip depending on your need
The brush tip is flexible, perfect for hand lettering and calligraphy
The ink is a water-based, pigmented jet black for basic journaling
You can draw fine lines to bold strokes by adjusting pressure on the brush pens
Japanese pens for journaling are always top-class and never fail to impress. Tombow's brush pens are great not only for their dual brush tip design but also for the quality of their water-based ink.
7. Toshine Multi-Color Gel Ink Pens
Tired of boring looking pens? Go with these extra cute fashion gel ink pens by Toshine! You get each set in 10 colors and uber exciting packaging to pump you up for another session of bullet journaling.
Each gel ink pen in this set has unique packaging that's different from the rest, but all of them are charming and fun to look at. It's perfect for young women who love having cute things around, whether it's for serious bullet journaling or just making random little notes on post-its.
Each pen cap has a label so you can see what ink color is carried inside the cartridge. Therefore, there's no confusion even if the packaging design is made up of different colors. There's also a transparent case for easy storage purposes. You'll also be less likely to lose pens because they can be secure in your journal or case set.
These pens write smoothly and consistently for easy, breezy writing. The best part is that these are bullet journal pens that don't bleed, so you won't have to worry about the ink leaking to the other side of the page.
While I love how detailed and small my writing can go when I use these pens, I'm not a fan of the fact that the strokes can't get any bolder. You'll be limited to just very fine lines and lettering with these pens because you can't adjust your pressure to get thicker strokes.
Pros
Comes in ten different colors to perk up your bullet journal
Every pen has its unique packaging that is cute and charming, perfect for girls
Each pen cap has a label so you can see what color the ink inside is
The pens have a case for easy storing and fewer chances of losing them
The fine point pens write smoothly and consistently without bleeding
Cons
The writing is very fine and leaves no room for thicker, bolder strokes
These pens are a lot of fun not just because they're multi-colored, but because their packaging is utterly adorable! They also make amazing gifts, especially for teen girls.
8. Uni-Ball Signo 207 Retractable Gel Pen
Not everyone enjoys using extremely fine point pens. I'll be the first to admit that now and then, I love going for bold and big writing, especially when I want to practice my calligraphy. For that, I love using this pen by Uni-Ball.
The best thing about this pen is its richly pigmented ink. The writing you can do with this pen is quite thick because it's at 1.0mm. And with its jet black gel ink, thick handwriting becomes a breeze.
The ink itself is archival, so it's acid-free and resistant to water and fading. It's even designed to be anti-fraud. It sinks into paper quickly so that criminals can't do check washing or other alterations.
The pen has a textured body to give you a good grip as you write to have more control and comfort. I also love the pen's design; it has stylish metallic elements and features to give it a luxurious and modern look.
The retractability is the cherry on top of this fabulous pen. With one click, the nib appears and gets tucked away when you need it to.
My only con for this gel ink pen is that it has a very long pocket clip. I find that it gets in the way of my normal grip of the pen, disrupting it to make it a bit uncomfortable if I write with it for a long time.
Pros
Made with intense and bold black gel ink for thick lines and writing
The ink is archival, acid-free, and resistant to water, fading, and fraud
It has a textured grip so that you can have more control
The pen has stylish metallic elements in its design for a modern look
Has a retractable tip for the utmost convenience
Cons
The pen's pocket clip is quite long, so it can disturb your grip
If you love bigger and bolder strokes in your bullet journal more than the ever-popular fine point writing technique, then you'll fall head over heels in love with this Uni-Ball gel pen. It's amazing for thicker lines and strokes without the fear of smudging!
9. Huhuhero Fineliner Color Pen Set
While this Huhuhero fineliner colored pens set offers fewer colors than cult favorite sets for bullet journaling, its quality can't be beaten. If you love solid ink that doesn't feather or bleed, this is the set for you.
This set contains ten basic yet unique colors with no duplicates. It may not have the wide selection that other sets do in terms of color shades, but I love that this set is simple, straightforward, and never overwhelming.
It's made with water-based ink that doesn't bleed or feather, so I still end up with neat and tidy written pages in my bullet journal even with vivid ink.
Speaking of ink, the pigment of these fineliner colored pens is what makes them special. The colors are very rich and have bright and bold saturation. They show up so well on paper, making your average black and white pages more exciting.
The fineliner pens are fine point, but with a little pressure adjustment, you can still draw thicker lines and lettering. They are quite versatile and can be used for many purposes, be it writing notes or coloring drawings.
However, one thing to note is that these fineliner pens are a lot thinner than regular pens out there. Holding them comfortably might be a challenge and will take some getting used to.
Pros
Contains ten basic, unique colors for a livelier journaling experience
The water-based ink has no bleeding and feathering
The pigmentation is very rich for bright and bold color saturation
Can make thicker lines with pressure adjustments
Can be used for a wide range of journaling purposes, from writing to coloring
Cons
The pens are thinner than usual, so holding them may need some getting used to
This Huhuhero fineliner set is constantly raved about by avid bullet journaling fans because of its rich colors and vibrant hues that make notes, calendars, and to-do lists more cheerful and alive. It's a great set to purchase if you're a fan of bringing your writing to life with touches of color.
10. Caliart 34 Dual Brush Pen Art Markers
If you're looking for a kid-friendly collection of colored markers that are just as good for coloring and blending as they are for writing, these Caliart brush pens would be perfect for you.
It has 34 assorted colors in the set to give you a good range of hues and shades to choose from. It's perfect for color-coordinated scheduling and to-do lists.
The brush pens are dual ended; one tip is a fine point felt-tip pen, while the other is a brush pen. That way, you can switch between fine, detailed note-taking and coloring whenever you please.
The ink in these pens is water-based, so it's easy to wash off. It's also non-toxic and odorless. All these make it perfect for kids.
The brush pens dry down fast upon adhesion to paper, so it's easy to avoid smudging and smearing. Nonetheless, they're easy to blend if you want to do realistic coloring or gradient-style shading.
As a neat freak, I love that these pens are color-coded and numbered. It makes it a lot easier to rearrange them in their case after use.
The one thing I'm quite disappointed with is that some pens' colors don't match the exact hue on the cap of the pen. Some colors seem to be slightly less vibrant than the colors on the cap, so it's a bit misleading.
Pros
A 34-piece set that comes in a wide range of hues
Dual-ended, so you have fine point felt-tip pens and brush pens all in one
The water-based ink is non-toxic and odorless, making them perfect for kids
Dries fast upon adhesion to your journal to avoid smudging
The colors are easy to blend for realistic coloring
All the pens are color-coded and numbered for easy rearranging
Cons
Some of the pens' colors don't match the exact hue on the pen cap
These are a great all-around colored pen set to have not just for bullet journaling but arts and crafts in general. They add more character to your notes and can be used by children too.
11. Dainayw Hand Lettering Pens
Calligraphy is all the rage in the bullet journaling world. It's a beautiful way to organize sections in your journal with headers or titles, but it's also something to fill up other pages of your bullet journal when you need to let the creative juices flow. This pen set by Dainayw is perfect for those.
This set comes with eight pens with various tips and point sizes, including 1-3mm pens, extra-fine point, fine point, medium point, brush tip, and soft brush tip pens. It provides an amazing variety to help you maximize your talent for lettering.
So that there isn't any confusion about the different pen sizes, they all have a label on the cap's pocket clip.
The black ink is highly pigmented and is non-toxic and odorless for your comfort and ease. It's also acid-free, so you know its richness won't fade over time.
The pens lay down ink smoothly on your bullet journal and have little to no bleeding to preserve other pages, keeping your journal pristine.
It's an amazing set to use, especially for beginners trying to get into calligraphy and hand lettering for the first time. The variety of pen sizes allows you to practice any lettering style you wish to master.
The only pet peeve I have about this set of hand lettering pens is that the eight pieces can be quite inconsistent with ink flow and wetness. Some pens can be streakier than the rest, while another few tend to be a bit more dry—particularly the brush tip pens.
Pros
Comes with eight pens of different tips and point types
Made with highly pigmented black ink that is acid-free, non-toxic, and odorless
Lays down ink smoothly and has minimal to no bleeding through pages
Each pen comes with a pocket clip cap that has a label for less confusion
Perfect for hand lettering and calligraphy, even for beginners
Cons
Some pens have issues with streakiness and dryness
If you're looking into calligraphy and hand lettering, this set by Dainayw is an obvious choice. You can experiment with all kinds of lettering and textures in your handwriting with an economical yet high-quality set.
12. PILOT G2 Premium Rolling Ball Gel Pens
Let's cap off this list with a renowned pen brand. Pilot has always been known for coming up with reputable classic writing pens. But to spice things up, I love to use these G2 assorted color writing gel ink pens in my bullet journaling.
These are some of my favorite colored gel pens because they're proven to be the longest writing pen compared to other gel ink pen brands. They're very sturdy and will last you a long time if you care for them properly.
They have a fine point at 0.7mm, so it's not as thin as those extremely fine tips that are hard to write with sometimes. These pens are perfect for comfortably note-taking and writing with a touch of cheer and color.
The pens are retractable to make them easy to use. It's great for people who tend to misplace their pen caps. They're also refillable to extend the pens' lifespan.
The ink of these pens flows incredibly smoothly, which is why it's perfect for longer writing. The ink dries out quickly, so you don't have to worry about smearing.
Each pen has a rubber comfort grip for easy hold and to give you more control as you write.
While I love these pens, I wish they lasted longer. I am a writer, though, so it just might be because I use them a lot.
Pros
Proven to be the longest writing pen versus other gel ink pen brands
Has a fine point at 0.7mm, so they're perfect for writing
The pens are both retractable for ease of use and refillable for longevity
The ink flows incredibly smooth and dries quickly for less smearing
Has a rubber portion for a comfortable grip, giving you more control
Cons
It would be better if the pens lasted longer
Pilot has always been a top name in the pen and writing industry, and this multi-colored writing gel ink pen set doesn't disappoint. You'll love this writing tool for colorful and more spirited bullet journaling.
What to Look for When Buying Bullet Journal Pens
Bold and vibrant ink with a smooth flow
One of the biggest priorities when it comes to picking out a bullet journaling pen is its ink. Whether you're going for colored pens or the classic black, ensure that your pen's ink is pigmented and rich. It also helps if it deposits ink in a smooth flow for a more comfortable writing experience.
If your pen has good flow, it won't skip or be too streaky. That look isn't cute on your bullet journal, so avoid it completely.
Pens that don't feather or bleed through paper
Another important thing to ensure is that your pens won't bleed onto your bullet journal's next page. That ruins your journal's continuity because then you'll have to skip a page or two to get a fresh, clean page for your writing. It's also a waste of writing space if your pen bleeds onto the next page.
Feathering is also another watch-out for bullet journal pens. Feathered or overly runny ink looks tacky and makes your notes look less neat and tidy. It could even make your writing less legible and readable.
Fine-tip pens for note-taking and journal entries
Pens with a fine point are ideal for taking notes or writing short stories and journal entries in your bullet journal. They're the easiest to work with, especially if you have extremely small handwriting or want to save some writing space.
Because they aren't chunky and intensely thick, fine point pens allow you to write legibly and create paragraphs of text, if that's what you prefer. And when you go back to your notes to read them, it will be a lot easier to comprehend than notes written with bold strokes.
So if you're journaling mainly for notes, you can't go wrong with fine point pens.
Pens with good grip for easy control
I always appreciate it when a pen has a rubber or textured portion on its body to give the user a good grip on the pen. When you have a good grip on a pen, you have more control, which means you can write in the way you want without the pen's weight or slipperiness affecting your handwriting.
Having a comfortable grip on the pen is especially useful if you tend to have sweaty palms that can't hold a pen upright for long. It helps you write legibly and steadily without slipping and sliding on the page.
Dual-ended pens that have two different tips
Another amazing innovative feature of good pens is the dual-ended tips. Some pens come with two ends for two different point types you can choose from.
If you love writing and coloring, look for one with a fine point on one end and a brush tip on the other. This is so that you can switch between writing and coloring whenever you'd like.
Pen sets with assorted colors
Bullet journaling is all about expressing your thoughts and organizing your life in a fun and creative way. And what better way to show that creativity than through colors?
Colored pens give your bullet journaling more character and personality and make it more exciting to do overall. You can use your colored pens for note-taking, making cute and eye-popping section headers, highlighting important dates, and more!
Make sure to get colored pens sets that have a wide variety of colors so that you can experiment with all kinds of unique and complex color palettes.
Other Important Factors to Consider
What is a pen for bullet journaling?
A bullet journaling pen is one that doesn't bleed because you'll be using it on a bullet journal with many pages. These artist pens should be able to keep your bullet journal pristine and pretty to look at, so it's the type of pen that doesn't cause any smearing or smudging. Ideally, it dries quickly too.
How does it work?
To properly get a bullet journaling pen to work, it must have a smooth ink flow. Only then can you use it for what it's intended—for writing in your journal.
There are no set rules for how you should write in your bullet journal. Among the most popular things to write in journals are to-do lists, memory entries, schedules, notes to study, and even writing prompts for those who love creative writing.
All you have to do is get writing with your favorite pen. Your organizational skills and creativity should do the rest.
Who are these pens for bullet journaling for?
These pens are for the entire bullet journaling community, whether you're a beginner or expert. They can accommodate people who love taking notes, doodling, writing stories and letters, or doing calligraphy too. As long as you have a bullet journal you love to maintain, these pens are great for you.
What are the different types of pens for bullet journaling?
The most common types of artist pens for your bullet journal will be gel and ballpoint pens. These are ideal for writing and note-taking because of their generally smooth ink flow.
If you're into coloring, drawing, and highlighting, you can opt for brush pens and markers. These usually come in multi-colored sets and encourage you to be more artistic in your bullet journaling with the help of colors.
Another common type of bullet journaling pen is a hand lettering pen, which comes in different tips and thicknesses, from thin and fine to bold and chiseled. These help you practice calligraphy, which makes for amazing section headers and titles in your bullet journal.
Why do you need pens specifically for bullet journaling?
If you don't choose the right pen for bullet journaling, you could end up with one that feathers, bleeds, or leaves indents on the following page. It pretty much ruins the whole look of your bullet journal, so that's something you should avoid by picking out a pen that is intended for bullet journaling.
Frequently Asked Questions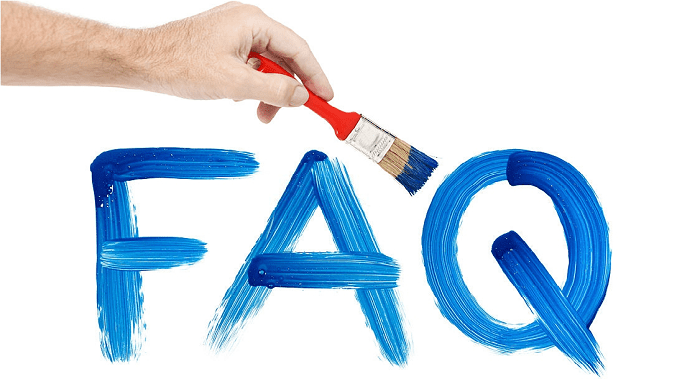 What is bullet journaling?
Bullet journaling is a creative method of organizing your life through to-do lists, documenting ideas and memories, and writing about anything under the sun. It's a method propagated by renowned designer Ryder Carroll, a man attributed with inventing the bullet journal.
A bullet journal is similar to a planner, but instead of just writing tasks and crossing them off your list, it's a lot more visual and creative. It's pretty much your personal diary, writing pad, and office workbook all wrapped into one.
Bullet journals come in many layouts, whether they're lined or are grouped according to the month and day, reminiscent of the classic planner style.
Where can I find a community of people who love bullet journaling?
Finding a group of bullet journal friends is super empowering and inspiring. You get to learn more new techniques and ideas about how you write in your journal if you're surrounded by amazing people who love this hobby as much as you do.
Luckily, there are so many art communities and groups who share your love for bullet journaling. The easiest way to find and connect with someone is through the internet.
You can look for bullet journal groups on social media sites like Facebook and Instagram. You can also find communities that share their bullet journal work and ideas on online forums like Reddit. Look into these sites to fall into the rabbit hole of bullet journaling communities.
Once you find a group you love and feel comfortable with, stick with them. Do your best to connect and ask questions you have about bullet journaling. It's a way to hone your journaling skills and foster even more love for your new favorite hobby.
What are the most trusted brands for pens for bullet journaling?
The most trusted brands that deliver high-quality pens with rich pigment and a smooth writing flow for your bullet journal include Sakura, iBayam, Arteza, Toshine, Uni-Ball, Tombow, Huhuhero, and more. While these brands aren't household names, they have rave reviews about their pens and markers that are fit for bullet journaling.
However, some popular household pen brands also design pens that are holy grail material for bullet journalers. These include the Pilot G2 pens and the Faber Castell Pitt artist pens, both of which are amazing for daily writing and idea recording in your bullet journal.
How do you use pens for bullet journaling?
You use them like any other pen to create beautiful notes and ideas in your bullet journal. Just take off the cap (or click that button, if you're using a retractable pen), put the nib onto your bullet journal page, and write away!
How do you care for and maintain these pens?
Pens are generally low-maintenance and don't need extreme care, which is a relief for busy artists and journalers. But there are a few small things you can do to care for your pens.
The most basic and simple thing you can do is make sure to preserve your pens' ink by putting the caps back on whenever they're not in use. This ensures smooth writing for as long as possible and that your pens won't dry out quickly.
It's also smart to keep your pens in a pouch or case. If you keep them loose and leave them on tables and surfaces, they could roll off and fall, which risks bending or breaking the nib.
Another key thing is to keep them in their optimal position to get the ink going. Gel pens can be kept horizontally, while ballpoint pens that rely on gravity should be kept vertical with the tip down.
Do I have to use specific types of pens for different bullet journals?
You can usually use any pen of your choice on your bullet journal with no restrictions. But some bullet journal types need a specific type of pen.
For example, you'll need rich metallic or white-based pens for blackout journal types, which are the ones with black pages. If you use normal gel pens on blackout journals, they most likely won't be seen properly because of the dark-colored paper.
Meanwhile, other bullet journals can technically accommodate any type of pen but are best paired with specific ones. Take Moleskine, for example. Its notebooks and planners have a smooth surface on their sheets, so gel ink pens would make great pens for Moleskine bullet journal entries to get that optimal writing smoothness.
But as I said, there are no set rules about what pen to use in which bullet journal. Whether your favorite pen is a trusty felt-tip marker or a fancy fountain pen, it's all up to your preference and style.
Where can I buy pens for bullet journaling?
The most obvious place to buy good bullet journal pens is from retail stores that sell pens and other tools for writing and documentation, such as Office Warehouse and Best Buy. You can also get really good purchases in the pen section of Walmart and other hypermarkets and convenience stores near you.
Those places are great because they're easy to find and are accessible even in small towns. But if you're an expert in journaling and hand lettering, you might be interested in investing in pens from a specialty store.
You can check out arts and crafts stores like Michaels and Hobby Lobby for more high-end pens and bullet journal supplies in general. It's also a great option if you need to learn more about each brand because there will always be salespeople to explain these things to you.
But the best place to buy pens is on the internet. Purchasing online gives you the biggest range of pens to choose from, especially when you're doing it through Amazon. You can also do supplemental research and read reviews on the side as you explore your options, helping you make an informed choice.
Conclusion
I hope that reading through this basic guide on good pens for bullet journaling helps you out as you discover your talent and passion for this trendy hobby. Finding the best bullet journal pens will help make journaling more enjoyable and can even boost your productivity levels to great heights.
Whether you're a writer trying to do daily writing prompts in a secret journal or a workaholic with a creative side, trusty journal pens will be your best friend in bullet journaling. So what are you waiting for? Check out your favorites among this list and get journaling!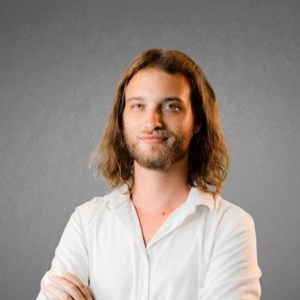 I am a former art teacher, so it is evident to me the importance of art in educating the new generation. We also want to help parents who plan to teach their children and desire the best tools and tips for them.