The Azure markers are not as famous as other alcohol markers within its tier but since they are made by Royal & Langnickel, we think they might deserve a spotlight.
In this article, we will take a closer look at these markers and make an honest Azure markers review. And let's see where this will take us.
Azure Marker: What is It?
Azure marker is a dual-tip alcohol marker. It has a chisel tip on one end and a bullet tip on the other end. As mentioned, these markers are made by Royal & Langnickel.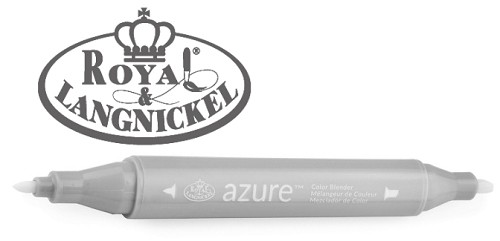 To give you a short background, this brand is under a larger umbrella of a company called Royal Brush Mfg., Inc.. It is a trusted brand that has specialized in beauty and art brush manufacturing since the 1950s.
Aside from art brushes and markers, Royal & Langnickel also offers art supplies such as artist paints, art surfaces, and accessories.
So much about the brand, it's time to get into the Azure marker bits and pieces.
Azure Marker Types
Unlike the top-of-the-line alcohol markers that have several variations, these markers. As of the moment, they do not have other variations yet aside from their different color sets.
It is available in three pack sizes: 7-set, 13-set, and the large set which has 80 markers. Each set comes with a free blender.
It is not really free for the smaller set since the blender is part of the count. Let's say you get a set of 7, you'll get 6 colored markers and a blender. Here is the list of color sets per pack size.
| | | |
| --- | --- | --- |
| 7 Color Marker Set | 13 Color Marker Set | 80 Color Marker Set |
| Primary | Basic | Classroom Pack |
| Pastel | Forest | Colorless Blender |
| Trail | Complexion | |
| Grayscale | Spring | |
| Warm Gray | Seashore | |
| Botanic | Colorless Blender | |
| Complexion | | |
| Stone | | |
| Rustic | | |
| Opulent | | |
| Meditrina | | |
| Dusk | | |
| Hue | | |
| Colorless Blender | | |
About the Formulation
The Azure alcohol markers unexpectedly come out to have a very saturated formulation, and all the colors are vividly intense.
This could be both positive and negative, depending on your creative preference. Positive in a way that you don't get steaky output, and negative because it is too saturated. You do not have much control over its results.
This type of formulation does bleed a lot. It sometimes causes some of the ink to separate from the paper resulting in tiny white spots and speckles.
Lastly, it has that distinctive permanent marker smell that could be irritating to others.
1. Blendability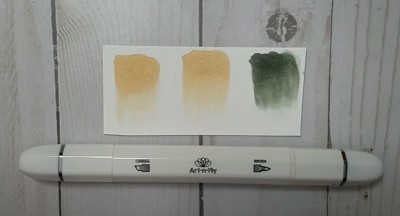 We find the blue color range to be blendable. However, because of its saturation, it's more challenging to blend the majority of its colors.
The bullet tip does not blend well, but the chisel tip does better, and the blender was not helping either.
To make a nicer blend you will have to keep adding the colors but be careful as you could end up with a very dark output or some find it better to let it dry first before adding another layer.
Overall, it's blendable but not as smooth as other alcohol markers with the same price range.
Surprisingly, they are rather blendable with other alcohol marker brands and work well with other coloring mediums.
2. Packaging Details
The Azure artist markers' smaller sets come in a hanging box, and the markers are laid in a disposable plastic tray. In comparison, the large set comes in a sturdy carrying case.
The maker has a triangular barrel that has rounded corners. The design certainly prevents the marker from rolling, and most users find it comfortable to hold. It fits the hand pretty well.
However, it does not have the color codes or name on the barrel, plus the cap does not fit the bottom, meaning it's not stackable. A perfect combination for interchanged caps or worst losing them.
Similar to Copics, it has a color-coded cap that snaps nicely with the barrel, which is a good thing as you are sure that caps are securely sealed, preventing ink from drying.
Notice one marker with a dilapidated color code, but the rest are fine. Most cap colors match the actual colors, and some don't, but this is a common concern even with Copic markers.
As for the tips, both tips are not replaceable. It also does not have a brush tip option. And, like other budget markers, these are not refillable.
How To Use Azure Markers? And What Is It Used For?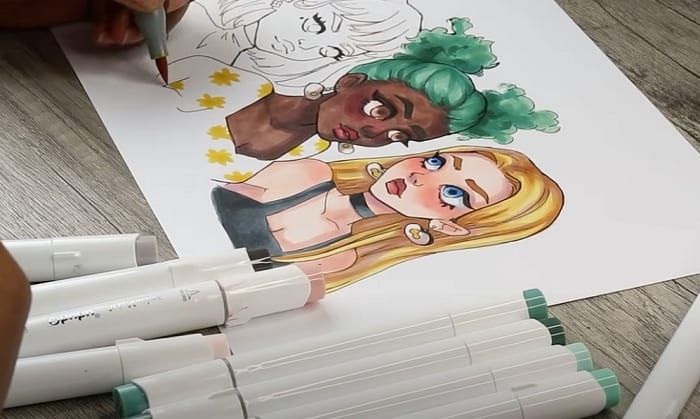 The Azure professional artist markers can be used for writing, lettering, drafting, and coloring. Like other alcohol markers, it is ready to use and does not need to be primed.
These alcohol markers are good as spare markers, especially for the blacks and grays that are used more often than other colors.
Another worth mentioning about this marker is that most of the primary colors do match the colors of the Copic markers.
With that, you can certainly use it as a Copic backup in case you run out of ink, and you don't have the refills at hand. Plus Azure markers vs Copic price difference is way substantial.
It is best for beginners, particularly for those who are on a budget. Based on our general findings, there are still several areas to improve.
Although the label says it is a "professional artist marker, " it's not recommended for professional artists.
How Much Does It Cost?
A single marker can cost more or less $1-2. Cheap compared to Copics but a bit pricey compared to Ohuhu.
The basic 7-set can be availed at $14.99. While the 13-set is at $17.10, except for the Complexion set, which is a little expensive at $18.99.
For the large set, you can get at $128.68 per set, which is kind of unusual because you get a higher price per piece when purchasing a larger set than getting the smaller sets. Maybe it's because the carrying case plus the blender is not counted in the 80 pack.
What's more surprising is that we found a 40-pack marker which is cheaper. However, this set is not found on their website.
Vibrant colors
Very juicy, no dried-out markers
Works well with other coloring mediums
Provides a good and comfortable grip
Caps snaps nicely
Budget-friendly
Overly saturated
Limited color range
Bleeds a lot
No brush tip
Not refillable
No name on the barrel
Some prints are already faded
Color code does not always match the actual color
Blending colors is challenging
Speckling
Caps are not stackable
Has a smell
Bullet tip is not that sharp
FAQs
Is Azure a good marker brand?
Yes. As mentioned, they have been in the art supplies business since the 1950s and it would not be in the market for 70 years for nothing.
Are Azure markers washable?
No. Azure markers are alcohol-based, alcohol markers are usually permanent and not washable.
Conclusion
The Royal & Langnickel Azure markers are not perfect but they have a strong advantage over the others.
It's juicy, the colors are very vivid, matches some Copics colors, and works well with other coloring mediums. They are economical, plus the packaging is sturdy and comfortable to use.
That's all we have to say about this marker, wish you had fun reading this fairly straightforward Azure markers review.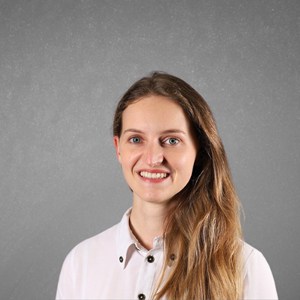 Art has always been a part of my life; it influences my upbringing and later my career choice. For me, it is always a part of my parenting technique. So for whichever purpose that you come to art, you can start here with us.