Ohuhu art markers are a popular choice for both experienced and beginner artists. The vast selection of vibrant and highly pigmented colors delivers beautiful color blends and artistic strokes. Not to mention they are inexpensive.
Perhaps, you are a beginner or a hobbyist, and you want to learn how to blend with Ohuhu markers. Fortunately, learning how to blend Ohuhu markers is not as difficult as you think.
All you need to do is prepare your markers, choose your palette, and start with the basic blending techniques.
The Best and Easy Tips to Blend With Ohuhu Markers
What to Prepare
Ohuhu Markers
Scrap paper or card (for the color swatches)
Sketchbook or drawing book
Step 1: Prepare Your Markers
Ohuhu offers an extensive selection of colors, ranging from 24 to 320 shades. For a beginner, it can be pretty overwhelming to deal with, and you may even get the colors mixed up if you are not careful.
Therefore, it's best to choose a series of markers and create your desired color palette on paper before you begin your art sessions.
Step 2: Swatch the Colors to Complete Your Color Palette
The main advantage of making a color swatch is to see which shades look good together. Sometimes, the actual colors appear differently when blending markers on your art piece.
You can use scrap paper or a sketchbook page for swatching the colors. Seeing them together side by side helps pick your favorite Ohuhu color combinations.
Since Ohuhu markers drawing sets come with a vast range of colors, it is important to label each color on your swatch card according to their designated codes.
This way, you do not get the colors mixed up while coloring, especially between colors that seemingly look identical.
Step 3: Start with Different Easy Blending Techniques
Method 1: Go for the Lightest Color
Best For: Thin Marker Paper and Seemingly Identical Marker Colors
The goal is to create seamless color transitions when you blend with markers with almost identical depths or versions.
Fill the section with the lightest color using a marker with a chisel tip.
Then, take your marker's medium or darker shade, overlapping the lightest shade. Use a brush-tipped marker. The trick is to flick the brush tip gently into the first section to blend the two shades.
To ensure you create seamless blends between the colors, you must color the section very quickly.
You can flick the brush tip as you color toward the end so the edges look smooth and fairly blended into the first layer.
Avoid putting too much pressure when applying and blending the markers to prevent oversaturation and bleed-throughs.
If you want to apply one more layer, repeat the process. This time, you will use the next darker color of your marker.
Method 2: Start with the Dark Color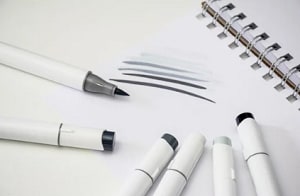 Best For: Blending Cardstock or Marker Paper
This method of blending alcohol markers works on the dark colors first, layering the shades toward the lightest on your palette.
This technique works best on paper or cardstock that is forgiving with different blending methods.
Use Ohuhu markers with chisel or bullet tips for the best results.
Then, the first step is to apply the darkest shade followed by the medium shade of the color, overlapping the darkest shade.
The last layer is the lightest shade that overlaps the medium tones.
Method 3: Prime the Section
Best For: Cardstock or paper or cardstock that is hard to blend on
It is a great blending technique for beginners who want to practice the perfect balance between various tones.
You can start by drawing a rectangular shape and saturate it with the lightest shade.
Next, take the medium shade and fill the shape halfway through, overlapping the lightest tone.
Finally, apply the darker shade of your marker over the medium tones.
Method 4: Flicking Brush Motions
Best For: Soft and Gradient Colors Using Flexible Brush Tip Markers
Also referred to as feathering, flicking is another easy technique when using flexible brush-tipped markers to combine colors without blender markers.
The key is to control the pressure as you flick the brush-tipped marker to create soft and seamless gradients.
You may draw a rectangular shape again and practice on it. Unlike priming, you do not need to saturate the area completely. Still, the colors will go from the darkest to the lightest.
You can start at the right side and flick your marker with the lightest shade.
On the opposite side, flick the medium shade and allow the edges to blend into the lightest tones.
Lastly, flick the darkest shade, overlapping the medium tones.
You can keep flicking the brush marker until you get the desired graduated blend. Just keep the pressure light, soft, and steady to avoid oversaturation.
Method 5: Tip-to-Tip Blending
Best For: Producing Brand New Hues with Limited Marker Selection
The dilemma with beginner or small marker sets is a limited color palette. Therefore, producing medium tones and smooth color transitions might not always be possible. This is when you can use the tip-to-tip blending method.
For this technique, you will need your preferred color's lightest and darkest shade. As the name suggests, both tips should touch one another to create another shade, typically the mid-tone.
Lightly press the light marker onto the dark marker to pick up the ink. At this point, some of the ink will mix into the light marker.
Afterward, you can use the marker to layer another color, overlapping the darkest shade and producing a medium tone.
You may use this with the light and dark versions of a color. However, this method is best used on narrow or small areas and intricate strokes.
Method 6: Use a Colorless Blending Marker
Best For: Expanding Limited Color Palette
This tool is simply a colorless marker that you can use for blending. Luckily, every Ohuhu marker set includes a colorless blending marker that both beginners and experienced artists can use to expand their color palette.
Take two shades of color – the light and dark versions. Swatch them on a palette card.
Use the blending marker to pick up one color, preferably the light tone, and use it to color the image.
Afterward, do the same thing with the darker shade. Thus, you pick up the marker inks to transfer them to the image.
However, this technique creates smooth and seamless color blends, leaving softer edges and tones.
Since it is colorless, you can use the blending marker as an eraser to remove mistakes and flourish your outlines and edges.
Conclusion
There are many easy ways on how to blend with Ohuhu markers. For starters, you can always use any Ohuhu markers available, whether they are an extensive selection or a limited color palette.
That said, you can get started with the practical steps and beginner-friendly blending techniques mentioned in this article. Just take your time, keep practicing with your markers, and create your own colorful masterpiece!
Related articles: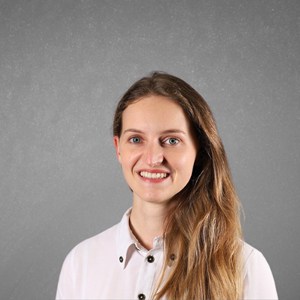 Art has always been a part of my life; it influences my upbringing and later my career choice. For me, it is always a part of my parenting technique. So for whichever purpose that you come to art, you can start here with us.