If you're an alcohol marker collector or aspiring to try alcohol markers and happen to have a Hobby Lobby nearby, this write-up is for you.
In this article, we're going to have a Master's Touch alcohol markers review. These markers are made by Hobby Lobby. Overall, they have very nice brush tips, are easy to use and blend pretty well, but the quality is kind of hit or miss.
Let's go deeper and learn more about what we mean by that.
Master's Touch Alcohol Markers: What Are They?
These are regular twin-tip alcohol markers. They generally have larger barrels as compared to other markers, but these do not really guarantee that they contain more ink.
As mentioned, Master's Touch is a Hobby Lobby brand. So, if you see a branch nearby, you can easily try them out. No need to wait long for the shipping.
Aside from alcohol markers, this brand also offers other art supplies, including Master's Touch brush markers, Master's Touch fineliner markers, and many others.
The Master's Touch alcohol markers have two types that differ in color options and tip types.
Master's Touch alcohol marker types
1. Set of 24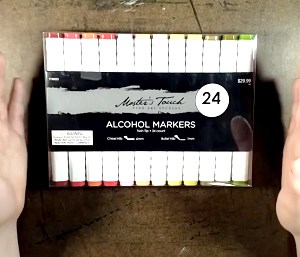 This type comes with a 1mm bullet tip and a 6mm chisel tip. There's a label on each end to indicate the tip type, and the bullet tip is further accentuated with a gray band. The tips work like a regular alcohol marker, no major concerns on this one.
The caps bear the color code and the color name like a typical alcohol marker. Each pen has small curves on the caps to provide added grip for easy removal.
2. Set of 6
This type has the brush tip and chisel tip combo. Same with the oval type, the tip type is visibly marked on each side and this time, the gray band indicates the brush side.
The foam rubber brush tips of these markers are splendid. They almost feel like Copics; they don't fray easily but are just a little softer. That could mean that they produce good flicks, but you get less control.
Each marker also has the color name and color number on the cap. They are color-coded, but the colors are not anywhere close to the actual ink.
What I like about these caps is that they fit on the other side, so the chances of losing them or interchanging caps with other markers are less likely to happen.
Master's Touch marker color options
The bigger set has 24 colors and contains a good selection of basic colors, some light tones, and a couple of grays.
What stuns us the most is that this small set includes metallic gold and metallic silver, which is very rare for alcohol markers. Copics don't even have metallics.
You can find different sets of 6 in various colors, but they are also available in open stock. The open stock has a total of 142 colors, including the blender.
There are 8 color sets to choose from.
Earth
Yellows
Pink & Purple
Primary
Blues
Grays
Greens
Red & Orange
We looked everywhere for the color chart but could not find one. Here are some snippets of the color swatches instead.
What Are These Markers Used for? How to Use Them?
Similar to regular alcohol markers, the Master's Touch marker can take on a multitude of coloring and writing tasks.
The bullet tip is for outlines, coloring small areas, and adding fine details, while the chisel tip is good for coloring large areas.
The brush tip is best for blending and lettering. It is flexible and reacts depending on the pressure applied upon application.
These markers are also compatible with most paper, fine liners, and other mediums like colored pencils. So, they can serve both solid alcohol marker users and mixed media artists.
How do Master's Touch alcohol markers work?
These markers are ready to use. They do not need to be primed or activated. They work like a regular twin-tip marker and are multifunctional, depending on the tip combination you picked. They blend very efficiently, but you can use a colorless blender to further blend or dilute colors as well.
It is always recommended to swatch both tips before using them as they are observed to have a slight difference in color.
These markers are alcohol-based and like the majority of their type, these markers can bleed severely. Also note that you have to store them horizontally to get the ink flowing on both ends.
How Much Does the Master's Touch Marker Cost?
The 24-color set and 6-color set cost the same at $29.99. The latter can also be purchased individually at $3.59.
The range is far from the Shuttle Art marker's price and is closer to Copic Ciao and Blick Studio markers, although Master's Touch markers are disposable.
Pros & Cons
Near Copic-quality brush tips
Blends beautifully
Tips do not fray easily
Works well with other coloring materials, paper, and liners
Stackable caps
Juicy tips but could get soaked up and leaky
Tips are made with foam rubber
Inconsistent color; one tip does not have the same color as the other tip
Cap color does not match the ink color
Inconsistent quality—some are juicy; some are dry; some tips are very nice while some are grainy
Too bleedy
Brush tips are a little too soft
Not refillable
Tips not replaceable
Made in China
Frequently Asked Questions
Are Master's Touch alcohol markers good?
Master's Touch markers are good but as mentioned, they do have their own pros and cons. They have good brush tips, good blendability, and work with other mediums, but the quality of the markers is inconsistent.
How do Masters Touch markers compare to Copic?
Masters Touch markers have similar features to the Copic markers. They are highly blendable like Copic, although the ink is kind of hard to blend when you are combining colors from different color families.
When comparing Master's Touch markers vs Copic quality, Master's Touch markers may be good, but they can have inconsistent colors, leaky, and squeaky tips that you don't normally experience with Copic.
In terms of color options, Master's Touch color variations only have about half of what Copic can offer. Copics are also refillable, while the Hobby Lobby products belong to the non refillable alcohol markers.
Are Master's Touch alcohol markers permanent?
Alcohol markers are considered permanent, but since they are alcohol-based, they are not designed to last and are not archival quality.
Conclusion
These Hobby Lobby markers are unexpectedly good in terms of performance. However, based on the major discrepancies we pointed out in this Master's Touch alcohol markers review, their quality is not that reliable, which may not justify the somewhat high price.
We have one more interesting observation about these markers. They resemble the Shuttle Art and Milo markers. Not only that, they also have identical color coding systems.
So, combining these tools with the ones you have may be easier than you might think.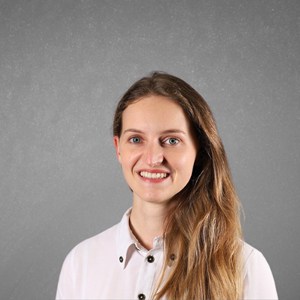 Art has always been a part of my life; it influences my upbringing and later my career choice. For me, it is always a part of my parenting technique. So for whichever purpose that you come to art, you can start here with us.