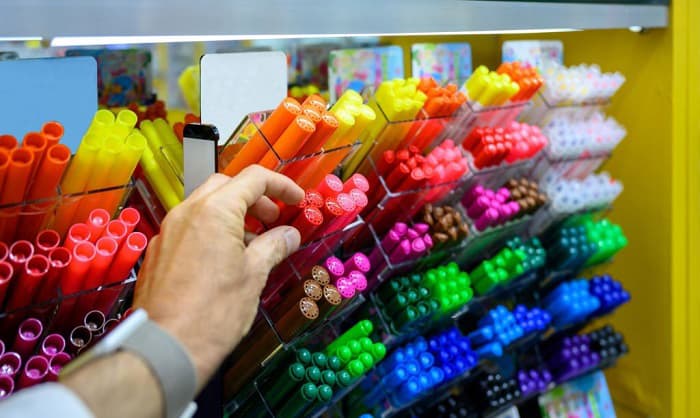 Drying out and clogged paint markers could be painstaking for some. To avoid such problems, every paint marker owner should learn to keep them properly.
The ideal way to store paint markers, also known as acrylic markers, is by horizontally storing them. This is the key to keeping your precious paint markers from being damaged.
To put that in practice, you must have a horizontal storage rack. In this article, we will give you 3 unique ways on how to store paint markers using a horizontal racking system.
Ways to Store Paint Markers Using a Horizontal Racking System
Marker storage usually comes in the vertical orientation, and you might not find a horizontal rack that is big enough to hold your paint markers.
But why buy when you can make your own? Below, we will give you three unique ways to make your own horizontal racking system at home.
1. Store It in a Wine Rack
This is perfect for those who are looking for a distinct way to store paint pens. Most wine racks are designed to store wine horizontally so you wouldn't struggle with the positioning.
Wine racks look premium and are aesthetically pleasing to the eyes. Using them as acrylic marker storage will add an exquisite touch to your storage.
Find a wine rack that suits your needs. Consider the number of paint markers and the space available.
Look for a suitable container that fits the slot of your chosen wine rack. You can use tall glasses, jars, and bottles. Choose a container with a wide mouth. Do a quick test, insert your hands, and see if you can insert it without a problem.
Then, arrange paint markers according to your preference.
2. Store It in a Rack Made of PVC Pipes
PVC pipes are sturdy and definitely could hold paint markers for a long time. For this method, get a partner as you might need some help.
What to prepare
PVC pipe with 12'' I.D.
Cutter
Glue stick
Glue gun
Cardboard
Scissors
Container
Detailed steps
Step 1: Cut PVC pipe equally, 5'' long for each cutting. Quantity will depend on how many layers you want to make. Have at least 5 pipes lined at the bottom to make a stable base.
Step 2: Join 5 pipes and secure them using the glue gun. This will serve as your 1st layer.
Step 3: Attach the second layer in line with the 1st layer or attach it in a way that the 1st pipe of the 2nd layer starts at the middle of the 1st two pipes at the bottom.
Step 4: Make more layers as needed.
Step 5: After the final layer, place it on top of the cardboard facing up and trace the bottom. This will serve as the backing.
Step 6: Cut the cardboard and fix it on one side of the DIY storage rack. If you want a mobile version of this horizontal marker storage, put the whole thing into a transparent container with a cover.
Step 7: Arrange paint markers accordingly.
3. Store It in a Caddy Rack
No, you don't need to buy a Caddy organizer. All you need is empty Crystal Light containers that you have been throwing into the bin after making lemonade.
What to prepare
Empty Crystal Light containers
Velcro fasteners
Washi tape
Detailed steps
Step 1: Collect at least 6 empty Crystal Light containers.
Step 2: To add some artistic touch, wrap around colorful washi tape on the top and bottom end.
Step 3: Attach two Crystal Light containers horizontally using velcro fasteners. This will make the containers detachable in case you need to bring one or to do rearrangement.
Step 4: Put paint markers inside the container and cover.
This acrylic paint marker caddy can hold up to 10 markers per container. The container is transparent which makes it easier to find specific markers.
You can also make a separate caddy to store Sharpies, Zeyar acrylic paint pens, or other pens and markers.
Helpful Tips/FAQs
Should paint markers be stored upside down?
No. When paint markers are stored for some time, there's a big chance that the paint will separate from the formulation with the binder.
If you store oil paint markers and other types upside down, the tendency is that the paint will coagulate and sit at the bottom. Once the paint hardens at the bottom, it leaves the metal ball a smaller contact area.
As a result, it will take more time and effort to mix the paint back. The advantage of storing paint markers horizontally is that remixing is easier since paint is distributed in a bigger surface area.
How do you keep paint markers from drying out?
To prevent the paint marker tip from drying out:
Always keep them in a cool dry place, that is the golden rule.
Always keep them away from direct sunlight.
Store them horizontally with caps tightly closed.
Keep them in a container with a lid.
In case your paint marker drys out, do the following:
Give it a good shake for 10 seconds, and press it on scratch paper. Repeat the process until the paint comes out.
Remove the marker tip and soak it with warm water to loosen the dried paint. Dry it with paper towels and insert it back to the marker nozzle.
What is the best way to store POSCA paint pens?
Like any paint, its top layer is susceptible to drying after being stagnant for a long time. POSCA paint pens must be stored in an area where it is not exposed to heat and sudden temperature changes.
It is best to store POSCA pens in a container with a cover, preferably an airtight container. Another option is to keep them inside the refrigerator. This will further prevent the tip from clogging and drying out.
What are the paint marker techniques and other tips for using POSCA pens?
When new, shake the pen for 10 seconds before using it.
Use fabric guard to make POSCA paint on fabric waterproof.
To make the POSCA paint marker last on the fabric, quickly iron it. Set the temperature at a high level but be careful not to overdo it.
Another way to make paint permanent is to:
Apply varnish
Heat it in the oven.
What are paint markers for?
Paint markers are very versatile and can be used for a wide range of applications. It can be applied to almost all surfaces including:
Clothing, jeans, and shoes
Stones and rocks
Mirrors and glass
Metals and plastics
Wood
Clays and terracotta
Conclusion
Paint markers are no ordinary markers. They do dry and get clogged more often than other types of markers, especially when you store pens up or down and are exposed to heat.
But now that you know how to store paint markers the proper way, you will never have dry and clogged paint markers again and if you do, prepare to give extra effort on shaking or tip cleaning.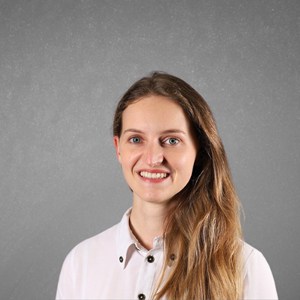 Art has always been a part of my life; it influences my upbringing and later my career choice. For me, it is always a part of my parenting technique. So for whichever purpose that you come to art, you can start here with us.