If you're a DIYer, I'm pretty sure you are familiar with fabric markers. They are very versatile, easy to use, and fun to work with.
However, not all are created equal. In this article, we're going to review a specific brand, the Tulip fabric markers.
For this Tulip fabric markers review, we'll explore their different types, features, pros/cons, costs, and more. A buying guide will also be provided to better determine if this fabric marker is right for you.
Tulip Fabric Marker: What is It? How Does It Work?
Tulip is a type of permanent fabric marker that is formulated with durable ink, designed to stay on fabric even after several washes.
These non-toxic fabric markers are sold by Tulip Color, which also offers different paints and dyes for diverse fabric applications.
Other than that, the brand also has other product lines, such as Tulip body art markers and different customizable items you can color on.
Tulip fabric pens work like a regular marker. However, you can use them to draw and color on textile without bleeding or fading.
Types
Tulip fabric markers have two major classifications: the tip type and the ink type.
1. Tip Type
These fabric markers have different tip types. Tip type and size are important factors in coloring and drawing, and Tulip makes sure that customers have all the tip options they need for every type of job.
01
Fine Tip
This tip type is a great option for drawing sharp fine lines and small details.
Though it's not as small as I would like, the pen still gives you enough control and precision when working on small areas like the corner of a shoe or a hat.
Just a recommendation, if you like a super fine tip, you can choose to get the dual tip with a brush tip and extra fine tip.
The Tulip fine tip markers are available in primary, neon, and rainbow color sets.
02
Bullet Tip
The slightly fine rounded tip is good for writing, drawing, and filling in designs. It can also be used to create bold and solid outlines.
This line has three variations: The Tulip Opaque, Tulip Paint, and Tulip Graffiti fabric markers. Apart from these basic sets, the special sublimation set also has a bullet tip.
03
Brush Tip
A versatile tip that can create both fine and thick lines, this type is best for coloring over stencils, color stamping, freehand lettering, and a lot more.
Just be careful with the tip as it can get frayed if you apply too much pressure or give the pen to kids.
The Tulip brush tip marker is available in regular rainbow colors and neon. But wait, there's more. I think it's worth mentioning that this line has two of the most exciting and interactive sets.
The electric neon set has colors that lighten up under black light, and the fun watercolor set allows use of rubbing alcohol to dilute or change the pigments. Unleash your inner child and play with 8 wonderful rainbow watercolors.
Check the how to use section on the package to see the detailed Tulip fabric markers instructions and better enjoy these special markers.
04
Dual Tip and Mixed Tips
Like art markers for paper, Tulip pens also have their own version of Tulip dual tip fabric markers. For this line, you have two options.
The first one is the Graffiti set with a chisel tip and bullet tip combination. This pack has 6 neon colors. The second option is the Rainbow set with the brush and extra fine tips, which has 12 different colors.
If you wish to get several tip types, Tulip got it in a single set called Black Variety.
The set includes 5 black fabric markers in the brush, fine, extra fine, chisel, and fat tips. It is very useful but is kind of disappointing because it is only available in black.
2. Ink Type
With Tulip's beautiful range of colors comes different ink types. We're gonna talk more about the not-so-common Tulip inks.
01
Neon Ink
As mentioned, Tulip has two neon ink variations: regular bright neon colors and special electric neon.
The latter is uniquely formulated to release luminescent light when the colored area is exposed to dark light. The regular type doesn't have this feature.
02
Opaque Ink
Unlike the others, this ink type is made with acrylic paint. Aside from fabric, these paint markers can also be used on other surfaces such as stone and wood.
Similar to other paint markers, opaque ones need to be activated or primed before application by pressing the tips hard into a solid surface until you get a consistent ink flow.
However, you need to shake and activate the pen from time to time as soon as you notice that the ink is thinning.
03
Fusion Ink
With this ink type, you no longer need a sublimation printer to make sublimation art.
You can draw any design on paper, lay the colored side on the fabric, iron it down, and watch the colors transfer. Another way to transfer the ink is by using a stamp.
The product can be used on polyester and cotton/poly fabrics.
3. Features
Each Tulip marker has different characteristics, but they do have the following common features.
Non-toxic
Permanent
Fade-resistant
Can sustain multiple machine washes
What Are They Used for?
As the name suggests, fabric markers are specifically made to write on fabrics. But Tulip fabric markers are more than that. They can also be used on other mediums such as canvas and paper.
They are some of my favorite tools for crafting and designing t-shirts, scarves, tote bags, shoes, pillowcases, and a whole lot more.
Pros
Non-toxic
Can sustain several washes
Wide tip options
Works on various surfaces
Does not require heat setting
Cons
Has a tendency to bleed if the tip rests in one spot for too long
The tip is not so durable.
Some markers contain less ink.
Some colors are inconsistent
How Much Does It Cost?
A single Tulip fabric marker is less than $2, but you can't buy the pens individually. This is cheaper compared to the leading fabric markers like Sharpie, which can cost more than $3 per piece.
Prices vary depending on the tip, color, and ink type, but to give you an idea of Tulip markers' actual price, here is a summarized price list.
| | |
| --- | --- |
| Tulip Product Description | Price Range |
| Fine Tip | $3.29 – 24.99 |
| Bullet Tip | $6.99 – 32.99 |
| Brush Tip | $9.89 – 24.99 |
| Dual Tip | $9.99 – 24.99 |
| Mixed Tip | $14.29 |
| Fusion Ink | $34.99 |
Note: Prices are based on Tulip Color online shop. The actual price may change or vary.
List of Best Tulip Fabric Markers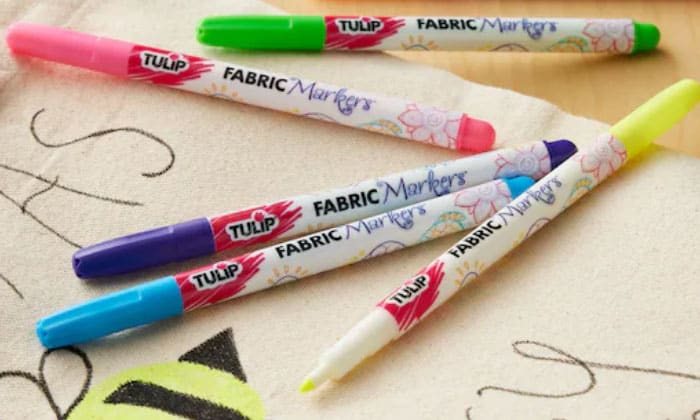 Here are the top Tulip fabric markers based on reviews:
Tulip Dual Tip Fabric Markers – Fine Tip & Brush Tip
TULIP Fabric Paint Markers – Rainbow
Tulip Graffiti Marker Bullet – Rainbow
Tulip Fabric Brush Tip Markers – Neon
Tulip Mixed Tips
Things to Consider Before Buying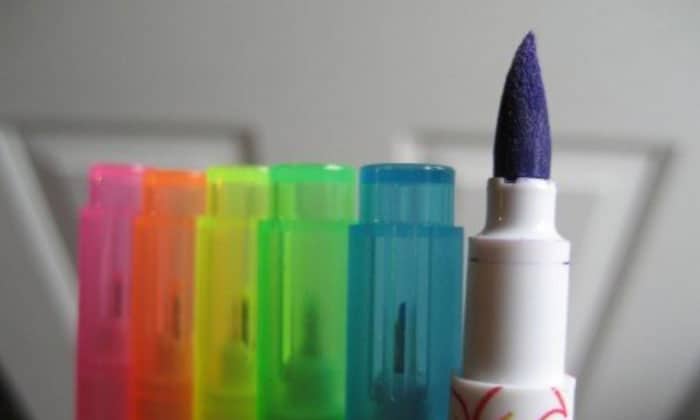 As promised, here is a short buying guide that contains the list of things you need to consider before adding anything to your cart.
1. Color Range and Variety
It is always fun to customize fabrics if you have more options.
Tulip fabric markers have all the colors of the rainbow. We love that they include neon, metallic, and glittery colors. There are also different tip types and inks to choose from.
So, consider what you're drawing and the amount of blending you'll be doing. More pigments will be needed for extensive projects.
2. Ink Quality
One of the most important things to consider for all marker types is the quality. This is a determining factor that affects the application, and durability. It also speaks a lot about your output. Some inks are only meant for light fabrics and won't suit dark textiles, for instance.
3. Toxicity
This is a must, especially when you are planning to use markers around kids. Luckily, all Tulip fabric markers are non-toxic and safe to use.
FAQs
Do tulip fabric markers wash out?
No, these markers won't wash out. According to the brand website, Tulip uses non-washable inks that make Tulip fabric markers permanent on the fabric even after washing.
Do tulip fabric markers bleed?
They are designed to glide on fabric without bleeding. However, in the actual application, some fabrics are too thin or too rough. These certain fabrics have a higher tendency to let colors bleed through.
To prevent this from happening, you can:
Place a shirt board or any plain board underneath the fabric. This will serve as a barrier that stops the color from bleeding through the next layer or the back of the shirt.
Avoid pausing while the tip is still touching the fabric. The tips are saturated and will eventually bleed if you let them sit on the fabric longer than what is required.
How will you wash after fabric marker application?
According to the Tulip washing instructions, you will have to set the fabric aside for at least 24 hours before washing. After that, you can wash it gently and tumble dry.
Tips to remove Tulip fabric markers
If you make a mistake, work on removing the ink right away before it gets dry. These markers are designed to be permanent and once the pigment has set in, it will be harder to remove the color from the fabric.
It is recommended to use Hydrogen peroxide or a stain remover on the area you wish to treat while the ink stain is still wet.
Conclusion
Tulip Color specializes in fabric application, and it's clear through the color, tip, and ink variations that the brand certainly knows what users want.
Tulip markers are permanent, non-toxic, and work on fabric. However, their tips have to be improved and be more consistent with the colors and ink content. But overall, these fabric markers are definitely worth a try.
This ends our Tulip fabric markers review. We hope this post helps you as you weigh down your options.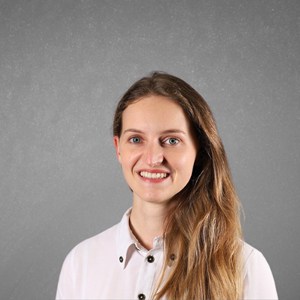 Art has always been a part of my life; it influences my upbringing and later my career choice. For me, it is always a part of my parenting technique. So for whichever purpose that you come to art, you can start here with us.