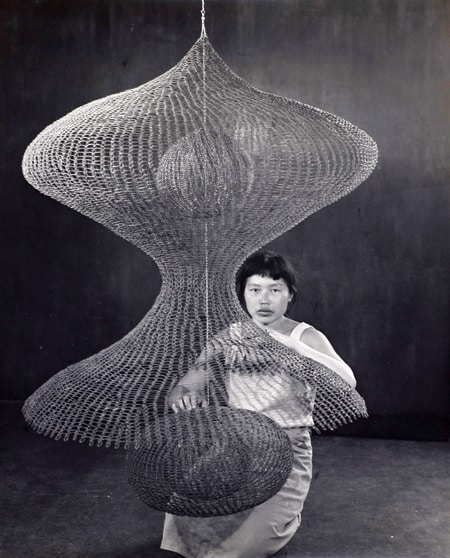 Untitled (Ruth Asawa kneeling behind looped-wire sculpture)
ca. 1957
Gelatin silver print, Object: 9 3Ú4″ x 7 3Ú4″
Gift of Ruth Asawa and Albert Lanier
Photo: Imogen Cunningham (American, 1883Ð1976)
Courtesy of the Fine Arts Museums of San Francisco
In the late 1940s, a young, female, Japanese-American artist came of age, amidst the zeitgeist of post-wartime internment, while attending a rural, experimental art school where she and her fellow students lived in a communal setting. During this meager era, artists working with ordinary or industrial materials such as clay, wire, wood, metal, and fiber turned their attention to making sculpture, instead of the utilitarian objects often fashioned from such materials. They liberated themselves from traditional craftwork, becoming early practitioners of what later became known as the Craft-to-Art movement. This pivotal art movement was born during the ascendency of midcentury modern aesthetics, and it was the advent of much of todayÕs revered craft-based contemporary art.
The Craft-to-Art movement opened doors for women artists who were not previously given much consideration, including, from the East Coast, Louise Bourgeois, Louise Nevelson, and Lee Bontecou. And from the West Coast, Ruth Asawa, who in her late twenties, was given her first solo show in New York City in 1954, just five years after attending Black Mountain College in North Carolina for three years. Her modernist hanging wire sculptures were well received in a review by Time magazine, though they were misinterpreted as being influenced by Oriental arts. In 1956, a review in ArtNews of another New York exhibition stated that her woven biomorphic forms were "domestic" or "handiwork" meant for "home decoration" rather than contemporary sculpture. Asawa, who retained her family surname after marriage–a practice rare at the time–was also called out in several reviews for the facts that she was a mother and a housewife, her rigorous art school training discounted. The implicit message: Asawa was not an artist to be taken seriously.
This was far from the reality. In the late 1940s, when Black Mountain was at the height of its enrollment, a distinguished group of artists and teachers who attended or taught there were powerful influences on one another, both personally and professionally. Asawa's particular mentors were Bauhaus-trained German painter Josef Albers, who taught her design and color theory, and the American architect/designer Buckminster Fuller, who encouraged her to take on being a citizen of the universe. Albers, Fuller, and Asawa, who became lifelong friends, each sought to make more with less, as well as to create the illusion of transparency in their work. Both men became her stalwart advocates. Among Asawa's peers who also attended at the same time were Robert Rauschenberg, Susan Weil, Arthur Penn, and Kenneth Noland.
Ruth Asawa, who was born in 1926, and who died last August, was raised in Norwalk, near downtown Los Angeles. She was second-generation Japanese, or Nisei, her parents having immigrated to the United States in the early 1900s. In California her extended family were vegetable farmers, and from an early age, Asawa developed a strong work ethic while assisting on the farm and developed her creativity in Japanese calligraphy and drawing classes. In 2006, Karin Higa, then curator at the Japanese American National Museum in Los Angeles, stated in her catalogue essay for Asawa's retrospective "The Sculpture of Ruth Asawa: Contours in the Air," which originated at the M. H. de Young Memorial Museum, "Modesty and thrift, filtered through ingenuity and creativity, were evident throughout the farm."
When she was still in her teens, the course of Asawa's assimilated American girlhood was brought to an abrupt halt: in 1942, a few months after the Japanese attack on Pearl Harbor, her family life was dismantled, as she was interned by the US government, first at the Santa Anita Assembly Center at the Santa Anita Racetrack in Arcadia for six months, and then at the Rohwer War Relocation Center in southeast Arkansas, where she lived for over a year until she graduated from high school. While interned, she was able to take painting and drawing classes and created landscapes in watercolor, chalk, and pencil. In 1943 she left Arkansas to attend the Wisconsin State Teachers College–Milwaukee.
The summer before her last year at Milwaukee, she and her sister made a trip to Mexico, where she took art classes at the Universidad Nacional Autonoma de MŽxico in Mexico City. Her teacher Clara Porset, a Cuban Mexican industrial designer and a friend of Josef and Anni Albers, encouraged Asawa to attend Black Mountain College. Asawa then returned to Milwaukee for her final year, and even though she completed the coursework for teaching art, she was unable to complete the practice teaching required for her credential, as no one would hire her because of anti-Japanese prejudice.So in 1946, after receiving financial assistance to attend Black Mountain College, Asawa left Milwaukee without obtaining a degree. She was not to receive an accredited art degree from Black Mountain either, since it was an experimental school with no grading system and thus unqualified to meet federal education standards. Some of the teachers were Bauhaus-trained refugee artists who had escaped from the Europe of WWII, whose experiences resonated to Asawa, through the lens of her own, internal exile status. Black Mountain also provided her the opportunity to live in a rustic environment where she could return to her farming roots. The school had a mandatory Community Work program for maintaining the 640-acre grounds, including a farm with no endowment for maintenance. Asawa scrubbed floors, churned butter, and did laundry, as did the other students.
At Black Mountain, Asawa started off as a painter and was taught the Bauhaus fundamentals, a vocabulary in visual perception (including transparency, figure-ground, illusion, and reversal of images), which she explored throughout her career. Her early artworks–in ink, collage, folded paper, and paint–incorporated patterns of parallel curved lines and variations on Albers's "meander" motif. In the summer of 1947, she made a second trip to Mexico, to Toluca, with a Quaker group. There she learned a looping technique using wire that artisans employed to make baskets. And in the summer of 1948, she observed as Buckminster Fuller made his first, abortive attempt at a geodesic dome with the architecture students at BlackMountain, using Venetian blind strips. During her final year at Black Mountain, combining these experiences, Asawa's work evolved into three dimensions; building on formal elements from her drawings and paintings, she made a series of lobes out of looped wire that became her signature sculptures, or drawings in space.
After completing her work at Black Mountain in 1949, she joined her fiancŽ, architecture student Albert Lanier in San Francisco, and married; from 1950 to 1959, they had six children. This burgeoning family did not stop Asawa from maintaining her arts practice, but it did create the necessity to involve them. Unlike many artists who choose to have studios away from their homes to make art, Asawa found that she could loop wire in her home while tending to family life. With less focus on exhibitions after her brief time in the spotlight in New York City in the mid-'50s, Asawa continued to experiment with wire, then turned to public sculpture and arts education in San Francisco in the 1960s. The artist later became known as the "Fountain Lady," for her many fountains including, Andrea, the mermaid fountain at Ghirardelli Square (1966).
Asawa's public works became successful community endeavors as well as beloved icons. She developed her tied-wire and looped-wire sculptures and continued to work i
n baker's clay and bronze for public works until about 2000, when her health began to decline. "She balanced her prolific body of work, while at the same time raising a large family, and was able to succeed at both due to a supportive community, not sleeping much, and because she saw the educational value in having young people make artwork," says her youngest son, Paul Lanier. Asawa also involved other artists, as well as public school students, in her commissioned projects. Her architect husband Albert was instrumental in helping her overcome technical challenges as well as addressing the aesthetic aspects of the work. Sons Xavier and Hudson Lanier provided carpentry and construction assistance; daughter Aiko Cuneo acted as Asawa's archivist and conservator; son Adam Lanier was the subject of many of her sketches; daughter Addie Lanier provided administrative and research assistance; and son Paul worked with Asawa as a ceramicist and materials technician on several projects. Laurence Cuneo (Aiko's husband) has photographed Asawa and her work; and lifelong friends Mae Lee and Nancy Thompson each contributed greatly to the success of her public works.
The de Young Museum in San Francisco has been Asawa's greatest supporter and benefactor over the years, and they have over 100 pieces in their collection. In 2005, in anticipation of its new building designed by Herzog & de Meuron, Asawa donated 15 of her most significant sculptures from the 1950s and '60s, to be placed on permanent display at the base of the Hamon Education Tower. And, in 2006, the museum presented the most comprehensive Asawa retrospective to date, curated by Daniell Cornell and titled "The Sculpture of Ruth Asawa: Contours in the Air," with accompanying catalogue. Included in the exhibition were images taken in the 1950s and '60s by Imogen Cunningham, a good friend of Asawa's, who, like Asawa, had multiple children and persisted in making her art despite the art world's inattention. The exhibition traveled to the Japanese American National Museum in Los Angeles.
An artist's artist, Ruth Asawa remains one of America's most important artists of the 20th century. She made her work while raising a family, not to be "subversive"–as a 2013 New York Times article proposed–but adhering to the principles that reflected her art education and life experiences, as well as her core family values. She wasn't by any means a radical–rather, she was practical. Asawa valued aesthetic expression made with readily available materials, and she found a way to make her work in community with her family. Today, she would fit right in with the current generation of artists who consider their domestic lives to be part of their art-making, artists who create community-based projects, referred to as Broodwork or Social Practice. Reflecting her impact on the community, in 2010, San Francisco's public high school for the arts became the Ruth Asawa San Francisco School of the Arts, to honor her commitment to arts education. In her practice, it was her temperament to work hard but quietly, without focusing on herself. Her legacy to the art world is characterized by simplicity in hand-making, by her disciplined work ethic, and by her eloquent, meditative modern forms. Whether or not she intended to be one, she was a pioneer. Her passion for the arts will be greatly missed.
Patricia Watts curated the 2008 exhibition "Following Nature: Ruth Asawa in Sonoma County" at the Sonoma County Museum, Santa Rosa; it included selections from the Paul Lanier Family Collection.