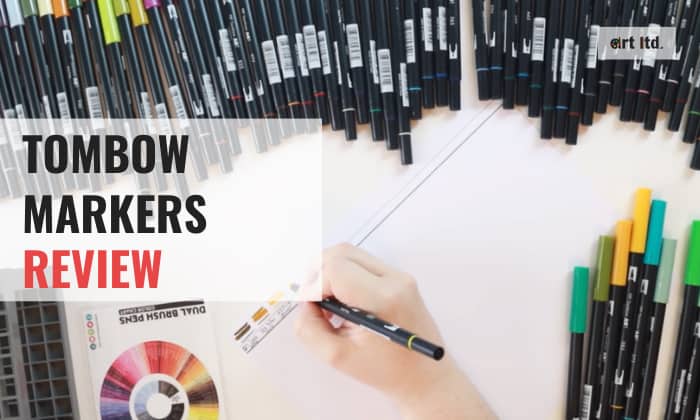 Japanese markers are re-known for their top-tier quality and ingenious design. However, they don't come cheap, either. Therefore, it's understandable that you wouldn't want to go into buying these makers blind—careful research will help you determine if their performance is worth the cost.
In this article, we're going to have a Tombow markers review. Generally, these markers offer excellent saturation and good coverage. Plus, they can be layered decently.
Tombow Markers: What is It?
These are dual-tip art markers made by Tombow Pencil Co., Ltd., a Japanese company founded over a hundred years ago. Initially only producing pencils, the brand has now branched out to develop other products, most notably of which are markers.
Currently, Tombow offers 7 different types of markers. These are the:
ABT Pro
Dual Brush Pen Art Markers
Fudenosuke Brush Pen Art Markers
Mono Drawing Pens
Mono Edge Highlighters
Mono Twin Permanent Marker
TwinTone Dual Tip Art Markers
This article will dwell on 3 of the most popular Tombow brush pens/markers, the ABT Pro, Dual brush pen, and the Fudenosuke brush pens. To be clear from the get-go, none of these three product lines has refillable ink cartridges or replaceable nibs.
Key Features
1. ABT Pro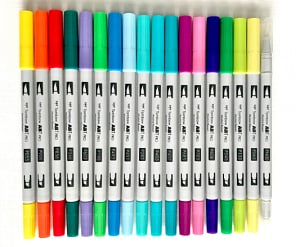 These are alcohol-based markers. They are available in 108 colors, including a colorless blender to smoothen hue transitions or lighten dark areas. You can find the color codes printed on these markers' round white barrels.
The ABT Pro markers are dual-ended. They have a nylon brush tip on one side and a firm polyester chisel tip on the other. Although I wish the brush end were a little more flexible, it's still bouncy enough to create thickness variations. As for the chisel tip, you'll need to turn the pen to write strokes of different thicknesses.
Ink flow is decently controlled, so oversaturation is not an issue. The alcohol-based ink makes blending and layering easy, and there's no streaking to speak of. However, like most alcohol markers, these ABT pens can bleed through thin paper and have a smell.
Each marker is sold at $4.49 apiece. For sets, you have three options: packs of 5, 10, and 12, each costing $19.99, $39,99, and $46.99, respectively.
2. Dual Brush Pen Art Markers
This product line features water-based ink, so it does not smell. It also has 108 colors like the ABT Pro but without a blender. However, you can reactivate the dried colors with tap water or other water-based markers, so the lack of a blender shouldn't be an issue.
The Tombow Dual Brush marker is very similar to the ABT Pro, except that their barrels are black, and they have a fine tip instead of a chisel tip. As such, you can use these markers for regular writing. Just note that their brush tips are somewhat prone to fraying.
These also have saturated and vibrant colors. The pigment coverage on paper for small areas is decent, and blending is also effortless. When coloring large areas, the Tombow dual brush pens can get streaky, but you can always solve the issue with water.
The Dual Brush line's colors are transparent so you can layer them with each other or with other markers. Just be sure to limit yourself to 3–4 coatings, as too much of water-based ink can tear up your paper.
Each marker cost $3.45. The set of 96 that comes with a desk stand cost $279.99 while the biggest set comes with a case, a full set of 108 colors, cost $355. These are also sold in smaller packs sorted by color family, the cheapest of which is the 6-pack set with a price of $17.49.
3. Fudenosuke Brush Pen Art Markers
These Tombow water-based markers have two variations: brush pen and twin-tip marker. The brush pen has 22 colors, and you have the option to get a hard or a soft tip. Meanwhile, the twin tip has a fine (gray) and extra fine brush tip (black).
Depending on how much pressure you exert, the tips can produce 0.5 mm to 2 mm line thickness, give or take. This is a perfect option for someone who is still starting out with brush markers, as they are much easier to control compared to the regular size. Plus, the tips don't fray as easily as the Dual Brush.
These water-based markers glide smoothly on paper without bleeding or smudging. However, their water-resistant formula also means that blending is pretty much impossible.
These are sold individually at $3.59 to $3.79, depending on the color and tip type. The largest set with 10 colorful markers costs $28.99, while the neon and pastel sets with 6 markers will set you back $17.49.
How to Use It?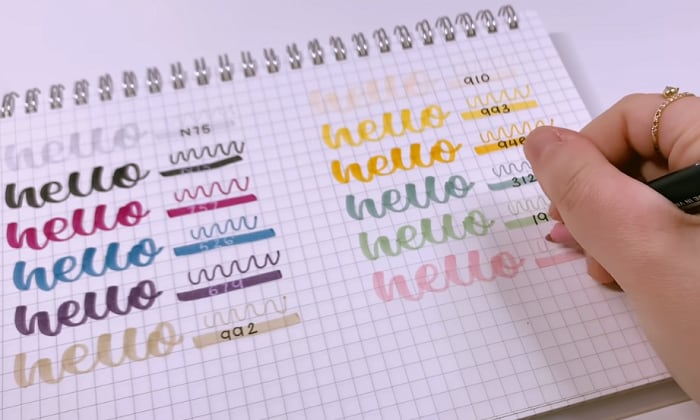 These Tombow brush pens are pretty straightforward, considering they are all ready to use out of the box. That said, here are some tips you may find useful:
The Tombow dual tip brush pens can basically make different strokes with different pressure—the more pressure you exert, the thicker the lines will be.
The bullet tip can do outlining while the chisel end is versatile enough to be used for coloring big and small backgrounds.
For blending using Tombow water-based markers, you can use the tip to tip method, mixing on palette method, and by direct layering of colors.
To make blending easier, you can go to the brand's website and check the Tombow color combinations, which consist of common schemes, such as monochromatic, analogous, complementary, triad, or tetrad.
Among the three product lines, the ABT Pro is good for artists and crafters who do graphic design, sketching, and coloring small details.
Meanwhile, the Tombow watercolor markers Dual Brush can be used for coloring illustrations, bullet journaling, and lettering. As for the Fudenosuke line, it's best for calligraphic art like writing and drawing on postcards.
Pros and Cons
Vibrant colors
Layer nicely
Not refillable
Does not have replacement tips
2. ABT Pro
Unique chisel tip
Controlled ink flow
Not streaky
Blend nicely
3. Dual Brush Pen Art Markers
Highly blendable
Good coverage
Good price point
Odorless
Can get streaky when covering large areas
Can peel/tear paper
Tips can fray
4. Fudenosuke Brush Pen Art Markers
Runs smoothly
Water-resistant
Do not smudge
Very limited color options
Do not blend
Frequently Asked Questions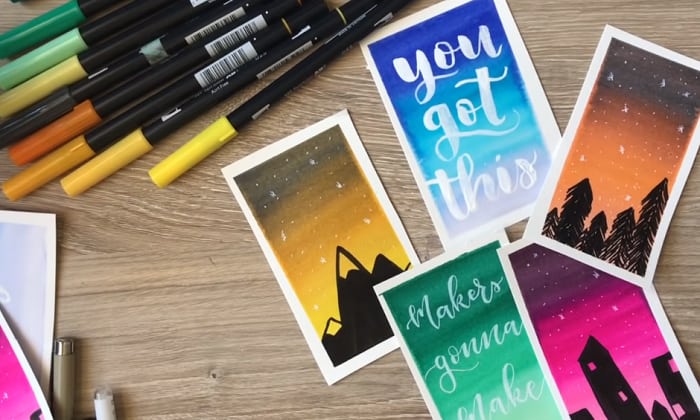 Are Tombow markers good for drawing?
Yes. Tombow markers are good for drawing, so long as you use the correct type of marker for your art project.
For example, the Tombow ABT Pro markers are best for sketching or for coloring small details. The marker size and ink load are not recommended for large projects and full-sized illustrations.
What is the difference between Tombow and Copic markers?
Tombow markers have different ink variations while all Copic markers are alcohol-based. Moreover, if we are to compare its alcohol-based marker, ABT Pro to Copics, here are some key differences.

Tombow markers are not refillable and have no replacement tips available.
Tips are made with nylon, while Copics are rubberized.
Copics markers' barrels are thicker and shorter.
Markers from Copics are more blendable.
How long do Tombow pens last?
This ultimately depends on how frequently you use the pens and how large your art projects are. That said, they are juicy enough to last you at least a couple of months with regular use.
How to store Tombow markers?
Here's a rule of thumb: alcohol-based markers should be stored horizontally—this extends to the ABT Tombow markers. As for the water-based ones, you can store them either vertically with the tips pointing down or horizontally.
Conclusion
Based on this Tombow markers review, the brand seems to hold up to expectations. However, they are so expensive that the hefty price tag can put off new artists. If you're willing to overlook this fact, the Tombow pens can be a good addition to your art collection.
What do you think of these markers? Let us know in the comment below.
Other marker brands reviews: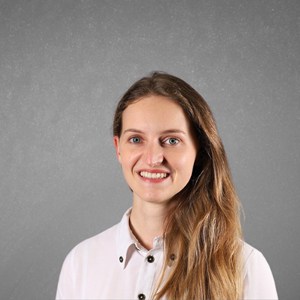 Art has always been a part of my life; it influences my upbringing and later my career choice. For me, it is always a part of my parenting technique. So for whichever purpose that you come to art, you can start here with us.