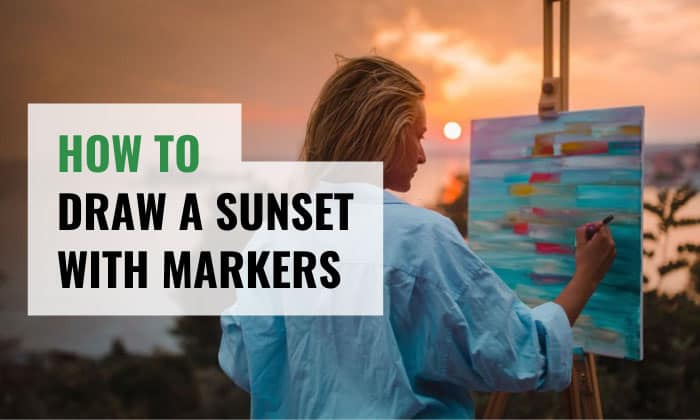 This article will show you how to draw a sunset with markers beautifully to capture the vividity of the magical moment. This includes using brush pens/markers, alcohol markers, and watercolor markers.
We will also talk about other blending techniques that you can use to produce great sunset colors using a few markers. Now if you are ready, let's get started!
Ways to Draw a Sunset With Markers
Method 1: Using Basic Brush Pens/Markers
For this method, you'll need 5 colors to complete an easy simple sunset drawing. This simple marker art is perfect for beginners, even for kids and kids at heart.
What to prepare
Brush pens or markers with brush tips

Yellow
Violet
Dark pink
Blue
Black
Small saucer
Coin
Pencil
Ruler
Marker paper
Detailed steps
Step 1: Draw a big circle using a pencil and a saucer. Trace around to make a perfect circle.
Step 2: Draw a parting line at the center using a ruler.
Step 3: Using your yellow marker, draw the sun by tracing the coin on the upper left side. Fill it in using the same color.
Step 4: Color and fill the lower half of the bigger circle using the blue marker.
Step 5: Divide the other half into two. On the upper half, make three layers and color with violet on the topmost layer, followed by pink, then red. It doesn't have to be perfect. Just feel free to do it your way.
Step 6: This time you might reach the sun, so try not to hit the yellow part. Color the remaining part with an orange marker.
Step 7: At this point, you can make color blending/layering to add a sunset drama.
Step 8: Draw an island/mountain on the right side of your sun using the black marker.
Step 9: Using the same pen, draw a few palm trees over your island and M-shape birds over the sky, touching the sun.
Step 10: Draw small lines around the bottom of your island like it's casting shadows on the water.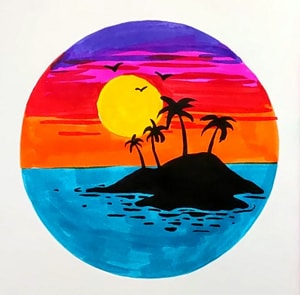 Check this Youtube video for more details:
Method 2: Using Brush Pen/Marker with Blending Technique
For this method, we're gonna make an easy sunset with markers. You'll only need 2 colors for that. Yes! Just two colors to draw a pretty sunset.
We're gonna teach you some blending techniques along the way. The ink source is limited compared to using ink straight from the barrel.
This is best used with small paper sizes, making these beginner sunset drawings easy to follow.
What to prepare
Brush pens or brush tip markers
Black thick pen
White gel pen
Watercolor paper
Detailed steps
Step 1: Let's start blending! Hold the two brush pens upright. Let the orange tip touch the yellow tip until it collects enough orange color.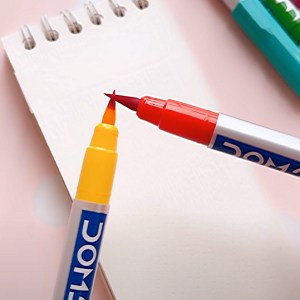 Step 2: Using the side of the yellow tip with orange, slide it down on the paper from the top up to the middle. Notice that the nice color transitions from orange to yellow.
Step 3: Reload the yellow tip with the orange marker using the same technique.
Step 4: Do the same thing. This time flip it and start on the bottom part towards the center until it meets the yellow from the first run, which resembles the horizon meeting at the center.
Step 5: Draw a straight line in the middle, leaving a small gap at the center for your sun later.
Step 6: Make small mountains over the lines.
Step 7: Add more details. For this one, I like to add some birds and a sailboat with a man sitting on it.
Step 8: Add zigzag lines right below the sailboat, like adding shadows. Do the same with the mountains.
Step 9: Time to add the sun. Get a white gel pen and draw a half circle at the center where you left a gap, fill it and add zigzag lines towards the water all the way to the bottom.
Here is a tutorial video if you need it:
Method 3: Using Alcohol Markers

One of the best alcohol markers in town is Copic markers, and this guide would not be complete without making a Copic marker sunset.
For this method, we'll show you how to make a simple sunset sky, and it's up to you to add whatever details you want.
What to prepare
Copic markers

R08 (Vermilion)
YR09 (Chinese Orange)
YR07 (Cadmium Orange)
YR04 (Chrome Orange)
Y35 (Maize)
Black

Marker paper
Detailed steps
Step 1: Start coloring from the bottom, using Y35 slightly glide in horizontally right up to just a little over the middle. You want to make it as light as you can.
Step 2: Using the YR09, color the top using horizontal strokes towards the center. Leave a small space, and do not touch the yellow part yet.
Step 3: Fill the space using the YR08, you can blend some at the top layer with the YR09 layer.
Step 4: Now we're gonna start blending with the yellow part, use YR07 and continue until you reach right under the midline.
Step 5: Apply YR04 next to YR07 and leave a bit of yellow space at the bottom.
Step 6: Reapply your Y35 starting from the bottom until the orange and layer until you get a smooth blend.
Step 7: From the top, reapply YR08 and then YR09, YR07 tries to blend some of it with the YR09 layer.
Step 8: Now reapply YR04 and another layer of Y35 at the bottom.
Step 9: Again blend Y35 with the upper layer until you achieve the perfect color gradient.
Step 10: There you have your sunset sky, you can now add other details using a black marker.
You can watch the detailed tutorial in this video below:
Method 4: Using Watercolor Pen/Marker

Another amazing tool that you can use for sunset background drawing or other marker art for beginners is watercolor pens and markers.
They're very easy to use compared to using traditional watercolors. For this method, we're going to draw sunset step by step using 3 watercolor pen combinations.
What to prepare
Watercolor pen/marker
Small brush
Water
Watercolor paper
Detailed steps
Step 1: Divide your paper into three, do not mark it, just keep the division imaginary and keep it in mind as you go along. Starting in the middle division, apply your yellow and fill it up using horizontal strokes.
Step 2: Apply orange both on the upper and lower division.
Step 3: Get your red-orange and layer it at the top portion. Do not layer everything, picture the red-orange as the dark side of your sky. You want to limit the red-orange layer halfway to the upper portion.
Step 4: Wet your brush with a small amount of water. Brush it over the yellow part to blend and smoothen it. Wet your brush as needed.
Step 5: Now start brushing and smoothening your orange on the bottom part. Feel free to blend the color with your yellow layer.
Step 6: Then do the same on the top part with your red-orange.
Step 7: Start blending from top to bottom, but be careful not to overdo it. Blend the red lightly, touching the yellow and orange layers until you get a good mix of colors.
Step 8: Add more details. Sketch it first and trace it with a black marker afterward.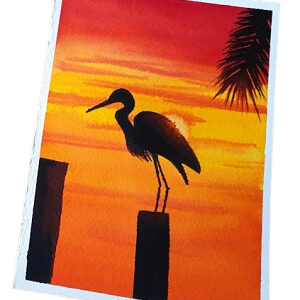 Watch this Youtube tutorial video for more details.
Method 5: Using Watercolor Pencil
Aside from markers, you can draw a sunset with pencil. For this method, we're going to use watercolor pencils. They are some of the must-try tools that can fulfill any sunset drawing ideas you have in mind.
Like the watercolor pen, this pencil sunset drawing can simply be activated with water using a brush to get the watercolor effect.
What to prepare
Watercolor pencil

Orange
Red orange
Yellow
Purple

Watercolor paper
Detailed steps
Step 1: Make a solid horizontal line slightly below the middle using the orange color. This will serve as your waterline. From that line, go up but this time, make your strokes lighter.
Step 2: From the top, leave a little space and start making other solid colors of an orange resembling your skyline. And, go lighter and lighter as you go down to the center but do not let it reach the waterline.
Step 3: Go to the very bottom, and make a hard solid orange going up. Let the color go lighter as you go nearer the horizon.
Step 4: Draw from the bottom layer the orange with the red watercolor pencil, including the skyline, and again fade towards the center.
Step 5: Add the yellow, start with the waterline. Press it hard to emphasize the yellow. Layer it over the whole area except for the little space you left at the top.
Step 6: Fill the space at the top with purple. Make it dark and blend it with the skyline.
Step 7: Reapply orange on the skyline up to the light part of the purple line.
Step 8: Smoothen the drawing with a wet brush.
Step 9: Your sunset drawings in pencil are done. Add your thing with a black marker.
See step-by-step guide in this video below:
Conclusion
Learning how to draw a sunset with markers is fun and easy. You just need to have the right tools to get started.
You can choose a tool that is already familiar to you, maybe the brush pens and alcohol markers, or try to experiment using watercolor markers and pencils.
Hope you enjoyed and learned something new from this guide.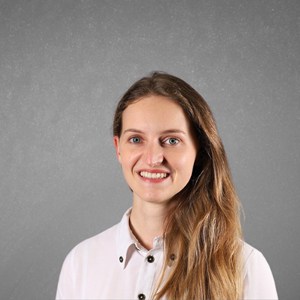 Art has always been a part of my life; it influences my upbringing and later my career choice. For me, it is always a part of my parenting technique. So for whichever purpose that you come to art, you can start here with us.