Besides the hefty price tag, many consider luxury pen brands for their exquisite design, prime features, and effortless performance. That said, choosing between Cross vs Parker pens has been a constant dilemma since they are fine brands for writing implements.
The utmost competition between these high-end brands fall under their longevity, ink quality, brand compatibility, and warranty.
As each brand offers a lineup of ballpoints, rollerballs, and fountain pens, we will break down the significant features of the respective variants and find out which brand best suits your needs and preferences.
A Brief Comparison Review
Features
Cross Pens
Parker Pens
Ballpoints
Offers finer point

Seamless writing experience

Can last up to 300 legal pages

High-quality ink with unmatched vibrancy and clarity

Presents bold and striking color

Lasts for approximately 30 legal-size pages

Rollerballs
Offers a broader selection of rollerball pens

Effortless writing experience

Quick-drying ink but may affect smooth writing

Cartridges are not universal

Fountain Pens
Professional and sophisticated designs

Lower ink capacity

Fewer nib size options

Larger barrels for larger ink supply

Quick-drying ink

Smudge and smear resistant

Cost
Costs around $25 to $100
Costs around $20 to $3,000
Warranty
Has a lifetime mechanical warranty that covers flaws in materials or workmanship
2-year warranty but can be increased up to 4 years
Overview of Cross Pens
The A.T. Cross Company established itself as the very first fine writing tool manufacturer in the United States, with a rich Cross pen history dating back to 1846.
Richard Cross founded the company with elegant, complex designs such as silver and gold pencil casings.
Moreover, Cross pens have earned an excellent reputation among world leaders, particularly U.S. Presidents who have needed pens with distinct lines for over a century.
Regarded as "The Pen of Presidents", the Townsend and Century II pens have been seen being used for signing ceremonies at the White House.
Cross pens were designed to last, and the manufacturer backs them up with a lifetime Cross pens warranty that sets them ahead of the competition.
They have been well known for their superior quality and lightweight design, making writing convenient and graceful.
Read more: How to tell what cross pen you have?
Overview of Parker Pens
Parker pens are a high-end, French-made brand with a long history of invention and a great appreciation for the written word. George Safford Parker established the company in Wisconsin, United States, in 1888.
Known for their exceptional writing tools that continually push the boundaries of creativity, Parker designed the anti-leak 'Lucky Curve' system in 1894 and the quick-drying ink 'Quink' in 1931.
This brand takes considerable pride in its upscale writing instruments. All Parker pen models undergo painstaking production, ensuring superior quality derived from the finest materials such as gold, platinum, rhodium, silver, and rare resins.
Parker writing instruments are currently known for their modern and artistic designs that appeal to a wide spectrum of users and pen aficionados.
From the fashionable Parker Jotter to the refined Sonnet, each of their different collections has earned a distinct identity.
The Differences of Cross and Parker Pens in Detail
1. Ballpoint pens
| | |
| --- | --- |
| Cross Ballpoint Pens | Parker Ballpoint Pens |
| Classic Century | Jotter |
| Coventry | Sonnet |
| Bailey | Urban |
| Sauvage | IM |
| Calais | Parker 51 |
| Aventura | Duofold |
When it comes to ballpoint pens, both Cross and Parker have a variety of options to satisfy a vast array of preferences.
Parker ballpoint pens are well-known for their high quality, with ink refills that provide unmatched vibrancy, clarity, and longevity. They also have the added benefit of supplying gel pens, which Cross has yet to provide.
Cross ballpoint pens, on the other hand, are the way to go if you like a finer point. They are known for providing a more seamless writing experience, making them excellent for people who want to write with greater precision.
Meanwhile, many prefer Parker's ballpoint ink over Cross's due to its darker, more defined, and striking color. However, Parker ballpoint refills last for approximately 30 legal-size pages, whereas Cross ballpoint refills last for approximately 300 legal pages.
2. Rollerball pens
| | |
| --- | --- |
| Cross Rollerball Pens | Parker Rollerball Pens |
| Townsend | IM |
| Bailey | Sonnet |
| Botanica | Vector |
| Calais | |
| Wanderlust | |
| Edge | |
The significant differences between Cross and Parker rollerball pens are the variant selection and the ink refills.
Cross offers users greater options with its broader lineup of rollerball pens. Besides that, ink refills won't be a problem since Cross rollerball pens have universal cartridges, which allow users to use any kind of ink refills.
Despite the limited selection, Parker does not skimp on quality for their rollerball pens. They utilize quick-drying ink that wards off smearing and smudging, providing neat and sharp writing.
However, the only downside of this patented ink is its impact on the writing experience, preventing the pen from gliding smoothly across the paper.
The incompatibility of Parker pens with standard ink refills is also a slight letdown. They are exclusively designed to use Parker ink refills, ergo alternative ink refills are not yet available.
3. Fountain pens
| | |
| --- | --- |
| Cross Fountain Pens | Parker Fountain Pens |
| Townsend | Jotter |
| Calais | Parker 51 |
| Classic Century | IM |
| Sauvage | Duofold |
| Bailey | Sonnet |
It was the lineup of fountain pens that made Cross and Parker popular in the vast industry of writing implements. The consistency in their design has been a pivotal factor that made them reputable brands for sophisticated and reliable fountain pens.
Both Cross and Parker present nib designs that speak of excellence and elegance. Through the meticulous and refined processes, both brands use the finest materials that ensure exquisite quality and performance.
Cross fountain pens are engineered with refillable ink reservoirs and utilize solid gold and stainless steel trims and materials for their signature nibs. Each nib replacement is specifically designed for a particular model.
Unfortunately, the quality of the Cross fountain pen barrels and nibs seemed to have deteriorated ever since the production relocated to China in 2013. The nibs were not as smooth as they were before and the size range lacked variety.
Parker fountain pens are beautifully crafted using twelve manufacturing phases to refine nib designs, creating smooth ink flow and strong construction.
Moreover, they are noted for their bigger barrel size, which allows for a greater ink supply than its Cross competitors.
4. Cost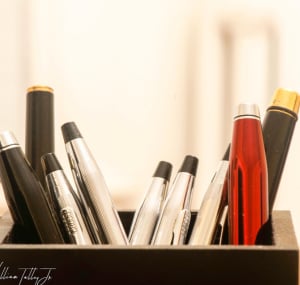 You may ask, how much is a Cross pen and a Parker pen?
Given their brand reputation for luxury pens, Cross and Parker fall under a high pricing mark that ranges from $20 to $200 for each pen.
Although they are expensive, the impeccable quality and performance counterbalance the price tag, making these luxury pens worth every penny.
Normally, a premium Parker fountain pen price is much higher than a premium Cross fountain pen. For example, the Sonnet Fountain Pen with 18k Gold Nib costs around $300, whereas the Classic Century Medalist Fountain Pen is priced at $85.
In terms of the earlier versions of their pens, Cross pens did usually have higher pricing than Parker pens. But when it comes to their ink refills, the Parker ink pen price in comparison with Cross ink is almost the same, which is only around $10 to $20.
To give you a clearer idea, you can check the price list below to know the average cost of each brand's ballpoint, rollerball, and fountain pen.
| | | |
| --- | --- | --- |
| Type of Pen | Cross | Parker |
| Ballpoint Pen | $30 to $70 | $30 to $200 |
| Rollerball Pen | $30 to $100 | $20 to $150 |
| Fountain Pen | $25 to $85 | $25 to $3,000 |
5. Warranty
In terms of warranty, Parker vs Cross pens differ considerably. Parker pens usually guarantee a 2-year warranty that can be increased up to 4 years, whereas Cross offers a lifetime mechanical warranty that covers flaws in materials or workmanship.
Typical wear and tear, stains, scratches, damage beyond the manufacturer's management, usage, abuse, negligence, and improper repairs are all excluded from both warranties.
Nevertheless, Cross' lifetime warranty provides superior protection for the pens and the utmost confidence for the users.
Pros and Cons
1. Cross pens
Timeless and sophisticated design
Durable and long-lasting
Offers a wide variety of options, including customization
High-quality ink that writes smoothly
A popular corporate gift
Very comfortable to hold and write with
Provides consistent and clean lines
Compatible with standard ink refills
Can be more expensive than other pen brands
Requires maintenance, including refilling and cleaning, which some users may find inconvenient
2. Parker pens
Elegant and timeless design for executive and professional use
Wide variety of pen types: ballpoint, rollerball, fountain pens
Impeccably reliable and long-lasting
Smooth and consistent ink flow for a pleasant writing experience
Refillable for sustainability
Wide range of colors and finishes
Great corporate gift option with high-quality craftsmanship
Expensive; not ideal for budget-conscious consumers
Certain pens, particularly fountain pens, may smear or bleed ink
No available alternative ink refills and should only be used with Parker-only refills
Frequently Asked Questions
Is a Parker or Cross pen better?
It depends on your needs, preferences, and intended application. Parker pens outperform the competition when it comes to high-quality ballpoints or fountain pens.
Parker pens are a better choice in this aspect due to their quick-drying ink and longstanding reputation for durability.
Cross ballpoint pens, on the other hand, have finer tips, and their rollerball pens outperform Parker pens. And for pen users who value warranties, the commitment of Cross is unrivaled.
Which will last longer?
When it comes to material construction, Parker pens are usually more durable and long-lasting.
However, although they are slightly less durable than Parker pens, the lifetime mechanical warranty that Cross offers with their pens remains unparalleled.
In terms of the refill, the longevity of both Parker refills and Cross refills generally lasts around 1 to 3 months once the wax seal is removed.
Are there any alternatives to Cross and Parker pens?
You can find a lot of Cross and Parker pen alternative sets on the market.
Some alternatives are the Lamy Safari ballpoint pen, Uni-Ball Vision Elite rollerball pen, and Kaweco Sport fountain pen. Their cost only ranges from $10 to $40. Somehow, these brands provide pens similar to Cross and Parker pens.
However, when looking for alternatives, be sure not to purchase a fake Cross pen or Parker pen. Otherwise, you'll have issues with a poor writing experience due to their substandard ink quality and craftsmanship.
Conclusion
There are various aspects to consider while choosing between Cross vs Parker pens. Both brands provide top-quality pens with stylish designs, smooth ink flow, and durability.
However, Parker pens have a reputation for being more innovative and long-lasting. Cross pens, on the other hand, have a finer point as well as an incredible lifetime warranty.
Cost is another important consideration as Parker pens are often more expensive than Cross pens. Ultimately, it boils down to personal preference as well as the type of pen you prefer, whether it is a ballpoint, rollerball, or fountain pen.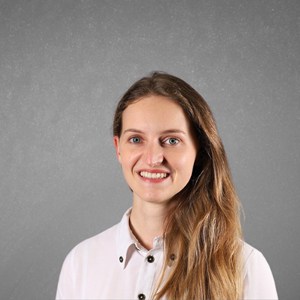 Art has always been a part of my life; it influences my upbringing and later my career choice. For me, it is always a part of my parenting technique. So for whichever purpose that you come to art, you can start here with us.