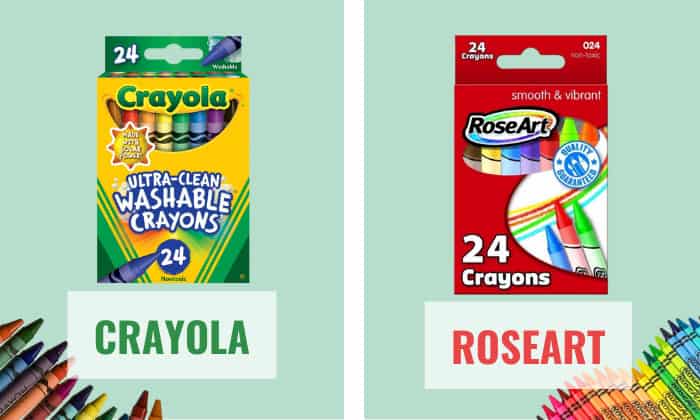 Are you a 90's kid who used to hate RoseArt crayons? In this article, we will dig deeper and find out why Crayola is loved while RoseArt seems not to be favored by many.
We will compare Crayola vs RoseArt and some of their basic art supplies such as markers, colored pencils, watercolors, and of course crayons!
Let's see what each of these supplies has to offer, its pros/cons, and a whole lot more. To start off, here's a short general comparison table.
| | | | | |
| --- | --- | --- | --- | --- |
| Brand | Manufacturing Experience | Variety | Availability | Manufacturing Sites |
| Crayola | Since 1903 | Wide range of art supplies | Available worldwide | US, UK, Czech Republic, Malaysia, and China |
| RoseArt | Since 1923 | Art supplies, dolls, and toys | No information available | New Jersey, Indiana, and Oregon |
About Crayola and Roseart
RoseArt and Crayola are two pioneering brands to manufacture crayons and other art materials.
Crayola came to birth in the early 1900s. Since then, it has continued to evolve and produce various art and coloring materials that kids enjoy today.
RoseArt, on the other hand, does produce not only art supplies but also ventures into dolls and toy manufacturing.
So much about history. Let's get to the real comparison of each coloring material.
Read more: Crayola marker materials.
1. Colored Pencils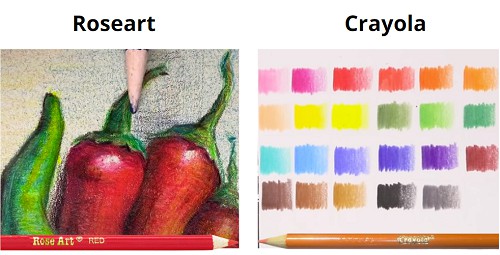 Looking at the packaging, many love how Crayola puts windows on their boxes so that you can actually see what's inside. Just like that, RoseArt is overwhelmed only by the design of the box.
But, remember, you can't judge the book by its cover.
Blendability is a top criterion that one should look at first when choosing colored pencils, and you can only achieve that if the texture is buttery enough.
If you compare RoseArt vs Crayola colored pencil's texture, unexpectedly, RoseArt comes out to be more buttery. In fact, it produces no streaks as compared to Crayola, where you can see some inconsistency.
As for the colors, Crayola's range significantly lacks that color vibrancy that it usually possesses on other Crayola mediums, and for this part, RoseArt colors are more lively.
RoseArt
Great packaging
Sturdy
Wide color range
Fairly priced
Slightly dull
Not that blendable
Produces streaks
Crayola
Lively Colors
Affordable price
Streak free
Poor packaging
Might need to put more since colors are very light
Limited color range
Brittle
2. Markers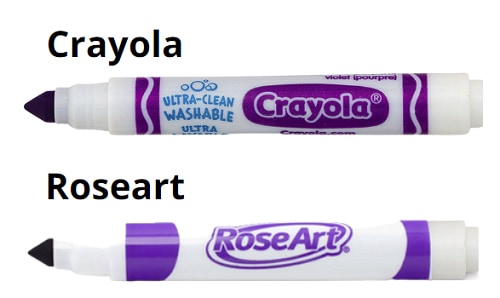 At first glance, you can tell that the RoseArt marker barrel is very similar to the Crayola marker's barrel. However, the cap is slightly different.
Here's a fun trivia. If you are a true blue Crayola marker user, you would know this. The bottom of the marker perfectly fits the cap's head so that you can actually put all your markers together. Check it out yourself.
For the actual application, they are pretty similar. RoseArt marker's ink consistency is at par with Crayola markers, but not all colors are as vibrant as Crayola, though.
RoseArt
Good quality
Non-toxic
Affordable price
Some colors are dull
Not bold
Crayola
Bright colors
Non-toxic
Durable
Stackable
3. Watercolors
One important thing that usually can make or break a watercolor art aside from the watercolor itself is the type of paintbrush.
Surprisingly, RoseArt did a great job with their paintbrush. They are slightly comparable to legitimate paintbrushes for paintings.
Crayola, on the other hand, comes with a decent paintbrush, only that they are not pointed, and the bristles are falling off.
Both watercolors work fine on paper like normal watercolors do. Still, you will notice that RoseArt watercolor's consistency is a bit sticky as compared to Crayola.
For the colors, RoseArt is a bit darker than the Crayola, but overall, RoseArt watercolor did well with this one.
RoseArt
Good quality paint brush
Affordable price
Slightly sticky
Colors are slightly darker
Crayola
Bright colors
Vibrant colors
Paintbrush not pointed
Poor quality paint brush
Slightly expensive
4. Crayons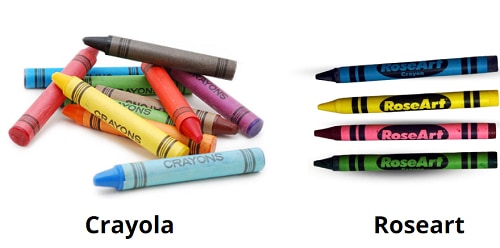 Among crayon brands, Crayola undoubtedly is the number one globally. There are also special Crayola ingredients for crayon with special effects.
But, let's see what RoseArt crayons have to say.
There are a lot of negative comments about RoseArt crayons vs Crayola everywhere. You can see them in posts and comments on Pinterest, Reddit, and Quora.
So, why are RoseArt crayons bad? Or should I say, are they really that bad?
I can now clearly see where that's coming from, but it is okay as compared to other off brand crayons. When it initially hits the paper, it glides almost the same way as Crayola crayons.
But, here comes the negative part. As you go on coloring, you will notice that the wax quality is substantially softer and thicker than Crayola.
You will notice that if you make more layers with RoseArt crayons, more residue is produced, and it's lumpy, making the colors darker.
Another thing you will notice is that there are small flakes of foreign colors mixed in it, unlike Crayola crayons where you consistently get the same color every time.
RoseArt
Produces more residue
With color impurities
Color transfer
No washable version
Brittle
Limited colors
Crayola
Good packaging
Sturdy
Consistent colors
Wide variety
FAQs
Is Crayola better than RoseArt?
When it comes to RoseArt crayons vs Crayola crayons, Crayola is absolutely superior. However, as mentioned, not all RoseArt art materials are inferior.
You will get better results with some specifically for colored pencils, where the RoseArt color range is more attractive than the colors under Crayola.
RoseArt watercolors and markers' quality and colors are apparently close to their superior counterparts.
Is RoseArt still around?
Yes, if you are curious about them and want to try their art and school supplies, you can still find RoseArt's range of crayons, colored pencils, markers, and watercolors in Walmart or in Amazon.
They also have their own online shop where you can find different RoseArt products other than art materials such as toys and dolls.
Do professional artists use Crayola?
Yes. Although Crayola is a famous brand for kid's art supplies, many professional artists use it for their artworks.
There are even crayon artists who solely used Crayola as their medium rather than using other, more professional brands out there.
Are RoseArt crayons non toxic?
Yes, RoseArt is very clear about that. Since the government health and safety issue on crayons was raised in 2000, both RoseArt and Crayola ingredients were reviewed and scrutinized for having carcinogenic raw materials.
By then, RoseArt has put much effort into removing toxic components to improve the quality and make its products safer.
Up to now, all their crayons have been declared non-toxic and free of carcinogens like asbestos and talc.
Conclusion
Generally, RoseArt art supplies are not that bad in terms of quality. In my personal opinion, they were just put in a bad light since they are considerably cheaper than Crayola.
Yes, Crayola is a good brand but based on our comparison of Crayola vs RoseArt art supplies, you will see some spots where RoseArt shines. These are their watercolors and colored pencils.
However, when it comes to crayons, they can't beat Crayola and RoseArt still has a bunch of things to fix on the formulation side. Still, considering its price, RoseArt is not a bad choice.
Art has always been a part of my life; it influences my upbringing and later my career choice. For me, it is always a part of my parenting technique. So for whichever purpose that you come to art, you can start here with us.