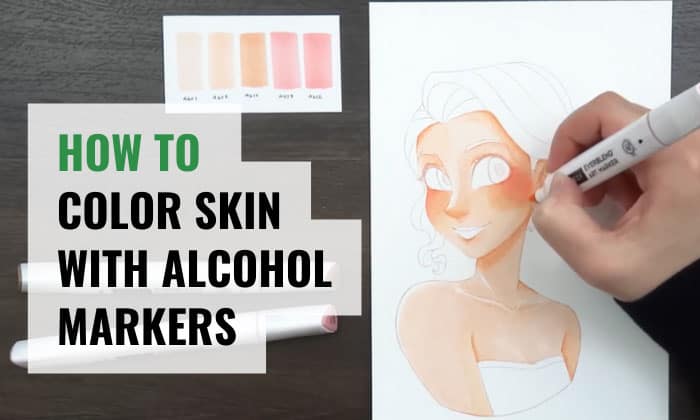 Coloring skin could be challenging as there are few shades to choose from. But, with alcohol markers you can get it with a huge color set or in a unique set.
Copic could be the first thing that might come to mind, but if you are still in the learning stage coloring skin with Copic markers would not be that practical. However, there are other comparable alternatives.
In this article, we will teach you the basics of how to color skin with alcohol markers using Copic and other alternatives like Prismacolor skin tones markers, and Ohuhu skin tone markers.
Step-by-step to Color Skin With Alcohol Markers
1. Coloring the Face
The table below is a summary of color combination suggestions of different skin tone alcohol markers you can use as a guide to color a face with markers.
Initially, you can follow the steps using any of these suggestions but later on you can go ahead and make your own combinations.

| | | | |
| --- | --- | --- | --- |
| Type of Alcohol Marker | Copic Markers | PrismaColor Markers | Ohuhu Markers |
| Light Tones | E00 Cotton Pearl | PB-78 Brick Beige | WG0.5 Warm Grey 0.5 |
| Mid Tones | E11 Barley Beige | PB-11 Peach | YR209 Hazelnuts |
| Dark Tones | E35 Chamois | PB-70 Sand | BR2 Potato Brown |
Related: Copic vs Ohuhu – What's the Hype All About?
These colors are based on light to medium colored skin tones.
Steps to follow
If you are working with an outline made with a pencil, do not forget to erase your outlines a bit to avoid the graphite from mixing with your colors.
Before putting up your light tones you can glide the colorless blender on the lightest areas or where your projected light strikes the face. This is optional, but it would help you get a smooth transition of colors later.
Cover the whole face using your base tone. If you are using a blender, try not to color those areas.
Apply your mid tones along your shadows, this could be the areas underlying the eyelids, eyebrows, nose, lips, chin, neck, and along the face outlines.
Keep your base color or blender handy, use this to blend and smoothen patchy areas or after adding layers at any point. Do this while the ink is still wet.
Add more volume to your shadows by applying your dark tones. This time concentrate on the face frame, shadows from the hair, and its neck.
Color the rest of the facial details (eyes, lips, and hair).
You can further make the face more lively by adding blush on the cheeks, nose, and temple using a marker or colored pencil. You can also do this right at the beginning before you put on your base tones.
Feel free to explore your alcohol markers and experiment.
2. Coloring the Hands, Arms, and Legs
You can use the same color combination of skin tone alcohol markers you are using for the face or this one on the table below.
| | |
| --- | --- |
| Alcohol Marker | Ohuhu |
| Light Tones | E191 Cream Color |
| Shadows | R196 Barely Beige |
| Highlight | Colorless Blender |
Steps to follow
Like what we did first on the face, start with the base tone.
Color the shadows.
Put on some highlights. For the highlights, you can use the blender if you're working on white skin or choose skin color markers that are lighter than your base tone.
Things to Avoid When Coloring Skins With Alcohol Markers
Don't draw color right away after you have made your pattern. Erase or lighten the pencil first or if you are using gel or thick pens, give it a few minutes to dry.
Don't color directly when you have not tested your chosen color combination. Test it on loose paper first to avoid bigger mistakes.
Don't color your piece flat; add shadows and figure out where you can project light. This will make your output more realistic and lively.
Don't push your markers too much, this can cause your tone to be darker or could lead to smears.
Don't leave your alcohol markers uncapped.
Don't store them vertically.
Don't expose your alcohol markers to sunlight or high temperatures.
Tips Before You Start
1. Know your colors by swatching them
Although the cap color can already determine the alcohol marker's color it doesn't always match the actual color when applied on paper.
Swatching is the only way you can really get the actual color and know the shade's character, especially for skin tone pens and markers.
It is extremely helpful, having too many alcohol markers makes the color difference overwhelming.
2. Paper quality
Coloring skin or make skin color with markers involves a lot of blending and it is much easier to blend alcohol markers when you are using the right paper.
A bleed-resistant paper or marker paper is best for alcohol markers. It is also recommended to use smooth paper to avoid damaging your marker tips.
3. Pick your colors beforehand
This is a general thing to do before you start coloring any project. You must plan out your colors and imagine how you want them to turn out or get some inspiration rather than just experimenting.
For coloring skin tones, the number of markers depends on the blending technique you are using and the skin shade you want to achieve. Ideally, you will need 2 to 4 colors to get started.
Other Blending Tips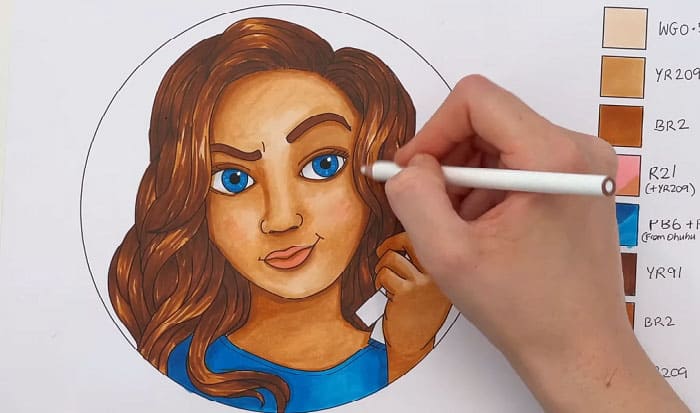 There are other blending techniques that you can apply to color skins. These are:
Dark to light
Feathering
Blending with tips
Blending on palettes
Other than colorless blenders, you can also use other tools to blend like coloring pencils and watercolor pens for writing on skin.
Overview About Ohuhu Markers
Among all the alcohol markers mentioned here, Ohuhu is by far the cheapest you can get.
The set includes 24 skin tone markers, and it also comes with a free colorless blender, so you would not need to buy it separately, which is another plus.
With this set, you can already do a lot of skin combinations. Overall, the Ohuhu skin tone marker is certainly a must-try.
You can also take advantage of their biggest Ohuhu marker set, which has 320 colors.
Conclusion
We hope your first try went well, and if it didn't, then practice more until you master how to color skin with alcohol markers.
Picking the right color and marker brand could be both enjoyable and, at the same time, difficult, especially when there are plenty of good alcohol markers to choose from.
From its price point, you can never go wrong with Ohuhu markers but you can also try skin color PrismaColor markers.
If you're not ready for alcohol markers yet, then you can start coloring skin tones with Ultra-Clean Multicultural Crayola markers or skin color Sharpie, Portrait series.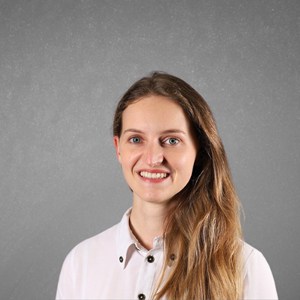 Art has always been a part of my life; it influences my upbringing and later my career choice. For me, it is always a part of my parenting technique. So for whichever purpose that you come to art, you can start here with us.