Can you use dry-erase markers on glass? Yes, of course!
Dry-erase markers are innovatively formulated to write on non-porous boards or surfaces, including glass. You may use these pens to write on glass temporarily and leave notes, reminders, or other markings.
In this article, we will explore the science behind dry erase markers and answer common questions such as: What is a dry erase marker? Which surfaces can it be used on? Can dry erase markers be used on glass?
This guide will give you the knowledge you need to achieve the best results, whether you are writing on glass whiteboards or other glass surfaces.
How Do Dry Erase Markers Actually Work? Can You Really Use Dry Erase Markers on Glass?
First of all, we have to learn how dry erase markers work to understand their compatibility with different glass surface types.
1. Design
A dry erase marker consists of a plastic barrel, a tip, and a special ink that is designed to be erasable. The ink is a blend of pigments and solvents, with a consistency that is thicker than traditional pen or marker ink.
2. Ink Formulation
Unlike permanent markers, the ink used in dry erase markers is designed to adhere to non-porous surfaces but can also be effortlessly erased with a cloth or eraser.
Some of the key properties of the unique ink formula are its solvent and resin/pigment, which allow it to spread out and adhere to the surface of the board.
The release agent also makes it easier to erase when it comes time to clean the board. The solvents in the ink are designed to evaporate quickly, which helps the ink to dry and reduces smudging.
The tip of a dry erase marker is usually made of felt, which is designed to be durable and long-lasting. It dispenses the ink evenly and consistently to ensure a smooth and legible writing experience.
3. Temporary Markings
Dry erase marker pens are temporary and are designed to be erased and reused. However, the lifespan of a dry erase marker can be extended by using it on the correct surface and avoiding excessive erasing.
4. Surface Compatibility
Now that we have unraveled the characteristics of these markers, will dry erase work on glass? Absolutely!
Since they are formulated to work on non-porous surfaces, you may use a dry erase marker to draw on glass for decorations or jot down reminders that need to be removed easily afterward.
The unique ink formula allows you to create temporary markings on different glass surfaces, such as decorating or writing on plexiglass and black glass. Unlike permanent markers, which can damage or stain glass, dry erase markers are formulated to be gentle and leave no residue behind.
They also work on a variety of non-porous surfaces, including whiteboards, mirrors, and plastic. Whiteboards are specifically designed for these markers, and have a smooth and durable surface that is perfect for writing and erasing.
However, these tools will not work as intended when writing on porous surfaces, such as cardboard, wood, paper, and other rough mediums. The ink will be absorbed and will leave permanent markings.
Additionally, some surfaces may be coated with a material that is not compatible with dry erase, so testing it first on the surface is important.
To use regular dry erase markers on glass boards, make sure that the ink is not dry and the tools are stored with the tips down.
The Best Dry Erase Marker Brands That Work on Glass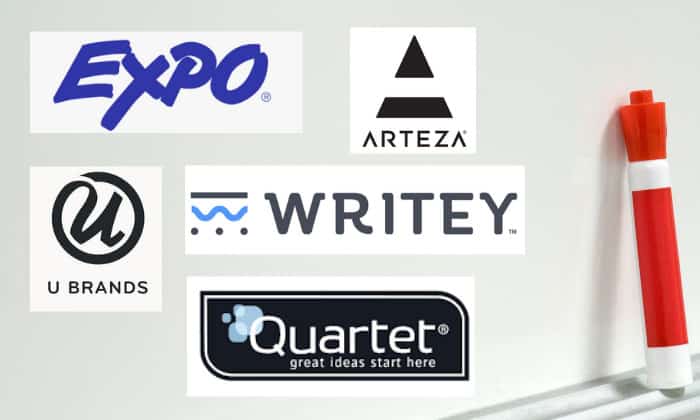 1. EXPO
EXPO has been a popular choice for quality dry erase markers and accessories. You can use EXPO markers on glass and other non-porous surfaces and write effortlessly.
Their vast lineup of dry erase marker pens unveils a wide range of colors with various tip styles, including fine, chisel, and bullet, to cater to different writing needs. They also have quick-drying ink and a low-odor formula, making them suitable for use in shared spaces.
2. U Brands
Besides the sleek and modern design, U Brands stand out for their low-odor and non-toxic dry erase markers that render vibrant color laydown on non-porous surfaces.
Available in different hues, these markers are a versatile choice for various art projects that demand pretty pops of colors—not to mention the magnetic design, making them a stylish addition to any workspace.
3. Writey
This brand provides a collection of vivid and long-lasting markers that come in fun shapes and colors.
Moreover, their dry-erase markers work with whiteboards, whiteboard paints, and glassy surfaces. Designed with chisel tips, these markers define sharpness and precision in every stroke.
4. Arteza
Arteza is a treasure trove of premium quality art supplies from painting, drawing, to crafting – you name it. Belonging to this stunning lineup is a collection of dry erase markers and glass markers that come in a vast spectrum of vibrant colors.
From fine, bullet, to chisel tips, you can explore different writing or drawing styles and showcase your creativity.
5. Quartet
Quartet falls under the professional caliber of dry erase markers, providing quality and performance on non-porous surfaces, especially glass boards. Despite the high pricing, this brand has been a popular choice for its vibrant and solid hues that last long.
Formulated with quick-drying ink, it guarantees mess-free applications and easy cleanup.
Frequently Asked Questions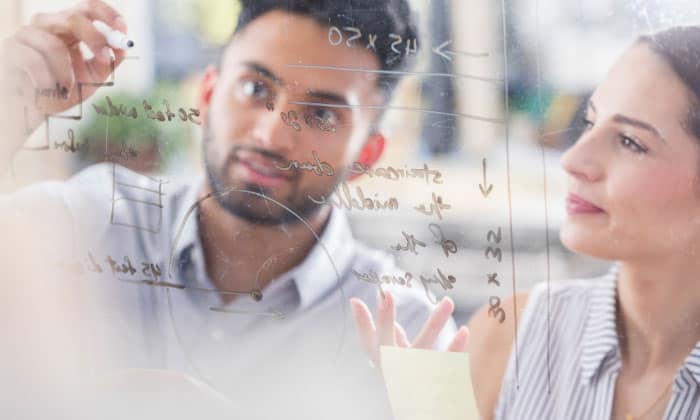 What markers can you use on glass?
Are pens to write on glass temporary? What kind of markers write on glass surfaces? For temporary markings, dry erase markers, chalk markers, glass markers, wine glass markers, and window crayons are the best options. Some brands offer a white dry erase marker for glass blackboards or black glass for vivid writings.
Chalk markers are ideal for creating temporary decorations, but they can be messy and leave residue behind. Dry erase markers are a great choice for writing on glass because they are easy to erase and won't damage the surface.
Acrylic paint pens and paint markers work on glass surfaces if you intend to create permanent markings or decorations. Although they can be removed eventually, it would be difficult and can damage the glass.
How do you get dry erase markers to stay on glass?
To get markers to stay on glass, it's important to choose a marker that is designed for use on glass. You should also let the ink dry and not touch or smear it for a long time. Usually, once the pigment has sat in place long enough, it will be hard to remove without any solvent.
Can dry erase markers stain glass?
Most dry erase markers are formulated to be gentle on glass and won't stain the surface. However, it is possible for some dry erase markers to leave residues behind, especially if they are left on the glass for an extended period.
To avoid staining, be sure to consider reputable brands for quality performance and erase the markings as soon as possible.
Can you use dry erase markers on car windows?
Yes, you can use dry erase markers on car windows to write temporary congratulatory messages, greetings, or decorations for festive occasions.
However, it is still better to check whether a dry erase marker is specifically designed for use on car windows because some brands may damage the tinting or leave residues. The same thing applies when looking for markers that work on mirrors.
Conclusion
Can you use dry erase markers on glass? In a nutshell, dry erase markers work perfectly on glass surfaces for temporary markings, reminders, and decorations. Glass is a suitable writing surface for dry erase markers, considering its non-porous finish that ensures excellent erasability.
However, it is important to take note that not all dry erase markers perform well as some may leave residues. When choosing a dry erase marker, consider surface compatibility to achieve the best results.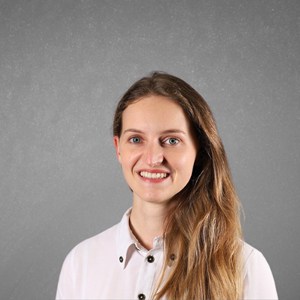 Art has always been a part of my life; it influences my upbringing and later my career choice. For me, it is always a part of my parenting technique. So for whichever purpose that you come to art, you can start here with us.